The studio is the second home of every professional photographer. Unlike outdoor photography, studio photography gives you complete control over the environment. You can control the light, mood, and you don't even have to worry about the time of sunset or sunrise.
However, owning a camera and a studio doesn't quite help you master studio photography. In fact, for beginners, studio photography can be a little daunting as most amateurs don't understand where to start.
Well, no worries about that. In this article, I've come up with 19 studio photography tips that'll take you in the right direction to master it – no matter if you're a beginner or an experienced professional, or an eCommerce business owner who wants great shots to attract new customers.
19 Best Studio Photography Tips
1. Determine the nature of your photoshoot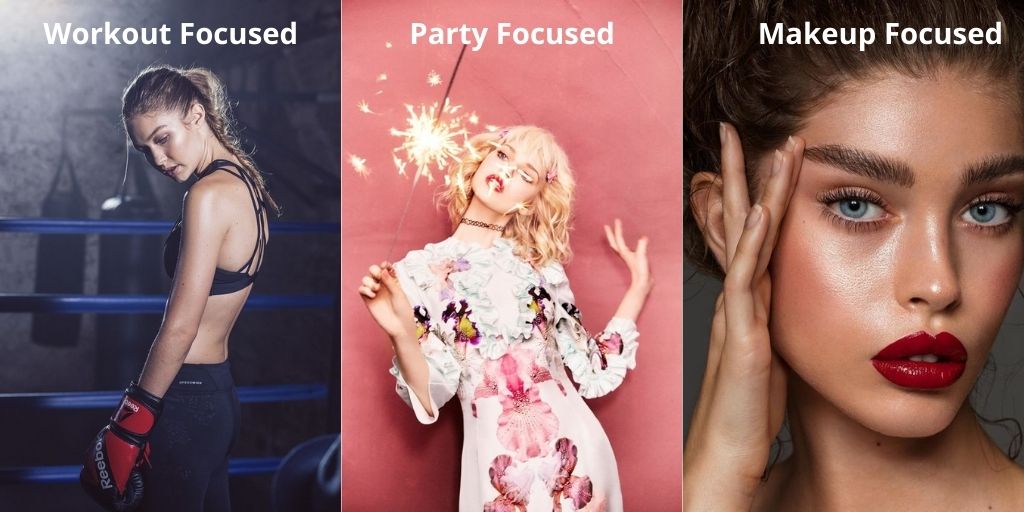 You must be performing studio photography with an aim in your head. Determine that aim clearly, write it down on your whiteboard or a piece of paper. This might seem like a small thing, but this is one of the best studio photography tips.
Once you know the nature of your studio photoshoot, it becomes clear what kind of lighting, props, and poses you must work with. Hence, you now have a defined direction in which you want your studio portrait photography to be executed.
Determining the nature of your studio photography also helps your crew and your model to walk a path that supports what you've outlined. Having a scattered idea can't give you the photos that you desire and it might take a lot longer to reach where you want with your photoshoot than expected.
Blind shots may surprise you sometimes, but they can't work all the time. I'd suggest you complete your photoshoot first with a plan and later take a few random shots before winding up.
2. Take inspiration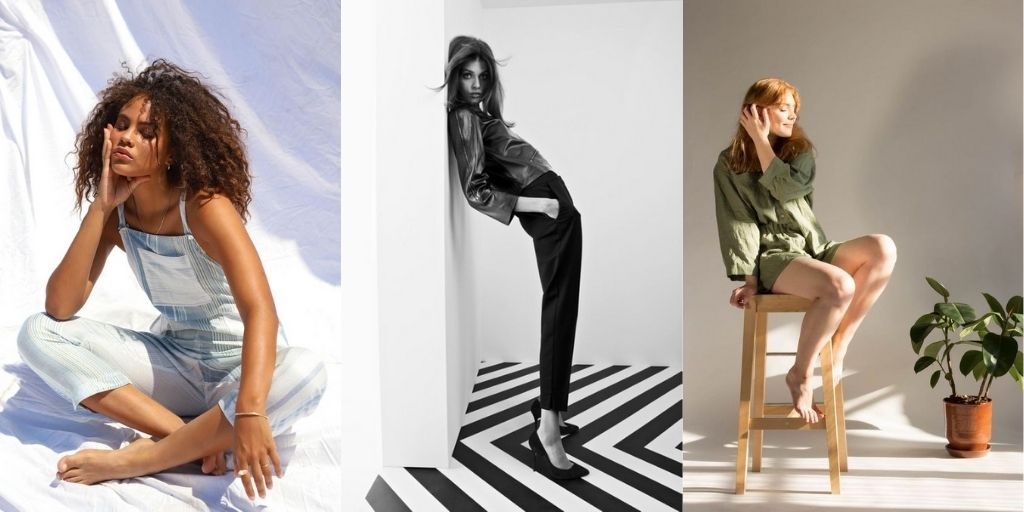 Inspiration is the magical ingredient for every photo shoot. You must've chosen photography after getting inspired by something. Before you start capturing studio portraits, take inspiration from the photos that resemble the nature of your studio photography.
Fashion magazines, Pinterest, and YouTube are some great online treasure chests. These can give you a plethora of imagination and inspiration without even leaving your bed the night before you start studio portrait photography.
This is one of the greatest studio photography tips. Many photographers get inspired by a few incidents, nature, surroundings, etc. At such auspicious moments, take note of what's inspiring you in what ways.
Looking at a few studio shots taken by great professionals or your eCommerce competitors recently can also give you the idea of what's in trend and what your shots would be competing with.
Studio photography photos and videos can give you something that you must've never thought about or help you in carrying out something in a better way than you've already decided.
If you're doing studio portrait photography for a client, ask them to share the inspiration images so that you can understand what they are looking for. This saves a lot of time and quarrels that might happen after the photoshoot. If you already have an idea of what your client is looking for by your side, it leaves a very narrow space of going in the wrong direction.
3. Use the prime lens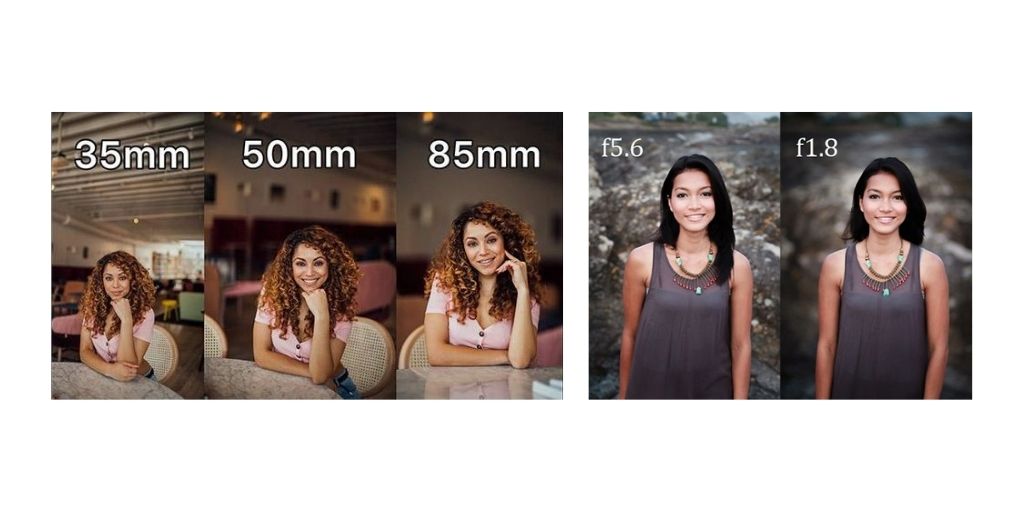 Your camera lens is the primary tool to carry out studio photography. You might consider using a wide-angle lens as it allows you to take wide shots without having to stand too far. But what these 35mm lenses do is that also stretch your photos, this stretching is called distortion.
For your studio portraits to be exceptional, such studio photography tips can do wonders for you.
It is better that you use a prime lens of 85mm. This won't only help you avoid distortions, but with a soft-focus, it'll make sure that the complete attention of your viewers is drawn directly to your main subject and not to unnecessary background details.
4. Try out different lightings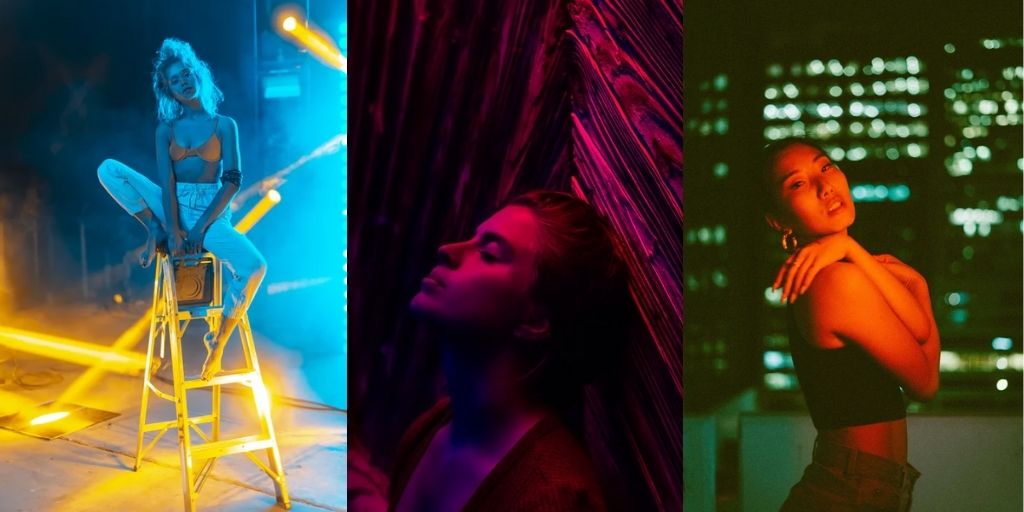 For studio photography, you are completely dependent on the studio lights. Though you have several choices, this can also confuse you. It depends on shots to shots for which lighting works best for you.
Umbrella lightings are perfect for full-body shots and when your model is supposed to lie down. You can use flashlights for close-ups and half-body portraits.
If you want to create some dramatic effect, then you may use colored lighting. If the nature of your studio portrait photography allows a fun, funky, or zesty mood, then you may also use neon lights and light sticks to be more creative.
The use of several lighting is one of the best advantages you get while studio portrait photography. Many professionals who do studio photo editing also create this effect digitally if the photographer can't get such lighting shots as fancied.
5. Use reflectors of all sizes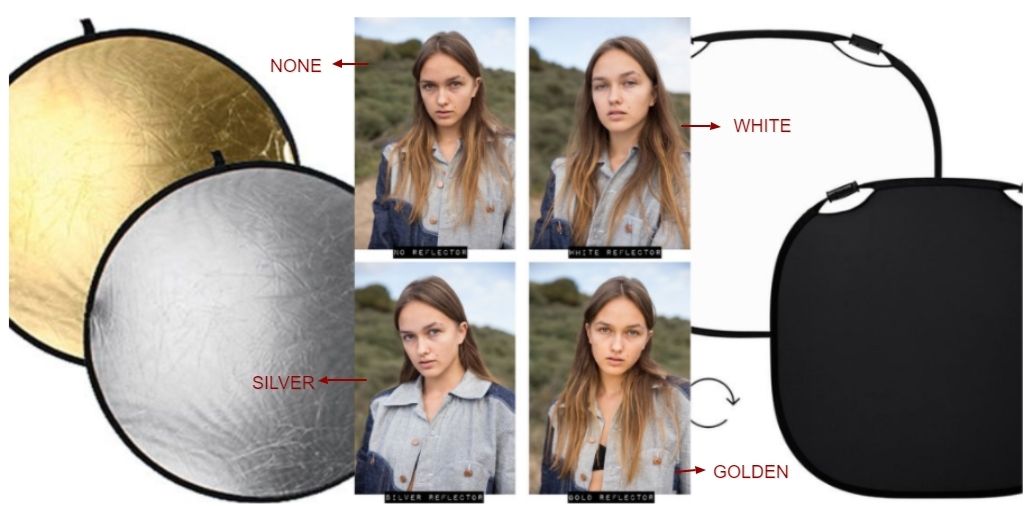 Reflectors work as a helping hand in steering light in the desired direction. You can use the reflectors of colors like silver, golden, white, black, and translucent respectively. Each has its own effect.
They come in several sizes varying from 14" to 50" best. The smallest works for close-ups and you may use larger reflectors as you cover more area, such as half-body and full-body studio shots.
If you want some extra light to fall on your subject but not directly from the flash (it creates a very unnatural and unprofessional effect), you may use the silver reflector.
For a sunny or golden light, use the golden reflector. Black is usually used to absorb the extra light whereas white and translucent reflectors are used to create a diffused, soft light effect. I recommend that you keep the reflectors opposite to your light source for even distribution.
Sell more with professionally edited product images.
6. Zoom creatively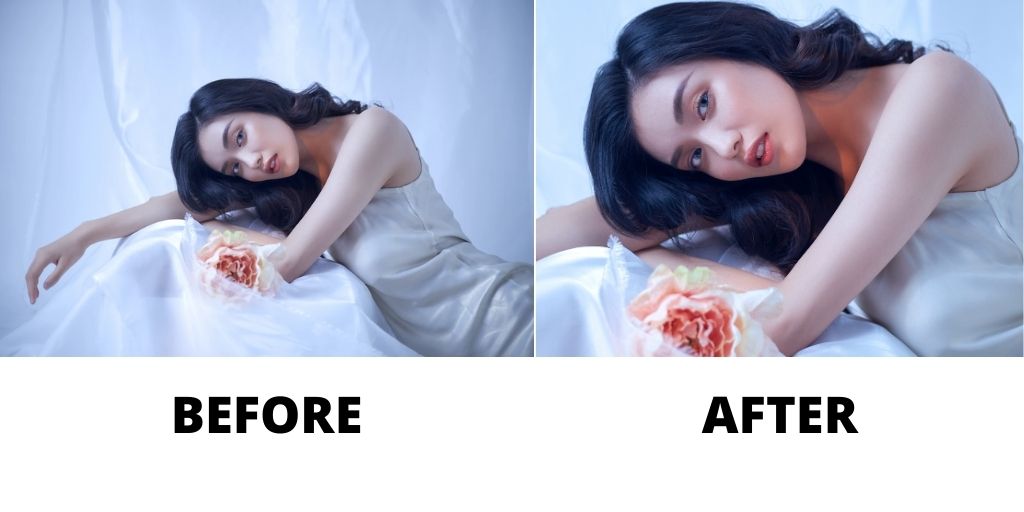 This is one of the most effective photography tips that you must work on. Zooming in can distort your image if you're not using a quality lens. Therefore it's important that you're following studio photography tip #3 to carry out this studio photography tip.
Using the zoom function creatively is very important. When you zoom in intentionally, it appears clear to your viewers. However, whether this decision will make or break your image entirely depends on how creative you do it.
You may consider taking a close-up instead, but close-ups often make the eyes, nose, and lips appear funny and not at least in their original proportion. A shot taken from a distance clearly defines the alignment of the face features and zooming-in keeps them intact.
This studio photography tip also helps you capture exceptional shots without moving from your position and works best when you're standing at a distance from where your lens can fit the whole body on the screen.
If not directly through your camera, you can also do it at the time of the fashion photo editing process.
7. Make use of window light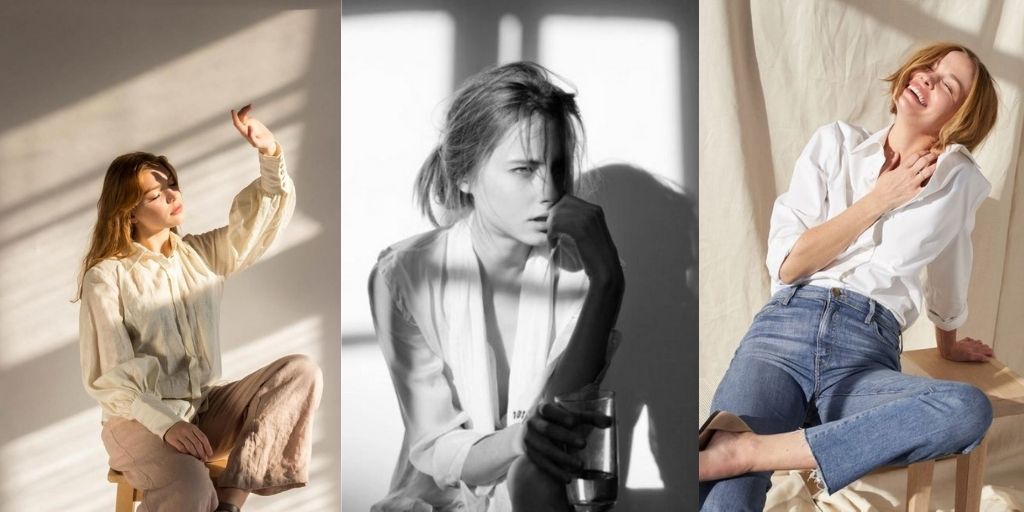 This studio photography tip can help you achieve the most natural-looking results of all. Make sure that the window that you're using for this is as huge as your subject. If you're working in a home studio, you may also use the light coming from the balcony.
Window light creates a soft, natural, diffused effect on your subject. You can use a translucent reflector or just the bathroom curtains to diffuse the sunlight and bring in the soft light.
You can always use the studio photo editing technique to make corrections once the shoot is over.
8. Keep your camera setting to manual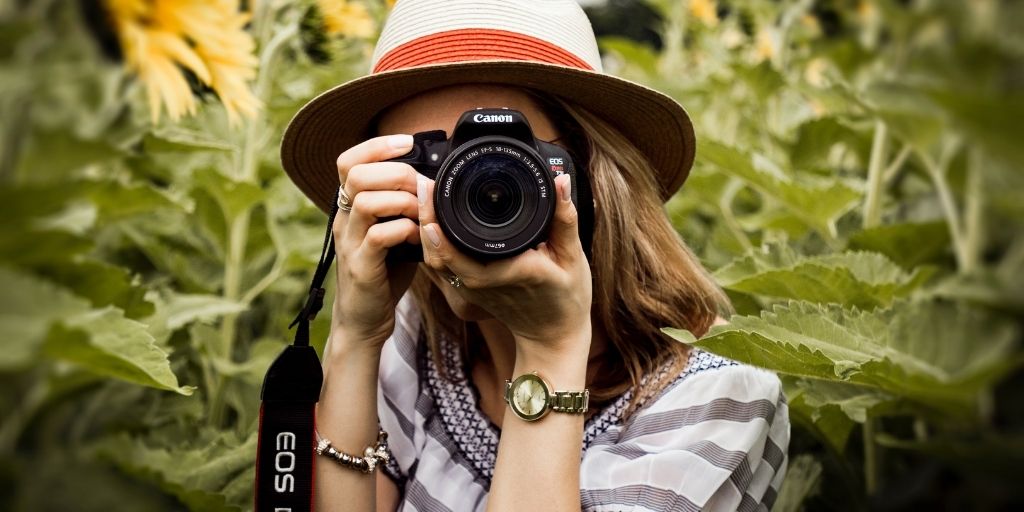 Tripods are perfect for products kept on a table as it avoids taking shaky photos. But if you're working with a model, you need to understand that the people move.
And with their movements, you are required to move too. Also, you can't rely on a single camera setting to capture all kinds of different shots. It's much better to keep the camera settings manually. This studio photography tip is highly useful, especially, when you're working with portraits.
With manual settings, you have complete control over what you do with your shots. I'd prefer that you keep the shutter speed close to 1/160sec and aperture to f/8 for good results.
9. Set the right shutter speed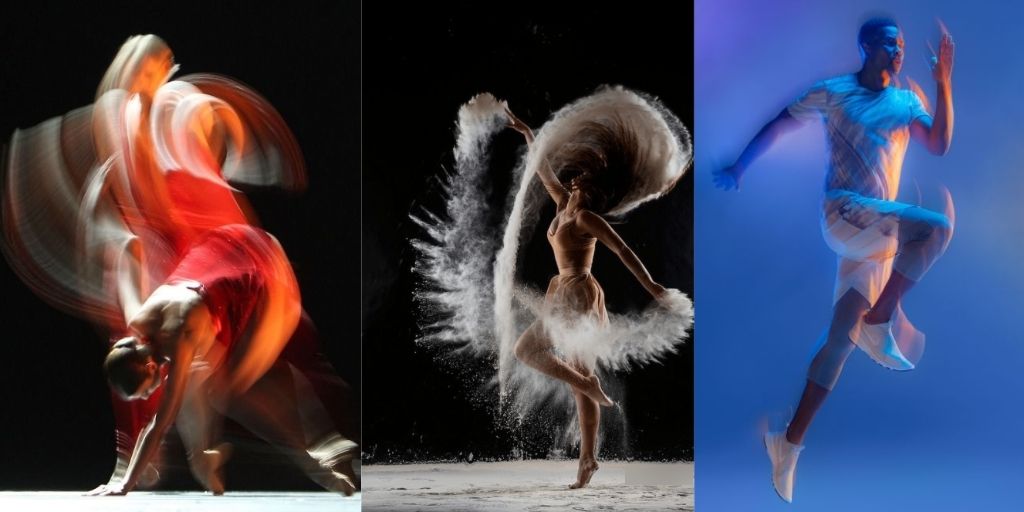 Shutter speed is the most important studio photography tip you need to take care of. When there is a model involved, movement is obvious. Make sure that you capture the details of the clothes, hairs, and actions to their best without making them look too outlined or blurred.
If you're struggling to understand this, try applying the rule of thumb (your shutter speed should not be slower than the lens's focal length).
Since you'd be keeping your camera in your hands, using a slow shutter speed isn't the best idea. Let me explain this studio photography tip a little further.
If you're working with flash, decide if you want the ambient light to create a strong effect. If you want both in your photos, then set the shutter speed slower than the synchronization.
If you only want the flash, set the shutter speed closer to the synchronization speed of the flash.
10. Create effects with shadows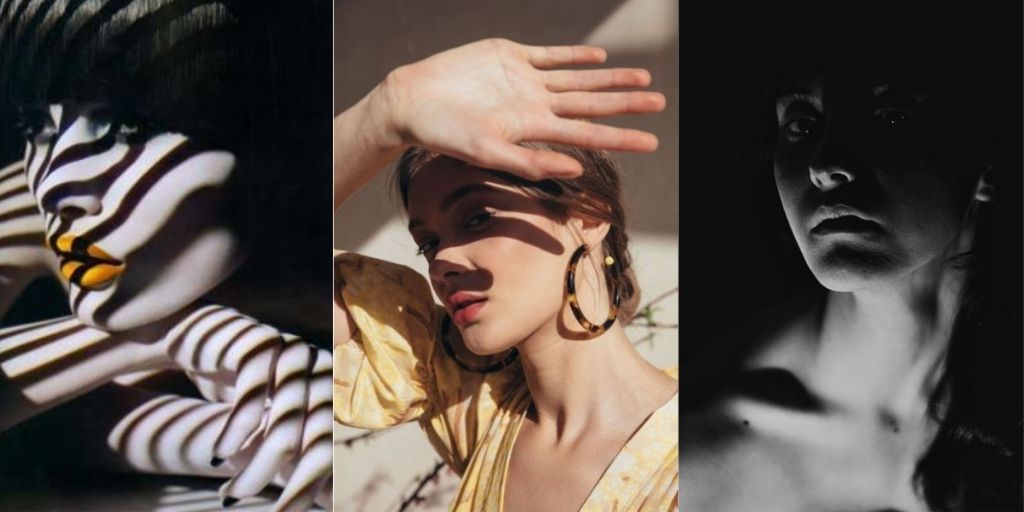 Shadows play an important role in studio portrait photography and making use of them in your advantage is among the most creative studio photography tips. They can be created intentionally too. The length and intensity of the shadows will depend on the direction and distance from which the light is falling on your subject.
If you don't want the shadows and can't seem to avoid them in your studio photography, then you may remove or soften/harden them during the model photo editing procedure.
11. Use interactive props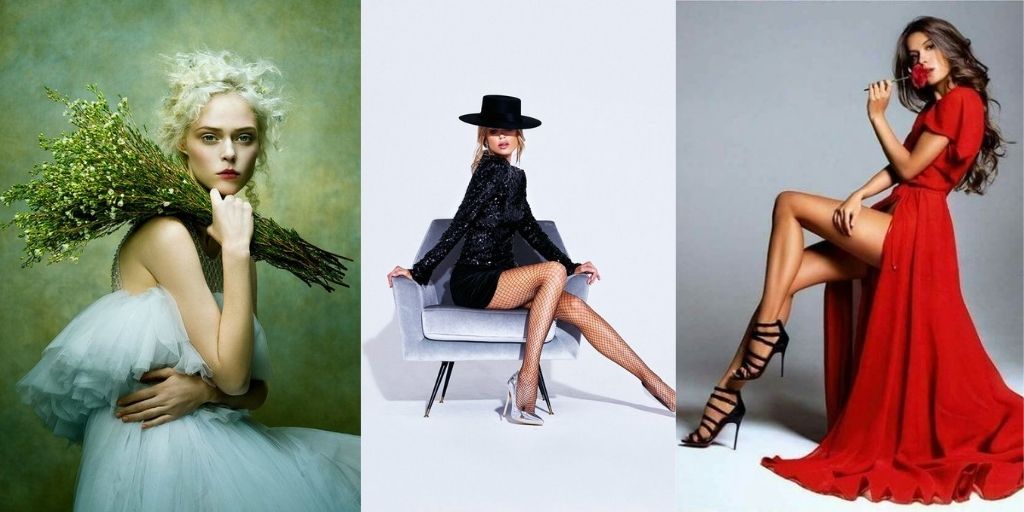 Props are used to create fun, interaction, and a storyline in your studio portrait photography. This studio photography tip is very useful when you're capturing images for a magazine or social media.
Adding props make the photos very engaging and captivating. However, it's necessary that you use props that are complimenting your subject. The correct choice of props is among the most important studio photography tips you can ever realize.
Using props that don't make any sense to be in your photos can confuse the viewer and make your image lose its idea. Also, make sure that your props don't overpower your model. It should be your model who dominates the whole image and not the props.
12. Understand your clients' and models' perspectives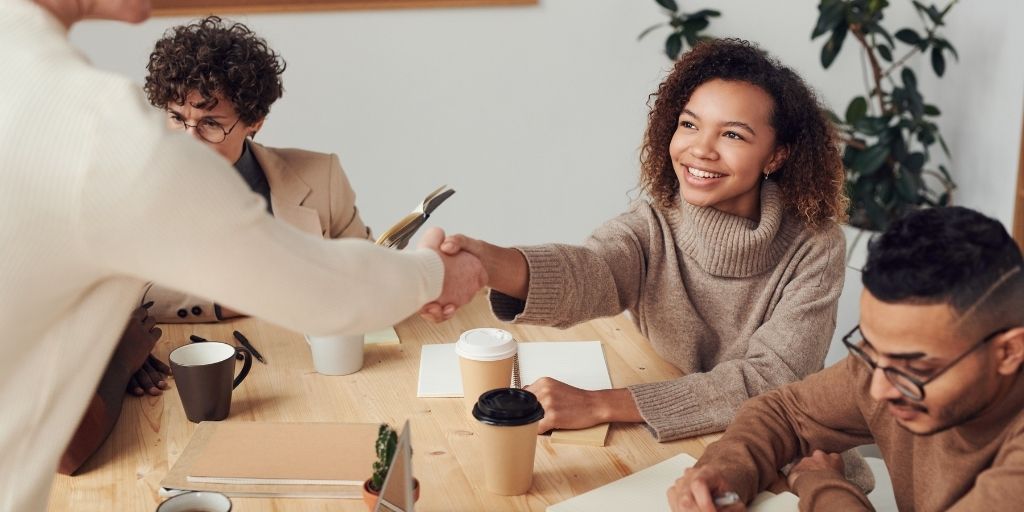 You decide what's your perspective for your studio photography shoot. But that's not enough for a successful photoshoot.
There needs to be coordination between you and your model. But if both your perspectives can't meet, then you can't execute the studio portrait photography as you anticipate.
Ask for your client's model's opinion. Understand what they want. This is very important, especially when you're working for a client.
If they don't want to focus on the lower body but only on the details of the upper-body garment, then there's no point in taking too many full-body shots.
If they want the feel to be comfy and romantic, then there's no point in setting the studio photography in a mood that's more adventurous or athletic shoot.
Use the lighting and props that support their idea. Though, you don't need to be completely restricted by your client's perspective. Being a professional, you may suggest ideas that you think may work better.
Mixing both your perspectives can only make these studio photography tips reap amazing results and bring coordination.
13. Communicate with your model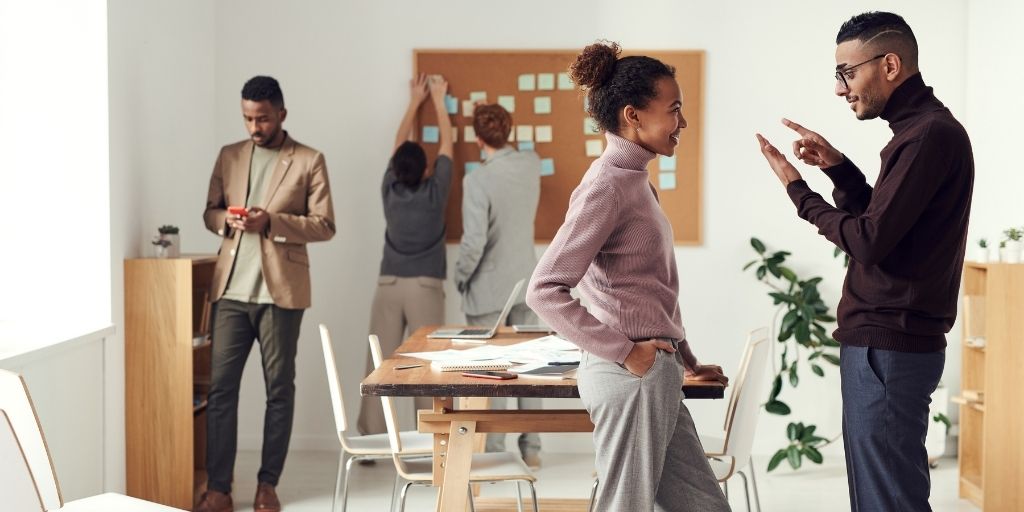 Most photographers get so busy with their cameras that they forget about the model completely. They emphasize too much on the angles and camera settings that they forget to take help or direct their models.
Communication is another intangible element for a successful studio portrait photography shoot. Talk to her to suggest positions, change expressions. Tell them what kind of feel, and expressions you're looking for, then only they can understand your views.
Show her the images that you're clicking and whether she needs any changes. Communication also develops a bond between you and your subject. This healthy relationship can do wonders for your studio photography.
Once your model is comfortable shooting with you, she'd be able to be more expressive and interactive in your images.
14. Don't stick with one single pose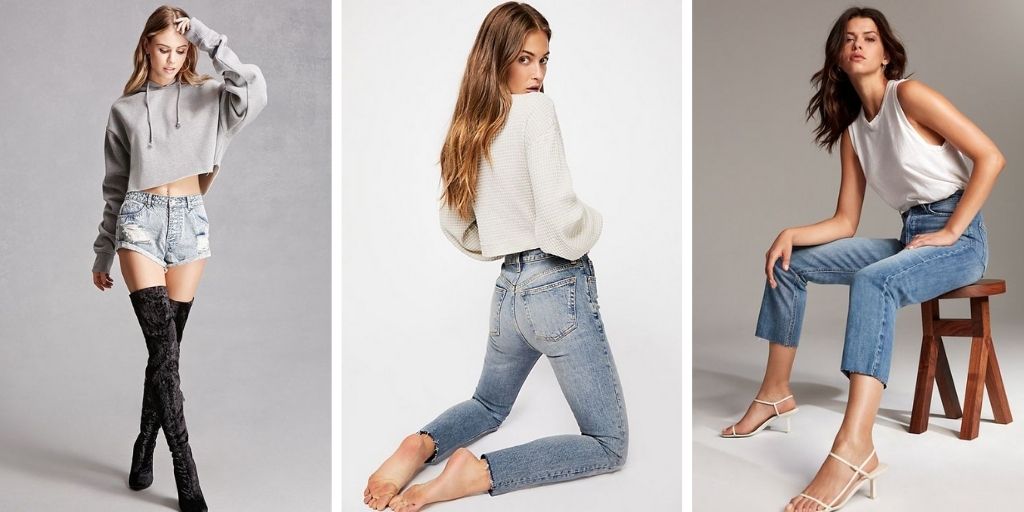 Studio photography gives you enough space to experiment with different poses. Take full-length photos. Ask your model to gaze in different directions. Usually, it's better to look at the opposite side from where the light source is placed.
Rey seated position. Chair and stools are great props to make your photos more 'happening' and 'acting'. This studio photography tip is best when the focus is on any fashion garment.
This reveals all the details, design, look, and comfort of the fashion garment.
15. Give your model a character to play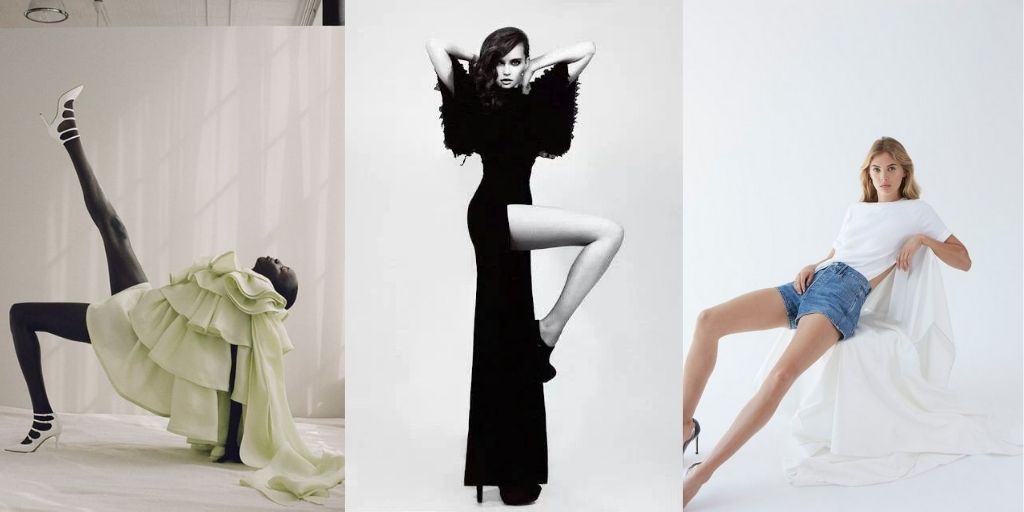 As explained above, you need to make your photos more interactive and happening so that you get the most attention from the viewers. In order for your studio photos to gain engagement, ask your model to adapt some character.
No, we're not talking about for her to start playing some movie role (though that can be tried!)
Though you can ask her to be more playful, angry, happy, lost in dreams, or an elegant lady attending a royal wedding! Imagine the feel and try several roles and acts so that they can influence the expressions and posture of your model.
16. Focus on their eyes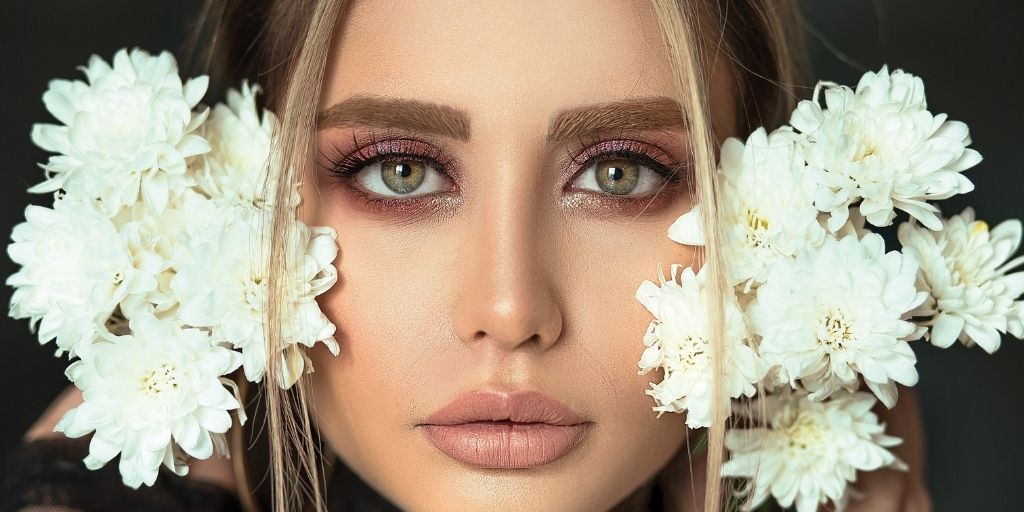 Eyes tend to grab the most attention of the viewers. Dull, unexpressive eyes can completely ruin your studio portrait photography, no matter how well the clothes are or the lighting and angles are.
Here are a few things that you can to make your model's eyes to be more expressive:
Talk to your model to gaze differently
Focus on the eye makeup – keep it sharp and bold
Use fake eyelashes
Use fake lenses
Use a gel-based mascara to add the gloss
Use fashion retouching to make the eyes bigger and shinier
17. See if Capture Tether works for you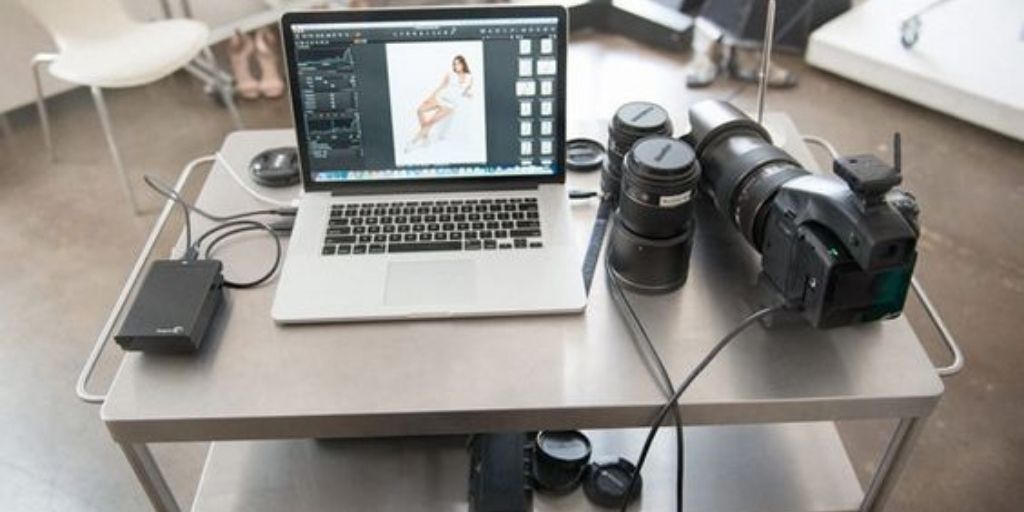 If you're a photographer who edits his/her own photos or simply at least retouches, then you must be familiar with a few photo editing software. Capture Tether is a setting that allows you to connect your camera with your PC.
With this, you can see your photos on a large screen – Live! Yes, you can capture the photos from your camera and see them appear on your computer screen instantly.
Where you can't figure out the details on your mini LED/LCD of your camera, tether capture lets you find out how they are going to look on a large screen.
You can use this feature if you're using software like Lightroom, Capture One, etc. you can try using this feature for your studio portrait photography and see if that's aiding you in any way
18. Use Single Point Focus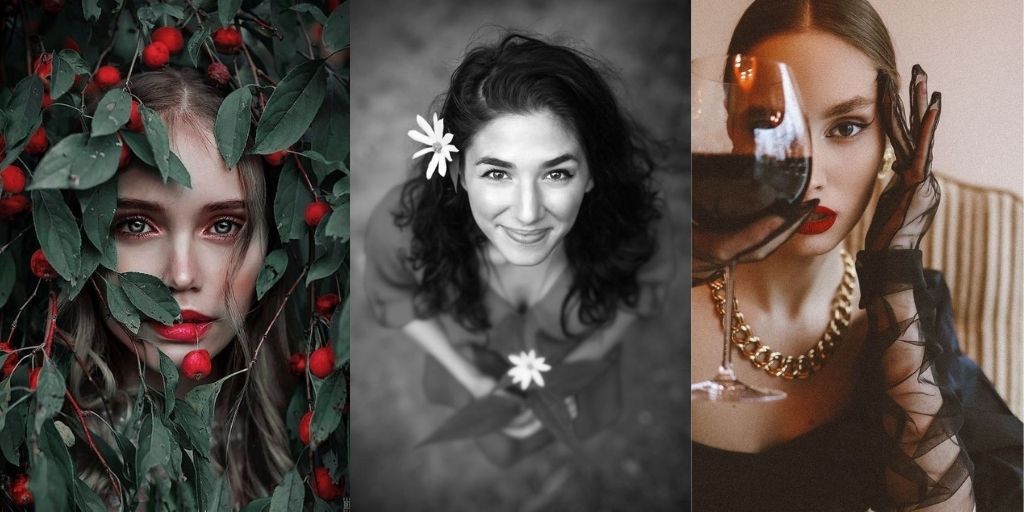 You might be following this studio photography tip already, but if you're not, then you really should. It's obvious that focus is essential to create an impactful studio image. A poorly focused image is among those things that you can't even fix during post-production these days. Therefore, it's vital that you get the shot right during the shoot only.
Thanks to Single Point Focus, it's pretty easy to do. Unlike an automatic grid system, Single Point focus allows you to decide where your camera focuses.
You can choose to focus on eyes, lips, or imperfections to dramatically change the mood of your studio portrait.
19. Tie up with professional editors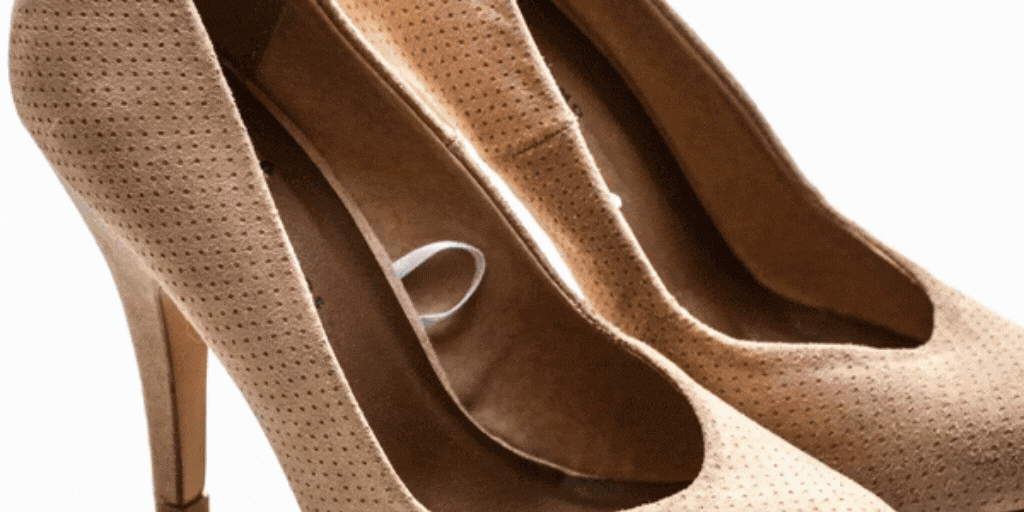 This studio photography tip can be the most useful for you if you're looking to save a lot of time and effort along with getting the experts' help.
In studio portrait photography, you can't just stop after taking 4 to five images. Most professionals take more than hundreds of images. In fact, if you've several fashion accessories, garments, or products to shoot, you need to take a lot of photos of each item.
Out of these thousands of images, you can pick out the best ones. That too, can't be less than a hundred – trust me. For these many photos to be edited in a way that they look professional, captivating, and advanced, it's better to take the help of product image editing services.
These services have intense experience in skin retouching services, fashion photo editing, model photo editing, de-wrinkling services to make the fabric look flawless, and a lot more.
Also, if you're an eCommerce business owner and want your images to be edited in a way that can beat the eCommerce competition but have no idea how to do fashion photo editing, then image editing services can be the best solution for you.
Conclusion
Studio Portrait photography can be tricky if you don't have a few photography tips and tricks up your sleeves to save time and get that perfect shot – Every Single Time.
The studio photography tips mentioned in this article are powerful and effective. It is necessary that you follow these photography tips consistently to see effective results in the long run. if you wish to learn more about photography tips, the best equipment, photography business, and more, then subscribe to our newsletter below.
Also, if you have bulk images that need to be edited, get them edited professionally at PixelPhant. Take your free trial now👇
Beautiful product images across your website.
Background Removal, Clipping Path, Color Correction, Cropping & Resize, Retouching, adding Shadows, and more.

Try PixelPhant for free
No Card Details Required