17 Tips on How to Master Portrait Photography
September 1, 2020 in Photography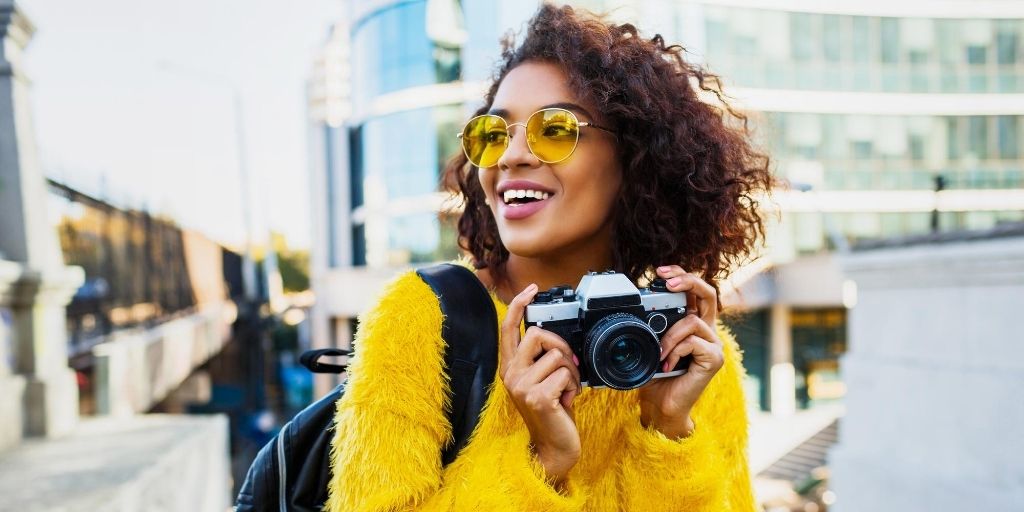 While working with families or professional models, Portrait Photography is used to convey the emotion of the space. In order to master portrait photography, you need something extra than regular photography skills. And luckily, you can find them below!
Firstly, you may always remember that to master portrait photography, you need to find the very right balance between the technical aspects and the emotional aspects.
The guidelines, lessons, and experience will surely be worth it, but in saying that, you may also have to break-through from the so-called "Photography Rules" that are floating around.
Top Tips to Master Portrait Photography
Now, don't you worry about learning cause we have transcribed every lesson from the real-world and mentioned 17 Tips to master Portrait Photography. Go through each point and find out new routes to become a professional.
1. Capturing the expressions right
In order to get the best portrait photography results, you shall always make sure that the emotions are captured right. A person may fake a smile for the camera, but having a genuine smile and sparkling eyes can turn your image into a masterpiece.
If you are on a professional project, make sure you know which emotion you are looking to show. Even a neutral face can be used to portrait lethargy, suffering or lack of emotion. It is up to you and your model how and what you would like to tell a story in a single image.
2. Spend time with your model
It's very important that your model is aware of the story, product, or the aim with which you are capturing them. Discuss your ideas, and tell them what you are expecting out of the shot.
You can take it a step further by meeting a day or two before the day of the shot. It will make both of you much more comfortable with each other. It will also allow both you and the model to understand what you both are trying-out, and a progressive conversation takes place.
Continue this notion of talk even while shooting to guide your model, and as a result, you will be getting some planned shots along with some of the most unexpected yet astonishing portrait photographs.
3. Candid can make you stand out
While you are on your way to capturing some pre-planned shots that you think are required, you shouldn't miss out on some random candids. Especially, if you are expressing a smile or fun through your image.
In order to 'get' some ravishing and attractive, you can maintain the same emotions on the set as well. For eg, as we were discussing, if you are capturing a fun face make sure the model and everyone on the set are cheerful. On another hand, if you are capturing a neutral, composed, or sad face, we recommend you keep silent on the set.
Moreover, to maintain a set of emotions, you could use music on the set.
4. Allow your model to experiment
If you want to Master Portrait Photography in no time, here is a little secret for you. Let your model experiment with all the key points you have given to him or her. Instead of being whole and sole, let the model be part of the process.
Firstly it will let you know whether he or she has understood your given specifications or not. If not you shall elaborate it more. Also, if the specifications are clear to your model he could contribute some very creative results.
Non the less if you didn't get any amusing shots from the model, you can always stick to what you were accepted in the first place make sure you have captured them right.
5. Use the right camera and lens
No craftsman would ever blame the tool that he is using. Hence, nor should you. There is no camera that can be quoted as the best Portrait Photography camera. To start with you could use a decent DSLR.
Any further result will depend on how you use your camera. We recommend you to keep the quality and detail of the image as high as possible. Also, make sure the image is not at all grainy, and the white balance is set according to the scenario you are in.
As per the lens, this would again depend on your choice of photography. If you would like to capture a bit of the landscape, you shall use a wide-angle lens. A telescopic lens of 85mm or 105mm would perfectly set a balance between the background and the model. If you wish to get a complete focus on the model and completely blur the background 70mm-200mm lens.
6. Use lighting to your Advantage
Any professional photographer could tell you how important light is, and obviously, you know it too. But especially in Portrait Photography, the right tone of lighting is very important. If you are capturing a portrait of a family, it would be recommended that you use warm lights.
On another hand, if you are capturing a business portrait using a cold and grey tone would much better. Other than this, some of the most enduring portraits are captured at the golden hours, i.e., at the time of sunset or sunrise.
7. Experiment with Angles
As we said before, in order to stand out you may have to break out some so-called "Rules of Photography". Among which people always believe to get a portrait your camera should always be at the eye level of your model.
Well, this isn't true. You can and must try different angles. This way you can come up with your own creatives and get the best result. Also, varying the angle will allow you to present your model according to you. You can make your model look, tall, short, wide, or thin just varying angles.
8. Add props to add depth
Another myth breaking tip is you can use props in your portrait photography. You shall add it or not it completely depends on you, but if you do, keep somethings in mind to get a better result.
Your prop should never capture the attention. Moreover, it should just be used to emphasize your actual portrait. Even if you decide to add a prop can't find something that compliments your frame, you shall use it to bring depth to your portrait photography.
9. Watch out for right background
While we are talking about the props and things you could add to your frame, let us also have a look at what's in the background. The primary focus is your model itself, but a good background will bring the right emotions in your Portrait Photography.
You can't just overlook you background. Moreover, the right background and the right amount of blur is your recipe to get good best results.
10. Find the right Poses
This point has come late in the list but surely this is what you have to give your most effort. And this will only come right to you when you get some on-field experience. But for now, you can take one thing from this point. i.e. there are no fixed rules for you.
Work on what you want to achieve, work around it, vary camera angle, chat with the model, and when you hit the right pose, recreate something around it to make sure you don't miss out.
11. Choose the location
Location of your surly decide which of the equipment you would have to carry. If you are outdoor, you may have nothing in your control. The lighting weather, streets, background crowd, and anything that is can make your photography hard.
But after all, this, if you can capture what you want and make the most out of the situation, you will surely find some great and innovative portraits.
On the other hand, if you are indoor, in a studio, you get control of everything. The light equipment, the wind, the background, and anything else that you can think of.
12. Design Color Palette
Working with a color palette allows you to set the right tone of your image. You can use the complementing color palette while you are capturing an image or in while post-production. It leaves a great impact and makes your image stand out.
13. Work with Burst-out Shots
Waiting for the right moment is hard. And even when it comes, being able to capture it at the very right moment can be very hard. In portrait photography, that moment is the expression or the pose of your model.
You can't wait for the perfect smile or the pose in portrait photography, instead, click continuous shots, which will give you multiple options to choose from later. In addition, you may also get some candid which further can be used to evoke the emotions you were trying to express.
14. Observe your taste
Portrait Photography is all about how you wish to get the result out of your efforts. To master this skill of expressing emotions through image, you need to know where to look. So start observing what kind of images evokes what kind of emotions.
In the subway, in the trains, the art gallery lookout for people, colors, and light that are being used and how you shall use them whenever you require to. Cause chances are your next inspiration would be everywhere around you and you can use it master portrait photography.
15. Use Shadows
It was not long ago when every portrait photography was illuminated with soft light. And we aren't denying that you shouldn't elite the model. But with the new trends slipping-in there are many new styles of portrait photography visible on the internet.
You shall use shadows too. After all, they can really add depth and composition in your image. Especially during the time of sunset or sunrise, if used right, shadows can help you get astonishing images.
16. Focus on capturing details
Portrait photography is all about capturing the details. Either you are planning to shoot indoor or outdoor, even if you are capturing through phone or a high-end camera, every portrait needs to be sharp and the details should very visible.
With the proper illumination and setting your camera in the right settings, you can achieve a high-quality image and capture all the details right as they are.
17. Build Your Inspiration Gallery
You have followed the tips and now you have mastered Portrait Photography. But what's next? You need to keep learning and evolving your skills with the new trends. For this, start by collecting every single portrait in your gallery that you like and get inspiration from.
You shall refer them before a shoot or use them to refer to your post-production service. Overall saying if you have your own inspiration gallery, you will never go out of idea and make your career grow.
Hand over to experts!
After sharing all the tips that you need to know to master portrait photography here is a bonus tip that most of the photography services are using. And that is handing over your product images or as we have discussed your portrait photography to the portrait retouching services.
This lets you learn and grow your own skill and you get a professional photo editing service. To learn more about it and get the best photo editing service by Pixelphant subscribe to our e-mail newspaper and get updates on photography, eCommerce, and Dropshipping to grow your business online. We highly recommended reading this blog Fashion Photography Mistake to avoid.
If in case you want to use a fashion photo editing and skin retouching , contact us and get it done within 24 hours.
Try PixelPhant for free
---
Use PixelPhant to get more conversions for your online store with better product images.

Background Removal | Clipping Path | Color Correction | Cropping & Resize | Retouching | Shadows