Product Photo Editing Services For Ecommerce
A complete eCommerce product photo editing services hub that aims to scale with your brand.
* No CC required for signup
99.99%
Orders confirmed first time without correction
99.96%
Orders Delivered on Time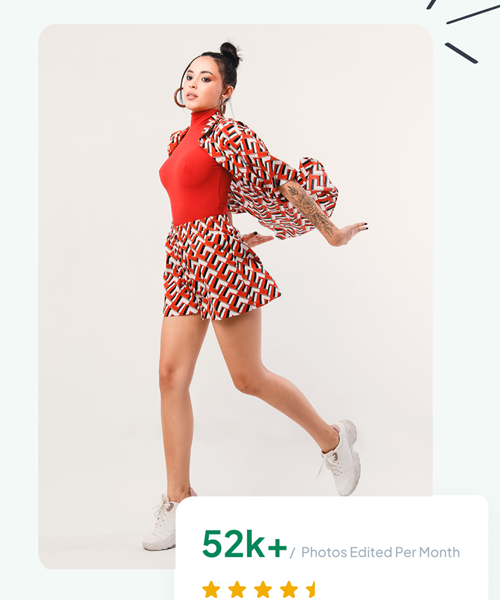 Price Starts from $ 0.40
24-Hour Turnaround Time
Unlimited revisions
Robust Photo Editing Workflow
Professional Product Photo Editing Services With a Simple Goal
PixelPhant makes eCommerce product photo editing happen the way it should. The way that aligns with your brand specifications and requirements.
With collectively over 25 years of experience, our retouching heads are today helping global retail brands elevate their customer experience.
The Goal Is To Turn Your Creative Expectations Into Reality ~ Regularly.
To do so, PixelPhant builds a replicable workflow for your requirements where experts and AI ensure creativity meets scale at every stage of your growth.
Redefining eCommerce with product photo editing
Product image editing service is crucial for eCommerce. It helps you reach new eyeballs and helps shoppers better engage with the product.
When you work with professional photo editing services, you outsource how you deal with post-production.
PixelPhant provides a product photo editing service that ensures your product stands out. Get started with your PixelPhant free trial today.
Fashion Photo Editing
PixelPhant is a market-leading eCommerce photo retouching service in clothing and model photo editing. Some of the most common services used by studios and creative directors in fashion photo editing are:
Basic retouching
Background removal or clean up
Ghost Mannequin
Shadow adding
Furniture Photo Editing
Be it a simple chair or a chandelier that steals the show. PixelPhant product photo editing services for eCommerce is the best choice. Some of the most common product image services used by studios and online brands are:
Basic retouching
Background removal
Path creation
Shadow adding
Grocery & Beverages Photo Editing
Product photo retouching services make the product look clean, attractive, and fresh.
For the same reason, many online grocery stores use PixelPhant's product image editing services. Some of the most common services they opt for are:
Basic retouching
Background removal
High-end retouching
Color Correction
Shadow adding
Editorial Photo Editing
PixelPhant has been the secret formula for many high-end lookbooks and magazines. For eCommerce, we create banners that showcase products and hold customers' attention. Some of the most common services that creative editorial directors choose are
High-end retouching
Color Correction
Background removal or cleanup.
One-Stop Product Image Editing Service
Our in-house eCommerce Product Photo Editing experts are dedicated to delivering consistent and high-quality professional photo editing services every time you place an order.
Get a hand-drawn precise selection of your products and objects in images, saved as a clipping path in your files. Or a well-layered Masked PSD for any further editing. All to ensure ease of editing specific image sections in the future for multiple uses.
Add Natural, reflection, or drop shadow to make your product images realistic with PixelPhant's seamless Shadow Adding Services. Make your products feel more realistic and accurate with shadows that align with your products perfectly.
Retouching images means removing dust, scratches, or cracks from your products. This makes the image look clean, appealing, and flawless. Our photo retouching service delivers professional and high-quality images ready to put on your website.
Create consistency and symmetry on your website for a smooth user experience. Remove the inconsistency and add a custom background of your choice. Shadows? We'll keep them intact to make everything seem natural.
We seamlessly remove the mannequin, neck, arms, hands, and legs to add a feel of a hollow invisible mannequin. Don't feel bad. We ensure that your product's pieces add perfectly and create a perfect visual for your customers.
Color correction is a professional photo editing service that ensures your product looks exactly how it is in real life. Reduce product returns caused by color confusion. We'll do the correction essential for better eCommerce images.
We'll not make your models look like plastic. Only the essential skin retouching. We can clear spots, scratches, stray hairs, blemishes, acne, etc., professionally without losing the skin texture, hair details, and light flow on the skin.
De-Wrinkling
Heavy wrinkles on clothes create fear and insecurity about unfit and poor-quality apparel, which hurts the conversion rate. Make the clothing look fresh by effortlessly removing wrinkles and creases from your product photos.
The studio backdrop is not completely clean during the photo shoot. There's dust and spots that need to be removed and sometimes require extending the background in the empty areas after the cropping.
Get Started

With Ecommerce Photo Editing Service

With over 15 years of experience in eCommerce photo editing services, PixelPhant serves eCommerce brands to present high-quality product images to their customers.

Quick onboarding, robust workflow, a team of highly skilled retouchers, and support available around the clock.

Get started with your premium photo editing service today with PixelPhant and experience the best balance between the pace and quality of your eCommerce images.
Ecommerce Image Editing With Experts & Automation
Each file you share is created and optimized by AI and retouching experts. But there's even more to ease your work life now.
Multiple File Formats
JPG, PNG, PSD, TIF, WebP, and more. Choose any file format you need, and we will ensure you get the best image quality with the size and type of the files you choose.
Quick Turnaround Time
Close deadline? We will never let you miss them. Get the best product photo editing service in your set time frame. Not in a rush? Get special discounts from PixelPhant.
Order tracking
A simple and efficient way to track your orders from your PixelPhant dashboard. A dashboard to make it easy for you to place an order, track it, or contact us.
Powerful Features for
Powerful Creators
Choose a plan that's right for you
Basic Plan
For individuals who need quick access to basic features and have less than 3000 images.
$0.80/Image
24 Hour delivery
Free image editing trial
Unlimited revisions
Email/Chat Support
No CC required for signup
Order Dashboard
Next Morning delivery
Team Dashboard
Shared orders/ Storage for teams
Priority Support
Custom Requirements
Enterprise Plan
For teams who need advanced tools for collaboration and faster post-production.
$0.40/Image
24 Hour delivery
No Daily Photo Limit
Unlimited revisions
Email/Chat Support
No CC required for signup
Order Dashboard
Next Morning delivery
Team Dashboard
Shared orders/ Storage for teams
Priority Support
Custom Requirements
Frequently Asked Questions
Got a question? We've got answers. If you have any other questions, see our support center.
Get Your Product Images Edited
with PixelPhant
Free credits are available in your account to send your files for testing photo editing trial.
Take a free trial
No Card Details Required