Before we jump right into the business, let's understand what our goal with this article is. The article is broken down into two important parts.
First, where you will learn about, How To Sell on Shopify? We will discuss all the thick and thin from the scratch, so if you are a beginner, no need to worry.
Secondly, we will discuss How can you make your first sale on Shopify, before your free trial ends. This part has some really important insight that will help you make your first sale and even grow your business successfully.
Why Shopify?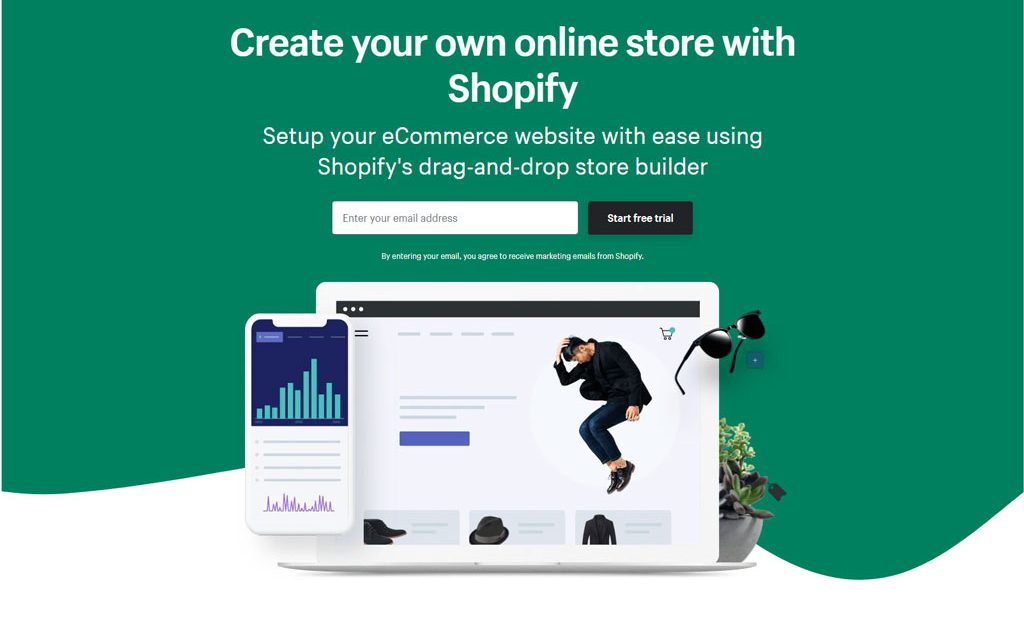 Apart from being the most popular stop for eCommerce startups, Shopify is well known for the quality of hosting and other services it offers to the customer for as low as $9/month. The 'other services' include product management, Print-on-demand support, dropshipping support, free themes, and well the list can go on.
Starting from the fee tiers, as a beginner you get 3 plans to choose from
If you have a pre-established business and want to scale it, you can go with Shopify and Shopify advance, but if you are just starting out you shall stick to Basic Shopify. The best thing you get when you sell on Shopify is that you can upgrade or downgrade plans anytime you think it's right for business.
Other than this do read the features you are getting with the plan and see if or not they are really necessary for your business. At Least for the beginning, go bootstrapping and make a minimal investment.
What do you need to do to Sell on Shopify?
When You sell on Shopify, do not underestimate the potential of reach you can get. The platform is known to promote the stores on its own when they are performing well. Be that well-performing Store by checklists all the necessary steps before you start to sell on Shopify.
Research
The very step before you even sign up for the free trial to sell on Shopify would be doing thorough research. Here are three major components that will make your research resourceful.
– Product Research
The very first thing you need to do is to choose a product that you are gonna sell. Niche out your store. Choose a particular product that you yourself are interested in. If you have no idea about that, go with the product that you have some experience or knowledge about.
Running an eCommerce store can be exhausting and confusing, hence having something that you are already interested in and have knowledge about, will keep you motivated. Don't let the margin, profit, and competition allow it to be a concern until this point of research.
List out at least 5 products that you believe would be in your best interest and move on to the next research.
– Market Research
Now when you have listed down the products that you wish to sell on Shopify, you need to do thorough research about the market. The first thing here is to see whether or not your product has demand in the market.
Are people searching for it actively? If yes, how actively? Weekly, monthly, yearly, or once in 5 to 10 years. If you are coming up with your own product, do your test runs by giving access to the people around you.
Make sure that your product is solving some of the other issues in the best possible way. It is very important that you repeat this same process with all the 5 products that you sorted down. If none of them cleared this stage, you shall again start with your new product research.
Even before you sell on Shopify, have this part of the research done very well as it would be the deciding factor in your success story.
– Competitive Research
After clearing the stages we discussed above, now it's time to look out for your competition. Find out your top 5 competitors for each product you are dealing with. See what they are offering and how well they are performing.
Especially see for the type of customer they are targeting and build your own buyer's persona.
Find out who your customer is by asking these questions to start with.
Who is your target customer (male/ female)
What is the age range of the audience (18-24/ 24-30/ 30-36/ 36-42/ 42+)
What budget sector does your target customer fits best in ( Expensive/ Mid-range / Cheaper goods)
How actively will they buy your product ( Weekly/ Monthly / Yearly / Once in 5 – 10 years)
You may find out all this through your competitor itself but in case you don't, do your own research even before you sell on Shopify.
Planning
Based on the research you did, now it's time to plan how and what would you need to prepare before you sell on Shopify.
– Choosing Your Business Model
Now that you have found the product and your customer, it's time to choose how you would take the product from your warehouse to the customer? Wait. Will you be needing an inventory, a storage space to keep your products?
Some of the very important questions that you need to answer yourself are:
Where would I be getting the products or raw material from?
Will I need storage space, a warehouse, or an inventory?
How will shipping happen once the order is placed?
While you are running an eCommerce store, you have more than one option to choose from on how you would like to sell on Shopify.
Some popular methods that you can use as per your product and target audiences are
Dropshipping
Online arbitrage
Retail arbitrage
To know more about you can refer to Sell Trending Products on Amazon to make easy Money in 2020.
– Your POP and Your USP
One thing to figure out before starting to sell on Shopify is to know what you are offering that is different than anyone in the market. What's your USP (Unique Selling Point) that makes you better than your competitors.
Other than this, you shall also keep an eye on your POP (Point of Parity). It is common ground that both you and your competitor share. It is very important to know that your potential customer may not leave an advantage to get another. He would look for options that cover previous selling points along with an advantage.
– Outsourcing Plans
Just like any other business, your Shopify store shall consist of many components, most of which Shopify would cover itself. On your hand, you shall not take not all the work in your hand outsource the task to professionals.
For example, your store would surely have product images that you must edit and then upload. Now rather than taking this time-consuming work in your hand you shall outsource it to professionals like PixelPhant. You will be getting the best results at less price and that within a span of 24 hours.
Other than product editing there are other few things that shall be outsourced and you can read more about it in our recent article Boost the Growth by Outsourcing Your Small Business.
Execution
Now that you are all set with planning and researching to sell on Shopify successfully, here are some extra things you need to grow your eCommerce.
– Goal
When you are starting out, you shall always have your goals set. Being blindsided with all the work may not take you anywhere. Instead, have your goal pre-determined and work towards achieving it.
Also, make your goals achievable. Keep your feet on the ground and see what steps you would have to take in order to achieve your goals. Again goals can be anything like, making $20,000 profit per month, building a returning customer base of 50 people, or anything that you wish to achieve in the long run.
– Budget
When you are on to begin a new business you may also not have too much money to spend. Even if you have a good investment, budgeting it out should be the first thing you shall do with it.
You may not know when your business may hit a downfall or when would you need to update a part of your business. In this case, having a backup fund would surely help you out. Again budget down what are the regular expenses, what are a one-time investment, and then what are profits that would cover a single purpose
– Time Phrase
Lastly, allow yourself a time phrase that you would try to sell on Shopify. Maybe the product that you are thinking of selling may go out of trend when you actually start to sell. Now, in this case, sticking to your old plan is not recommended.
Hence set a time phrase that you would be investing in your Shopify eCommerce. And if it doesn't give the desired result then probably it would be the best time to switch the business model or product or the thing that you think was the cause.
How To Sell On Shopify: Step-by-Step Guide.
1. Set up your account
Step1:Go to Shopify.com and click on the Sign-up. For beginners, Shopify offers a 14-day trial without even asking for your card info.
Step2: Fill in the required details with the Store name that you have thought of. Try keeping the name short and easy to remember along with the name with which you can get a domain name (we will discuss this further). Now click on the "Create your store" Button you see in the right-bottom.
Step3: At this point, Shopify would take you to a screen where it would ask you questions related to your business. You will have an option to skip, but if you do it truthfully, Shopify would give further suggestions to sell on Shopify.
Step4: After going through the questions now it's time to fill some mandatory information about you, like your name, address, and other contact information. After filling the form click on the "Enter my store".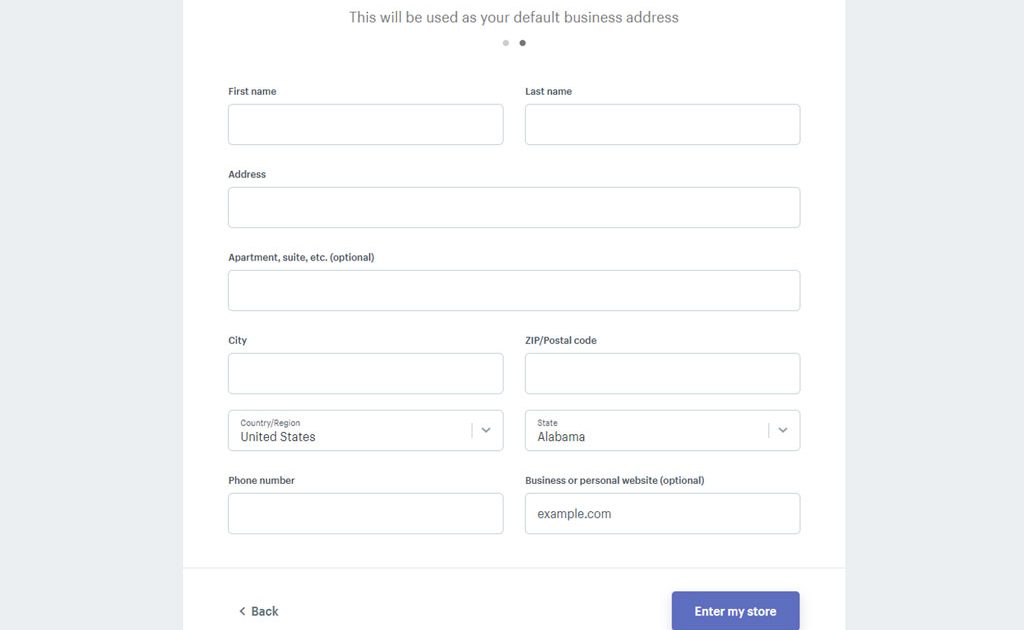 With this, you would be in your admin panel. Go around the options and the panel to explore it thoroughly and in the next step, we would learn about setting up your store to sell on Shopify.
2. Set up your Store
Step1: The first thing to do is to choose your domain. Again choose the domain name same as your store name so that when customers search your name, they could reach you. To help you sell on Shopify, you also get the primary domain i.e. "your domain".myshopify.com. If you wish, you can also buy your business domain from sites like GoDaddy, Siteground, etc.
Step2: After Choosing the domain name, it's time to choose the theme. The theme would decide how your store would look. Shopify has thousands of free and paid themes and you can choose it directly with the admin panel itself.
Add the images and other essential details to make your store look more appealing to customers. In order to successfully sell on Shopify, you shall also use relevant keywords.
You can refer to 10 eCommerce SEO Mistakes to Avoid Immediately.
3. Add Products
Step1: Final step to learn in order to sell on Shopify is to add products to your store. Go to the product tab→All product→add product.
Step2: Here you can manually add every single product that you selected while planning. Or either you can import all the products automatically through the .csv file. You can read more about this on Shopify Help.
4. Adding Plugins
Plugins are additional features that you can add to your store in order to optimize, market, and to sell on Shopify successfully. Go to Apps and search for the plugin. To know more about plugins we highly recommend you read the Top 15 Best Shopify apps to increase sales in 2020.
5. Marketing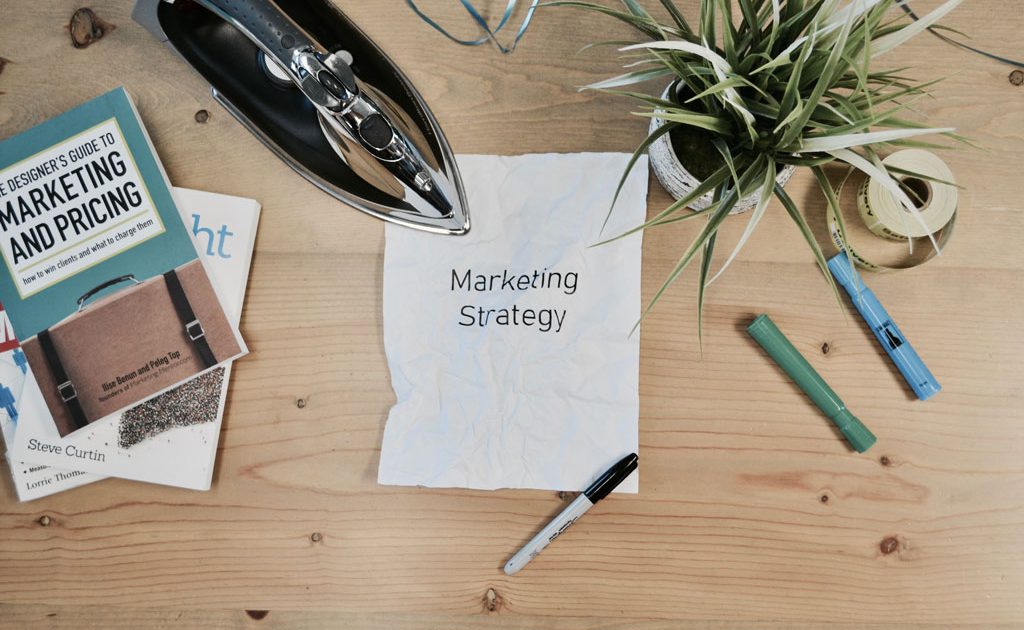 The final and the most important part of selling on Shopify is to market your store. There are countless strategies that you can follow varying from business to business and product to product. But in order to make it easy for you, here are the two most important articles that shall refer.
How to make your First Sale Before the Free Trial Ends?
Are you ready for this challenge? You already know what steps to follow to sell on Shopify, but here some additional tips that can make your first sale happen, even before your Shopify free trial ends. To be exact, these are the effective tips to get your first sale within 14 days of starting your store.
Pre-planning
You will be on the clock once you start your store, hence to make sure that no time is wasted, beset with all the research and planning. Do thorough research and step by step plan that you will be executing once you sign-up at Shopify.
This stage includes
Doing all the research related to your business model, product, competition, market, and everything that you will need to run a successful business.
Set Up your goals, choose the target audience, and the way you would be reaching out to the customer.
Sort out your marketing campaign. Don't hold back and make sure that all the ads are on the schedule to the day your store is ready.
Stay on your feet
You are into a tough game when you only have 14 days on the clock to sell on Shopify. Well, you can take longer obviously but why wait? Hence to make sure that the business in the eye of your customer, sort out the design.
If you don't have any idea, where to start with design, keep the style minimal and simple or take inspiration from your competitors.
You can always change the design, but try sticking with your own style. In addition to the design, look out for the best headings, product description, and about you that you can take inspiration from in the first place.
Write down whatever you will be typing-in so that you would just have to copy paste when the store is live on the internet.
Sense the Trend
The next very important thing that you need to keep in mind when you sell on Shopify is to stick with the trend. At the start, where no one is aware of your store, it's important that you deliver what they are looking for.
In the later stages of business, you can start your own trend, but for now, since the trend, you want to be part of it. Not of the day, you plan but the days you would be executing. Understand what's the topic of interest within your audience, update your store and marketing in order to sell on Shopify successfully.
Market yourself
We have said this before and we want you to bold this in your mind. Marketing is the key through which you can sell on Shopify at a higher pace. The better your marketing strategy is the quicker your audience will turn into your customer.
Keep up with the USP, choose the right platform to reach out to your customer, use the pain point to sell your product, and give them the assurance that they are doing the right thing when they are checking out the cart.
Keep This in your Mind!
Finally, you are all set to sell on Shopify. But along with all the important insights that you got from the article above, there is one thing that will make a difference in your success. That is the way you treat this eCommerce business.
Shopify is among the biggest platforms where you can reach out to your customer no matter where you are operating from. You have the potential to make the whole globe your audience just like amazon and become the next "Big Thing" in eCommerce.
Also if you are an eCommerce, looking for the Best Product Photo Editing service, go nowhere rather than Pixelphant. Still, having some doubts? Have your Free Trial Now.
Try PixelPhant for free
Use PixelPhant to get more conversions for your online store with better product images.

Background Removal | Clipping Path | Color Correction | Cropping & Resize | Retouching | Shadows