How Outsourcing Photo Editing Can Be a Smart Move?
September 19, 2020 in Photo Editing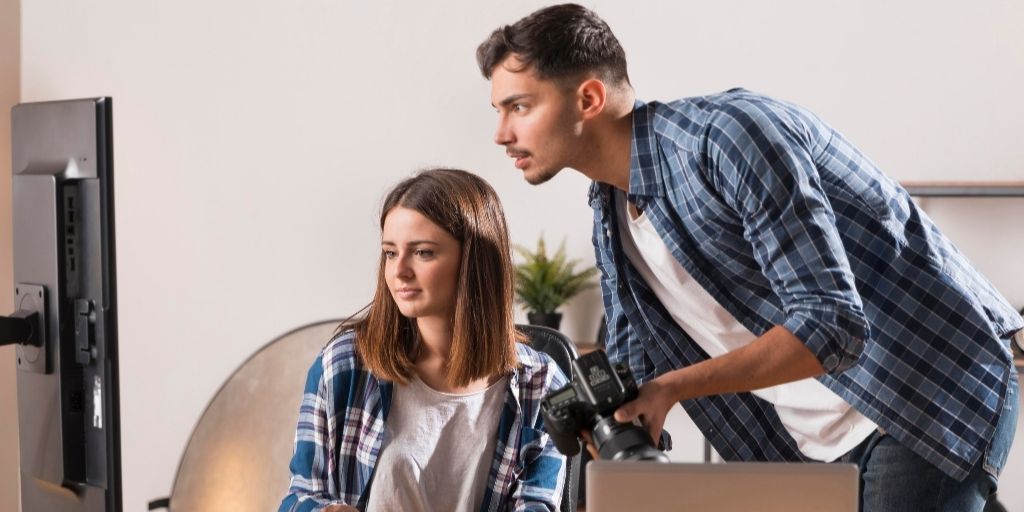 Photos are the life of your eCommerce business, they are the face of your business!! They are essential to be in your product pages, website pages, social media, marketing ads, hoardings, magazines, and pretty much everywhere to catch and be in the eyes of the customers.
A study done by kellyheckphotography proves that a person can only remember 10% of the information seen in the form of words, but the photos can improve the recollection by 60%.
The blogs with relevant photos get a massive 94% more views against those who don't.
Too much importance of photos – Phew!
It is impossible for your eCommerce business to attract any traffic if your photos are dull, distorted, blurry, or unattractive. Good quality photos prompt the customers to click and explore the website further which automatically increases your opportunity of getting more potential customers.
I believe that you must be agreeing with me and hopefully will start putting more effort into how your product and website photos look if you haven't used the professional ways already.
If you are a businessman who deals with photo editing on its own or relies on a professional photographer to get the work done for you, then I have 11 most definite and genuine reasons that'll convince you for outsourcing photo editing in no time.
Before we jump into more robust benefits of outsourcing photo editing, I would tell you that the fundamentals of outsourcing photo editing are that the professional photo editing service providers know it better on how and what techniques to use on different kinds of photos as they deal with it on a daily basis along with high-end techniques. They can do the work at a lower cost as compared to hiring an exclusive professional photographer.
Now, with no further ado, let's dive in!
11 Reasons Why you Should Switch to Outsourcing Photo Editing
1. You have More Important Things to focus on
Being an eCommerce business owner, there must be a thousand things on your head to complete and about a million ideas to boost your eCommerce business growth. This involves sales, marketing, management, implementations of policies and ideas, meetings, and everything that is essential for your eCommerce business to expand.
But there is this one task that can not be neglected and requires constant attention whenever a new photo of the product is clicked or a photo that is selected to be posted online.
Photos play an important role in attracting more customers. And not just photos – alluring, good quality, compelling photos that are not easy to push out of the minds.
Photo editing can be tedious, time-consuming, and sometimes expensive. To make sure that you are free to focus on more important things, outsourcing photo editing is an excellent way to get this done at a cheaper cost with timely and amazing quality results.
2. You lack Expertise and Outsourcing is all about Expertise
It is better to leave the work for the one who knows best. When you start outsourcing photo editing, you give work to the people who have been doing the same work for years and know what kind of editing is most popular in the industry. They can design your photos in a way in which other competitors are doing.
If you think about improving your editing skills, then it is much better to improve your cost-saving, time-saving, and business skills which can ultimately be if you outsource photo editing as it doesn't need your exclusive attention.
3. You can't keep up with Ever-rising Demand
The never-ending demand for newer product and website photos which are more sleek and compelling is something hard to keep up with.
With every new photo, you will be required to do the photo editing before you can post them on social media, website, etc. You can not choose to use the outdated photos as neither that is the choice of your customers nor your competitors are settling there.
Outsourcing photo editing gives you the freedom to click and update new photos every month or as feasible because the professionals are always there to take care of them.
4. Your Photographer is asking premium dollars and you refuse to compromise on quality
You must've hired one because you understand the significance of photo quality in eCommerce and you are ready to pay money rather than compromising over the quality.
But the truth is, hiring a professional photographer can be very heavy on your pockets as compared to outsourcing photo editing.
For photographers, the price could be reasonable as they are giving you the exclusive service. Using the best digital camera brands, photo editing software subscriptions, and the time of a professional is not a cheap stake.
But when you own a business, money-saving and good quality are both equally important. Though both may not be achieved when investing in a professional photographer, you can save a lot with the smart move of switching to outsourcing photo editing.
When you outsource photo editing, the professionals can get your work done at a lower cost as they work for hundreds of people who demand excellent quality at a reasonable cost.
5. Outsourcing is Cheaper
As explained in the last point, outsourcing is indeed cheaper. And, this is the most valid reason to adopt outsourcing photo editing if you are planning to cut costs as much as possible.
Cutting costs doesn't only allow you to save money, but you can utilize this money in other better investments, provide discounts to your customers for better marketing, reduce or remove the delivery charges as a perk for your customers.
Your savings via outsourcing photo editing can affect the other areas of your eCommerce business that can get you more satisfied customers, improved growth strategies, and more investment options.
6. You are Overtiring Yourself
It is high time for outsourcing photo editing if you are working late and staying at the office to complete photo editing tasks whenever required.
There is no point in wasting your luxury time, efforts, and sacrificing your sleep where your business needs you for more important activities and demand you to outsource photo editing.
Along with handling the sales department, maintaining technical data, coordinating with logistics, planning business strategies, putting efforts into generating traffic, taking care of the inventory, finances, and whatnot, being under the pressure of completing the photo editing task is just not worth it.
It could be acceptable where there is a task that doesn't have any alternative option, but outsourcing photo editing is a much better and time-efficient option for production.
7. Your Photo Editing Demand is Seasonal
When you are involved in a lot of tasks related to your eCommerce business, there comes a time where your business needs to put the relevant and updated photos out there. Be it for Christmas, Independence Day, or let's say if you deal in clothes, your summer best sellers might need to be replaced with winter best sellers. You may consider clicking the photos and post them raw rather than outsource photo editing.
This could be the biggest injustice you can do to your eCommerce business. Product photos and website images are what people interact with first and if they are corny and unprofessional, your business automatically gains a negative reputation.
People tend to associate your product photos and website appearance with how professional and elite you are. Later comes your prices and quality. Because even if your products are of great quality and reasonable price, their images may convey just the opposite story. Bad quality images make it harder to believe what you write on your website.
So, in such instances, getting in touch with the photo editing service providers and outsourcing photo editing can lift your seasonal burden away and you can continue following your yearly planning without breaking the chain and putting your time into editing.
8. Outsourcing Opens you the Door to Multiple Options
When you start photo editing yourself, you are stuck with what you know, and when you work with professional photographers, you can't juggle between them easily, and also they won't come as affordable.
But outsourcing photo editing allows you to choose between many photo editing service providers. You can experiment with different companies and choose who works the best for your eCommerce business to outsource photo editing.
9. You Can Cut the expense over heavy Camera Brands and expensive software
Businesses outsource activities with the primary purpose of cutting costs. When it comes to quality photos, good camera bands, and photo editing software such as Photoshop are highly recommended. But the money that you pay for buying the subscriptions and camera along with the time and efforts you put makes outsourcing photo editing a much better option.
The outsourced professionals already work with high-end modern software and acquire skills that provide optimum results at a better cost and zero liability.
10. Reduced Turnaround Time
You click hundreds of photos of one single product and take out the time to finalize the best ones. The process could take a day or two minimum. Then comes the time when you are required to sit and beautify each and every selected image in the best way possible. You might need to remove some unwanted things from the background, retouch the skin or the entire photo, do the Image color correction, add textures or shadows, and transit the image into post-worthy.
From the time you click the image to the time you are supposed to get them ready can take a while. Outsourcing photo editing can reduce the turnaround time you spend on the photos.
It makes the process faster so that you can stay ahead of your deadlines and catch the eyes of potential customers sooner.
11. Outsourcing brings Consistency, Quality, Credibility
When you finally start outsourcing photo editing, you see that whenever you have photos to post online, you simply ask your photo editing service provider to take care of them. This eliminates delays, reduces turnaround time, and brings consistency in your work.
Your edited photos get posted consistently and your other eCommerce growth-related work also gets done consistently and efficiently as now you can focus more on them.
Outsourcing photo editing brings consistency to your work which automatically improves the quality of your work. This includes activities related to timely engagement with social media, websites, and other platforms with fresh and good quality images, sales, marketing, management, and decision making.
The consistency and quality of your eCommerce business consequently gain credibility in the eyes of customers, business partners as well as your competitors.
Your consistency and quality display how professional and serious you are for your work and how you care about the face of your company.
Final Words
Photo editing professionals like PixelPhant are dedicated to the very work of improving photo quality so that the concerned eCommerce businesses can achieve the goal of captivating more customers and increasing sales. I do not just recommend outsourcing photo editing services, you can boost the growth by outsourcing your small business and save more time and cost in various areas of business.
Outsourcing photo editing is an excellent way to cut the cost of the heavy demands of the photographers and the software that is used.
The photo quality, with no doubt is very essential and non-negotiable at any cost. When you let the professionals handle the work, you get great quality, on-time work, and most importantly – the saved time that you can invest in many important tasks to expand your business. When you outsource photo editing, you opt for a stress-free and economical business expansion.
Try PixelPhant for free
---
Use PixelPhant to get more conversions for your online store with better product images.

Background Removal | Clipping Path | Color Correction | Cropping & Resize | Retouching | Shadows