How To Sell On Best Buy? 7 Things To Know Before You Get Started
Updated on January 21, 2023 in
Ecommerce
by
Alifiya Mustafa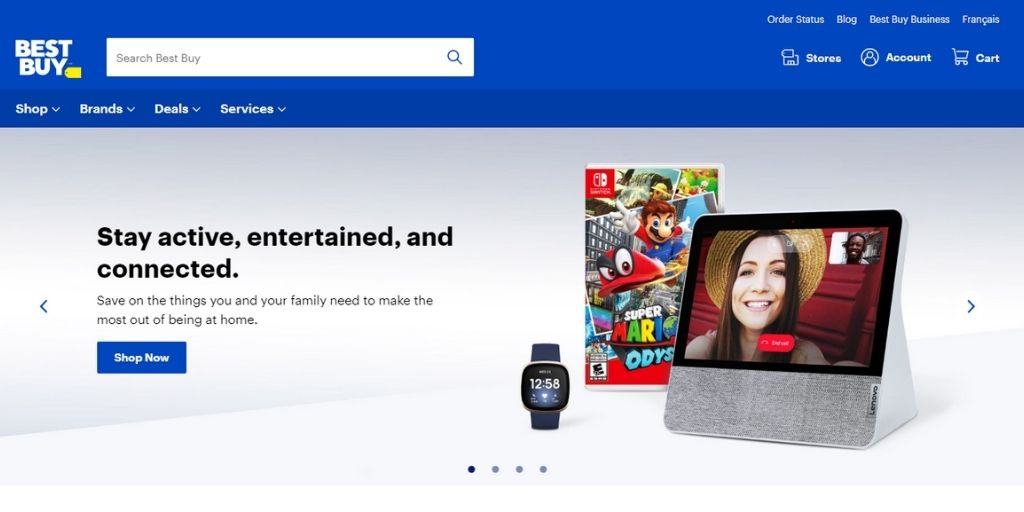 Since 1966, Best Buy has been a genuine and most reliable electronics retailer in America. People with all their technical and electrical needs have trusted Best Buy. It has built so much trust that people now even want to sell on Best Buy.
You can either buy products from their multiple physical stores or from their eCommerce website.
Currently, Best Buy sells items of various categories like
TV & Home Theater
Cameras, Camcorders & Drones
Home Appliances
Computers & Tablets
Home & Office Furniture
Musical Instruments
Video Games
Health, Fitness & Personal Care
Wearable Technology
Car Electronics & GPS
Cell Phones
Toys, Games & Collectibles, and more
Be it the physical electronic items or digital keys for the software, Best Buy has got it all. But, the best part is, you can't just buy from them but you can sell on Best Buy too!
If you're a tech guy looking forward to selling his items on Best Buy or just an online businessman trying to build his own small online shop on Best Buy, the place is not going to disappoint you.
In this article, I'll be telling you about a few simple steps on how to sell on Best Buy.
How Do I Sell My Products On Best Buy?
To sell on Best Buy, you must follow Best Buy Vendor Standards which are as followed:
Supplier Code Of Conduct
If you're trying to build your own Best Buy empire and sell on Best Buy, Best Buy demands you to provide safe working conditions to all the employees working for you. You must follow EICC, i.e. Electronic Industry Citizenship Coalition Code of Conduct.
This Code of Conduct includes 5 parameters that need to be taken care of to sell on Best Buy:
Labor
Health and Safety
The Environment
Business Ethics, and
The Elements of an Acceptable System
Code of Business Ethics
This includes your responsibility to Best Buy's customers, business partners, shareholders, and communities – as well as to other vendors.
Environmental Standards
To sell on Best Buy, you must follow e-waste laws, AKA EPR laws (Extender producer Laws). Under this law, you'll be required to recycle no matter what you sell. If you're a manufacturer, you'll be required to recycle your electronic items.
Based on which state you live in, you'll be required to pay a yearly fee, submit an annual registration form, and submit your sales data to the state.
Conflict Of Interest Policy
Avoid any conflicts of interest as being a vendor, if you work for your own interest and go against Best Buy's interests, then you may cause disappointment to customers and they may lose trust in Best Buy.
Shipping Standard
To sell on Best Buy, you must agree to the terms of the Best Buy Ship It Right logistics and shipping compliance program.
Product Safety
You'll need to sign an addendum to the Vendor Master Agreement in context to the Consumer Product Safety Improvement Act, 2008 to begin to sell on Best Buy.
Logo Needs
Best Buy isn't just concerned with your product quality, but also with the quality of brand appearance.
Having a poor-quality logo will reflect poorly on their brand. To meet Best Buy logo needs, your logos have to be vector Adobe Illustrator files and must be compatible with Adobe Illustrator 15.1.
You will need to submit 3 versions for each of your logos. These include a CMYK, a white reverse image, and a black positive image
Tax Codes
As per the tax codes, if a sales tax is undercharged, then Best Buy will be liable for paying any uncollected taxes.
Overcharging on sales tax is strictly forbidden as it not only leads to a poor customer experience but also hurts Best Buy's as well as your reputation.
Selling On Best Buy
Once you comply and agree to all the Best Buy Standards, You'll need to fill a merchandising vendor inquiry form. This form will help Best Buy know about your company and your products.
If they find you a suitable vendor and if they have an opportunity available, you'll be contacted by one of their team members to sell on Best Buy.
Now, if Best Buy Contacts you, you'll want to take care of a few formal things to begin to sell on Best Buy. These Steps include:
Enrolling in the Electronic Funds Transfer system
Contacting Best Buy's E-Business team to discuss EDI options and receive guidance
Apply for security to PIM Portal once your vendor number has been created
Setting up as a vendor may seem complicated, but eCommerce Trade will help guide you through the process
Conclusion
Selling on Best Buy doesn't only give a kickstart to your business but an already set up reputation and potential market to grow.
The process to sell on Best Buy is easy, given that you have quality products to sell and dedication to work as per the standards.
I hope this article will give you some guidance on how to sell on Best Buy and you'll be able to set up your business easily with the company.
If you're an eCommerce business owner with multiple products, then start to make your products look more professional, of high quality, and engage more customers with professionally edited images with PixelPhant. Take the free trial and get your images edited, retouched, or just get a Clipping path created that you can use forever!👇
Beautiful product images across your website.
Background Removal, Clipping Path, Color Correction, Cropping & Resize, Retouching, adding Shadows, and more.

Try PixelPhant for free
No Card Details Required