Best Product Photography Equipment You Need in 2023
Updated on November 14, 2022 in
Photography
by
Chetan M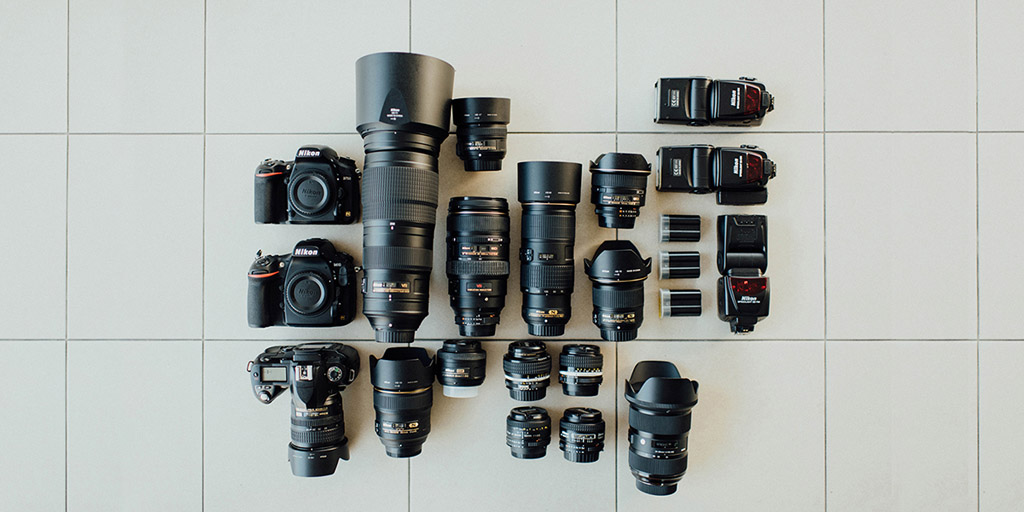 What is Product Photography?
Before talking on product photography equipment lets understand from the beginning. Product photography is a branch of photography, which represents the product in advertising very accurately and attractively. It modifies the product in a professional way. Using this equipment will help you to do Best Product Photography.
The product photography majorly involves capturing a single product by itself including the whole plain background and clearing away any distractions from the viewer's point of view.
Quality of product photography not only convinces the customer to make the purchase but also helps you to stand out from the crowd. There should not be any misrepresentation in photography. It should be done with good lighting, soft shadows, and includes no reflection.
Take High-Quality Product Photos With This Latest Product Photography Equipment
There is various product photography equipment in the market. They help in showcasing the products in an attractive way. This equipment is very useful to take product photography.
Thereby enticing the buyers to make various purchases.
It is considered that 90% of the information transferred to the brain is visual. Photos determine the retention and conversion rates as it is a key element in the decision-making process of consumers.
The quality of the image also reflects the brand image which ultimately creates the infamous impression first.
Thus there are some outstanding inventions made in the field of product photography that leads the photography process to an attractive level. Here is some best equipment for taking the best product photography.
Tripods
The best way to improve the quality of photography or videography is to invest in tripods and it is not necessary that it should be an expensive one only.
There are sorts of tripods with various uses and a vast variety is available in the market. The main question is which is the best tripod to use? Aluminum, carbon, magnesium, or a combination of materials!
The direct answer to these questions is which camera gear you use and what kind of shoot you are planning to do.
So we are here to help you out in choosing the best tripods in the new edition of 2019. Here are some of the new tripods available in the market:
1. Benro Go Plus Travel Tripod
It is one of the best tripods in the category which is great for anywhere and everywhere. The tripod is made up of carbon fiber with a folding height of 49 cm. The total weight of Benro is 2.05Kg with a maximum operating height of 179 cms.
It has four sections per leg, including the 3 locking leg angles. The benefit of using Benro is that it provides excellent build quality and sturdiness, along with a supremely versatile feature set.
2. 3 Legged Thing PUNKS Travis Tripod
Yet another achievement in 3 legged things is 3 Legged Thing PUNKS Travis Tripod. It is able to tackle the payload of a whopping 18 KG. These sets of legs will support the heaviest of pro setups and thereafter some.
It is not billed as a travel tripod yet packed down as one, measures the shy of 45 KG when folded up. There are 4 legs per section with the 3 locking leg angles.
3. Novo Explora T5
In spite of having amazingly good value for a carbon fibre tripod, it is the one that best fits in building quality. There is a small folding with the swing up to 4 sections. Novo Explora T5 has a respectable maximum height of 161 cms and a load rating of 10 KG for both the legs and with the ball head. There is an impressive load capacity given the comparatively lightweight with many of the similar tripods.
Table Tents and Light Boxes
When it comes to product shooting, lightboxes and table tents are very useful equipment. They are the new gadgets that came into the picture in the field of product photography.
These are the photography lighting equipment that provides backdrop and light, both at the same time. It reduces the wastage of time and retouches work in Photoshop. The shots of products will be more natural at the same time.
What is table tents actually?
Table tents are a kind of contraption with translucent sides that diffuses the light coming from multiple sides. It allows the nearly shadowless lighting in contrast to a simple background.
What is a lightbox?
A lightbox is a box having 5-6 walls having the shape of a cube. Normally the walls of the box are made up of translucent fabric which allows the light to diffuse from it. The light will be converted then into a soft one. The shadow of product photography is reduced with the help of a lightbox.
Whether you are a professional or an amateur photographer you can take beautiful and decent pictures by just putting your product in the lightbox or putting a tent on it.
Here are some of the lightboxes and table tents:
1. Limostudio Table Top Studio Lighting Box Tent Kit
With its low price, it comes with two LED lights with stands, smartphone tripods, holder, light tent, and color backdrops. The best feature of the Limostudio Table Top Studio Lighting Box Tent Kit is that it comes with translucent walls to improve the photo quality and it enables to add the high power studio lights.
2. Neewer Studio Shooting Tent
It is a comparatively lightweight tent with large-size product photography. The length of the side is 150 cms which are able to fit in a sitting person, clothes, paintings, floods lights, etc. The large translucent walls work as a diffuser to eliminate the shadow while taking shots of different products.
The downside of the tent depicts that it does not include the lights.
3. My Studio Tabletop Studio Lightbox
As all of the all-in-one light boxes, this also has the segregate walls for more flexibility. The point of attraction in this product is its seamless background. The round background makes the process of shooting much easier. The angle is not restricted in the usage of a lightbox.
When it comes to the lighting part, it gets dispersed after going through the translucent material. The warranty is lifetime limited.
Lens
There are more factors to consider when has to make the choice of choosing the product photography lens- such as the subject's size, lighting setup, distance from the object, and the studio space.
There are mainly two things that you need from the lens are- sharpness and the adequate focal length of the product.
In favor of the budget, there are some lenses that fit into it. Thus for you, we have clearly explained the features and mentioned some of them below. They can help you to get the best out of it and can fulfill your imaging needs.
Lens for DSLR
1. NIKON 50mm f/1.8G AF-S Nikkor
For the DSLR shooters, this lens proves great in capturing the shots. It just captures what products actually appear without having the distractions of wide-angle lenses. For all skill levels, this lens is ideal whether it be beginners.
It is a pocket-friendly product. Beginners can easily start with this Nikkon lens and can shoot stunning products with the maximum limit of the bokeh effect of f/1.8 G.
2. Canon EF 50mm f/1.4 USM
As the 50mm lens is popular among photographers, the majority of the canon users have sworn EF 50mm f/1.4 USM. It makes a great difference among many of the product photographers.
The lens is suitable for photography styles other than product photography. The compatibility of the lens makes it the best among the product photographers. It is a full-frame prime lens. The autofocusing mode is enabled with the 8 diaphragm blades.
3. Sigma 24-105 mm f/4.0 DG HSM ART
It offers a versatile focal length. This is one of the favorite lenses among beginners and pro-level photographers. The camera has both the features of wide-angle and telephoto zoom angle length.
The product is able to click the shots of multiple objects whether they be small or big. The quality of the lens is above average one with the quality of getting the sharp images including the control of chromatic in every shot.
Lens for iPhone
Believing it or not, having the external lenses for your phone to shoot and having it on your hand is an amazing idea to make the photos good through tough lighting and focusing scenario.
Therefore here are some lenses you can use in the iPhone to zoom in closer to your product and can create a macro product image:
Moment iPhone Lenses
There have been amazing evolutions made by moment, and Moment iPhone Lenses are one among them. You can take your photos to the next level of professionalism with their extreme quality of engineering.
Color Checker and Grey Cards
If you learn how to use a grey card and color checker properly, you can easily save yourself a lot of time in post-production.
Grey cards are one of the amazing little tools that should be a part of any photographer's tool kit. It acts as a perfectly neutral point of your image, which simply means that you can use it as a reference point at the time when you are doing the editing in post-production.
Color production, loading color profiles are some of the tangled messes and which leads to very frustrating headaches even.
Using the color chart properly can get you closer to actual colors and save a lot of time in dialing your picture.
Thus, here are some of the color checker and grey cards that you can easily use in your post-editing process of the images:
1. X-Rite Colorchecker Passport Photo
It eases your workflow in a number of ways. Enhancement of creative target lets you to one-click cooling and warming, and easy evolution of shadow details. In order to create the DNG profiles, there is an option in X-Rite Colorchecker Passport Photo for classic target 24 patches. To protect you from damages, there is a protective case.
2. Color Confidence GrafiLite
This tool views your prints and color swatches in natural light. Whether it be indoors, day or night. The appearance of color becomes distorted under the standard home or the lights of the office, and thus the colors in surroundings will bias your color perception.
The Color Confidence GrafiLite combines one of the powerful, energy-efficient stimulated natural lightings with the space-saving lamp unit and mid-grey neutral mat view.
Latest Smartphones to Capture Good Quality Product Images
With today's development in technology, it is totally easy to take great pictures even with your smartphone. It is considered both user-friendly and within the budget. Thus if you are a consumer who has purchased any of the following devices, then you are the one having a high-quality DSLR alternative at your very fingertips:
1. Apple iPhone 7
12-Megapixel camera
f/1.8 aperture (wide angle)
HDR multi-frame image processing
Optical image stabilization
Quad-LED True Tone flash
Local tone mapping and white balance
Autofocus
Exposure control
2. Samsung Galaxy S8
12-Megapixel camera
f/1.7 aperture
HDR multi-frame image processing
Autofocus
LED flash
Pro mode for manual settings
3. Google Pixel or Pixel XL
12-Megapixel camera
f/2.0 aperture
Large 1.55μm pixels
HDR multi-frame image processing
Extremely short capture time
The Last Sight
For a brand, good product photography can mean a lot. You should always stand out with your brand whether you are a DIYer or hiring someone for your photoshoot. So what are you waiting for, get up grab your camera and go on to shoot. Thus optimizing the product photos for your e-commerce may seem to have a lot of extra work and with this, the results are worth it.
You can choose the best equipment for your product photography in this list.
Suppose you don't have the time or desire to spend all day in Photoshop editing images. In that case, PixelPhant retouching services make it super easy to get your images professionally retouched at scale, with the following day turnaround. You Can easily use this equipment and go for Best Product Photography.
Try PixelPhant for free
Use PixelPhant to get more conversions for your online store with better product images.

Background Removal | Clipping Path | Color Correction | Cropping & Resize | Retouching | Shadows