Copyright Photography: Why And How To Copyright Photography To Save Yourself From Digital Theft
Updated on October 31, 2022 in
Photography
by
Alifiya Mustafa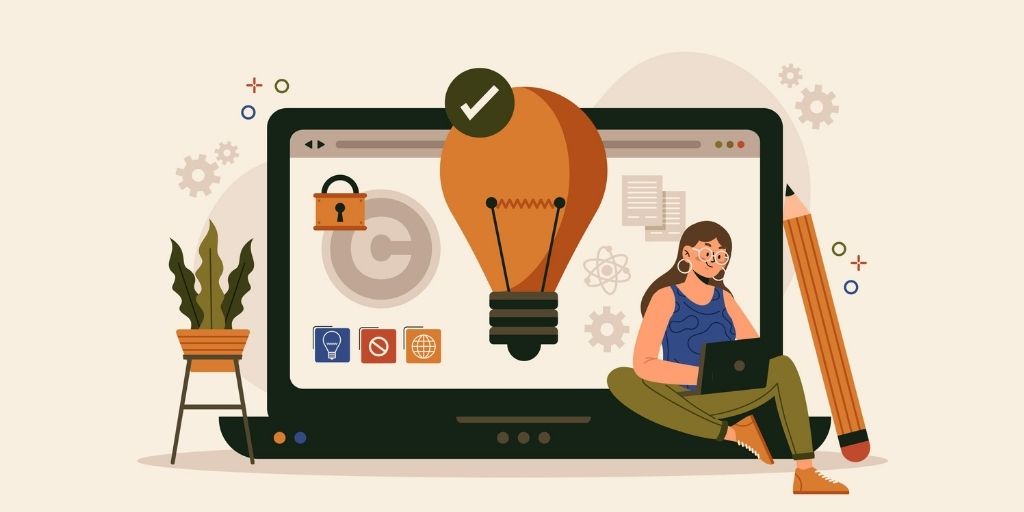 Online theft isn't new for anyone and I believe that almost everyone in this world is very well aware of it. It can steal your identity, your money, as well well as your work.
Being a professional photographer, you just have to put all your work online to engage viewers, attract clients, and obviously, build a portfolio and compete in the market. But, it isn't safe to put your hard work online without any security. People can intentionally or unintentionally use it for their use and you won't even get the credit.
I bet you don't want that! Thus, it is important to copyright photography. 'What's that?' Let me explain to you.
What Is Copyright?
Copyright is the way to protect your legal rights of any work of art or intellectual property. In a nutshell, copyright is the right to protect your work from any other person using or claiming it.
As a photographer, copyright photography means that the original owners of your images, and anyone you give permission to, are the only ones authorized to publish or reproduce your images. The moment you capture an image on your camera, you own the right to copyrighting photography and safeguard it
Doesn't matter if you're an amateur or a professional photographer, you can and will be protected by law. However, it is necessary to understand that the laws regarding copyrighting vary from country to country. I'd recommend that you seek a professional lawyer or law advisor to know the actual terms and procedures.
Lack of knowledge about copyright photography can cause a lot of confusion and sometimes even loss of money and reputation if someone uses the images in the wrong or illegal ways. You should always stay informed about copyrighting and also educate your clients using it.
If a client is purchasing the images and has intentions to use them for any purpose other than selling then you must make sure to transfer the copyright. You'll not want any others' wrongdoing with the images to be claimed under your name. It also sometimes happens that people use your images to get images and earn fortunes out of them. Without copyright photography, you can't blame the person using it.
Therefore, to ensure that only you and those who you permit have the authorization to use the images, you must copyright photography.
Why To Register Your Copyright?
By now you must've understood that it's pretty easy and common for your artwork to get stolen online. People can knowingly or unknowingly use your photography for their own use. And, not to copyright photography could be quite dangerous as you can't do anything about it so as you do not have any proof whether you're the actual owner of the images used or not.
All the big companies like Nike, Ferrari, Coca-Cola, and others use copyright to safeguard the images that they own. In the case you need to approach the court to sue for any damages and fees of the lawyer, copyrighting your photos will protect you and help you be on the stronger side of the case.
The judge or jury can address your case under the Copyright Act while the copyright infringement suits. Thousands, if not millions of dollars, if you succeed to prove that your photos were stolen intentionally and knowingly. Copyrighting photography is mandatory as photography still has an extreme value in it because it enables brands to earn a hefty profit by marketing their products.
If a business is trying to profit financially by marketing and selling a product with stolen images that you clicked, then that is a huge problem. It isn't just about the stolen photos but the profits earned through them which actually is the right of the photographer.
When you don't take any strict action against those who are stealing your work and generating money through them, you're simply letting go of the money as well as neglecting your work.
How To Copyright Photography?
When you think of Copyrighting, it may sound pretty daunting and complicated. But the truth is, it isn't. The simplest way to begin is to Google. For example, if you're in the USA, all you do is just Google 'Copyright photography in the USA' and I bet you'll get what you're looking for.
As explained above in this article, I've already mentioned that the procedures may vary from country to country. A few countries have arrangements with the U.S. to apply U.S. copyright laws. It's generally helpful to copyright photography in the United States even if you're not a U.S. citizen, to get the statutory advantages of registration in the U.S. Preferably, you must copyright photography before it is published, but you can copyright it at any time.
You can even copyright photography after you've found out that one or more of your images have been used unlawfully or against your will. However, It could be a little more complicated and daunting for documentation purposes. The cost of copyrighting photography varies. For example, in Canada, it's around Canadian $50, and in the U.S., it's around $55 for a bunch of photos. You can copyright photography as a group to a max of 750.
The portal to copyright photography or any of your work is pretty simple to use. You'll need to upload a .jpeg for each photo you're copyrighting and submit a list of titles in an Excel spreadsheet. It is preferred that these things be submitted in a .zip file. I would recommend that you do your own research based on your country. Look for what documents you'll be needing, what is the cost for it, and more.
Although in countries like the U.S. and Canada, copyright is instant upon the creation of a work. However, you still need to have your work copyrighted before you can sue and file a case. On the other hand, in countries like Australia, there is no formal copyright system. The law in such places makes sure that certain forms of actions are by default get covered under the Copyright Act.
Wrapping Up
Being a photographer, amateur, or professional, it is necessary that you copyright photography. This doesn't just make sure that your work is protected, but also gives you the ability to take strict action against those who try to steal your work and label it as their own.
If you haven't registered for copyrighting yet, I'd highly recommend that you get it done as soon as possible.it isn't too hard and should not be delayed. I hope this information was enough for you to find out why and how you can copyright photography.
If you wish to learn more about eCommerce, product photography, Product photo editing, and how to grow online, subscribe to our email newsletter below.
Also, if you have bulk product photos that need professional editing, then take your free trial with PixelPhant now👇. Get your bulk product images edited within 24 hours.
Beautiful product images across your website.
Background Removal, Clipping Path, Color Correction, Cropping & Resize, Retouching, adding Shadows, and more.

Try PixelPhant for free
No Card Details Required