Artificial Intelligence has taken every industry by storm and every business is running after AI to include in their businesses in one way or the other for an expected better and brighter future growth. Similarly, it's very effective for the photography industry too to use AI Photo Editing Tools.
Well, there's nothing surprising now if AI-based technology sweeps people off their feet as it is the basis of all computer learning and is the possible constant future of all complex decision-making.
As per the statistics, 84% of companies believe that investing in AI can bring more competitive benefits
The study also shows that in the next 5 years (2025), AI is expected to grow into a $118.6 billion industry.
With software such as Engati and Deep Vision that gives a boost to business software, photo editing software as FaceApp has also crossed the limit of highly influencing people. Its age-related filters among other features have even compelled celebrities to use. From Jennifer Lopez to Justin Bieber, everyone is engaged with these AI photo editing tools.
This shows that the spread of AI is not going to be limited to the computer-related industry but is going to make a massive impact on fashion, art, and photography-related industries too through AI photo editors.
AI is gaining popularity, business owners want it in their companies, employees need it for better proficiency, and even children dream of learning and mastering the field of AI.
AI is the future and AI is the success.
Photographers are making use of AI photo editing tools a lot to get that one mesmerizing piece of art that breaks the internet. Though cameras already have built-in AI that does automatic scene recognition, some post-production AI tools can also give you a hand in your creativity.
In this article, we have listed 10 AI photo editing tools that will help you not only master a shot but also stand out in your competition.
10 Best AI photo editing tools
1. Luminar 4
If you are a photographer, you must be knowing the pain of sitting for hours on Photoshop to retouch a portrait. While it takes ages to remove acne, wrinkles, blemishes, dark spots, and get that flawless skin for the image, Luminar 4 can do the work in minutes.
A feature called AI Skin Enhancer removes the acne and blemishes flawlessly while leaving the other desired textures, hair, and freckles untouched. It recognizes the face even from the surroundings and group and allows you to edit the image without masking.
Another smart feature of this AI photo editing tool is called AI Structure adds clarity instead of overburning while keeping the natural colors and textures intact.
It doesn't stop here, Luminar 4's one more filter called Sunrays adds natural-looking light rays that beautifully enhance the outdoor shots. The software's interface is easy to use and user-friendly that quickly comes in handy by even beginners.
You might have got the idea why Luminar 4 stands at the top of our list for best AI photo editing tools!
2. Photolemur 3
Photolemur 3 AI photo editing tool is a one-click solution. Simply import the image, and the software will smartly adjust the exposure, temperature, white balance, shadows, and tones.
Even if you are new to photography or have been in the niche for more than 10 years, the software is really your lifesaver.
A few more exciting features Photolemur has to offer are:
Perfect Exposure: It gives you a well-balanced exposure under any light and fixes the photo instantly for you.
Enhanced Eyes: Eyes are always the storyteller of the subject. The feature allows you to create a more expressive portrait by enlarging your eyes and adding appropriate sharpness.
Automatic Skin & Face Enhancement: Smoothen the skin, whiten the teeth, and remove all skin imperfections within seconds.
With such great features, this AI photo editing tool eliminates the boring areas of the work easier and more fun for every photographer.
3. Aurora HDR
What can be better than using HDR filters in your photos? AI photo editors like Aurora HDR are centered on the Quantum HDR Engine technology that merges bracketed photos into one image and reduces color burns, loss of contrast and saturation, and attenuates unwanted lighting effects.
Unlike other HDR merging tools, Aurora HDR creates astounding results that hold naturality and produces life-like images.
This AI photo editing tool offers better choices to work with the elements of a photo such as contrast, sharpness, and exposure so that you can get more refined and detailed images.
4. Prisma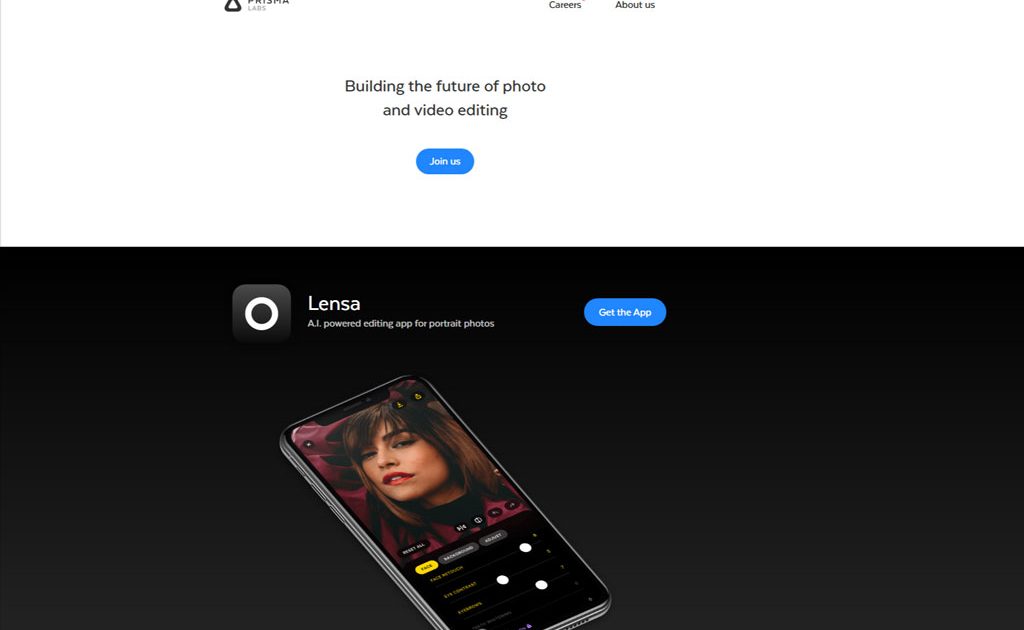 The Prisma is one of the greatest AI photo editing tools for art lovers who love the idea of Convolutional Neural Networks.
CNN is about simulating the human brain which relates to an algorithm for a deeper understanding of how to detect and identify objects in an image that was clicked without the objective of creating such objects or shapes.
This AI photo editor makes your image look more artistic that reflects the style of famous artists like Van Gough.
PhotoIns is an emerging AI photo editor, which currently consists of 2 modules – Photo Enhancer and Photo BG Remover. Both modules are free to use.
Photo Enhancer can automatically improve photo quality in batch based on its deep-learning AI technology. For example, it can enhance portraits by removing freckles, retouching skins, etc.; fix blurry images by sharpening details and increasing picture resolution; make adjustments on white balance, colors, tints, exposure, and more.
Photo BG Remover empowers you to remove and edit photo background in simple clicks. With an advanced algorithm, it can even cut out the background around hair and fur, as well as the background behind transparent objects without effort.
After background removal, you can then edit the photo or change the photo background to any solid color or image.
6. Topaz Studio
Topaz Studio features Sharpen AI technology that consists of various processing modes like, sharpen, stabilize, and focus.
This AI photo editing tool has a free version available and offers a hassle-free experience to the users.
It is one of the best AI photo editing tools that play well with sharpness. It allows you to maintain the sharpness in the parts of the image that are closer and loses the sharpness as you look at the farther areas like clouds or peaks in the background.
7. Photo.ai
Photo.ai is one of those AI photo editing tools that are user-friendly and free, but however, it is only available for iPhones.
This tool has a number of dynamic filters that are packed with compelling styles like Neon and HDR.
If you want an AI photo editing tool that is portable, smart, and fast that can help you quickly get your images social media ready, then Photo.ai will work great for you. The tool has different segments that allow you to choose between fashion, makeup, and fine art.
8. Remove.bg
As the name explains, this AI photo editing tool is best to remove the background quickly and easily.
Such AI photo editors save you a lot of time that you spent while using the Pen tool or Magic Wand in Photoshop. Remove.bg uses Artificial intelligence to smartly remove the unwanted background without messing with the edges and details of the subject.
It is not just useful for the backgrounds that are of solid colors but work stunningly for busy backgrounds as well – This AI is really intelligent!
Just a single click can give you excellent results. This tool speaks for itself and conveys its worth at the time when the user uses it. In short, it's effective, simple, and quick.
9. Sharpen AI
Sharpen AI allows users to add sharpness to the image even if the image was taken in low light.
This AI photo editing tool can also be used as a plug-in for Photoshop Lightroom CC and Topaz Studio.
It has been developed especially for photographers. The tool uses AI to differentiate between detail and noise and works only over the details without disturbing the rest of the image.
10. Deepart.io
More like Prisma, this AI photo editing tool also allows you to turn your usual images into artwork inspired by your favorite famous artist.
It uses the fancy elements of one image to draw the content of another. If you are someone who loves art, then this tool is definitely going to woo you.
11. PhotoDiva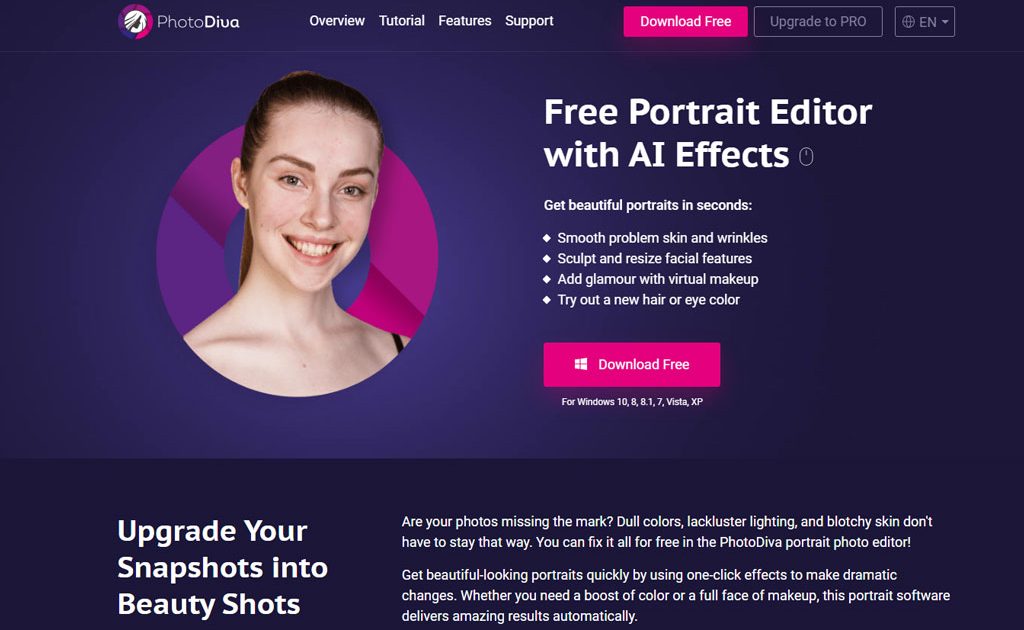 PhotoDiva is exceptional for editing portraits and selfies. This AI photo editing tool performs face editing like a pro, and it doesn't matter whether you shot the image in a studio or in your living space.
The software instantly enhances the look after detecting the face and retouches the complete image without distorting the original looks that look like a smudged shot of makeup.
This is one of those AI photo editing tools that'll allow you to work with faces just as the other professional photo editing software allows you to do. It lets you resize the shape of the face, smoothen skin, remove spots and blemishes, whiten teeth, and sharpen the features.
Conclusion
AI-powered software are great to automate things with smarter and quicker decision-making. Photographers often get involved in long post-production works that eat a lot of their time. With the help of AI photo editing tools, you can speed up the process of editing without losing the professional touch.
Many professionals also prefer to outsource these works to Photo Editing Services, but these AI photo editors are great if you choose to get the things done on your own. The AI photo editing tools listed above are a must-use.
If you wish to get your bulk product images edited within 24 hours and get a Clipping path created, images retouched, colors corrected, and more, then start your free trial with PixelPhant now 👇
Beautiful product images across your website.
Background Removal, Clipping Path, Color Correction, Cropping & Resize, Retouching, adding Shadows, and more.

Try PixelPhant for free
No Card Details Required