Sell On Poshmark: 8 Great Tips To Earn Money While You Clean Your Closet
Updated on November 18, 2022 in
Ecommerce
by
Alifiya Mustafa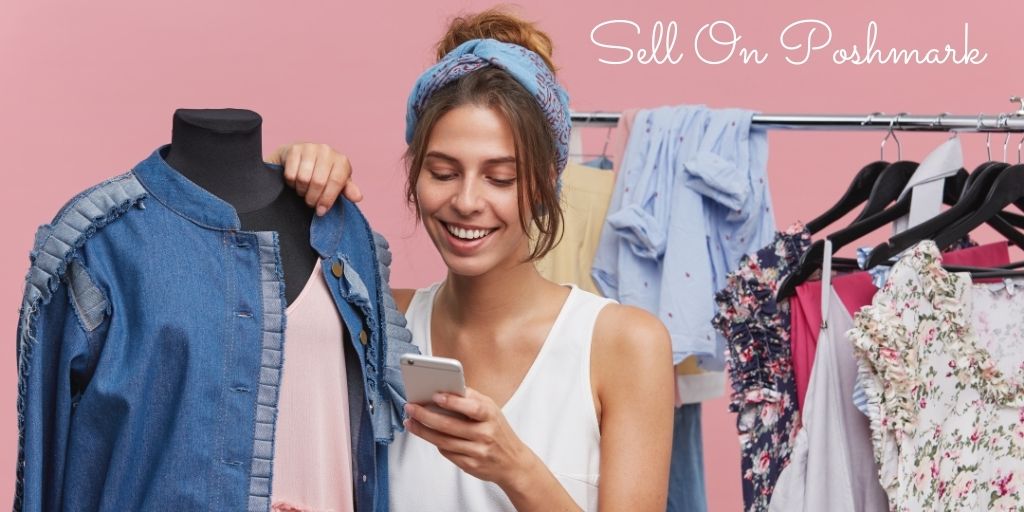 Poshmark is an amazing platform to buy and sell fashion. You can clear out your closet and fill it back in with clothes and accessories from top brands like Gucci, Levis, Nike, and more.
The process is easy, returns are amazing, and the best part is – It doesn't matter if you are a homemaker, a 9 to 5 employee, or a college student who wants to earn some extra cash. Everyone can sell on Poshmark as it doesn't require any investment or any inventory, except the pile of clothes and accessories that you are no more interested in.
So, what is this platform that's allowing you to earn so much with no hard effort? Let's learn about this amazing platform and how you can start selling on Poshmark to build your very own small business on it.
What is Poshmark?
Poshmark is an American social commerce platform that allows users to buy and sell fashion products. This startup was launched in 2011 and now deals with buyers and sellers living across the USA and Canada. To sell on Poshmark is great if you're ready to clean your closet and make cash while you do it.
Things You Should Know Before You Start to Sell on Poshmark
Selling on Poshmark is easy, but make sure of a few things like:
Money to sell on Poshmark: There's no extra fee to sell on Poshmark. But, the platform does take a commission. For every sale under $15, Poshmark gets $2.95. When your sales are $15 or more, it hikes up to 20%.
Poshmark Shipping: It will cost $7.11 for flat rate shipping. The shipping label will be emailed to you when you make a sale.
Unintended Purchases: Buyers have 3 hours to cancel when accidentally clicked on 'Buy Now'.
Tax on Sales: Local and State sales tax, as applicable, is charged on items bought on Poshmark that are shipped to a U.S. address.
What to Do Once the Sale is Made on Poshmark?
Once you've successfully sold your item, the next step would be to ship that item to your buyer. Remember, Poshmark is not going to do any delivery or pickup for you. It's pretty much like a one-to-one sale.
As I mentioned above, after the sale, the company is going to email you its label that you'll have to get printed out and stuck on your package. Once that is done, you can simply go to your nearest post office and get the items shipped.
BONUS TIP
Wondering where to get the boxes to ship the products that you sell on Poshmark?
Worry not, because you can get professional-looking boxes for free! You can use free Priority Mail boxes that come in different sizes depending on your need.
Here's the link to it: http://www.USPS.com
How to Become a Seller on Poshmark?
To sell on Poshmark is as easy as blinking! Basically, there are no major steps you need to follow to become a seller on Poshmark. Still, let me break down to you how your journey will look like.
Install the Poshmark app on your Android or iOS → SignUp using just one thing – your email.
Once done, the Poshmark is simply going to ask you if you are a buyer or a seller. Click on the 'I am a Seller' option.
You'll be seeing a few options at the bottom of your screen. In this bar, there'll be an icon that'll turn on the camera of your smartphone. The process further is a no-brainer.
Just as you click and post images on Instagram, simply click and post your product images on the website. The only different thing is, they're gonna make money for you.
On your Poshmark network, you can share your listings for people to know more about your recent post. The more you share, the more are the chances that the people will know about it which consequently will find the potential buyer and make a sale for you!
How to Sell on Poshmark to Earn Well on Each Sale?
When it comes to selling on Poshmark, you need to have the right strategy and tools to build a successful side business to earn a great income. Many have grown with Poshmark, as per Poshmark's 2020 Social Commerce Report, almost 50% of the Poshmark users sell on Poshmark as a side-business. The data in the report says that:
25% of sellers on Poshmark consider themselves as small business owners.
45% of sellers on Poshmark have repeat customers.
In order to sell on Poshmark successfully with consistent earnings, let me share with you a few tips and tricks that'll help you grow in the long run.
8 Great Tips to Earn More on Poshmark
1. Keep a close track of the data that shows what's selling in your Poshmark closet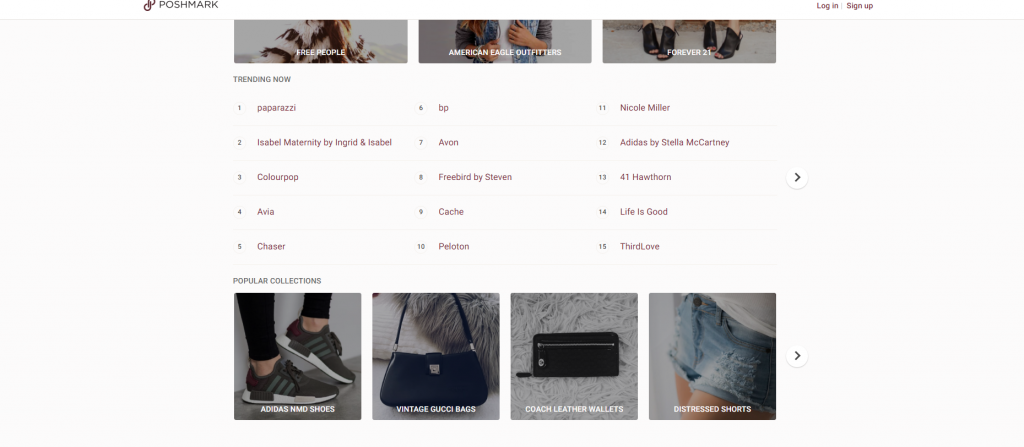 Wondering if what items you should keep selling on Poshmark? Try monitoring the data of what's selling in your Poshmark closet.
Luckily, the platform shares a sales report of each individual seller via email. To sell on Poshmark successfully, make use of this data to decide what's selling fast and what's not. Once you've sold a number of amount of items, you'll be able to figure out which brands and articles are performing best and which brands are in trend. You'll also be able to see how much money you've generated per item.
If you're new to Poshmark, this may not be much useful for you. However, you can see the 'Trending Now' section on the homepage to get an idea of what you should sell on Poshmark.
The current trending brands are:
MLB
Smartwool
Playboy
Fleo
Max Studio
Sorel
Sundance
Hooters
Liverpool Jeans
Skims
BearPaw
Joly Lab
41 Hawthorn
I.AM.GIA
Lord & Taylor
The most popular brands are:
Nike
Lululemon Athletica
Victoria's Secret
Free People
PINK Victoria's Secret
American Eagle Outfitters
J. Crew
Coach
Old Navy
Anthropologie
2. Pick the correct keywords
When you start to sell on Poshmark, the keywords that you choose for your products and product description matter a lot. Keywords decide the rank on which your products are likely to appear. If you have got any knowledge about digital marketing, you'll understand what I am trying to say here.
In a nutshell, keywords are the words that the buyers will be using to search for a product on the website. Hence, the words for your product and its description should be relevant to what buyers usually search for.
This slight change in the change of words can put a great impact on your sales. Many big businesses hire SEO professionals to make their websites rank higher in the Google search engine. So, if you want to sell successfully, be sure that you gain a little knowledge about hope it works.
For example, 'Blue Jeans' is much better than 'Jeans in Blue Color' as most people won't be writing such lines in the search bar. Therefore, it's important that you use the keywords that are trending and frequently used by the buyers.
This tip to sell on Poshmark is highly important regardless of you being a beginner who's started to sell on Poshmark or someone who's been selling on Poshmark for years.
3. Display high-quality images
Product images are highly important in influencing buyers' decisions. More than 75% of online shoppers rely on product images in making the final buying decision.
If you are simply clicking the rough images of your products to sell on Poshmark and posting them instantly, I don't believe that you are likely to get any engagement. As soon as the shoppers see an unattractive product image, they simply tend to ignore it. No matter how well it is in real life.
For your buyers to get encouraged to click and explore your products, then great quality images are a must. Here are a few things that you need to take care of before you post your product images online:
Lighting – make sure that your room is well-lit and the product is looking great and not dark and dull.
Angle – Do not keep your camera too close or too far from your products. Try clicking the images from various angles and choose the best one.
Details – Your image shouldn't be blurry or scattered. Look for the details, the buttons on the shirt, and that stitching line on the shoes and bag. All such things really make your product images stand out.
Product image Editing – Editing is a considerable factor. It helps you correct many things that might've gone wrong at the time of clicking your product images. Those scratches, dullness, and color correction can all be taken care of at the time of editing. Image editing makes your product images look more polished and ready to sell on Poshmark.
An appealing image of a product is the only way to customers' hearts! See yourself as a buyer and think – "Will I be stopping here to take a look at this product?"
4. Use social media marketing
For anything to sell, it requires the correct marketing strategy. We all understand that 'what shows, sells!' Hence, make sure that you're marketing your products enough to catch the eyes of your potential audience.
To sell on Poshmark is to deal with fashion, and the fashion industry has a lot of competition along with having so much potential. Most of the social platforms are open to give fashion a considerable amount of attention. And, social media is number one among them.
Post captivating content of what you have to sell
Create a buzz around your products
Add your Poshmark followers on your various social media accounts
Facebook, Instagram, and Pinterest are some of the best platforms to post the items that you're selling or usually sell on Poshmark. There are currently 3.81 billion social media users which creates a large pool of audiences for your products.
Sell more with professionally edited product images.
The things you can post on FB, Instagram, and Pinterest are:
Images of your latest products
Post images showing the cute and creative packaging that you use for shipping your products.
Re-post the reviews and comments of your happy shoppers
Not everything needs to be about the products – talk about your goal stories, hopes with Poshmark, your experience, etc.
Ask your customers to tag you in the photos wearing what you sold to them
5. Use the bundle feature
Among so many features you can use when you sell on Poshmark, one such feature is Bundle. Here, if a shopper has liked a bundle of your products (more than one product), then you can reach out to them through a private message where you can provide a personalized discount. Talk to such shoppers and try to convince them in the best way possible to make a bulk sale.
6. Closing the deal
If you do not like the offer made by the buyer, never let it loose and always come back with a counteroffer. If you simply let the buyer go, you might be losing on a very potential buyer – not just once but every time you do it.
You can send a private message to your buyer using the Bundle feature explained above. Here you can discuss the price, offer a discount, and take the final decision whether the deal satisfies you.
7. How to find when to take the offer
If the offer is convincing, do not take the deal for granted and ask for a few extra bucks. This simply works like a gamble when you sell on Poshmark as you never know how much your buyer can afford and at what maximum amount you could've got your deal closed.
Finalizing a deal completely depends on what you feel. If you feel that you're not gonna get anything better then simply close the deal. However, if you have the confidence that your product still may earn better, then wait. Use the tips shared in this article to always get the maximum amount of bids.
8. Getting more clothes to sell
You do not have any magical closet that'll keep providing you with clothes to sell on Poshmark. At some point, you'll run out of your 'inventory' and will be needing more clothes. Consider this a BONUS TIP for you!
Tip 1: Grab the pieces that your loved ones aren't using anymore. Ask your siblings, cousins, parents, and friends to build up your 'new stock'.
Tip 2: Buy more from Sample Sales. You can get great deals on popular brands at half-price – sometimes, even lesser.
9. Provide reliable customer service
When you sell on Poshmark, you are required to take full responsibility for your products. Poshmark simply works as a link between you and your customers. To keep your customers happy, provide that customer service that they can rely on.
Keep them updated with when you are going to ship the product and how soon they can expect their package to arrive. Also, you can customize the packaging or keep sweet messages inside the box to make your customers feel special.
Conclusion
To sell on Poshmark is a wonderful experience as you take charge of every step that comes in the journey. You are completely flexible to attend to your customers, give or remove discounts, create packaging, and ship the products.
Hence, it completely depends on you how well you manage your business and how well you can make it perform.
However, do make sure to be mindful of the things and tips mentioned in this article as you begin to sell on Poshmark for promising success.
If you want to learn more about eCommerce, Product Image retouching, Product Photography, and how to grow online, subscribe to the PixelPhant email newsletter below.
Also, if you are an eCommerce business owner, then start making your product images look more captivating and converting. Start your free trial with PixelPhant now👇
Beautiful product images across your website.
Background Removal, Clipping Path, Color Correction, Cropping & Resize, Retouching, adding Shadows, and more.

Try PixelPhant for free
No Card Details Required