PixelPhant is glad to announce the launch of our AI Background Removal tool, promising to revolutionize how eCommerce edit their images.
This tool has been under development since last year. And our focus has been on extensive research and development focused on overcoming the existing limitations of AI background removal tools in the market.
PixelPhant AI Background Removal Tool is different. And you'll see that from the first batch itself.
It is made of eCommerce. It is made for a team that quickly wants to remove the background and just put the content out for the launch.
And we get it.
You can do that in seconds if you only need to remove the background.
The AI is highly trained for eCommerce work. Be it a model, a product, jewelry, an automobile, real estate, or anything else.
With the highest precision and lightning-fast performance, you get uncompressed product quality.
Now, let's see PixelPhant AI Background Removal in action.
How To Use PixelPhant AI Background Removal Tool?
Getting Started With PixelPhant AI Background Removal Tool is simple.
1. Sign Up Or Login with your PixelPhant Account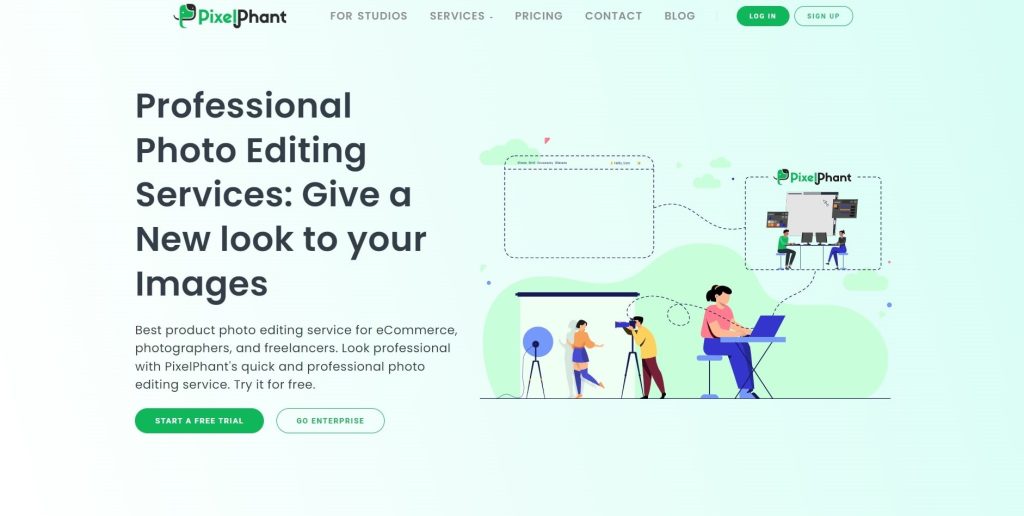 To make it easy for you to keep track of your orders and ensure that everything is in one place, you must create a free PixelPhant account. This way, if you or your team have additional photo editing services–like clipping path, retouching, color correction, etc.—you can do that from one dashboard.
2. Upload Or Drop Your Files
Once logged in, you'll see the AI Background Removal Tool in the navigation bar. Click on it, and you'll be directly taken to the tool.
Here, you can upload your images through file explorer or drag & drop them over the screen. One of the main benefits of our background removal tool is the ability to work on a batch of images together.
AI will start removing the background from your image as soon as the images are uploaded. And within a few seconds, your images will be ready.
3. Your Images are ready for Download
With PixelPhant Background Removal Tool, you can choose to download all your images at once in zip format or download each image individually.
The reason behind developing an AI background removal tool was to cater to the needs of businesses. E-commerce that wants to process high-quality images in bulk without compressing the size, efficiency, and accuracy of background removal.
Benefits of using the AI Background Removal tool
We have crafted Pixelphant's AI Background Removal tool from our client's requirements and current problems with the existing AI background removal market.
Have we tested it? Extensively.
PixelPhant in-house photo retouching experts have used this tool daily to speed up production and deliver our customers the highest quality editing service.
Here are the core benefits of PixelPhant Background removal tools that experts have quoted:
Speed– PixelPhant's AI Background removal tool is much faster and more accurate than existing AI and traditional tools. Our cutting-edge algorithms easily detect the edges and the details of the subject in the image. Be it the corner, a dress, or the free hair in the air. Overall, delivering the highest degree of precision. This saves much time and effort compared to manual background removal methods, which can be tedious and time-consuming.
User Friendly– One doesn't have to wait for retouchers to get to it. The tool is available at your disposal with the same human accuracy, consistency, and precision of AI. No need to download any app or software as well. Just upload your images and get the background removed instantly, regardless of the type of device you use. The tool is designed with a simple and intuitive interface, making it easier for everyone to use. Drop your files and remove the background with a single click; no professional expertise is required.
Versatile– Whether it's a product photo for eCommerce, a model portrait for a photo shoot, jewelry, or real estate—the PixelPhant AI background removal tool can easily help you achieve pixel-perfect clean backgrounds seamlessly.
Bulk Upload– You can upload hundreds of files at a time, which will be processed instantly without waiting in the queue. Just upload or drop your files; the tool will take care of everything else.
Uncompromised quality– Our AI background removal tool ensures that every image is processed with the highest degree of precision. It can perfectly detect the edges, hairs, shadows, etc., and erase the background elements without losing quality. Additionally, the images you get are not compressed to one size. That means even if you zoom in or use the image on a large canvas, it won't pixelate.
Pricing
PixelPhant AI background removal tool has a free trial of 25 images, allowing you to test it extensively. Take your free trial now.
Conclusion
PixelPhant AI Background Removal tool is a great add-on for eCommerce and other professionals who require the next level of image editing services.
With its precise algorithms, bulk image processing, lightning-fast performance, and user-friendly interface—this tool is perfect for anyone looking to remove backgrounds from images quickly and easily.
Beautiful product images across your website.
Background Removal, Clipping Path, Color Correction, Cropping & Resize, Retouching, adding Shadows, and more.

TrY AI Background removal Tool FREE
No Card Details Required