Best Product Image Editing Service
Get your eCommerce images edited for just $0.80/image in 24 hours or less.
Choose The Best Product Image Editing Services You Need
PixelPhant provides a simpler way to do all of your post-production in one place. Choose the services and add a special request. Our in-house experts are trained to deliver consistency and quality every time you work with us.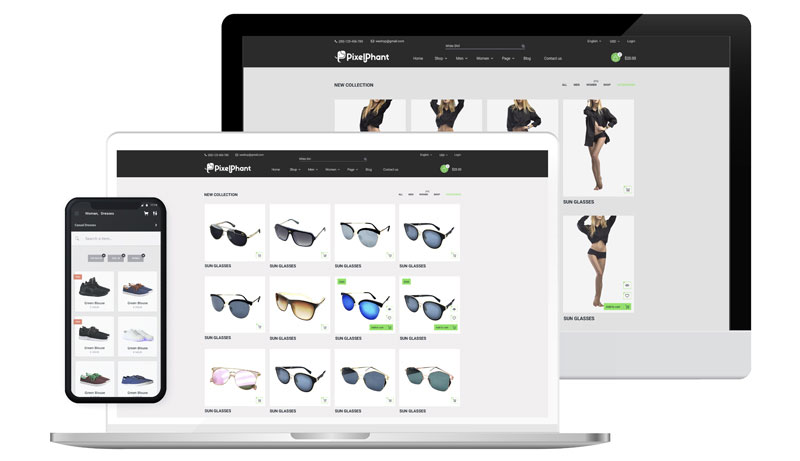 Clipping path
A point-by-point product image editing service for your eCommerce. Get a hand-drawn precise selection of your products to use for future occasions without wasting any more time.
Adding Shadows
Add Natural, reflection, or drop shadows to make your product images look realistic with PixelPhant Shadow services. Bring depth to your images and get more sales on your eCommerce.
Product Image Retouching
Professional Image retouching service that can help you enhance your product images drastically. PixelPhant removes any dust, scratch, crack, etc. to make your product images stand out.
Background removal
Standard product image editing service for eCommerce to remove old background and add a custom background in your images. Stand out as a brand with consistency in all your images.
3D Ghost Mannequin
Ghost Mannequin Service for your eCommerce product images to add additional parts of the product and remove the mannequin itself from the neck, joint, sleeves joint, etc.
Color Correction, Cropping & Resize
Get your white balance, exposure, color intensity, sharpness, brightness, contrast, and everything fixed by PixelPhant, to make your product look exactly you want on your eCommerce.
High-End Skin Retouching
High-end photo retouching service to clear-out spots, scratches, stray hairs, blemishes, and acne, etc without losing the skin texture, hair details, and flow of the light on the skin.
De-Wrinkling
Make the clothing look fresh by removing wrinkles and creases from your product image. Get the best product image editing service for eCommerce and enhance your online store.
Background Cleanup
The studio backdrop or backgrounds are not 100% clean during the photoshoot. The backgrounds require to be cleaned on each photo to create consistency between the identical shots.
How does it work?
Introducing a simpler way to get the best product image editing service for your eCommerce.
Signup

Sign Up with PixelPhant and get a dashboard to keep track of your account.

Create order

Upload Your Product images, select the services, and add a note to get your desired result.

Checkout

Select the deadline and get your images on time. Sometimes, even quicker.
Happy Customers
Join thousands of satisfied customers using our services globally.
Really responsive, friendly, and professional team. Produced both web-ready and high res files for us. Pixelphant produced great edits with a quick turnaround when we really needed it! Amazing value too.
Pixelphant are pros that always deliver on time. They are patient when I have edited and their quality is consistent and guaranteed. I'm always looking forward to the next project. Thank you for making my life easier.
PixelPhant offered a very very competitive price for this service. They also offered a small extra service to touch up the hair of the models to remove the color spill from the background, which was a very nice initiative on their part and for me, it showed they had a more collaborative sense of working, rather than simply just an assembly line.
The best of the best??? We think so!
These guys absolutely rock! Always on time and they have even helped us out on tight deadlines. Look no further…..they are great to work with!
What Our CEO Has To Say...
PixelPhant was built on three core foundations.
Quality, Professionalism and Customer Satisfaction.
Our team grew over the years, And so does the list of regular clients. But all this time our foundation helped us deliver the best product image editing service consistently.
Today, when we are editing almost a million-plus images a year, we are proud to share that PixelPhant has crossed the first checkpoint.
If you are running an eCommerce, we motivate you to take a step with PixelPhant. Get a free trial, experience the service and see why brands choose us as the best product image editing service.
We believe you should be the one deciding what you want. So, choose your requirements, details, and turnaround time.
Got a deadline for images? Set a deadline for PixelPhant and relax. Our experts will handle the work, no matter how many images you send in.
Find all your images, track orders and use the rewards through our one place solution dashboard.
With 24/7 humble customer support, none of your issues goes unresolved.
Join our incredible family and we promise - PixelPhant won't disappoint you.
Latest posts on e-commerce & product photography
Signup and send your files now
You'll find all the options to select according to your editing needs and send your product photos for editing. There are free credits available in your account to send your files for testing and free trial.