15 Work From Home Ideas Online: Most Profitable Jobs In 2023
Updated on February 20, 2023 in
Ecommerce
by
Alifiya Mustafa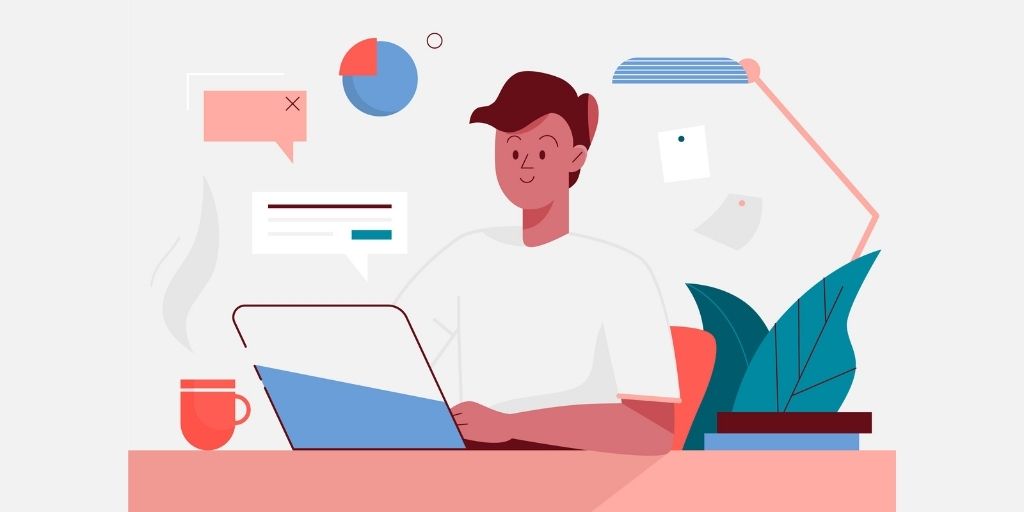 COVID-19 has put an adverse effect not just on physical health but also on the economic health of the people. A lot of people have lost their job, businesses are shutting down, and many companies aren't ready to hire the people who are now jobless. In this time of struggle, many families and individuals find it harder to meet both ends and earn their share of the bread.
In fact, in case the companies do hire the employees, it isn't safe to leave the houses and be present at the premises that can cost you your life. Then, what could be an alternative to help you earn your income without the fear of getting fired and leaving your home?
Well, as the world is considering, work from home online business is the only safest and most possible solution to stay safe – physically and financially. Now, the companies may allow work from home to their current employees, but what about the ones who aren't working with any company?
As per Skillscouter, 91% of people believe that work from home business ideas provides a better work-life balance. And 86% state it makes the work a lot less stressful.
To such brave folks who are battling the consequences of COVID every day, this article can help you become self-dependent. Not just during the pandemic but even after it's over.
I have found 15 work from home business ideas to help you build your own small business to fetch your income and be your boss. From students to homemakers and business owners to job seekers, these work from home online business ideas can make you a successful entrepreneur within a year.
Photographers! It's time to Grow with PixelPhant Referral Program 📸
15 Best Work From Home Online Ideas In 2023
1. Freelance Digital Marketing
Digital marketing is a mighty and fast-growing industry and an excellent option for starting a work from home online business. Every other industry relies on digital marketing areas to promote their business. Whether online stores, retail, or service industries, digital marketing services can be handy to make their brand known to their most potential audiences.
Digital marketing is a vast field if you choose it for your work from home online business. A few major categories that you can choose from are:
| | |
| --- | --- |
| Search Engine Optimization (SEO) | Search Engine Marketing (SEM) |
| Content Marketing | Email Marketing |
| Running Social Media Ads | Social Media Marketing |
| Video Marketing | Copywriting |
These fields hold a powerful potential that will not likely become outdated soon. Hence, choosing this niche for your work from home online business idea could be a wise decision. Many companies freelance their marketing campaigns because hiring a dedicated team may cost them much more than hiring a freelance.
You may get $10 to $150 per hour to provide your service, depending on your experience, level of the hiring company, and type of work. You may also tie-up with a few of the firms in the future of your online home business so that you can be contacted whenever there's work available.
Most freelancers also make a tie-up of 3 to four months, where they provide results to the company through their marketing skills. It may earn you more than $1000 to $2000 per month. If you make such tie-ups with just 3 companies in the same months for the same price – you may earn a fortune for working just a few hours.
This work from home online business idea doesn't require too much time as working for only 2 hours on each project daily can be more than enough.
2. Freelance Content Writing
Freelance content writing can be a part of digital marketing; however, most people specialize in this area and work on no other aspect of digital marketing. Content writing skill is an art where the complete curation of the content, finding reliable facts and data, and following a set tone is required. You can create content for blogs, websites, product descriptions, magazine articles, etc.
You may charge your fee per page or according to the number of words written. Content writings are highly in demand as no website or company can work without displaying any written content on their website. People are ready to pay $50 to $250 per article, depending on their experience and the complexity of the content.
Content writing can be a quick, fun, and valuable work from home jobs as it allows you to be creative and earn simultaneously. There are of three different kinds:
Ghostwriting, where you aren't given the credit of writing the content but just the payment from the company.
SEO content writing, where you are required to create the content using the keywords provided by the company.
The last kind of content writing is where there are no limitations on what you write. You aren't required to follow any keywords and are given credit for writing them. Magazines usually accept these kinds of content. However, these may not earn you as much as the other two.
3. Dropshipping Business
Dropshipping is the perfect home based business ideas if you want to start an eCommerce business without worrying about inventory, packaging, or even providing customer support.
Dropshipping allows you to sell products online where you buy them from a third party whenever an order is placed and only ship them to the provided address.
The package is already packed; hence you need not worry about its packaging. This home-based online business helps you create goodwill and a presence of your own that you can turn into a highly successful earning machine.
The finest example of a successful dropshipping business is WayFair. You must've heard this name before. Wayfair's digital platform offers 14 million products from more than eleven thousand global suppliers. The website is only used for customers to place their orders. It then buys that product from its supplier and ships it to its customer.
4. Reselling Business
Reselling is a great way to start a work-from-home online business without investment. All you need is old, resalable items you can earn for yourself. Many websites like eBay allow you to sell your old products. Poshmark is another platform that will enable you to sell fashion products. Hence, you can clear your wardrobe while making money from it.
Antiques, old clothes, jewelry, gadgets, etc., are good options to resell. Many resellers create a network that encourages people to donate or sell their items at low prices. You can take the help of your friends and family to get hands-on with a few more things to resell. Ask your Facebook and Instagram followers to sell the products to you which are no more helpful to them. Monthly online and retail sales are also proper places to get your items cheap and sell them at their original price.
5. Print on Demand
It is also the best work-from-home business online idea. Print-on demand is growing at a fast pace. This work-from-home online business is excellent. The more you sell, the more you earn. It highly depends on how you market your startup. Share your campaign on social media, spread the word through your loved ones, and fetch orders.
Online platforms like TeeSpring and Printful allow you to design your T-shirts, Hoodies, caps, etc. You will be paid a commission if your creations are sold.
Also Read: Print On Demand Companies to Build Brand and Grow
6. Selling Handmade and Vintage Products Online
If you are an art lover and someone who makes handmade articles, you can sell these articles online and start your small work from home online business. Websites like Etsy allows you to sell handmade and vintage products like jewelry, fridge magnets, paintings, designer weaves, and more. You may also sell your T-shirts created on 'print on demand' websites here on Etsy.
Simply design your printed T-shirts, pillows, or cups and order them. You can post these products on Etsy and ship them when you get the orders. You can also read how to Sell on Etsy for better growth.
7. Freelance Graphic Designing
Graphic designing is a very lucrative industry. On a PC, install Photoshop, and become a freelance graphic designer. You can work from any corner of the world as all transactions occur virtually. Here are a few things that you can do in freelance graphic designing:
| | |
| --- | --- |
| Product Image editing book Cover DesigningLogo Designing | Menu layout creation Flyers and poster making Wedding, Birthdays, and other invitation cards making |
Without the graphic design industry, the works mentioned above are impossible. From print on the book lying next to you to the most significant movie posters, everything is possible with the help of graphic designing.
You may earn $50 to $1000 on each project with this work from home online business. It depends on what you're designing, how complex the design is, and who you're working for. You can take as many projects as you can complete. Most of the time, you can even take more than a day to complete the tasks.
Painting, logo designing, Canvas prints, etc. are some products that can help you create a niche and brand of your own.
This work from home online business keeps you flexible with your work, and you do not need to abide by any close deadlines. However, finishing the job as soon as possible can create a good impression on the people you design for.
8. Freelance Product Designing
You can design a product while working as a graphic designer. However, in this work from home jobs, you are required to be dedicated to this niche as most people are there to beat you at the competition.
Product designing requires a set of complex skills and a distinct creative view. As the products are designed keeping the market in mind, one can't afford to ruin its look. What design you create will be made available to the public. Hence, the company's sales indirectly depend on what you start.
However, this work from home online business idea can earn you more than designing logos or creating cards.
9. Online Teaching
Schools and colleges are closed, and most of educational institutions are running online classes. Education is not stopping, and parents are more ready than ever to pay a good tutor who can help their children cover the course online. You can successfully start your work from home online business by teaching the grades you are comfortable with.
Children have always had the habit of learning in their classes, but the new coming of online courses is making it harder for students to cope up. Hence, online tuitions are gaining popularity. This work from home online business is very lucrative as the students can learn from the comfort of their home, which makes it a convenient and 'high in demand' home business in the long run too.
10. Online Tutorials
These tutorials can be made on YouTube or can be sold with subscriptions. Platforms like Udemy, Skillshare, and Unacademy are among the best in providing such services. You can share your course on such media where you can get the money whenever a student purchases your course. Out of this, a little commission would be paid to the platform you're using.
The most popular courses you may create to start your work from home business ideas are:
| | |
| --- | --- |
| Exercise and Yoga | Self-development |
| Diet plans | Photography courses |
| Time management | DIY Making of things |
| Photoshop Tutorials | Makeup and beauty tutorials |
| Digital marketing courses | Foreign language learning (French, German, Spanish, etc.) |
Sell more with professionally edited product images.
11. Freelance Web Designing
Many startups and small businesses cannot hire full-time web designing professionals to create their websites. They rather prefer a freelancer to do the 'one-time thing'. Web designing is a long process, but a single project can help you earn handsome money. That's what makes web designing another high-paying work from home online business.
It requires a lot of knowledge about web designing to become one. So, freelancing is much more profitable than working for a company if you are already in that field. This industry is very lucrative; hence, learning web designing can become a worthy career option.
12. Freelance Accounting
Businesses don't trust robots as much as humans when handling finance. Though different accounting software can be used, accountants and chartered accountants are essential resources in the financial fields. To back your work from home online business, you can take up the work of various firms and provide accounting solutions.
Freelance accountants work only twice or thrice a week, and they prepare the statements for the whole week together. This personnel is not required to work daily as a lot of their weekly work can be taken care of in a day or two.
This work from home online business is good for gaining knowledge and earning money.
13. Freelance Proofreading
Proofreading is a work from home online business that doesn't require writing or creating any content. All you need to do is to correct and edit the content if required. This is pretty easy and fun work to do while staying at home. Each article's proofreading can get you $50 to $100. The amount doesn't go too high as the work can be done quickly and requires no extensive effort. The best part of this work from home online business is that you can proofread more than many contents and earn accordingly.
14. Freelance Chat, Sales, and Support Executive
This work from home online business demands you to communicate with the client over the telephone. Not necessary for the customers. Here, you work on behalf of a company, and your voice represents them.
You can promote a company's sales where you can get a fixed salary and incentives. Incentives usually depend on the number of sales you make. You may work as a support executive or company chat agent if not sales.
15. Work from Home Data Entry
A lot of companies outsource their data entry work so that they can work on other major essential things. Many entrepreneurs are using this opportunity to turn into a work from home online business. You are required to fill in the provided data into an excel sheet or the online platform where the company asks you to store the data.
This work is provided on an hourly basis or on the number of files shared that are required to be submitted within the given period. The work is easy, and companies do train such home-based employees too. You can take up the work of several different companies and ask your4 friends or family members to work with you where you can provide some commission to them.
Conclusion
The work from home ideas are a great way to earn money from the comfort of your home. Any adult age group can take up these professions. If done with consistency, you can turn your home-based job into a meaningful small business.
The career options mentioned in this article are all likely to become future opportunities for the new generation, mainly in the graphic designing and digital marketing industries. These work from home online businesses can also be performed as a side business to earn extra cash. I hope this pandemic will turn out to be an opportunity for you to build your career path to help you become your own boss.
If you wish to learn more about how to grow an eCommerce Business, please subscribe to this PixelPhant email Newsletter below.
Beautiful product images across your website.
Background Removal, Clipping Path, Color Correction, Cropping & Resize, Retouching, adding Shadows, and more.

Try PixelPhant for free
No Card Details Required