What Is Third Party Logistics? An Ultimate Guide To Boost Your Business
Updated on February 6, 2023 in
Ecommerce
by
Alifiya Mustafa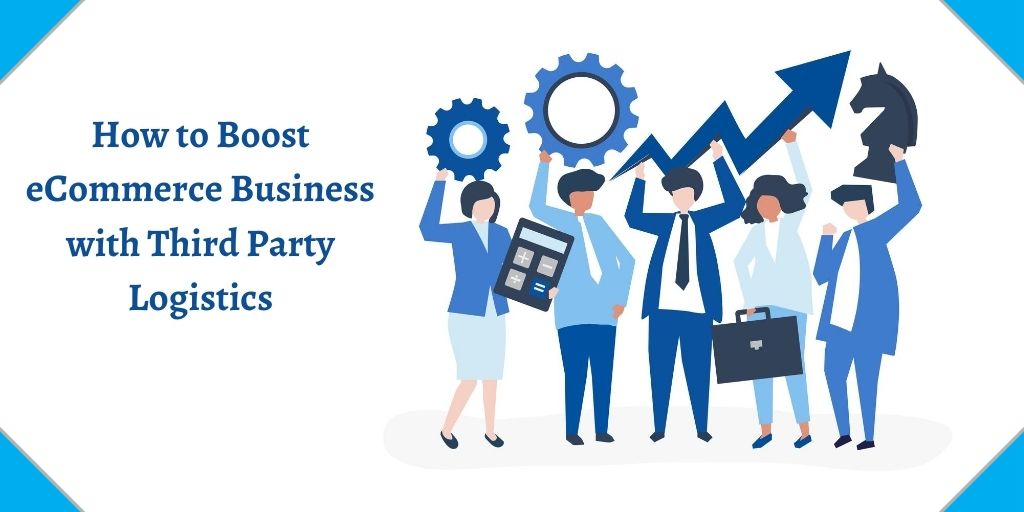 With the growing demand for online shopping, eCommerce businesses have grown drastically in past years. An average eCommerce business gets more than 80 orders every day. With increasing orders and high expectations of the customers, it becomes necessary for eCommerce stores to deliver the products on time.
Joining hands with Third Party Logistics can help your eCommerce business to accept more orders and sell more products each day with great commitment.
What is Third Party Logistics?
Logistics is a team of members who take care of the to-and-from of a company's products. It could be for delivery to the customers or simply delivering the products from the factory to the respective warehouses.
Third party logistics are the hired distribution and supply-chain management partners. Companies hire them as they have a number of people engaged in the same things and are cost and time-efficient options to handle the logistics.
What is the Importance of Third Party Logistics for eCommerce Business?
Taking the help of 3 PL for your eCommerce business can improve your business in surprising ways. Let's see how!
1. Proven to be cost-efficient
Calculate the cost of buying a few delivery trucks and a warehouse, hiring manpower as drivers, warehouse, and supply-chain staff, the maintenance cost of the trucks, and calculate the price of the stress you will be taking to make sure that the products will be delivered to your customers on time.
I understand that's a lot to think about! You can save all such costs and worries to invest in something more beneficial and let the third party logistics handle everything for you at a minimum set cost.
Third party logistics have their own trucks and people to get your work done, you just need to hire them and let them know the whereabouts to which they need to drop the item.
As per Hollingsworthllc – Businesses that use 3 PL reported a 75% of reduction in cost.
2. Can save a lot of time
Outsourcing your logistics can save you a lot of time. It is easier to partner with third party logistics rather than training drivers, warehouse, and supply-chain staff along with managing the data of the delivery status. The third party logistics do all this for you. You do not need to invest time in any paperwork or the time your employees take to deliver the items.
3. Connects your business with experts
There are some aspects of logistics that you can not utilize through in-house shipping. The first comes the experience, you own an eCommerce business, and that does not include any experience in shipping.
Third party logistics have their own experts who deal with supply-chain management tasks every day. Such management organizations also have cost-saving packaging technology, paperwork handling tools, data handling software, and several spread chains to save time and cost over the distance.
You might not be able to take care of the proper delivery to each and every customer, but as being experts – Third party logistics have to do to fulfill the commitment.
4. Creates happy customers
As soon as the order is placed, your customers start counting days. On-time delivery has become a primary objective of eCommerce businesses and it is required to adapt it to be in the competition.
Customer satisfaction is the key element for your eCommerce business success. When a product is delivered timely in a professional manner, customers not just become happy but spread the word about your business ethics.
Missing the delivery timeline or delivering the wrong product can put a huge negative impact on your eCommerce business. But such mistakes are less likely to happen with third party logistics as it is the only expected work for them.
When your happy customers turn into your loyal ones, then they definitely result in fetching more customers and consequently higher sales.
5. Reduces the liability of reverse logistics
Reverse logistics is an often neglected part of the eCommerce business. You can not expect your in-house shipping team to deliver the products on time, keep the data, and take care of the timely pick-ups at the same time. If you do, then it would mean more cost, more people, more time, and more stress.
Such catastrophes can be ignored when partnering with third party logistics. Reverse pick-ups are anyways unexpected expenses for many, and you do not want to be bothered about adding more expenses to it.
Your customers feel well-attained and you can showcase your business as a highly responsible one by taking care of the drops and pick-ups at a promised time.
6. Eliminates high shipping charges resulting in higher conversion rate
If we look at the statistics collected by Listrak, 81% of the customers abandon their carts before buying.
Most of your customers will stop their purchase and abandon the cart just by looking at the shipping charges as there are many who would do it for free. You might not be wrong if you have in-house shipping and can not afford the delivery cost at several distances.
But shipping costs matter a lot in terms of making a customer want to buy from you. According to a survey done by AlixPartners, 36% of the customers dropped the idea of buying from an eCommerce business that has higher shipping charges.
Partnering with third party logistics can help you cut down that cost very easily. You can reach every location to which you deliver at the same cost, but hiring third party logistics near that location can do the work for you at a very low cost.
We suggest you send an email in a form of feedback or a reminder to your 'abandoned cart customers' notifying them of lower shipping charges in order to improve the conversion rate. With lower charges, your sales are most likely to scale up without any major efforts.
To take a great example, Amazon would rather lose money on delivery if that keeps its customers happy. The company, by the end of 2019 estimated to spend around $1.5 billion on shipping with a remarkable sale of $280.52 billion in the same year.
This shows that your eCommerce business can grow remarkably if your products are serving a purpose, getting delivered on time, and not asking too much of the amount to reach the customers!
Must Read: Inventory Management And How to Track It
In-house logistics v/s third party logistics
Advantages:
| | |
| --- | --- |
| In-House Logistics | Third Party Logistics |
| Complete control | Reduced time and cost |
| Easy communication | Expertise |
| | Scalability and less liability |
Disadvantages:
| | |
| --- | --- |
| In-House Logistics | Third Party Logistics |
| Heavy cost | Long-term cost |
| Accountability | Becomes the face of your company |
| Lack of expertise | Communication |
What are the ways to connect with third party logistics?
There are different types of third party logistics providers:
Full-Service Provider
Such providers take care of your complete eCommerce Business logistics activity department that includes all the aspects.
Warehousing Logistics Provider
They take care of your inventory and stocks. Complete data handling and making sure that the ordered products are packed and ready-to-deliver at the committed time.
Transportation Logistics Provider
Transportation-based logistics takes care of the to-and-fro of your products from one location to another safely. It could be from your manufacturing unit to the warehouse or from you to your retailer.
Shipping and receiving
One of the most chosen logistics providers – they shuffle your products between you and your customers directly. It includes delivery as well as the reverse pick-ups.
There are many logistics providers that you can partner with, namely:
Ryder
Rubyhas
Hollingsworthllc
Usafill
We have given you a few chosen examples, but choosing the one for your eCommerce business completely depends on your location, requirement, and budget.
Conclusion
With growing competition for the best customer service, timely delivery has become a priority of all eCommerce businesses. Outsourcing logistics responsibility to the third party logistics provider is a wise decision after understanding its importance.
You can improve the overall growth of your eCommerce business by partnering with third party logistics to get improved delivery and better saving options.
If you wish to learn more about eCommerce, marketing, photography, Product photo editing, Clipping path, and grow your business, subscribe to the PixelPhant newsletter below.
Try PixelPhant for free
Use PixelPhant to get more conversions for your online store with better product images.

Background Removal | Clipping Path | Color Correction | Cropping & Resize | Retouching | Shadows