How To Start A Clothing Brand & Successfully Sell Clothes Online? | Your Ultimate 11 Step Guide
Updated on October 13, 2022 in
Ecommerce
by
Alifiya Mustafa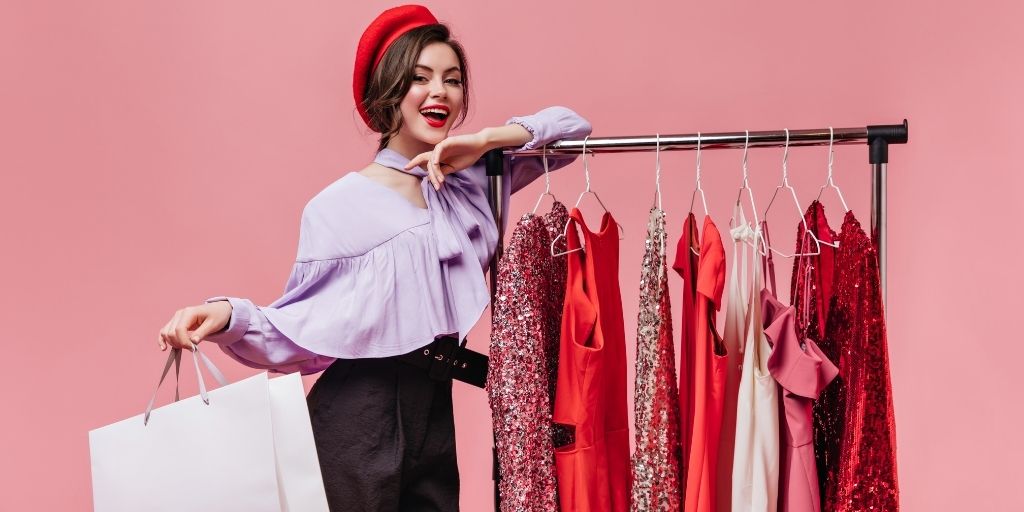 Starting an online clothing brand can be a little overwhelming. From setting up your fashion website to planning the elements, starting to sell on your clothing store to managing all the aspects like inventory, finance, administration, and more.
In this article, I'll be guiding you on how to sell clothes online in just 11 steps. So, without any further ado, let's begin.
How to Start an Online Clothing Line?
1. Pick a niche
When you start to sell clothes online, the process begins at a personal level. What niche to pick while starting your fashion brand completely depends on your personal choice and likeness.
The term 'clothing' relates to many items that you can start dealing with. On a broad basis, you may start with
Women's clothing line
Men's clothing brand
Kid's clothing brand
You may further divide it as
Sports & athletics
Party/fashion
Formals
Casuals & regular
Wedding and events
Or you can pick a general online clothing brand that deals in all. What you choose may depend on the following things
Demand or gap you see in the clothing market
You have an inspiration in your mind already
You got a style that you want to reflect in your clothing brand
Deciding on such things can really give you a strong direction in building your online clothing line.
You may also decide to sell clothes online that are eco-friendly, cruelty-free, and use recycled materials.
Pick your niche, and own it. Even if you expand in the future and bring in more designs and ideas with time, your initial ideas give you a foundation, a heritage to maintain, and continue to sell clothes online.
2. Decide on your budget
To sell clothes online and build a clothing brand, the next thing on your mind should be deciding on a budget for your online clothing brand. Make sure that you have enough money to survive your business for at least 3 months expecting no returns as well as to take care of your personal expenses too.
For example, if you think that you are required to invest $5000 every month in your clothing brand, then make sure that you have an additional $15000 available in your bank saved for your business.
While deciding the budget for your online clothing brand, I ain't just talking about the money you'll be needing to manufacture or buy (from manufacturer) your clothing pieces. Here are a few things for which you might need to keep your budget prepared before you sell clothes online:
Expenses that you'll have to manage in the first month at least
Getting a Domain name
Hosting your website
Securing your website with SSL
Registration of your online clothing store
Expenses that you'll need to manage frequently
Raw materials or inventory from the manufacturer
Packaging of products
Money payable to delivery partners
Rent of your office (if any)
Electricity for your office (if any)
Marketing expenses (if investing in paid marketing)
Most entrepreneurs commit the mistake of deciding on a lumpsum amount and spending it as the expenses come on the way. This is the biggest eCommerce mistake that becomes the reason why eCommerce startups fail.
You'll want to set a target budget for each of your expenses to sell clothes online. If you're deciding $500 for running social media ads and $2000 for your initial inventory per month, spend no more than that, no matter what.
3. Create an achievable & effective business plan
Having your online clothing business plan outlined beforehand can help you achieve online success in a better, consistent, and planned manner. When you have targeted goals to achieve in a set time frame, it keeps you motivated and patient at the same time.
The most important thing to keep in mind while creating a business plan for your clothing brand is that it has to be achievable. Don't put something on your list that is not likely to be achievable so soon.
Including enticing but unachievable goals can leave you disappointed and may even make you feel burn out before you even start to sell clothes online.
Look at these things that you may want to put in your business plan list
Deciding on how you're going to spend your budget
Anticipate the ROI or even the minimum expected loss in the beginning months
What locations to deliver initially (Pick the most potential markets)
Who and how many delivery partners you'll be having
Deciding on the number of designs to launch
Determining the minimum inventory to make available on your fashion website
The way customer queries and complaints will be handled
Setting 3/5/6/12 months goal in terms of number of customers and sales
These things will help you understand when to look for what achievements. You can't expect something in 3 months that takes at least 5 months to achieve.
Not necessarily all these goals will be achieved within your set timeframe. However, setting up achievable goals will allow you to look at the mistakes and evaluate what made you not accomplish them.
At this stage when you finally start to sell clothes online, you are required to ask yourself 'how you'll prepare to grow and scale-up?'.
Do these things to set your plan in action
Create a data-driven strategy for your online clothing brand. Keep the records of everything in figures
Include those things too that didn't involve money but time and efforts
Compare your online clothing brand with your competitors and your previous self. Put that in a report too
Your business plan to sell clothes online should be so solid that it could be understood and analyzed even when shown to a third person.
Another thing the reader of your business plan would be most concerned about is money. Thus, make sure that you have a separate, well-defined section that only talks about finance of all kinds relevant to your clothing brand.
4. Organize your business
Organizing your online clothing brand is just as important as having a plan for it. Your plan might be as simple as buying a sewing machine and cloth materials and getting straight to work. But this also accounts for deciding the budget and putting in time and effort.
No matter how strong or weak your business plan might be, it all comes down to how you're organizing your online clothing brand in real life to sell clothes online successfully.
There are several things that you need to be mindful of
A. Product catalog
How many products are you selling?
How have you decided to manufacture or who'd be your who sellers?
How and where will you stock and store pieces?
Particular packaging needs
B. Location
Is the location decided to have potential customers for your products?
On what locations you're successfully marketing your products?
If an order is placed, how soon you're able to deliver it to that location
C. Marketing
Decide on which channels are best for marketing your online clothing brand and products. We'll be talking more about this further in this article.
D. Insurance
To ensure that you and your business stay in good health, make sure that your website, your work area, and your products are secured.
Put security over your website to avoid fraud and false claims. Buy an insurance plan for your place and inventory to meet an unpredictable catastrophe.
Having insurance is very important to have an organized, safe business.
E. Funding
We've talked about budget, now it's time to find who is contributing to it. Are you alone or you'd be taking someone else's support?
Keeping your friends and family as your emergency plan can be one good thing. You may start with bank loans, crowdfunding, or government grants and funds for startups.
F. Who's handling things?
With all the things organized for your business, you'll want to determine who's handling what?
You might be needing the personnel handling:
Finance
Marketing
Inventory
Supply chain and delivery
Sales
Customer support
Product photography and product image editing
Website maintenance and optimization, etc.
If you're the only one handling all the things, then determine what all things you'd be answerable to.
If you think this is something too much and you can't handle, I'll help you further in deciding what to outsource and what to keep native – So keep reading!
5. Create your brand
Your brand is for what you've been doing all of this. This probably must've been the first thing you've done when thought about starting an online clothing line and sell clothes online.
Decide a name for your clothing brand
Decide a logo
Decide on a website theme
Layout your clothing brand values and policies
Create something that is eye-pleasing and captivating. Pick a name for your online clothing brand that is catchy and easy to read and understand. Come up with something that appeals to your target audience.
6. Create your designs
This is the most exciting stage when you start to sell clothes online. This stage enables you to unleash your creativity and bring into something that you're passionate about.
It is okay even if you only have one design in your beginning months or year, it allows for that. What most important is that you put your imagination onto paper or a screen.
Create a rough design of what you have in mind and soon nail it into a cool graphic element that can be shared with your manufacturer. Software like Adobe Illustrator can help you make the task easier.
Once you're done creating a sketch, share the specifications with your manufacturer. Include all the details and technical specifications, from measurements to designs, and colors, to patterns. Tell him/her about the elements and accessories you'd like to add.
From then ahead, you'll want to provide your manufacturer with the raw materials and other elements that'll bring your product to life.
Along with this, you'll also want to decide on the prices to add value to your products. Analyze the cost that includes both monetary and non-monetary factors.
7. Test your products
I can understand the excitement and curiosity you might have when waiting to see and try those designs for real.
Once your designs are ready, try them for real, or ask your friends and family to provide feedback. To be more careful, you can also test them in front of real customers.
You can display your designs at a school fair or open clothing sale. The best place to test your products online is Facebook Marketplace. Here, you can sell clothes online easily as they have a huge community interested in such niches.
This open online marketplace will help you know the approximate demand for your designs. Be open to real feedbacks and alter things as needed.
Don't know how to utilize FB Marketplace? I'd highly recommend you read How to sell on Facebook Marketplace and Facebook shop?
8. Take your designs to your online market
The time has come now to actually start your online clothing line. Feel those butterflies in your stomach, cling to hope, and collect all the positive energy!
Launch your product on your fashion eCommerce website and make sure that all the points mentioned above are ticked off from the list.
Let's look at the summary again
Niche decided
Name and logo decided
Budget decided
Funding decided
Designs decided
Manufacturer decided
Website optimized
Product images professionally edited
Payment mode decided
Policies decided
Security embedded
Marketing planned
Inventory and management is taken care of
Packaging decided
Location and delivery checked
Testing done
If you're new to online business and have no idea about website setup or creation, you may read How to create an eCommerce website from scratch?
9. Leverage the power of marketing
Marketing is one of the most vital ingredients in starting an online clothing store and taking it towards success. There are different ways you can leverage marketing.
A. Free marketing
If you choose to spend no money on marketing in the initial months, you can invest your time and efforts in SEO.
Optimize your web pages, especially product pages with the most trending and correct keywords. Use the keywords in title, description, and meta tags.
Write blogs relevant to your niche and optimize your content well with keywords. Doing SEO will allow your website to rank at a better place on Google SERPs.
It is essential as you'll want to appear on the first page when shoppers look for the type of products you sell. If they can't find you, they can't reach you.
B. Paid marketing
If you're deciding to invest in paid marketing channels to boost your online clothing brand, it is highly crucial to decide which platforms would be best. You may either choose all the platforms available, or the ones that can work best for you.
This article is about how you can sell clothes online and build your own clothing brand. So, the most popular places to market your products are
Instagram
Pinterest
Facebook
These social channels are the best to gain engagement from the audience that loves fashion and clothing. The other places you may think of investing in are
Google Ads
Email marketing
These channels, rather than targeting, are more inclined towards competing with your competitors. Investing in Google ads will give you a chance to excel in your place in Google SERPs through payment.
Email marketing is great when you have a large, strong customer base who are ready to give you their email address.
It's also useful when you're looking to run offers, keep your shoppers updated via email about your events, and more.
Where less than 50% of the shoppers are likely to open your email, more than 80% are likely to find your online clothing brand and your campaigns on social media.
What you choose depends on what kind of market, target audience, and budget you have.
10. Be consistent with your efforts
Now that you've started to sell clothes online, the one 'MUST' thing you need to keep is consistency. Be consistent with your production, your marketing efforts, your sales efforts, and everything that comes in between and thereafter.
Do not leave things to fate or give up too early – (Sorry to sound so negative, but it's always good to live in the real world!).
Continue with the creation of your designs and plan your budget weekly or monthly. The money would be the most important asset you'll want to manage.
Remember, money management isn't a one-time thing, it's rather a daily job. As you gain experience and grow in your business, you'll get more polished skills with the time that'll help you sell products online and boost eCommerce growth.
11. Don't be the jack of all cards – Be the king of One!
If you remember point #4, I promised to tell you about the things you may outsource. Let's stretch it now.
It's a no-brainer that you can't do everything on your own. Apart from being hard to manage everything, it also comes down to expertise. Let's pretend you managed your time somehow, it still won't be possible to carry out a few things in a way that professionals can.
Let's take Product Image Editing for example. It is much better to outsource product image editing to graphic design services. Such services have experienced experts who can edit your images professionally within a few hours.
They know what kind of editing works for a clothing brand and what'll work best for your website. Also, you must be having thousands of images, with multiple images of each product. You can't edit all these images as it might even take you months.
Services like PixelPhant can edit all thousands of product images within the turnaround time of 24 hrs. All the big brands utilize Product Photo Editing techniques like Clipping Path service, Model Photo Editing, and Ghost Mannequin service
Your product images are the first thing that the shoppers are going to see when you sell clothes online. If your product images are unattractive, dull, and distorted, there are no chances that your shoppers would even click on them – buying is a far cry.
Ask yourself – 'Will I stop scrolling and stop doing everything just to see the product images I've posted on Instagram? Or will I ignore it among all the other well-edited images present on the social media channels and web?'
If no, then it's much better to hire product image editing professionals to do the job for you and make you stand out from the rest.
So, that's one thing to think about. Similarly, there are other things that require some extra hands or expertise to fulfill the requirement.
Here's the list of the things you may want to outsource
Product image editing
Inventory management
Logistics
Sales & marketing
Accountancy
Conclusion
Starting an online clothing brand can be a little difficult. However, with some planning and discipline, a lot can be made easier and your clothing line can walk on the path of success.
This ultimate guide covers all the things you'll ever need to know before starting to sell clothes online.
Follow these 9 things religiously and it'll provide you with a better foundation and strategy to survive the competitive market.
Try PixelPhant for free
Use PixelPhant to get more conversions for your online store with better product images.

Background Removal | Clipping Path | Color Correction | Cropping & Resize | Retouching | Shadows