If you are running an eCommerce, you have surely used at least one SaaS product to ease your work. And in the bigger picture, every SaaS product you ever encountered is made for just particularly one same reason.
That is, to make your life easy and work efficiently.
And in this article, you are going to learn everything about SaaS eCommerce products that you must know. That is:
What is SaaS?
Benefits Of Using SaaS eCommerce Platforms
Top 5 SaaS eCommerce Platforms
How To Choose The Best SaaS eCommerce Platforms
Let's get started.
What is SaaS?
SaaS stands for Software as a Service, which usually means delivering services via the internet. The need to download software is eliminated here, as the customer can directly use the service in their respective browser.
Now SaaS eCommerce platforms are online service-based software, made to make product selling easy and efficient. That too with no to very less technical skills required.
Let us learn more about the benefits of SaaS eCommerce platforms before revealing the names and learning how to choose them.
Benefits Of Using SaaS eCommerce Platforms
Easy To Integrate
One of the core benefits of any SaaS eCommerce platform is its easy-to-use and easy-to-integrate ability. They are built in such an excellent manner that anyone can use them. As well as, they can add or remove any feature that they may best suit their need.
If we talk about eCommerce specifically, you can integrate any kind of feature or turn off any default feature that you may not like.
Easy To Scale
Believe this when we say that running an eCommerce is a full-time job. And you should make sure that technicality and repetitive taste are the least of your concerns. Step one for that would be to use SaaS eCommerce platforms.
You do not have to struggle between keeping the site clean and safe. Step two is outsourcing repetitive work such as product image editing.
Lesser Costs
Compared to the alternatives and the cost to get the same results, the SaaS eCommerce platform will cost you much less than one may spend.
Also, this is among the main reasons why people are levitating towards the SaaS eCommerce platform in the first place.
It delivers better results at a much-much lower cost.
Super Quick
In simple words, if you have an idea you don't have to waste time wondering about it. Do your research and get started with your SaaS eCommerce platform.
For example, if you want to start an eCommerce business, the first thing we suggest would be to do thorough market research. Next, choose the best SaaS eCommerce Platform, and get started.
You can simply start attracting customers and make a sale.
Timely Update
As you know, technology is updating rapidly in these times. And you won't like your eCommerce to stay behind. At the same time staying updated means a lot of extra time plus a continuous investment in improving.
But if you are working with a SaaS eCommerce platform, you don't have to worry about that. All you need to do is pay your regular fees, and every other update and the cost to keep your eCommerce up-to-date is their problem.
How To Choose The Best SaaS eCommerce Platforms?
Now that you are aware of the benefits of the SaaS eCommerce platform, let us have a look at checkpoints to choose the best SaaS eCommerce platform.
Reliable
The first thing to check is the reliability of your SaaS eCommerce platform. How will you determine it? By checking its uptime. The best one must have an uptime of more than 95%.
Also, ensure that it has all the features that we talked about in the benefits. That is timely updates, easy access, quick setup, and obviously cheaper than building your own eCommerce from scratch.
Reviews and Feedback
Look out for what their present customers have to say about that. Understanding what are their best properties, that is the reason people love them. At the same time, also keep an eye on what are the bad aspects of the platform.
Support
Ok, let's make an ideal assumption here. While there are many best SaaS eCommerce platforms you might end up finding yourself in a situation where you may need help.
And at that time you need to make sure that the SaaS eCommerce platform is easily available. Hence ensure that the platform has a good support team that is active 24/7.
Timely Update
And now finally ensure that the platform is using the latest, as well as, the most stable technology. At the same time, make sure that the platform is updated regularly. Platforms that keep adding new features and services are among the best SaaS eCommerce platforms to trust.
Top SaaS eCommerce Platform You Must Know
You finally know the benefits of choosing the best SaaS eCommerce platforms. Moreover, you also know how to choose the best platform for your eCommerce. And now, it's time to narrow down the list.
Here are the 5 Best SaaS eCommerce platforms that we highly recommend based on their merits and offerings.
Shopify & Shopify Plus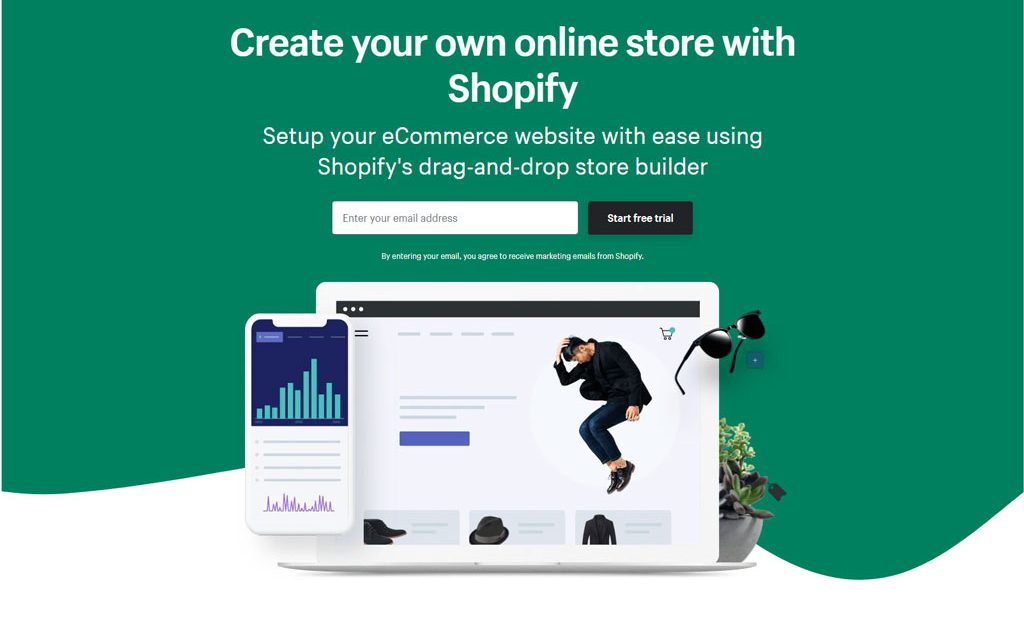 Shopify is one of the biggest SaaS eCommerce platforms operating on the earth today. The platform hosts over a million stores across 175 different countries. And has a market share of more than 20% in the eCommerce industry.
All due to its ability to provide an easy to run business environment. There are dozens of themes to choose from and thousands of apps to help you run your business to its best potential.
Everything at the base cost of $29/month.
Also, if you are selling your products at a high volume, you can even use Shopify Plus. It has many more features for the same purpose and makes it very easy to stay connected with the merchants.
BigCommerce
Bigcommerce is another big name in the world of SaaS eCommerce platforms. It caters to both enterprises as well as retail eCommerce with its wide availability of features and functions.
Nonetheless, with so many options and features, understanding BigCommerce might take some time. If you are already running an eCommerce and have a team that can take care of your eCommerce then BigCommerce can deliver a hassle-free and rewarding experience.
Salesforce Commerce Cloud
You may already know that Salesforce provides among the Best Ecommerce CRM software to manage your marketing and sales. They have experience and some other amazing tools that work together to make the Salesforce commerce cloud among the best saas eCommerce platforms.
You can integrate some high-end tools with your store. The platform is suitable for AI, personalization, international business, and a high volume of traffic and sales. But, if you are a small retailer who is just starting out, the pricing is very high when compared with other platforms in this list.
Woocommerce
Unlike every other SaaS eCommerce platform, Woocommerce is a plugin that integrates with WordPress. But that doesn't change any of the benefits you may be expecting from any of the best SaaS eCommerce Platforms.
Moreover, due to the easy-to-use and beginner-friendly interface of WordPress, Woocommerce has the biggest marketing share within the eCommerce industry. One can even use other plugins made for WordPress for their stores, giving better flexibility in running an eCommerce. Now if you are getting started with Woocommerce, using the right product images will be very important. I have recently shared a quick guide on Woocommerce Product Images that'll help you present your product in the best way possible.
Magento Commerce
If you are already running sustainable eCommerce enterprises and are looking to step up, Magento Commerce is the best SaaS eCommerce platform for you. Keep in mind that Magento is an open-source eCommerce platform.
This means it requires programming and other developer resources that build an eCommerce. Other than this the SaaS eCommerce platform provides all the features to help run your eCommerce smoothly.
And to Conclude here
SaaS eCommerce platforms are the future of running an online business. The benefits are unmatched and to be honest very helpful for every one of us. If we have to add one thing then it would be requesting you to bring your own taste and style to your eCommerce.
While there might be thousands of websites similar to you selling a similar product, try standing out in some way or another. We have discussed this in our article on the Importance of USP for eCommerce. Have read and share it with your team.