Ultimate Product Development Process: 7-Step Framework You Must Use
Updated on November 17, 2022 in
Ecommerce
by
Nishant Shrimali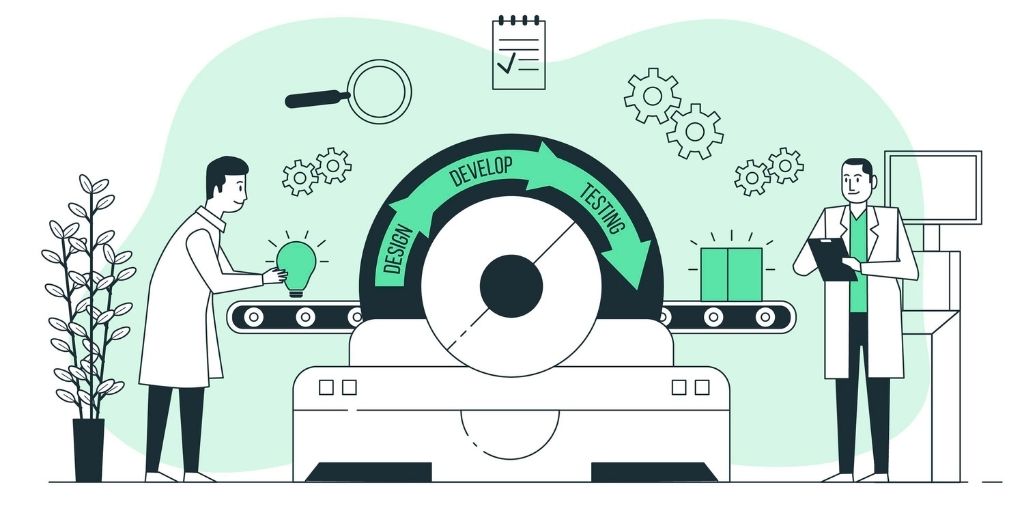 If you are an entrepreneur by heart, you might have a list of products that you wish were present in the market. Small or big, these products were focused on specific problems that you may have faced.
So let me ask you something. Why haven't YOU developed that product on your own?
Product Development is not easy. Agreed. But if you are able to solve even a single problem of the masses, you can build a fortune out of it.
But wait, don't just take a leap to start your entrepreneurial journey right away. More specifically, don't just enter an industry blindly.
In this article, we are sharing the 7 Stages Of A New Product Development Process. This means by the end of this article you will know about :
What Product development is?
What are the 7 stages of a new product development process?
And finally key points you must remember during the product development
Bookmark this article now and make sure you refer to it at every single step of developing a product.
What is Product Development?
Product development refers to the steps one takes before launching a product to the market. Despite popular beliefs, the product itself can be a new innovation or un-upgrade or may even be an old product for the new market.
The actual meaning of product development is the process of turning an idea, into a real-world product and scaling it through marketing and growth business practices.
And to keep things simple to understand, and easy to follow there are 7 Stages Of A New Product Development Process. These 7 crucial steps are:
Idea Generation
Research
Planning
Prototyping
Sourcing
Costing
Commercialization
Let's understand each one of these steps in a manner that you can follow, and introduce your product to the marketing. (By The Way, Do Tag PixelPhant On Your Launch 😉)
7 Stages Of A New Product Development Process
1. Idea Generation
As the name reveals it all, the first-ever step of a new product development process is generating an idea. More specifically, an idea that is practical and an idea that is based on a problem, or drive of a human.
Here you may remember that there are some common problems we all are aware of and face day to day in our life. Look around you, observe life from a new perspective to solve problems and you may end up with an actual problem that you can solve.
Another way is by improving the existing life of the people. Or in other words, addressing the problems that no one notices but would be grateful for being solved. This is much harder to identify as most of us are surrounded by products dedicated to improving our lives. But nonetheless, give it a thought and you might come up with an idea that can change the world.
Among the many, one simple model to come up with a product idea is the SCAMPER model.
That is
S – Substitute – Replace one product with another.
C – Combine – Combine two products to complement the ease of work, efficiency, entertainment, etc.
A – Adapt – Improving an existing product to new requirements or will.
M – Modify – Modifying the existing product to gain much more appeal
P – Put To Another Use – Taking an existing product, tweaking it a bit, and using it for another purpose.
E – Eliminate – Eliminating a part of the business or supply to make the product more feasible or efficient.
R – Reverse/Rearrange – Reverse engineering to solve an issue through existing product
Give this "think-logy" a shot. And come up with an idea for the second step of the product development process.
2. Research
The next and the MOST important step will be the research. And believe it when we say this, research will be the pivotal point for you as a successful entrepreneur. Once you have an idea that you think is going to be successful, it is the research part that will and should decide the future of it.
So what are the things you should research about?
There are mainly 3 types of research that you must focus on at this point.
Is there a demand for your product? If there is, why hasn't someone else come up with an idea similar to you?
These two questions will help you with the starting point for your research. But also note that they are not the only question that you should ask yourself.
If there is a demand, then in what quantity is it? Also, how much will your product make a change in an individual's life that he/she is ready to pay for it?
Product Validation
Product validation answers a much simpler question. Will people be interested in your product? And this question is not to be answered by you itself. Rather talk about it with other people.
Talk to your friends and family, or if you are too shy to share it face-to-face you can even share it on Reddit. Share why you think you have a great product idea and how it will affect people's lives.
Ask for product validation and you will get it from real people and possibly your potential client.
Competitive analysis
And the last research that you need is competitive research. In the case of the Product development process, look out for products similar to yours. Is there any similar product available in the market? If yes, What are they doing to stand out? If not, which is the closest product that is fulfilling the present-day needs of your customer.
Understanding your competitors and their product will give a much better understanding of who you are against and will your product be able to attract their existing customers.
Doing thorough research before getting started with the actual product development process will give you much better flexibility in updating your idea. And it's never too late to leave a sinking ship if you know it's going to hit the glacier.
If you come to learn that your product idea isn't suited for today's market, you can always go back to the first step in order to find the next best thing. But if you have found the best idea, well congratulations, let's make the big thing happen.
3. Planning
You have an idea, and you have done your research well. You are also aware of how your product will look, and how should it work. But let's not jump right into setting up a product line and start selling the product.
The next step of the product development process is Planning. In this step, we will map out exactly what our product will look and work like.
Some ways to get started is through illustration or using software like Autocade to build a virtual product to see how will it look, and what will function look like.
From size, shape, type, interaction, design, and everything. Map out every single detail to learn what your product actually is, and how will it function. Get done with the designing and move on to the next step, which is prototyping.
4. Prototyping
Would you like to invest in an unsure scheme? If not, then congrats you are a true entrepreneur. Risk management is a key factor in the entrepreneurial journey, as it is very important to know where are you investing your time and capital.
Prototyping essentially means designing the exact replica of the product, but with much cheaper material. It is among the most important step of the product development process as it gives an in-hand feel of the product.
This step is further to confirm that the real-life product will match the expectation. Do remember that the prototyping means except replica of the product. From here, you can start making changes, and enhance the product and save your time and capital on manufacturing raw products that you may later have to enhance.
This practice of minimum investment to understand the product before actual launch is known as MVP, Minimum Viable Product.
5. Sourcing
Once you have finalized your prototype, it is now time to start sourcing material for your product. In other words, it's time to build your own E-commerce supply chain.
Look out for vendors, resources, suppliers, and all the resources you will need to create your product.
At this stage of the product development process, you will have lots of options to choose from.
Like which supplier to choose from, where should production happen (locally or outsourcing) etc-etc. The best advice here would be to explore all your options, as well as interact with all the suppliers who can help you.
6. Costing
The step of the product development process is the costing. At this stage, you will have a clear idea about what your end product will cost you (manufacturing cost).
More importantly, it is time to find the vendors that can provide you with excellent service.
Essentially, costing is the process of calculating the total cost of manufacturing cost, so that you can determine the exact retail price and gross margin.
And now that you know your product and its pricing, it's time to launch it and move to the next step.
7. Marketing and Product Improvement
The product development process is not complete, until and unless you get feedback on your product. For that, you will have to ensure that your final product reaches your target audience.
Make sure you are marketing to the right customers, as well as are using high-quality product images, to ensure sales. Lastly, don't hold back on asking for feedback. Feedbacks will be a crucial point in the start.
More than that, also make sure you improve your product as well the customer experience according to the feedback you receive.
Key Point To Remember
Every stage of the product development process is to ensure that you build a product that is market fit. This means there is a demand and people are ready to pay for it. But along with this, if you are developing a product which you will need every month you can also create a subscription service. If you would like to learn more, we highly recommend you read our Ultimate Guide On How To Use of eCommerce Subscription Business Model.
If you wish to learn more about eCommerce, product photography, Product photo editing, and how to grow online, subscribe to the PixelPhant email newsletter below.
Beautiful product images across your website.
Background Removal, Clipping Path, Color Correction, Cropping & Resize, Retouching, adding Shadows, and more.

Try PixelPhant for free
No Card Details Required