15 Amazing Photography Trends Shaping The Future Of Photography | PixelPhant
Updated on April 6, 2023 in
Photography
by
Alifiya Mustafa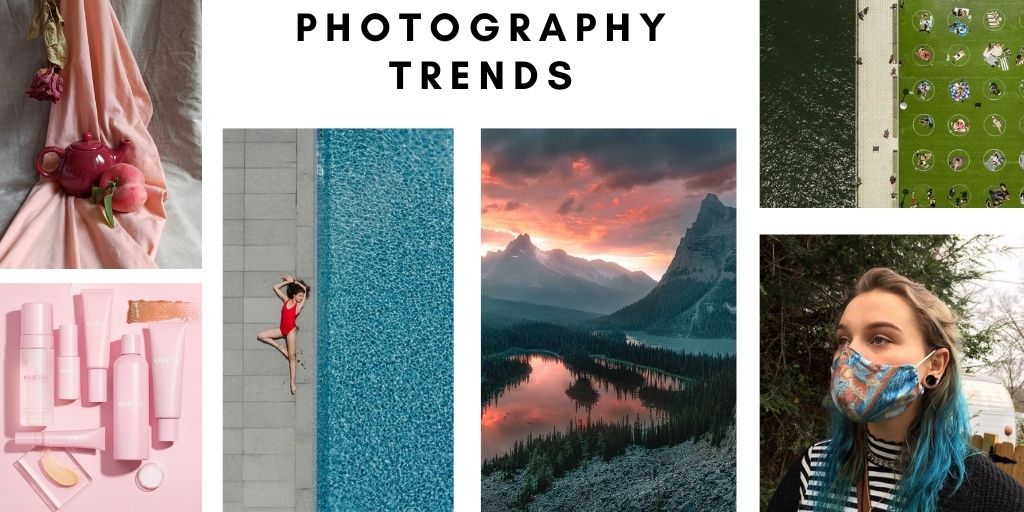 Photography is one of the most skillful and important art. Photographs help you freeze a moment in a given frame.
They bring back memories, save a moment in time, and are sometimes even used as proof – a proof to the law, a proof to the future generation of what was present back in time. And, all such nature of photography makes it a wonderful and necessary art.
Being said that, it won't be wrong that just as it's rare, the photography industry is highly dynamic too. Photography trends come and go like sea waves. But, whatever photography trend arrives, it brings with its own uniqueness and importance just as the pandemic has done.
Photography trends are influenced and inspired by what the pandemic has done and how people have adapted to it.
In this moment of crisis, people are turning toward the content with which they can relate more naturally.
Still, it's amazing how the moment photographers are capturing now will later serve as one of the most necessary elements of history. How life was affected and how people dealt with it would all be traced easily.
If you're a professional photographer, a beginner, or just a hobbyist, these photography trends must intrigue you with their uniqueness and realness.
Become Our
Referral Partner
& Earn Commission
Top 15 Photography Trends
1. All masked
Since the pandemic has hit the world, it has become nearly impossible to find a person without a mask outside your home. And masks, have become one of the most popular photography trends.
No matter what occasion, what place, and what outfit, the masks have been the unattachable part of our lives. In fact, even if we forget to wear the mask, we suddenly start to feel almost naked without it!
People with masks are definite subjects whether you look at the photographs in newspapers, magazines, social media, or even wedding albums.
Now, this photography trend has become so essential that websites and stock photos with masked people are in high demand.
People wearing masks reflects that the photos have been taken recently. There is a massive demand for this as if a website wants to look fresh, the people need to be wearing masks.
Also, this photography trend has only added to the aesthetic.
2. Social distancing
Similar to the photography trends like people wearing masks, the images reflecting and promoting social distancing are in high demand.
Tell me, when was the last time you were a part of the group office photo or a group college photo? Your answer won't include the years 2020 or 2021. Group photos involving large groups are very rare.
The closest you may find might be a family photo – still wearing masks!
Businesses and families still need group photos for their social networks. Thus, if you're going to capture any group photos, ask your subjects to maintain a six feet distance to make your photographs trending and fresh.
3. Take more family photos
The pandemic gave us back what we had forgotten before – family time. Many people got to spend quality time with their families, rebuild their relationships, and strengthen their bonds.
Taking photos of family that shows closeness and bond is one of the most trending photography trends.
4. Capture more raw and natural photos
People have lost loved ones, people have lost jobs, and people have lost peace. Despite losing so much during this pandemic, many people have managed to gain something out of it.
Many people found their purpose, many discovered self-love, and many understood that the only important thing is to live life to its fullest – they gained confidence.
Confident, raw, and no make-up looks are very remarkable and great photography trends.
You may want to follow this trend by capturing self-portraits and portraits that reflect self-love and confidence. Because, as we've all learned, life is too short to compare ourselves!
5. Food and still life photography
No wonder the pandemic gave birth to innumerable home chefs. People started to cook, create, and invent new food trends – Dalgona coffee, liquid parathas, and 2-ingredients cake are a few to name.
Food and still life photography are some of the most cherished photography trends. They reflect comfort and connection.
The time when you can explore the outdoors, still life photography gives you the power of turning anything and everything into a beautiful subject.
This is the perfect time to pick up your camera, clean the dust, and capture whatever you can get your hands on – cooked food, toys, books, or even a fruit basket.
6. Use drones for photography
So what if the lockdown has bound you? So what if you can't take your camera to places the beautiful scenes?
Actually, you don't even have to step outside. The drones can take care of the photography. It's true, the scenes and photos captured through drones are astoundingly trending.
This is one of those photography trends that is going to last even after the pandemic. Drones help you go to places that you can't go despite the normal times.
They capture amazing aerial scenes that are breathtaking and mesmerizing. People want to see more of it as they give them a glimpse of what they can not usually see.
The aerial view is what makes this photography trend adoring and popular.
7. Product photography
Though product photography never went out of trend due to its constant need, because of the pandemic, it actually caught the hype. Product photography is also one of the high-demand photography trends.
Why? Because the answer is obvious – the rise of eCommerce and online retails. Due to the shutdown of the physical shops, many sellers switched to online selling businesses.
To make sure that they survive in the eCommerce competition, they made sure that their product images catch the customers' eyes at the very first glance.
So, if you're trying to find clients, the new online startups and sellers might be your potential bet. Ecommerce product photography and product image editing have never been so popular since their demand and competition increased.
8. Relaxed and 'Not So Big Fat' wedding photography
Wedding photography used to be a formal act of capturing images of events, food, family, friends, and why not – bride and groom!
The focus on themes, larger than required cake, and not-so-familiar family members used to a great deal. But if you look at the recent wedding photographs, they look more natural, warm, and authentic.
Wedding photography trends have taken a huge turn since the pandemic restricted wedding to only a few close ones from both sides.
Here, we are talking about the quick weddings you see in your neighborhood and the celebrities' weddings. And, the May month wedding of Ariana Grande is the best example of pandemic protocols, elegance, and beauty.
So, if you're a wedding photographer, don't see your business at bay, because you might want to capture some remarkable wedding moments that have not been captured in ages.
9. Photography displaying equality
The pandemic is treating all sections of the economy, class, gender, and age equally. No rich or poor has been able to bribe the virus, and that's what was necessary. In the end, we've realized that we're only humans and we can't be gods.
The only way to survive this time is through humanity and mutual help. And, the photography trends have also been inspired in the same way.
The joining hands, the helping acts, and the photos reflecting equality are very much trending over social platforms that you might want to be a part of.
10. Photography showing age difference
What we've learned is that life is too short. One moment we're here, and the next we're gone. The portraits of people in their old age standing with a baby or a little kid have become very popular during the pandemic.
It shows how life passes by us and we just realize how much we've left unseen, uncherished, and how ungrateful we've been.
Such photographs showing the age difference are one of the best photography trends. They help us learn that small things matter and fights are just a waste of time.
11. Snaps from the videos
Another great photography trends are the snaps from the videos. Being a photographer following the trends, you must be knowing how trendy the short videos are.
Be it the Instagram reels or YouTube Shorts, short engaging videos are very addictive these days.
Now, people are taking screenshots of the best moments in these videos. It is a fun and easy way to collect some amazing clicks. You can create videos of your subjects and later take screenshots of the moments you like.
Such collections of photography trends are perfect to post on social channels without hassle, and at the same time, they promote the created video and vice-versa.
12. 360 Photography
A study shows that people are more interested to see 360 versions of objects, products, and scenes. The technology has raised the bar of public expectations. This photography trend actually took a firm hold over 360 product photography.
Consumers are highly interested in seeing the products from all sides and edges before buying the product. It is also seen that the brands adopting 360 product photography are mo0re likely to convert the customers.
Apart from products, this trend is also very useful for real estate photography. You can take a 360 view of a room and the property.
13. Environment photography
The people are hungry to see the world. They want to see the scenes and places since they can't go outside by themselves.
Environment photography is highly in demand on social media as well as for stock photos. The more humans have been away from nature, the nature has become more beautiful
This is among the top photography trends across the globe. It looks beautiful, and enchanting, and wants people to respect it more than before.
Since we already had freedom before 2020, natural and environmental photography has not gotten what it deserved. But now that people don't have it, they're valuing it more than ever before. Thus, if you're a photographer looking for inspiration and potential viewers, this photography trend must be the pick for you.
14. Vibrant Color Photography
Consider this trend as one of the most required, most in-demand photography trends.
Capture the vibrant colors of street arts, flowers, fruits, culture, dressed, or environment.
I believe this photography trend must have arrived whether or not the pandemic was present. With the dullness and stressful lives, vibrant color photography is an escape and an energizer.
You may just enhance the colors of the subjects. And, to highlight them even more, use black as its background. The simplicity of a pitch-black background can make a huge difference in enhancing your work.
Black background can turn a normal photo into a thoughtful one. It can transform a simple food portrait into one that looks more polished, professional, and vibrant.
15. Minimalistic photography
People want to see more raw, authentic, and realistic photos. You don't need expensive camera gears, many camera settings, or heavy software.
Be as minimalistic as possible. What's more important is that your subjects look minimal to capture realism.
You may skip the heavy makeup and dress your subjects in minimal colors and accessories. The fashion industry has experienced this same trend. People are more after nude colors for clothing like beige, dull pink, saffron, and the shades of blacks and browns.
Including these factors while capturing photos can make your photography more trendy and appealing.
As for your photography gear, a camera from a good digital camera brand and some light photo retouching should do the trick to make your photos look natural yet professional.
Wrapping Up
The photography trends are pretty different and unusual than the trends that have come and gone in the past.
Mostly these photography trends are highly influenced by the pandemic. However, the trends we have now are purely relevant and only add to the little beauty people are finding in the everyday life now.
I can not say if these would be the 'new normal' for the photography industry or if these trends are going to persist. But, what I can say is that these photography trends are what you need to grab the attention of the audience.
If you are an eCommerce enterprise or a product photographer, look more professional with PixelPhant's product photo editing service. Try for free 👇.
Beautiful product images across your website.
Background Removal, Clipping Path, Color Correction, Cropping & Resize, Retouching, adding Shadows, and more.

Try PixelPhant for free
No Card Details Required