Top 12 Online Stores in France That you Can't Resist Buying From
Updated on October 12, 2022 in
Ecommerce
by
Alifiya Mustafa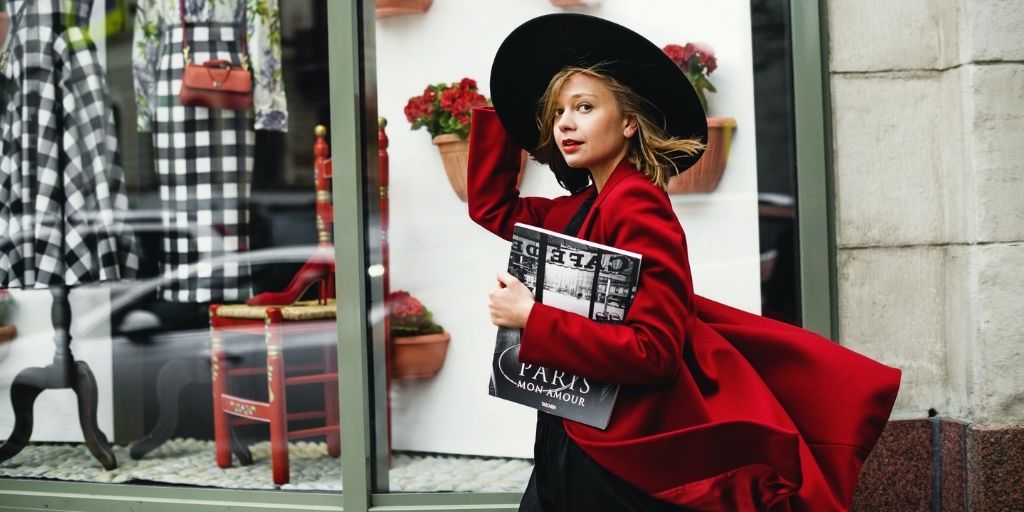 France is the largest economy in Europe. It has one of the leading, developed, and reliable markets for online shopping.
We can say that online stores in France are mature, professional, and punctual. With this, what more can you ask from an eCommerce website?
So, if you're thinking about which online stores in France are best to buy your stuff from? Then, we've listed our top 12 picks that you must buy from to experience the world-class service along with great quality products.
Top 12 eCommerce Online Stores in France
1. La Redoute
La Redoute offers an excellent range of classic, fashion-conscious own-brand fashion lines as well as an exclusive selection of other European brands making it an affordable alternative to stores like GAP and Banana republic.
You should definitely go for this fashion online stores in France as it has runway-meets-real-life special collaborations from the likes of high-fashion label, Carven.
You can spend your Euros on pretty pieces (Peter pan collars, Frills, Ribbons!) from the Mademoiselle R collection that showcases all the fresh French brands such as Claudie Pierlot, but without the extant price tag.
That's not enough for these online stores in Fashion to be number one in our picks. You can also enjoy free shipping worldwide on all orders above $119 AND a 30-day return policy.
2. ParisFashionShops
ParisFashionShops is a high-end online stores in France. This marketplace has a large variety of women, men, kids clothes along with shoes, bags, and other fashion accessories.
It's a brand provided by Paris and Aubervilliers best wholesalers. Whether you are central; buying office, retailer, or an independent fashion professional, ParisFashionShops is the quick, easy, and one-of-a-kind answer to your fashion needs.
The reason why we kept it in second place is that it's not as affordable as our Top 1. However, the clothes that you may get will be the king that'll leave the viewers awe-struck.
3. Balzac Paris
Look no further for mid-priced items from this fashion brand offering small, ephemeral capsule collections with a literary slant once you encounter this online stores in France.
You can invest in chic, romantic polka dot printed blouses, chambray shirts, and looks that telegraph boho-meets-Latin Quarter-intellectual style.
You can't move from this online store in Fashion once you lay your eyes on trendy round purses, embossed satchels, and saddlebags. These designs can have any French influencer stop in their tracks.
4. L'Exception
L'Exception is an online store in France that has designs of exclusive, luxury and contemporary labels all with a distinctly edgy, fashion-insider, concept store free.
Simply go for it as you can't find those directional asymmetrical pieces from experimental fashion houses such as MM6 Maison Margiela and Carven at any other place.
This luxury fashion online stores in France is also stealing French hearts with geometric earrings by Christophe Lhote, quartz-bejeweled bracelets by Medecine Douce, cheeky necklaces by Alice Hubert, and eclectic rings by 5 Octobre – (I wish I was French!)
You can get free shipping on all purchases over €200 along with 48-hours DHL shipping and 14-days return policy.
5. APC
This online storefront has been operating in France since 1987. APC has made its name by providing quality staples in cuts that strike the perfect balance between trendy and minimalistic, classic pieces.
You can find durable, solid Breton knits, well-tailored shirts, and timelessly elegant designs. You can get free 7 days of UPS Ground shipping and have a fourteen-day return policy.
6. Amazon
Amazon is the largest online seller in the world and so it is for France too. You can get almost anything you want on Amazon at a reasonable rate. We all know how reliable and dedicated Amazon is towards its buyers.
From whole foods to fashion and electronics to toys, Amazon is great for buying products that will be delivered timely to you. The customer service is helpful and you can feel safe if anything goes wrong with your order.
Started in 1994 in the US, it expanded to many countries across the globe along with becoming one of the best online stores in France.
7. Moon Showroom
Mon Showroom has been operating since 2006, offering a trend-conscious clothing-line of French fashion labels and European brands.
This online store in France is a must explore as it has a collection from popular but hard-to-find contemporary brands such as the edgy band urban Eleven, Les Petites, and more.
I can bet that you can't resist their heavenly shoe department that teems with picks from Avril Gau, Jonak, and more
While you can get your hands on some amazing deals, their shipping costs should be taken into consideration, especially when you add the $29.95 before tax-tariff fee.
8. Cdiscount
You can find Cdiscount in the top lists of online stores in France in every article like this. Probably that's because it provides a wide range of products with good customer service to keep their customers happy and loyal.
You can buy electronics, household appliances, media equipment, hygiene, family and baby care products, furniture, tools, gardening products, as well as groceries, and more from Cdiscount.
Founded in 1988, this legendary company is a subsidiary of Groupe Casino, a French multinational retail company.
9. VeePee
VeePee is a French retail company that sells its products online through flash sales. Founded in 2001, VeePee AKA Vente-Privee shares its love for designer brands every day with its 72 million members.
You can find diversified offers on toys, watches, home appliances, sports equipment, technology, and wines.
10. Leroy Merlin
Leroy Merlin is a chain of retail stores in home improvement and gardening. It operates self-service or sales-assisted service in large stores. Leroy Merlin sells a number of tools and materials for DIY, gardening, and home improvement which are also sold through the company's eCommerce platform.
Founded in 1923, apart from being an online store in France, Leroy Merlin has since expanded to various countries of Europe, China, South Africa, and Brazil.
11. Vinted FR
Vinted is an online store in France (Originated in Lithuania) dedicated to selling secondhand clothing items and accessories. You can pretty much call it Poshmark of France.
It allows people to buy as well as sell, and even exchange products among themselves. If you're a buyer, then you'll be charged a fee for your purchase and if you become a seller, you'll have to pay to promote your products on the platform.
12. Fnac
Founded in 1954, this online store in France originally began as a chain of stores. It sells cultural and electronic products including audio, books, CDs, computer software and hardware, DVDs, televisions, video games, and now even bicycles and small vehicles.
Having expanded to Spain, Portugal, Belgium, Brazil, and Switzerland, Fnac has also developed its activities online through its own eCommerce store.
Conclusion
France has always been elite when it comes to online shopping, especially in Fashion. In this blog, I've listed the top 5 online stores in France that are known for their fashionable pieces.
The rest that you'll see belongs to the mixed niches which must be kept in consideration when you're buying something online.
If you wish to learn more about eCommerce, product photography, Product photo editing, and how to grow online subscribe to the PixelPhant email newsletter below.
Try PixelPhant for free
Use PixelPhant to get more conversions for your online store with better product images.

Background Removal | Clipping Path | Color Correction | Cropping & Resize | Retouching | Shadows