To grow your business online in 2023, you need to be aware of the new eCommerce trends that are catching up on customers' attention. Irrespective of the niche, most of the retail stores are shut down.
According to an Adobe report, the total online spending in May was about $82.5 billion – That is about 77% up on year-over-year growth. Hence, we can conclude that the eCommerce world has seen a spike of growth in sales and profit.
But which are the new eCommerce trends that are here to stay? You won't like an investment that has no return for the long term. In order to help you out with it, here are 12 new eCommerce trends to help you grow your business online in 2023 and BEYOND.
Yes! you read it right. The trends mentioned below aren't just a flick but are a real investment of your time and efforts to make your business sustainable for today as well as the upcoming future.
Hence, without wasting any more time, here are the new eCommerce trends to grow your business online in 2023.
12 New eCommerce trends to grow your business online in 2023
1. Second-hand market
Believe it or not, second-hand eCommerce is set to emerge as the new eCommerce trends in 2023. Even before companies such as ThredUp have shown that by 2023, the resale industry will be a $53 billion industry.
Moreover, with this pace, the re-commerce trend would suppress fast fashion with an unmatchable margin.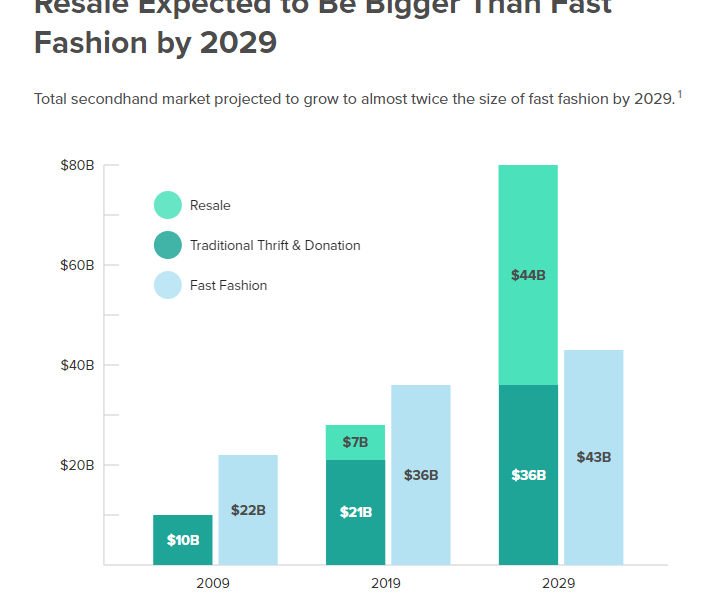 The spike in this new eCommerce trend during the coronavirus is great for you as an entrepreneur to catch on and grow your business online in 2023. At first, the re-commerce was only active between the younger customers in the fast fashion itself. But today, in the uncertainty of the future, everyone across the world is trying to save money.
Seeing such a spike in the reselling market, it is clear that you can set-up yourself to catch on to this new eCommerce trend to grow your business in 2023.
Things you can do: Firstly, It's important to know if or not your customers will be buying a second-hand product. Some industries such as fashion, mobiles, laptops, other kitchens, and home appliances are the top niche where the second-hand market is active.
Once you know that your customers are willing to buy a second-hand product, it is now time to set a system, cost, and then selling price. This new eCommerce trend focuses on saving money for customers. If the refurbishing is costing the same as the new product, it's not a good idea to start with.
The re-selling cost must include the price at which you bought it, the cost it took to get repaired, and finally your profit. If this isn't profitable for your niche, you must skip this idea but if you can use it, you can widen your reach within your audience and grow your business online during coronavirus.
Also Read – Selling products on amazon during coronavirus & grow
2. PWA for eCommerce
According to Artplusmarketing, mobile commerce generates 53.9% of revenue from mobile itself. Surprisingly, 65% of the total visit to the eCommerce store was from mobile.
In these new eCommerce trends, where your customers are accessing your website through mobile, having your own Mobile application would be a great option.
But let's admit, not everyone can have an app of their own! So, having a PWA for your eCommerce would be a great alternative to mobile apps. PWA or Progressive Web Apps have a similar interface to an app.
A few reasons why Facebook, Twitter, and other giants are using PWA are:
PWA can reach a wider audience as the app is responsive to every screen size. Users can also share it just through a link.
They are faster than a website: As you know your customer won't wait if your site doesn't load quickly. PWA is quick, and can also be saved on the home screen to be accessed at any time.
PWA's are budget-friendly and cost very little time and money as compared to a regular mobile application.
As the user is getting a good interface, stabler speed, and easy access to all the products the conversion rate of the store also increases.
Things you can do: To keep up with the new eCommerce trends in 2023, you can shift to a Progressive Web App, instead of a regular website or app.
As mentioned above, they are quick, budget-friendly, and can work with any operating software just like any website on the internet. In addition, it is also seen that the engagement of a customer also increases on your site.
Make sure you take advantage of PWA's engagement factor as higher engagement will result in a lower bounce rate and higher conversion.
3. The explosion of social commerce
Social commerce is a common ground for people shifting from the offline market to eCommerce. Moreover, social commerce isn't completely among the new eCommerce trends.
Social apps such as Facebook, Youtube, etc have already introduced features like the marketplace, etc to sell and buy products on the app itself.
Recently, even Instagram introduced the shop feature, where one can showcase the product in the feed and even purchase it without a need to leave the app at any point.
Things you can do: Social commerce is among the new eCommerce trends in 2023 that has taken a boom right now. People are spending more and more time on social platforms.
To grow your business online in 2023, you need to be where your customers are. A few points to keep in mind while you looking forward to starting your Social Commerce are:
Understand your customers: Check out the platform they spent the most time on. Well-targeted research would surely be handy if you are looking forward to growing your business online.
Be active and utilize all features that the platform is offering
Don't hold back on marketing/ running ads on social platforms to grow your sales. Social commerce is among the new eCommerce trends and you must make use of it to grow your business online.
As said, social media is a platform where your audiences are spending most of the time. Try to engage them rather than just selling your product. The higher the engagement ratio, the higher the conversion rate would be.
4. Influencer Marketing Will Bring Sales
As mentioned above, engagement within the audience plays a vital role for you to grow your business online. But what if you are just starting?
In that case, where you are just starting to grab on the new eCommerce trends to grow your business online in 2023, you can make use of Influencer marketing.
Influencer marketing is a form of marketing on a social media platform where a product is endorsed by influencers, people, or organizations. While this trend has been in use for decades its face of it has recently changed with time.
People have started trusting more on the influencers, than generic ads. Moreover, eCommerce has seen a higher conversion due to these new eCommerce trends in 2023.
Things you can do: The most popular platform among all social platforms is Instagram. Hence, we will be taking the example of Instagram to explain how you can use influencer marketing as the new eCommerce trend to grow your business online in 2023.
Firstly, it is important to understand whom your niche audience follows, what their interests are. It is very important as it will help you choose the right influencer for your eCommerce.
Rather than celebrities, more people are trusting macro-influencers. Macro-influencers are the people/organizations that have 1000 to 100,000 followers. So you could choose people from this range to ensure higher conversion.
Finally, try to reach out to more than 2 to 3 influencers as it would give a wider audience to reach for your niche and also would build trust among the audience.
Many new eCommerce trends may come and go but influencer marketing has shown and consistent growth. If you wish to grow your business online in 2023, Influencer marketing can surely open the gates opportunity for you.
5. Introducing subscription service
Subscription isn't completely among the new eCommerce trends in the market. But has seen a sudden spike within the customers in 2023.
People are cutting back any regular contact and making sure their essentials reach out to them at any cost. For eCommerce, which has been working on the subscription model, it has become a profitable gamble.
Few of the benefits of the subscription model is:
It's easy to manage the finances, inventory, and profits of your store as the majority of the orders are pre-requested for months.
You will get an easy engagement opportunity. If you wish to grow your business online in 2023 and beyond, engaging your subscribed audience can result in free marketing due to word-of-mouth.
Most importantly, using the subscription trend, you can eliminate the competition as your customer will surely stick to you for at least the duration of the subscription.
Things you can do: To take complete advantage of the new eCommerce trends, especially subscription service, you need to make things good for your customer.
Before creating a subscription you will need to see how a subscription to your product can help your customer. A few of the subscription plans that you can introduce are:
Replenishment subscription service: In this kind of service, you can deliver a regular service to your customer. It could be a weekly or monthly plan where you deliver items that they might get from a corner-store but due to the subscription, it is delivered directly to their foot-steps, without the need to order it every single time.
Curation subscription service: It is probably the most active and new eCommerce trends due to the fast fashion industry. You can design a service where customers can choose which item to get delivered every month, without the change in price. In the fashion industry, it was regarding the outfit that people can choose from to get delivered every month, but you can vary it according to your niche.
Access Subscription: In the following subscription model, customers can only get your products through a subscription. It works well if you have an established brand, but even if you are not a recognized brand until now, you can offer them products in combo offer at a profitable price for both customer as well as your store
In the following new eCommerce trends of subscription services, you can grow your
business online in 2023 by hooking your customer's interest in your product. Make them feel secure about the money they are spending by subscribing to you and also deliver the best of your service to get the best result out of this master key to success.
6. Real-time conversations, and Chatbots for eCommerce
Due to the advancement in Natural Language Processing (NLP), chatbots are now among the new eCommerce trends. Moreover, as your customers are missing to have a conversation with the shopkeepers, you can use AI chatbots to grow your business online in 2023.
Chatbots are now taking over every new eCommerce trends, and the reasons are easy to understand:
Improvement in customer experience- Through chatbots, you get the advantage of being available to your customer – day or night 24/7. Customers can have a conversation, ask a query, get the recommendation of a product, and more without a need to wait like in traditional customer service.
Improvement in your sale- Using Chatbot for selling purposes, means putting your store on autopilot. You set your Chatbot to ask the customer about the preferences they have, further than can recommend then the product. In addition, a chatbot can even remind you of cart-abandonment. According to Retailcustomerexperience, you get an 80% higher rate in comparison to email, which only gets 25%. This clearly shows chatbots are new eCommerce trends that customers are engaging with and you can use it to grow your business online.
Save you Time and Money- Chatbots are mainly one-time investments that can work with the same efficiency even years after you install it. While you don't have to invest your time on regular FAQs of customers you can focus on inventory and supply chain to grow your business online in 2023.
Things you can do: Most importantly you must understand that new eCommerce trends of Chatbots aren't going anywhere. It would be a very wise investment to get a good chatbot for your very own store.
Some of the most popular eCommerce chatbots that you can use are Chatfuel and Tidio.
Also Read – Best chatbots for eCommerce
7. Optimizing your eCommerce for Voice search
While we have already mentioned the use of AI and chatbots, the next step would be optimizing your site to new eCommerce trends – Voice Searches.
According to Google, 62% of the purchase will be made through voice searches. In such a scenario, it is important to optimize your site for voice searches.
Things you can do: In order to take full advantage of these new eCommerce trends, you will surely have to optimize your site and its content. While you do that here are some tips you should follow to get searched through voice search.
Optimize your site for queries instead of just keywords– While using voice search, no one would search a keyword, instead would ask a whole query. For eg. If one person would like to buy sports shoes, he might just type sports shoes. But while using a smart speaker to search, he would search " Which is the best sports shoe by Nike?"
Try limiting the answer to 30 words– While showing results for voice searches, google will prefer short and on-point answers. In addition, google usually recites the featured snippet for the answer, which is usually 30 words.
Use long-tail keywords– In support of the first point, using a long-tail keyword would surely allow you to get featured in voice search results. Due to the customer searching habit, long-tail keywords are usually found more promising.
In order to grow your business online in 2023 and catch up with the new eCommerce trends, you must update your content in preferably every manner possible. You may also start optimizing the previous blogs and pages to save time and get better results.
8. Brands Supporting Social Values and Environmental Efforts
Today your customer is more aware of the issues the world is facing. They aren't just aware but are also willing to take part in activities to make our earth a better place to live.
According to a survey by Futerra's, 96% of the customers believe they can make a difference by purchasing recycling, donating, and buying ethical products.
And among all the new eCommerce trends this is among the most effective trends that you can use to grow your business online in 2023.
Things you can do: As said before, you should do, what your customers like. The best way could be by being the medium of contribution.
It means you could share a portion of your profit for helping others. Not only does this boosts your sale, but customers also become loyal to you. When they see they can make a change in the world, just by purchasing what they are looking for, they hop on and click on the "Buy now button".
In addition, you can also send them an alert when you use their money to help. This way they would trust you, and make sure to revert back, whenever necessary.
9. Augmented reality enhances the reality of online shopping
The next on the list of new eCommerce trends that can help you grow your business online is AR.
While all the retail store owners have seen a drastic drop due to lockdown, research by Vertebrae retailers with an online store using AR technology is seeing a 19% growth and a 90% higher conversion rate.
AR or Augmented Reality is an interactive experience of adding computer-generated objects to the real world. When they aren't able to practically go to the stores, they can see the virtual life-size product at their home and buy it.
Things you can do: Most importantly if you wish to be sustainable in the market, it's important to accept the change and upgrade your business. With AR being into the new eCommerce trends you can outrank your customer conversion rate very easily.
By using the services of AR by brands like Vertebrae you can let your customer engage with your product before buying it. Your customers will appreciate your efforts and you will surely see a spike in your growth rate.
10. More ways to pay.
Among the many new eCommerce trends in 2023, the most common one is the rise in payment options. The reason is very clear.  
To maintain social distancing and eliminate every chance of contact people are using online payment instead of COD. Moreover, people are locked down in their homes.
E-commerce is on a rise. In order to make payments, people are bound to use digital payment options.
Things you can do: The best thing you can do to grow your business online in 2023 is to introduce options of online payment in your store.
More preferably, don't just rely on single payout options. Make sure your store has every payout option so that it becomes easy for your customer to make a purchase.
11. Marketing Automation
For any eCommerce store, marketing is among the most important, yet time-consuming parts of their sale. Whereas in the new eCommerce trends, marketing has shifted to automation.
While most of the workforce of every eCommerce store is working from home, some of the brands are shifting to marketing automation. From reaching to customers through email and creating engagement within them.
Things you can do: New marketing tools can help you grow your business drastically. Hence, we highly recommend you to read about 20 Simple & Remarkable Marketing Automation Tools to Increase Engagement.
Moreover, you could at least make sure to reduce your efforts by investing in the right tools that bring targeted customers to your stores.
Some of the most common tools are Google Ads and Facebook Ads.
12. Drone Delivery Finally Takes Center Stage
It has been buzzing for years. Drone delivery is surely the most anticipated eCommerce trend. And as per the whole quarantine and lockdown situation, the future has come closer than expected.
The reason is to reduce any kind of contact. To ensure the safety of the customer and to deliver fast delivery, drones are being used by some of the eCommerce.
The concept is new, yet is catching up with the popularity within the customers.
Things you can do: The first thing is to make sure you have the right to use a drone for delivery. Drone delivery is a new and expensive concept to hook on to. Before signing up we would advise backing up your finance with a good investment.
Final Step
The following new eCommerce trends are focused on a practical approach towards your growth. In order to grow your business online in 2023, you must understand what your customers are looking for.
In addition, you must also focus on how you can fulfil their needs by delivering the right product and service to them. As the world is seeing a new way of shopping, the time couldn't be any more right to grow your business online in 2023.
If you wish to know more about how you could grow your eCommerce, dropshipping, and product photo editing, subscribe to the Pixelphant newsletter to get updates regularly. Also, comment down below any new trends you would like to share with us.