Career In Photography: 5 Things You Should Know Before Making A Choice
Updated on December 30, 2022 in
Photography
by
Alifiya Mustafa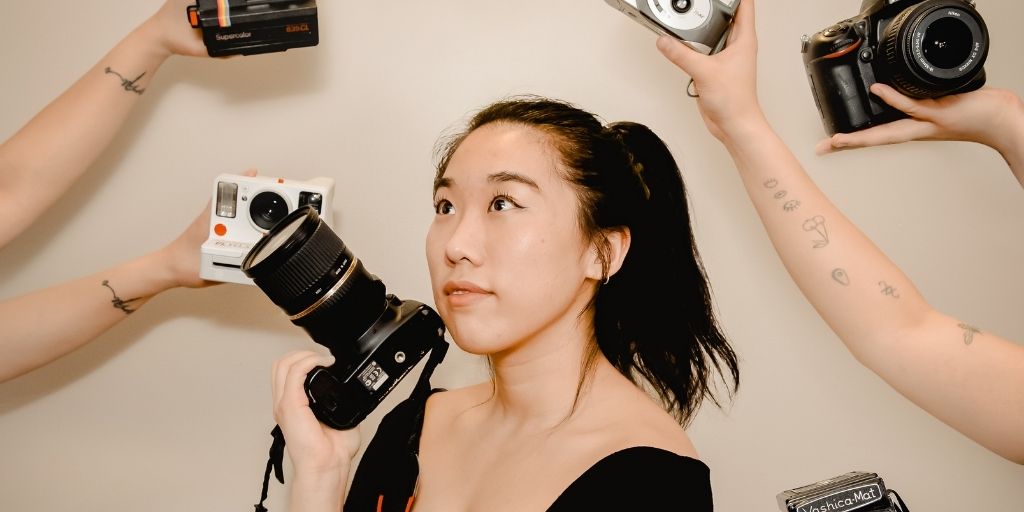 The people who pursue a career in photography are often ambitious, adventurous, and passionate about their work. Making a career in photography is a lot harder than a 9 to 5 job, but obviously more fun and money-generating than that!
The more a career in photography is tempting, the more it could be risky too. It takes a lot more than a good camera to become a photographer. It demands patience, skills, hard work, and a unique eye for art.
A well-known professional photographer can earn more than $85,000 annually. this proves that making a career in photography could be a very wise decision, given that you know a few things beforehand.
What Does It take to be a Good Photographer?
However, there are thousands of courses available in the world for Photography to pursue but mostly what you will be needing is the well-achieved experience. Just like every skill-based job, photography demands an experience with a good outcome.
It doesn't matter if you collect a pile of degrees in Photography until you have a photographer inside of you. In this blog we are discussing that how to make a career in photography.
There are a few skills that you can have some basic knowledge about apart from major photography, such as:
1. Developing a Good Eye
The photographers must have a 'good eye' to understand their area of work. Having an understanding of how to utilize the environment, surround\ding, props, and models is the basic requirement a photographer must have to capture that one captivating masterpiece.
When a photograph is captured, it must convey a story and voice to understand the purpose. Knowing this art is a crucial thing, but mostly an easy task for the photographers.
2. Compatibility With Tools
Camera and lenses are the major tools of every photographer. Choosing the best camera brand, understanding its way of working, and using it to create meaningful pictures should be an everyday task for photographers. To create a career in photography, good camera handling is the foremost requirement.
3. Photo editing Skills
True photographers always know the importance of photo editing. You can improve your image quality and do amazing changes to make an image more appealing.
Photo editing skills are required to make a photo look stunning by removing the unwanted background, scratches, colors, and reflections. Having abasic knowledge about photo editing and photo editing software is very important when wanting to create a career in photography.
4. Marketing Skills
Basic marketing skills to catch more audience is a plus one! Professional photographers organize shows, post their clicks over social media, handouts their sample works to big brands to gain popularity.
Knowing what all are the ways to spread your work to more and more people is another art a photographer must possess. If you are into freelancing, then marketing is the key skill to promote your photography.
What All Things to Take Care of When Building a Career in Photography?
1. Identifying Your Niche
When you are an amateur, there is no fixed niche you are required to follow. But, when you start growing your worth and move towards being more professional, finding your niche can take you a long way in becoming the master of it.
There are several categories in a photography career namely, news photographer, wedding and birthday photographer, wildlife and nature photographer, product and model photographer, etc.
Identifying your own style and holding on to a niche is the first step in making a career in photography.
2. Building a Portfolio
Your portfolio is the story of your journey and the experience that you have gained through that journey. Every best click, be it random should be added to your portfolio. A strong portfolio can increase your demand in the industry.
You can create a digital as well as a physical portfolio to present to your clients. The only proof of you being a skilled photographer is your well-maintained portfolio with mesmerizing and well-edited images.
3. Basic Studio and Office Set-Up
Not always a photographer needs to be outdoor to capture amazing photos. Indoor photography with some amazing props and brilliant photography lighting setup is also part of the job. Building a basic studio and office setup is mandatory in order to organize your very own photoshoot.
Having an isolated space to correct, select, and edit your photos is equally important. These are the major tasks you should have completed on your end when seriously looking forward to creating a career in photography.
Your office and your studio are the backbones of creating a strong portfolio and a successful career in photography as all the major ideas are brought to life inside these two places.
4. Choice of Camera and The Camera Brand
The camera is the basic tool of the photographer has to be of a good brand. For the photographers, it is the only mandatory investment that they can't compromise over.
Humans feed more from visual images and if your captured photo is dull, blurry, or not with correct colors, there's nothing much you will be able to do to improve your photography skills.
DSLR and Mirrorless cameras have gained a lot of popularity in the photography industry. To meet the competition, it is a wise decision to invest in a good camera and its pieces of equipment.
5. Anticipating Zero Money in The Beginning
When we talk about making a career in photography, it seems glamorous, high-paying with overseas exposure, and starry bright. But such anticipations are could be the beginning of the end of expectations.
If you are planning to build a career in photography, it is better to understand beforehand that there might be many photo shoots you might have to do for free. This doesn't mean that you won't get any paying career, but getting clients asks for experience.
To show something to convince your client, you must already have some demos available by your side. You can do free photoshoots with some of your friends and any struggling models trying to create their portfolios for free.
Such models become a great source of gaining experience and in return building something to show to your paying clients.
High-profit expectations are a waste of expectations. Living in reality and putting your 100% to make your life dream come true is the only way to succeed.
Bonus read: Boost Candid Photography skills.
Conclusion
Photography is a specialized skill-based career that demands an understanding of many elements while pursuing a career in photography. Your work ethic, determination, and possessing an artistic perspective are all required.
A solid degree is not enough to be a photographer, but many other skills combined can bring success in the ways you expect. Know a few things like mentioned above before you make a career in photography.
If you wish to learn more about photography, photo editing, marketing, and more, then subscribe to our newsletter. Also, if you're a professional photographer or an eCommerce business owner, start making your product images more engaging and convert more. Do it for free, take your free trial with PixelPhant now👇
Beautiful product images across your website.
Background Removal, Clipping Path, Color Correction, Cropping & Resize, Retouching, adding Shadows, and more.

Try PixelPhant for free
No Card Details Required