5 Light Meters for Photography That Are Every Photographers' Essential
Updated on November 2, 2022 in
Photography
by
Alifiya Mustafa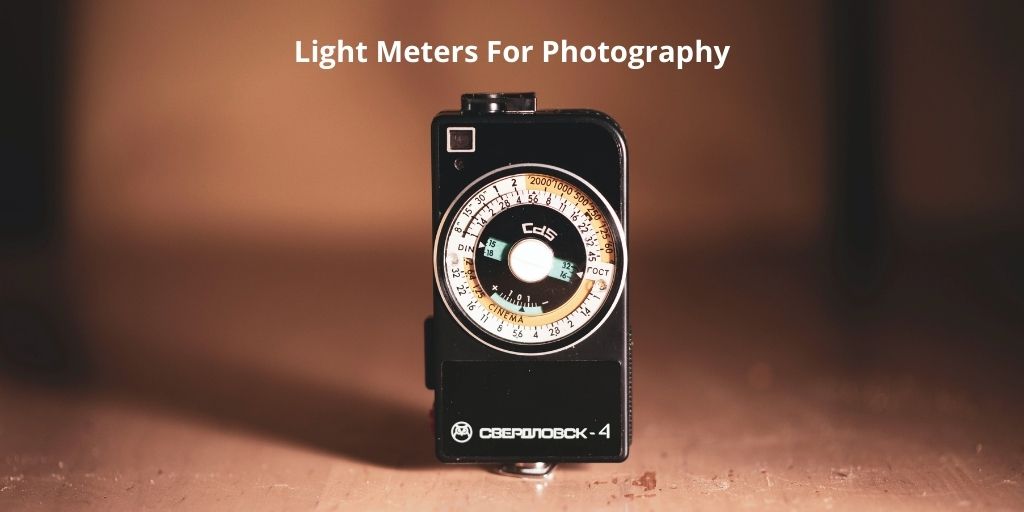 Photographers who often shoot on locations need to take care of the time, weather, and region of the location. It is because the photographers are not just the moment hunters, but the light hunters too.
To capture that one perfect moment digitally, they are required to plan, forecast, and sometimes even adopt a lot to have the perfect lighting to make that shot possible.
That's where one realizes the significance of light meters for photography.
What is a light Meter in Photography?
A light meter is a device that calculates the shutter speed and f-number of the light to determine the perfect exposure for the photograph.
This device is not normally heard when people talk about the photography business, but it is an essential tool for every photographer.
What are the advantages of light Meters?
If we talk about why light meters are used in the photography niche, there are several benefits to it such as:
A handheld light meter is more accurate than the one built in your camera.
Light meters can read exposure on their own which no cameras can do.
Light meters are fast and save you time to guess and check for correct light for best photo exposure
Once you have the idea of using a light meter correctly, it allows you to actualize the image that you have in your head. this automatically improves your photographic technique
Dedicated units allow you to adjust the shutter speed, right aperture value, and ISO value.
The calculations are performed using specialized measures of reflected or incident light.
Types of light Meters for Photography
Hand-held
As the name suggests, these are like most light meters for photography – hand-held meters. These were the boon for photographers who used to use film cameras. But, after the introduction of DSLRs, the significance of hand-held light meters was lowered as the in-built light meter of DSLRx overpowered them.
However, many professional photographers still prefer using hand-held light meters for photography as they are more quick and accurate in calculating the shutter speed and f-number.
In this list, we've further specified many hand-held light meters for photography.
Basic Meter
These are the classic analog light meters for photography that take the reading based on the incident and reflected light.
Flash Meter
Flash meters capture the light readings from electronic flash heads. It is a feature of most handheld light meters for photography.
A lot of flash meters use a model that combines flash and ambient light values into one single exposure reading.
Mobile Camera light Meter
Mobile camera light meters for photography eliminate the problem of carrying an extra tool along with a load of photography accessories. It allows you to carry a small pocket-sized instrument such as Lumu Power Light & Color Meter for Photo and Video that simply gets plugged in with your Apple smartphone.
You will get the readings and the complete data onto your cellphone and are stored too.
Cine Meters
Cine meters are one of the light meters for photography that are quite expensive as compared to the other meters. These are the most comprehensive, technologically advanced, and reliable exposure meters for videographers, cinematographers, lighting designers, and professional still-life photographers.
The meters also have Memory recall functions, digital and analog readouts, rotating receptor heads.
Best light Meters for Photography
We've created a list of the best light meters for you to choose from. You may easily buy these light meters from Amazon or their respective websites.
1. GOSSEN DIGIPRO F2
Price: $254.65
Choose because –
Comprehensive metering methods
Precise measurements and display
Subject contrast control
Individualized adaptation
Cine function for filmmakers
Comprehensive flash measurements
Automatic display illumination
2. Sekonic LiteMaster Pro L-478DR-U Light Meter With Exclusive USA Radio Frequency
Price: $429.85
Choose because –
Easy to use and handle
Good flash control and radio triggering
Includes its own stylish case to keep it safe and carry it conveniently
3. Sekonic Speedmaster L-858D-U Light Meter
Price: $599
Superb flash duration management for capturing fast-moving objects
An additional 3-stops of light sensitivity for incident light, 2-stops for reflected light, and an ability to capture a reading down 0.1 lx of Illuminance
HSS flash measurements available
Calculates ambient and flash both together and automatically indicates the percentage of flash in the total exposure
4. Dr.Meter LX1330B Digital Illuminance/Light Meter
Price: $33.99
Choose because –
Four range settings (200/2,000/20,000/200,000 Lux)
Highly accurate
Easy and understandable reading display
Convenient switches
Easy to carry
Very inexpensive
Price: $248
Choose because –
Simple and easy-to-use ambient/flash meter
Accurate and full-featured
Analyze function for mixed lighting
Flash-ambient ratio calculations
Cord or cordless operation
Conclusion
Light meters for photography come in various types and sizes depending upon the usage. They are very essential for photographers to check light balance while shooting outdoors.
You might consider relying on one of your best digital camera brands' built-in light meter, but hand-held light meters for photography are something that you can invest money in for better quality and convenience for saving time and checking accuracy.
If you wish to learn more about eCommerce, product photography for eCommerce Products, Product photo editing, and how to grow online, subscribe to the PixelPhant email newsletter below.
Beautiful product images across your website.
Background Removal, Clipping Path, Color Correction, Cropping & Resize, Retouching, adding Shadows, and more.

Try PixelPhant for free
No Card Details Required