Influencer marketing is one of the strongest marketing strategies you can use for your business. And, there are many Influencer Marketing Tools that you can use to do it the best way. When you take the help of influencers, you instill trust among your consumers by providing them social proof.
At the same time, you get the opportunity to be seen by thousands and millions of followers following that influencer.
A study shows that influencer marketing strategy drives 11 times greater ROI than any other form of marketing strategy.
What is Influencer Marketing?
An influencer is a person who is followed by a larger number of people. These people trust and try whatever the influencer recommends them to.
Influencer marketing is the act of reaching out to this 'Influencer' and asking them to promote your products. Influencers may check, test, and acquire complete knowledge of your product before taking it to the viewers.
The technique is so effective that more than 39% of the marketers are planning to invest further in influencer marketing strategy.
What is An Influencer Marketing Platform?
Influencer marketing platforms are networks where it's easier for brands and content creators to discover each other.
It's pretty much like a matchmaking place made for influencer marketing. With the help of influencer marketing platforms, brands can look for influencers based on their requirements, where influencers can get more visibility to such hiring brands.
16 Influencer Marketing Tools You Need in 2023
1. Upfluence
Upfluence influencer marketing tool is best known for its influencer search and discovery engine. It is among the best influencer marketing tools It consists of an immensely huge database of more than 3 million influencer profiles which are updated in real-time.
You can use this influencer marketing platform to find influencers using as many keywords as required. Based on what keywords you use, your search is narrowed down, adjusting to your requirement.
It enables you to narrow down your findings even further on Instagram, using metrics like location, social channel, or the number of followers.
This influencer marketing tool also offers a Chrome plugin. It works like a 'DIY' tool for influencer marketing. You can utilize it to assess an influencer's profile directly from your browser.
2. BuzzStream
BuzzStram is basically there to manage your entire influencer marketing efforts. You start with the research relevant to your niche which takes you through tracking your relationships and finally analyzing your performance.
This influencer marketing tool is wonderful even if you're a solo blogger, an entrepreneur, or a large organization.
If you ask BuzzStream influencer marketing tool to introduce itself, it clearly states – 'Build relationships, Build buzz.'
And it exactly does as it says. You're given a browser extension that monitors you as you search for regular blogs.
However, if you stumble upon a popular blog in your niche, the Buzzstream influencer marketing tool allows you to add that piece of article to your list and provides a bunch of information about the person behind that blog.
It gives you a complete outline of both the person's social media presence and website. This influencer marketing platform provides you a complete full-service approach at a price that starts as low as $24/month.
3. Influence.co
Apart from just being an influencer marketing tool like others, Influencer.co also works as a social media platform.
It helps you sustain a long-term relationship which is the backbone of an influencer marketing campaign.
Influence.co doesn't emphasize discovery and activation, but it rather complements it. Brands are more likely to build their best relationships with influencers whose posts they follow and see in their feeds.
You can create and publish your influencer marketing campaigns and message up to 12 influencers/per month. The best part is, it's all free.
It also has the paid plans that offer unlimited results, lists, advanced searches, management, reports, and much more.
If you're looking to elevate your brand, then this influencer marketing tool is just right for you
4. inBeat Influencer
inBeat is a massive influencer database for TikTok and Instagram, helping you find micro and nano-influencers in seconds.
Firstly, these content creators have been sourced from the very best in their niche, or, as inBeat puts it, "the bestest."
You can quickly notice their high engagement rates of over 20%. That's an essential asset for your next influencer marketing campaign.
Another essential advantage is that the platform is highly intuitive and easy to use.
You can try it for free after creating an account. Test the slew of filters and keywords; that's how the software can retrieve the best profiles matching your brand's profile and business goals.
The paid plans give you multiple other features, such as unlimited searches and additional filters.
Once you find these influencers, you can easily export the data and start contacting them.
inBeat's newest feature is the Creator Studio, a UGC platform that helps you create the most compelling UGC for your brand. Small-scale influencers create this content following your brief, but it's completely original.
Alternatively, you can book a call with inBeat so they can help you develop the entire influencer marketing campaign from scratch.
5. Fourstarzz Media
Fourstarzz Media is an influencer marketing tool with over 750,000 influencers. It enables you to narrow down the influencers based on the location, type, channel, etc.
The best part of this influencer marketing tool is that it offers no limitations for small and medium-sized businesses. You can get your hands on unlimited searches, lists, and reports.
based on
You can even design your own campaign by choosing the influencers that fit your organization the best. You can compare profiles by engagement and reach rate.
If you're not into managing at best, feel no pressure. This influencer marketing platform is here at your service.
Fourstarzz Media influencer marketing tool takes care of everything, starting from coming up with ideas to execution.
You can get your own dedicated campaign manager who'll handle influencer identification, strategize your influencer marketing strategy, and create campaigns. They also contact and contract the influencer, monitor, and provide analytics.
6. NinjaOutreach
NinjaOutreach is another full-service influencer marketing tool that is cloud-based. It has a database of over 25 million websites from which you can crawl through and find the best influencers and brands that suit your niche best.
To streamline our search, you can add tags to filter by – Influencers, bloggers, companies, individual articles. With this influencer marketing tool, you can also search on Twitter and Instagram.
With its browser extension, you can create a list of your prospects and filter them based on the tags mentioned above.
Once you have your prospect list organized, the NinjaOutreach marketing platform helps you send personalized, automated emails to your prospects.
This influence marketing tool will analyze the activity done on email, as email opens, replies, clicks, etc. to give you detailed monitoring of your efforts.
7. Heepsy
Heepsy has a powerful search tool that helps you do the advanced search that matches your brand with your most relevant influencers.
You can refine your results based on engagement rates, languages, demographics, etc.
Once you find your ideal influencers, this influencer marketing tool arranges them in a quick list. You can also organize them based on your goals and download their contacts to build the reach.
8. HypeAuditor
HypeAuditor is one of the best Influencer marketing platforms that help you determine the best Instagram influencers by ranking them based on their number of followers, quality, and engagement.
It researched thoroughly, gathered raw data from the origins, and decluttered it for you. You can choose a list of the top thousand influencers or break them into 14 different categories covering all your niches.
When you click on any influencer, HypeAuditor takes you to a page that contains complete information, statistics related to their Instagram performance, demographics of their followers, audience quality score, and engagement.
This ensures that you pick the best influencer that your brand needs. You can access the performance reports and insights to figure out how to optimize your influencer marketing platform campaigns.
Sell more with professionally edited product images.
9. AspireIQ
You can find a database of more than 6 million content creators on the AspirelIQ influencer marketing platform.
This influencer marketing tool considers your community to be having like-minded creative professionals, experts, customers, and brand representatives who share the same passion and values tied not just to your products and services but to your brand as a whole. And AspirelIQ grows along with you.
You can automate and narrow down each step in your influencer marketing platform search. It adapts to your requirements from the first connection, and product fulfillment to content approval and tracking. This way, you can enhance and grow your reach to as many influencers as you wish.
10. Awario
Awario is primarily a social media and website monitoring tool. But that's where you can actually leverage the features that can be implicated in your influencer research.
You can sort the people by 'reach' who've mentioned your brand or related topics. This allows you to find the most popular influencers who are talking about you before you even know about them.
While you work with that, you can set up a monitoring system for specific keywords and view a report that only has influencers to pick out the most influential accounts. To push it further, you can sort by individual networks.
This influencer marketing platform supports FB, Twitter, YouTube, Blogs, Google+, and forums.
11. Post for Rent
Post for Rent is another fully-equipped influencer marketing tool. There's a feature on this platform that allows influencers and brands to review each other, and act as references.
Brands can see the star ratings on the influencers' profiles and explore them further to read the reviews. Similarly, influencers can see the stars on the brands' profiles.
The interface Post for Rent influencer marketing tool has a very user-friendly interface that makes all the boring and time-consuming stuff like searching and managing influencers, looking into their profiles and data, researching audiences a breeze.
12. Discover.ly
Discover.ly is a plugin for Chrome that enables you with your networking. You can see your LinkedIn and FB connections, email recipients, and updates in a side panel.
One use of this influencer marketing tool is to see if any of your current connections have any contact with influencers in your niche. Hence, this simply makes the work a lot easier where you can leverage your contacts to find influencers.
13. Hunter
Hunter works a little differently. Like other influencer marketing tools, it doesn't help you find an influencer. But what it does is better. Once you have an influencer on your list, it provides you with its actual email address instead of any contact form.
Thus, you're now already in touch with your desired influencer. The focus of this influencer marketing tool is just to hunt the real email address so that you don't have to worry about it anymore.
14. Followerwonk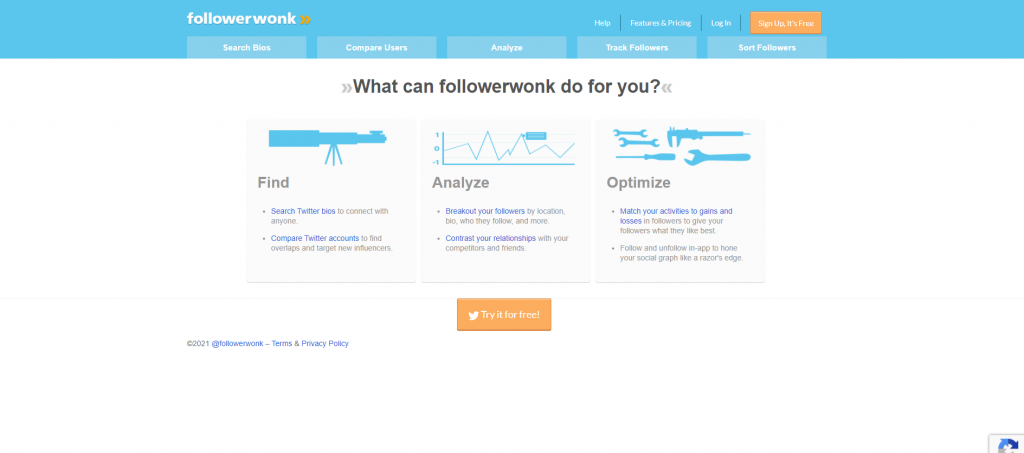 Followerwonk influencer marketing platform is perfect for bloggers on a budget. This tool helps you find Twitter influencers that belong to your niche.
It doesn't let you integrate other networks, but how it helps you find influencers on Twitter is just exceptional. You can filter your requirements based on location, the number of tweets, and the number of followers.
With help of its analytics tool, you can create several segments of Twitter users.
This influencer marketing tool allows you to track competitors and content. You can utilize it to find out which posts are most popular and shared on which websites.
Initially, you get 2500 credits to use. Each URL your crawl through costs you some credit points. Some regenerate each week and other times you can get bonus credits by sharing tweets on behalf of Social Crawlytics.
The report you get out of this influencer marketing platform is quite detailed. The details include the total number of shares of top authors. This could help you gain some remarkable influencers.
16. Pitchbox
Pitchbox is an influencer marketing tool reaching out to SEO teams. The tool is more about blogs and not about social media.
This influencer marketing platform lets you find potential influencers through a simple keyword search. Once you have a bunch of your favorite influencers, you can send personalized emails through Pitchbox.
The only reason this amazing influencer marketing tool stands last in this list is because its pricing may not fit solo bloggers and their pricing has also been hidden that asks you to contact them, in order to get the best quote.
Finishing Up
Influencer marketing is at its peak and marketers are leveraging it to its best potential. Though it might be difficult to find influencers, taking the help of a few influencer marketing tools can help you keep up with the search.
The fifteen tools mentioned above include a few great tools for influencers, brands, and some are good enough for both.
If you wish to learn If you wish to get your bulk images edited and look professional and of high-quality within a few hours, then start your free trial now👇
Beautiful product images across your website.
Background Removal, Clipping Path, Color Correction, Cropping & Resize, Retouching, adding Shadows, and more.

Try PixelPhant for free
No Card Details Required