How Influencer Marketing Improves eCommerce Business Growth
Updated on February 13, 2023 in
Ecommerce
by
Alifiya Mustafa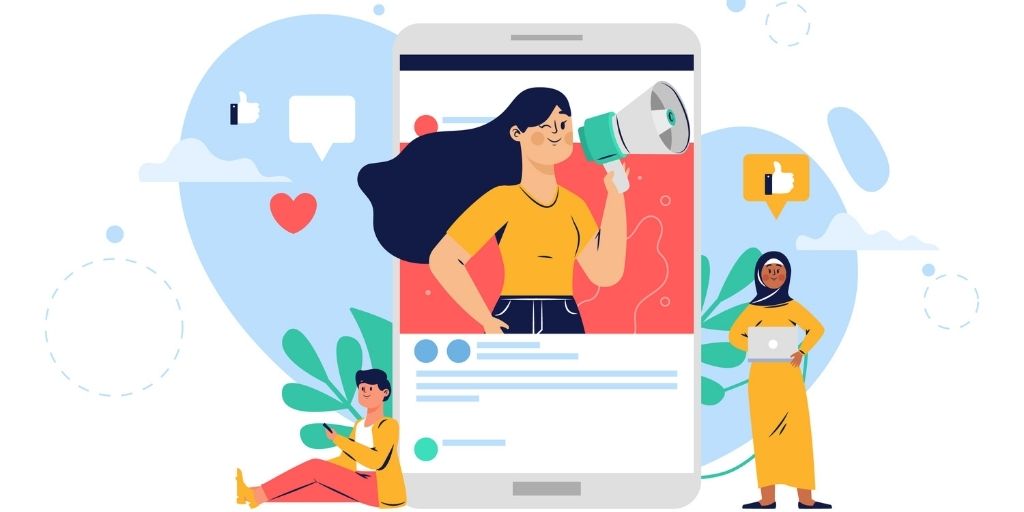 Marketing is an excellent way of promoting your eCommerce business and spreading brand awareness. However, only brand awareness can't guarantee successful hike sales.
People do not just want to know what options are available in the market to choose from, but they also want to confirm which brand works the best. You must be thinking by now what could be the way with which you can gain instant trust from the customers?
Well, the most appropriate answer to that would be to let them know about you through someone they already trust!
For example, let us ask you if you would try an under-eye cream that your favorite celebrity uses? We believe that you will certainly say yes to it. That's influencer marketing.
As per Socialpubli – 93% of marketers use Influencer Marketing
To understand it more clearly, let's learn some basics.
Who is an Influencer?
An influencer is a person who a group of people follows and agrees to whatever she/he says or recommends.
Influencers have genuine insight and knowledge over a particular subject and they spread the information to other people.
What is Influencer Marketing Strategy?
Marketing is an act of promoting your brand and products through social media platforms, advertising, and giving special discounts in order to attract customers and generate more traffic.
When you ask an influencer to use your products and recommend them to his/her followers so that they are encouraged to buy from your eCommerce business is called an influencer marketing strategy.
How to Start Influencer Marketing to improve your eCommerce Business growth?
1. Find the Right Influencers
You may encounter many influencers during your search. But it is important that you choose the one that belongs to your niche.
If you ask a tech vlogger to market your beauty products, then it would make no sense. Finding someone whose followers share an interest in what your brand offers is very important.
You can use a few tools like Ninja Outreach, Socialpubli, or Snapfluence to find the correct influencers for your eCommerce business.
The tools allow you to reach the influencers from the best platforms like Instagram and YouTube to get maximum benefit.
2. Form Partnership
Once you find the "chosen ones" for your eCommerce business marketing, it is time to start forming a professional relationship.
You can reach such people over social media platforms, exchange email addresses to get in touch or ask them the best way to communicate business to them.
Instagram is part of more than 95% of all influencer campaigns.
It is better to clear out what would be the fee for your influencer to market your eCommerce business. The various different methods are:
Fixed Paid
You can pay your influencer a fixed amount of fee for every marketing promotion.
Commission-based
A commission-based fee is where you decide the percentage of the sale that comes through their promotion.
Discount Code
You can assign them a discount code such as 'Influece20' on which you can give the user a discount of 20%. This way you can also determine if the buyer has come through the influencer promotion and then can decide their fee.
Free Product or Discounts on Products
You can give away a supply of the products for free for which they do influencer marketing. You can also give them a heavy discount on your products, however, this is usually the least accepted offer that the influencers accept.
3. Start the Collaboration
The only thing left to do not is to start working with influencers. We recommend that you give them complete insight into your products and the major points you want them to highlight during the campaign.
You can also provide them an inspiration video with which you want your influencer video to match. The format of introducing tips, reviews can be recommended.
You can try using Bit.ly for your product page URLs as it shortens the length of your actual URL. The benefit of this is that it makes your URL look more professional and powerful.
Bit.ly also provides analytics on how many clicks your link got and from when and where.
Also Read: How to Start an Affiliate Program for your eCommerce Store?
What are the Benefits of Influencer Marketing Strategy?
In 2020, influencer marketing is worth approximately more than $9.7 billion, says Influencer Marketing Hub.
The reason why brands are going crazy over influencer marketing strategy is that it offers very useful and astonishing benefits such as:
1. Boosts Brand Awareness
According to research done by the World Federation of Advertisers, 83% of marketers consider brand awareness to be one of the top 3 reasons for influencer marketing.
If you run an eCommerce business that sells beauty products and if an influencer says that she/he uses the product that belongs to your brand – there are massive chances that the people are going to note it down and get in touch with your brand.
Influencer marketing strategy is great to spread the word about your eCommerce business as an influencer has a minimum of 200 followers.
2. Already Set-up Market
If you have recently started an eCommerce business or are struggling to create a solid market then influencer marketing is an amazing way to expand your network.
When you launch a product, it can be difficult to reach people. But when the influencers talk about it, they convey it to their already engaged audience of like 20 to 30 thousand people.
You do not need to worry about catching the eyes of the customers individually as they do the work for you in just a single post or video.
3. Massive Improvement in Sales/Conversion Rates
A survey done by the Digital Marketing Institute shows that 49% of the people rely on the influencers' suggestions, out of which 40% of them actually make a purchase.
When people hear something coming from a person that they believe has enough knowledge to create an opinion about something, they tend to give it a try themselves.
As the name suggests, influencers INFLUENCE people into trying, using, and buying something. Influencer marketing strategy can drastically improve your conversion rate as via a single influencer post, your product will be reaching thousands or lacs of people in one day.
Your eCommerce business is likely to have 40 customers out of every 100. This makes the calculation simple in terms of gaining more sales.
4. Increases Goodwill and gains Trust for your Business
The influencers are celebrity-like, even the real celebrities are influencers! So when a celebrity or a person popular among lakhs of people talk about your brand, it automatically increases the credibility and value of your eCommerce business.
As the goodwill increases and the more you get influencers to talk about your brand, then people start building trust in your brand and even start recommending relying upon just what the influencer suggested.
Influencer marketing has become so popular and so relatable that there is no better way left to gain the trust of customers but this. We believe that there must be at least one brand that every person would have come in touch with only through influencer marketing, and that includes you.
5. Wide reach to Quality Customers
As you chose the influencer that belongs to your niche, that ultimately connects your eCommerce business to the followers who keep similar interest in your niche.
As we've taken the example of beauty products to be your eCommerce business niche, if you ask a beauty vlogger to be your influencer, the followers would also be the one who watches his/her video that shares information related to beauty.
Hence, you reach a potential market automatically without any research or major efforts. The only thing it took for you to reach a wide range of potential customers in finding the right influencer.
It is amazing to utilize influencer marketing when you are trying to build a loyal customer base that is likely to buy from your eCommerce business.
Conclusion
Influencer marketing has gained a lot of popularity among marketers and business owners. You can grow your eCommerce business with the help of fame the influencers already carry.
Your eCommerce business can experience massive growth with the help of influencer marketing strategy when done consistently and in a correct manner.
Who you choose to be your influencer for your influencer marketing campaign is very important from the beginning so that you can reach the right audience.
Your eCommerce business will encounter overall growth in terms of awareness, sales, and goodwill. Along with this, you may also want to leverage the video marketing strategy which is equally trending and effective in boosting business growth.
If you wish to learn more about eCommerce, product photography, Product Image Editing, and how to grow online, subscribe to the PixelPhant email newsletter below.
Beautiful product images across your website.
Background Removal, Clipping Path, Color Correction, Cropping & Resize, Retouching, adding Shadows, and more.

Try PixelPhant for free
No Card Details Required