How To Start Dropshipping Business Successfully?
Updated on February 4, 2023 in
Dropshipping
by
Chetan M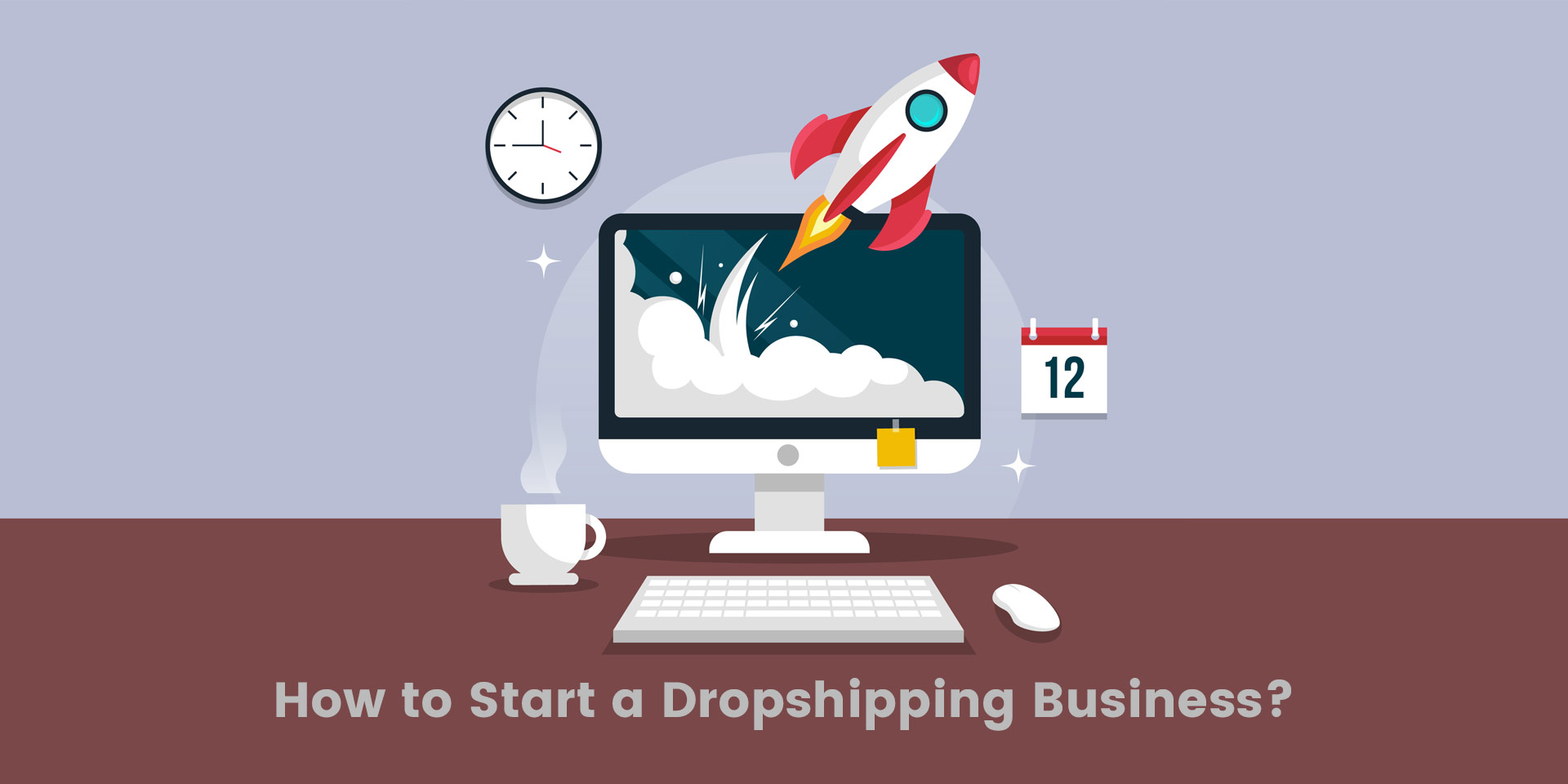 More and more people are joining the dropshipping business and making a fortune out of it. If you are reading this, we believe you're thinking to Start a Dropshipping Business. And, in my opinion, you must not hold back your thought on this. It is an industry that is growing rapidly On the other hand, people are also utilizing it as a source of passive income.
What is Dropshipping Business?
A dropshipping business is a model for sales where sellers will accept the orders through different websites and other sales channels.
But they don't need to carry the ship products and inventory themselves. Dropship sellers use suppliers that ship products directly to the customers on their behalf.
Dropshippers don't require any storage, inventory, or warehousing costs.
Why Start Dropshipping Business Now?
To start a dropshipping business is a great way of taking the first step to enter into entrepreneurship. One of the low-risk business models is a dropshipping business.
The business owners are able to sell products to the customers, set their own product prices, and can able to market their brand. The eCommerce platform is a great way to start a dropshipping business- for beginners.
It will connect you to the dropship suppliers. This will make every step easy, starting from adding products with one click to automating shipping so that you can focus on increasing your business sales.
The process of planning and launching the dropshipping e-commerce business is almost the same as that of starting any other variety of sales enterprise.
What you need to start dropshipping is that of the proper concept of market, different sales channels, source of goods with proper market plan and tactics.
But you don't need to worry about a lot of cash to invest in staff for packaging and shipping, inventory, product photo editing, and facilities that may be required for other business start-ups.
However, it would require daily work when it comes to processing orders each day. The business opportunities are endless, what you need is to enter into the first step.
So, here are a few reasons why start dropshipping:
1. Creative Channel
To start dropshipping is always exciting. You will get lots of new ideas, can able to do new experiments, and maximize your creativity. Getting out of the regular bored 9 to 6 duty and starting a new business could be the creative channel.
No Extra Shipping Cost: Dropshipping business lets products get shipped directly to the customers on your behalf because manufacturers will ship for you. So, you don't need any extra costs for packaging unlike in eCommerce.
2. Make Money
As you start Dropshipping Business with proper planning, it always gives you profit and more money. When you start dropshipping, you can set your own prices and can control how much you make. The more you market your business, the more you will make money with the dropshipping business.
3. No Warehouse Fees
Dropshippers need not carry inventory. The manufacturer will take care of this. So, you do not require any warehouse or storage to hold package boxes to start a dropshipping business. It will save a lot of money.
What to Check While Choosing to Buy a Dropshipping Business Store
If you are planning to buy any store, you should consider few things like the design with picture quality, age of the website, the cost, how much money it has already make, penalizations, and popularity of niche.
1. Design & Picture Quality
Before you start a dropshipping business, check if the store is looking like it has been designed by any professionals or it is just designed by a new entrepreneur just to make a quick sale?
Most of the time, it has been seen that designers or website owners skip the quality of the pictures. However, to convince any customer, it is very much important to present the product image in an attractive manner on the website.
Product Photo Editing is the whole and individual solution. It is one of the important parts of any eCommerce or dropshipping business website.
Check that the image quality of the website has been created by experienced and topmost professional companies like Pixelphant with clean and optimized background photos.
When you remove background from images, de-wrinkle clothes while model photo editing, and leverage the invisible mannequin technique, your product images look more polished, professional, and captivating to engage more customers.
2. Cost
The next step to start a dropshipping business is to fix your budget first. What price you are willing to pay for your business success?
It is necessary to invest money in the dropshipping business for its growth and expansion. So, you have to work out your budget.
When you start a dropshipping, you must ensure that you have enough sources for money, selling options, marketing techniques to grow, good product photo retouching service at your disposal so that you earn the maximum out of your business.
Also Read: Cost Of Starting A Dropshipping Business In 2023.
3. Age of the Website
An older website always has a better chance of ranking well online than any new site. So, choose according to the age of the website.
How much money it has made? You need to find out some much maximum money it has make and how much it is making currently.
It will help you to understand the current business scenario, whether the dropshipping business growing up or dying.
4. Penalizations
Another important part to check before you start dropshipping is penalizations. You have to double-check that the website which you are going to buy should not be penalized by Google.
There are several online tools to check whether the website has even been penalized by Google or not. If a business store has been penalized before by Google then it would be harder for you to get it rank in Google.
5. Popularity of Niche
Any store with broad topics and trending products can perform better than the stores with any specific type of product. So, choose such a website which has huge products options.
How to Start Dropshipping Business?
With all the above-mentioned tips, the process of planning to start a dropshipping business is almost the same as starting any other type of sales enterprise.
1. Choosing a Dropshipping Business Niche
To start a dropshipping business you must narrow down the choice and choose your niche. The business niche you select needs to be laser found and it must be something in which you are genuinely interested. The truth is, what you sell matters.
Thus, you should take your time to find out the best dropshipping business ideas. It is not only about your passion, but it is also the combination of profit and passion which will lead you towards profit.
So, when you are actually interested to make money with the dropshipping business, it is a reality to look into both profit and passion.
Few more tips while selecting a business niche:
Look for attractive profits: When you are looking to start dropshipping model, your focus must be on marketing and customer acquisition. Select a niche with higher price products.
Google Trends: Google trend is a great way to know whether your selected niche is an upward trend or a downward trend. However, it can't be the ultimate one to decide your business niche as some trends may go upward but do not have enough search volume to gain popularity.
Search for some brands on social media: As you begin to start dropshipping Browse social media ads from Facebook pages for top brands and do some research about their followers, how they market their brand, how much engagement they are getting, and how could stand separate from them?
Low shipping cost: However, your supplier or manufacturer will handle the shipping but if the cost is too high, it may act as customer repulsive. So, find out some business ideas which are inexpensive. This will help you in the long run once you start a dropshipping business.
Sell something that is not easily available locally: Picking some business ideas which your customer would not find down the street. This is a great way to become more attractive to your potential customers.
Also Read: Dropshipping Strategies that will give you an excellent boost.
2. Make Sure Your Products Appeal to the Buyers
While you are focusing on driving traffic on your website, you would definitely look into the highest conversion rate as most of the people who visit either don't buy or never return if you wish to start a dropshipping Business successfully.
So, the products you are selling must need to be eye-catching to the buyers. You may take the help of professional product photo editing services.
There are so many professional companies that deliver product image editing services to individuals and organizations that are selling products through online platforms.
3. Competitor Research
You just need to remember that to start dropshipping, it is required lots of competitor research as you are competing with the top brands and retail giants like Aliexpress, Amazon, Walmart, and many more in this market.
So, doing the competitor analysis with the demand for particular products, its shipping costs, supplier, and manufacturing process with profit margins is very much essential to stay in the dropshipping market.
This is where a lot of Dropshippers go wrong. Look for such products which have competition as it is the sign of high demands of those products.
Sell more with professionally edited product images.
4. Leading Dropshippers Shortlisted by Experts
When you start dropshipping business, Partnering with the wrong supplier may destroy your business. So, don't be hurry in this case. Start dropshipping business with verified manufacturers and suppliers.
Most of the suppliers are located overseas, so you need proper communication both in case of response speed and the city
Here are some of the leading drop-shippers:
4.1 Oberlo by Shopify:
Oberlo is a uniquely designed user-friendly app by Shopify. It is free for use when participating through Shopify and is easy to operate saving time though. It is among the best platform to start dropshipping.
After the provision for free sign up the cost may vary up to $79.9 for the pro plan. If you trust Shopify you can trust Oberlo.
4.2 AliExpress:
AliExpress is another great platform to start a dropshipping business. It is the wholesale and dropshipping company with the widest variety of product options for dropshippers with free sign-up. They can drop their products for almost every niche and sell their products to customers.
Low prices help the dropping companies to sell at higher prices and earn a profit despite the free shipping charges globally. But the delivery might take more than the time specified in case of inconsistencies. After signing up the products are available for free view with price tags.
4.3 Wholesale B2
Wholesale B2 is a supplier integration system that will allow you to build your e-commerce store tempted with a huge product line. Besides, you can add tools to sell through eBay, Amazon, Google, and your website. It has running applications integrated with Bigcommerce, Shopify & ECWID.
Although the sign-up is free, the return policy includes a personal percentage of commission. This is up to 20% of the return amount as a restocking fee. Their pricing plans differ for channels like eBay, Amazon, website, and data feed.
4.4 Spocket
If you want to start a dropshipping business in the US this one is for you. Spocket is majorly ideal for US dropshipping suppliers offering the fastest delivery because the majority of the suppliers are US-based. The variety and quantity of products are not huge, but the products have branded invoices.
4.5 Salehoo
This is a wholesale supplier list integrating the dropshipping suppliers with companies to help sell. It is not a free one and charges $67 per year ( 5.58 per month ) for sign-up, against 60 days money-back plan. Trying the SaleHoo directory for small costs can support you when you start dropshipping.
The pricing for Spocket differs from $8 per month for the basic plan to $69 per month for the empire plan.
Also Read: Best Shopify Dropshipping Apps for eCommerce 2023.
5. Building and Marketing Your Dropshipping Business
To start dropshipping of your own, you have to choose the domain name first. Make sure it should sound like you have a broad range of products.
Once you select a domain name, then build your eCommerce website by proper designing, development, and addition of images. The first part to start dropshipping is done. Now, create proper content through the product description, product reviews, blog posts, about the company, and more to let the customers know about your store well.
Even you can launch a website that supports a dropshipping business model by using Shopify.
After this, it is time to market your dropshipping business with the proper plan. You can choose several marketing tactics like Facebook ads, Email marketing, Retargeting ads, Some media coverage, and influencer marketing to get a highly targeted audience and to increase your conversion rate.
Such a marketing plan will give you the chance of making more money through your business.
Conclusion
And with this, it is the end of this simple DIY on How to Start Dropshipping. We have summarized every key point that must remember. This will jump-start your journey and will also help you start a dropshipping business that is profitable, easy to handle, and sustainable.
If you wish to learn more about eCommerce, marketing, product photo editing, model photo editing, clipping path, etc.
Also Read: Pros & Cons of Dopshipping Vs Private Label eCommerce business.
Beautiful product images across your website.
Background Removal, Clipping Path, Color Correction, Cropping & Resize, Retouching, adding Shadows, and more.

Try PixelPhant for free
No Card Details Required