How To Photograph Jewelry on Models
May 4, 2021 in Photography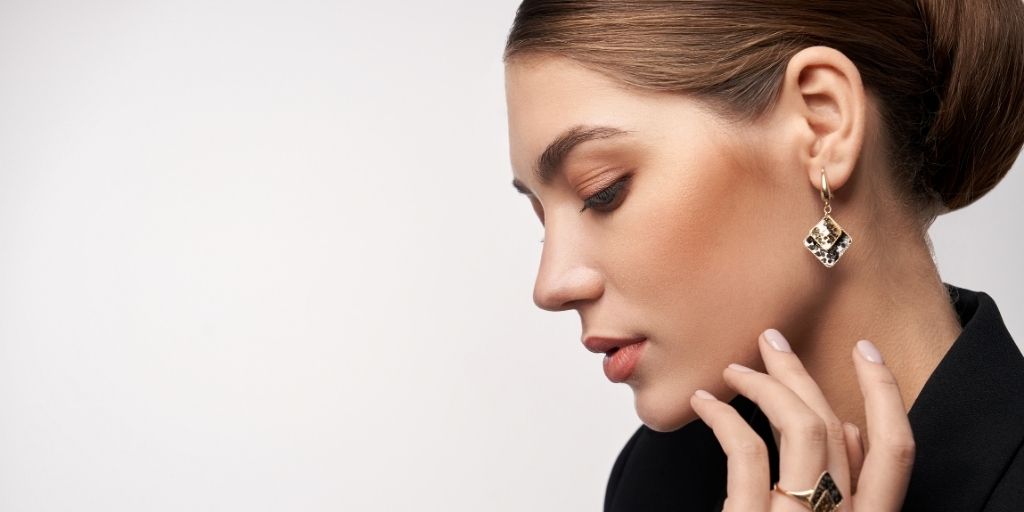 It's amazing how professional photographers manage to click portraits while focusing on a one simple item, per say – Jewelry.
To photograph jewelry on models requires experience and especially, a few good sets of techniques to make sure that your viewers are not distracted.
Here are a few things you must consider while you photograph jewelry on models:
5 Amazing Tips To Photograph Jewelry On Models
1. Use a huge lightbox
Most of the jewelry photography is done inside the studio and the studio lighting plays an important role.
To make sure that the lighting is even and the jewelry is in the focus, huge a giant lightbox.
It is necessary for two things. First, jewelry is a small object. Second, it has a reflective surface. The gold, platinum, diamonds, and precious stones are hard to catch, or at least in the desired manner.
You can use reflectors to give the light some direction and photograph jewelry on models in a way that draws  attention to it.
2. Create focus
Though you'll be capturing portraits, your camera focus has to be fixed on the jewelry item when you photograph jewelry on models.
However, you're not supposed to blur the background but keep it even in your entire image.
What I mean here is that if you remember the traditional TV ads, you'd be able to see the whole short story in it where it'll end up being an ad for Shampoo, Cold Drink, or just even a pen.
It's an art to draw attention to what you desire.
3. Mind your model's poses
The other artist who'll play an equally important role when you photograph jewelry on models is your model.
Her expressions, the way of sitting, her gaze, and her position will dterm,ine where the viewers will be focusing.
Make her sit in a way in which the jewelry item is properly exposed. Her expression must boast the jewelry item she's wearing. You can even use her gaze in a few shots if you're photographing a ring or a bracelet.
Take care of these 2 things primarily:
There are no hairs or gestures covering any part of the jewelry when you photograph earrings or necklaces on models.
The hair and makeup of the model is elegant and not too distracting
4. Try multiple angels
You'll want to experiment different angles to get that perfect shot as you photograph jewelry on models.
Don't stick with a straight face for necklaces or a hands-on chin with rings. Try different poses and angels. This will matter a lot like the more natural you keep the things the more easily you'll be able to connect with your viewers.
The side view of the face for earrings and a graceful hand gesture behind the ears, still showing-off the ring, looks just as beautiful and captivating.
5. Invest in post-production
All your challenges can be solved during post production. Make sure you invest your time and money whole-heartedly in post-production.
Such professional services can instantly alleviate the look of your image and direct the sharp focus to your jewelry on models.
They know what curve, which angel, and what unwanted things to adjust to make your images look highly professional and appealing.
Post-production is a non-negotiable task. Whether you photograph jewelry on models for magazines, websites, or eCommerce, product image editing can help you stand out from the rest and beat the competition.
Closing Up
The biggest disadvantage of jewelry photography is that viewers and buyers can't anticipate their size and look if they decide to buy it.
Thus, when you photograph jewelry on models, it gives your buyer/viewers some kind of satisfaction as now they can relate much easily.
This gives them an idea of how the jewelry is going to look when worn in real life. It's critical the photography is done in a way that does justice to the jewelry and not makes it look like a mere object, easy to be neglected.
This article tells you some easy ways to photograph jewelry on models. In the end, it all comes down to how creative you are when it comes to presenting your photographs.
Try PixelPhant for free
---
Use PixelPhant to get more conversions for your online store with better product images.

Background Removal | Clipping Path | Color Correction | Cropping & Resize | Retouching | Shadows