Top 15 Email Marketing Tools To Boost Your Marketing Strategy
Updated on January 21, 2023 in
Ecommerce
by
Alifiya Mustafa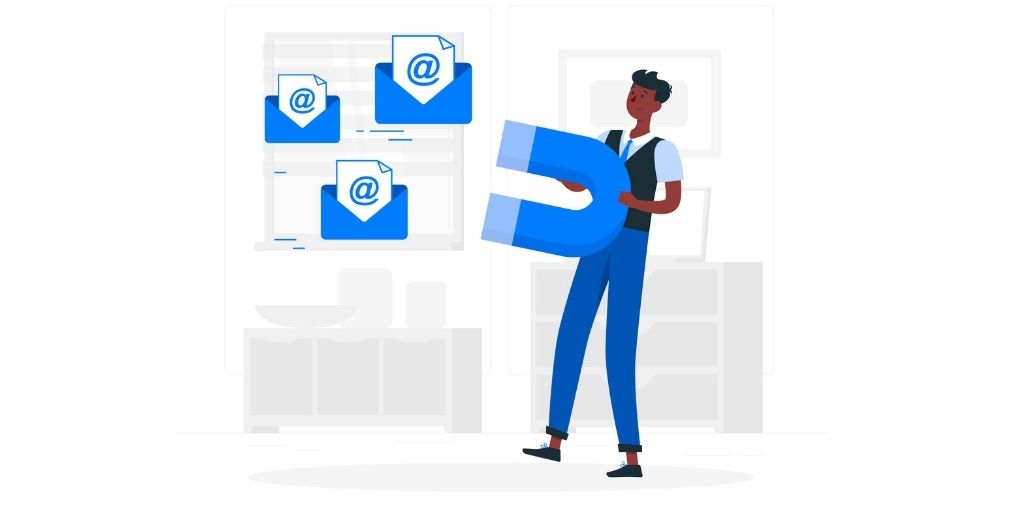 Email has always been the most sophisticated, professional, and authentic way for businesses to communicate with their customers. The shoppers who share their emails expect online businesses to update them with the offers and new events relevant to them.
Email marketing is one of the most powerful ways to reach your customers and make them aware of your brand events, products, and invitations.
Email marketing is so powerful that it can help you retrieve your abandoned cart customers, make your existing customers your loyal customers, and build strong relationships with new customers. however, it's quite tricky to use the correct strategy for the best results and that's where email marketing tools come in handy.
If you don't believe me, let's talk about facts for email marketing (collected by Oberlo):
For every $1 you spend on email marketing brings an average return of $42.
The average open rate of the welcome emails is 81%
Personalized emails get 50% higher opening rates
As compared to the single mail, sending 3 abandoned cart emails results in 69% more orders
49% of customers want the brands to contact them on a weekly basis for promotional emails
59% of shoppers confirmed that email marketing influences their buying decisions
73% of the millennials prefer business communications to be done via emails
Given the facts, it's a no-brainer that investing in top email marketing tools is a must to boost eCommerce sales and engagement.
In this article, I've listed 15 such powerful and top email marketing tools that can easily help you to be more organized and efficient with your email marketing strategy.
Top 15 Email Marketing Tools To Boost eCommerce Sales
1. Sendpulse
Sendpulse is an all-in-one email marketing tool that provides you with free web push notifications and SMS marketing. It's free if you sell products online and have 2500 subscribers. Sendpulse allows you to send 15000 emails per month for such a case.
You can get creative with hundreds of free available email templates and the editor makes creating an HTML campaign a piece of cake. You can go for the paid plan too for this email marketing software to get the upgrades and extra utilities.
However, if you're a beginner, then using the free account initially is advised.
2. HubSpot
HubSpot provides many marketing automation tools for both online sellers and retailers. The platform has recently come up with its well-equipped email marketing software that can benefit a lot of small eCommerce business owners who sell products online.
Email marketing tools like Hubspot have everything you need to fulfill your email marketing needs. Be it kick-starting with welcome emails or thank you emails for the complete purchase orders, it's dedicated to increasing online sales and improving your efficiency, and boosting eCommerce growth via this strategy.
If you're using other HubSpot automation tools like HubSpot CRM or Social media Analytics tools, then you may seamlessly integrate them with your HubSpot email marketing tool.
MailChimp is the chief when it comes to top email marketing tools, it's one of the greatest you can get in the market. With their free plan, you are enabled to use their basic features like email creation and scheduling.
What makes MailChimp's email marketing tool stand out is its smart recommendations that provide you with precious audience insights to optimize your marketing strategies and steer your online store towards growth and increase online sales.
Designing emails on MailChimp is a breeze as its Content Manager stores your images and files for easy access.
You can automate your email marketing strategy at critical steps of shoppers' journey. Without tracking everything on your own, this email marketing software is going to automate all your welcome, order confirmations, and abandoned cart emails swiftly and effortlessly.
4. Constant Contact
Constant Contact is among the largest and fastest-growing email marketing platforms in the world. It's also easy to use and a beginner-friendly email marketing tool.
You can manage your email listings, email templates, contacts, the marketing calendar, and more.
Each account created gives you access to unlimited emails, easy tracking and reporting, built-in social media sharing tools, list segmentation, FB Ads integration, free image library, and seamless integration for Shopify Stores.
If you choose the upgraded version of this email marketing software then you can get your hands on some of the most powerful features like
Email automation
Drip campaigns
Surveys & polls
A/b testing helps you send targeted emails, and much more.
You can take a 60-days free trial of the Constant Contact email marketing tool and continue with the paid plan later that starts from just $20/month.
5. Sender
Sender is among the best free email marketing tools that enable you to
Create astounding newsletters without any HTML skills
Choose from the pre-designed templates
Customize them with elements like images, videos, and text.
You can even create personalized email newsletters for each of your customers to create an even greater impact and get better online engagement.
Sender email marketing tool's vigorous analytics feature is one of the best parts to pick this for your email marketing strategy. It allows you to track who opened your emails, what action they took (or didn't take).
It also helps you build precise customer profiles based on your subscriber's actions, so you'll be able to optimize your existing email marketing strategy and create enticing offers.
6. Mailerlite
Mailerlite email marketing tool has an ever-lasting free plan for marketers who have 1000 subscribers and below. However, you can always upgrade your plan as your list grows.
With its free plan, you can send unlimited emails per month which makes it perfect for beginners and startups who sell products online.
Mailerlite's fantastic newsletters creation ability enables you to create templates with zero HTML skills required. This email marketing tool's editor has an easy-to-use drag-drop feature to save your time and give you the designs that you want.
Sell more with professionally edited product images.
7. Sendinblue
Sendinblue is a marketing communication channel that consists of both email marketing tools and additional features like CRM and landing page creation.
You can explore 70+ design templates and functions that allow you to create super-looking email designs. The cherry on top? All of the Sendinblue email designs are responsive and you can preview your results before finalizing them.
Once your designs are ready, you can run a/b testing and segment recipients to share targeted and personalized content.
8. Pinpointe
Pinpointe email marketing tool is best for companies who have multiple people and teams collaborating to design and deliver their email marketing campaigns. Their 'Email Marketing for Teams' can define particular user roles like
Campaign creation
Reporting
Database management for each team member.
It's great for you if you are a large eCommerce store as it enables you to create up to 500 separate team accounts for each customer and enable or limit what one can have access to.
This email marketing software also has one of the best drag-drop editors. With hundreds of templates, pre-designed blocks, companies can create captivating, mobile-friendly emails swiftly and without having to gear any HTML skills.
With such a huge coverage and perfect fit for large as well as small organizations, their pricing starts from as low as $49/month.
9. Drip
Drip is one of the top email marketing tools for eCommerce store owners, bloggers, and digital marketers. They offer a huge variety of options to seamlessly perform
Marketing automation
Create sales funnels
Do personalization
What makes Drip email marketing software different from the rest is
Smart marketing automation tools
Intelligent email segmentation
List groups
Visual workflow builder
Split testing features
Such targeted features allow you to build better relationships with your customers and boost eCommerce sales.
If something goes wrong, the Drip email marketing software promises great customer support with the live chat support system, automation training, detailed courses, webinars, free guides, and fabulous documentation.
Their plan starts from $49/month which comes with all the features.
10. Omnisend
Omnisend is a pure eCommerce marketing platform that integrates all your communication channels in one place. Its free plan only includes top email marketing tools, but it's well enough to back your email marketing strategy in the best way possible.
Email marketing tools like this enable you to automate your email delivery using behavioral triggers and manage the communications based on your shoppers' convenience.
You can make use of its audience insight to optimize your email marketing strategy. With this emailing tool, you can further include discount coupon codes, scratch cards, and gift boxes to optimize your email marketing even better to sell products online and increase online sales.
11. AWeber
AWeber is an email marketing tool that has an autoresponder for better customer engagement. You can choose from more than 150 email templates to make the email design hassle-free.
AWeber lets you integrate with some of the most famous shopping cart tools, allowing you to add new customers each time they make a purchase on your website.
If you sell products online and are looking to increase online sales and growth, then you'll want to visit AWeber Labs to build your own time-saving tools and apps through the AWeber API.
With the number of options and flexibility, AWeber email marketing software offers, you can better optimize your marketing strategies.
12. MailGenius
MailGenius is a free email marketing tool that inspects your emails and finds possible triggers that might get your email sent to spam. You can run a test to make sure that your email actually reaches your customer's inbox. Else, it won't open.
This email marketing software lays out all the possible things you can do to avoid landing in the spam and provides informative advice on how to fix the issues you might be having.
13. Reachmail
Reachmail email marketing tool allows you to create dynamic, professional-looking emails that enchant all your recipients. You can leverage unlimited file storage and import lists and test your email designs before you roll them out.
This email marketing software also helps you boost your reach through customized landing pages, welcome messages, social media posting, sign-up forms, and drip campaigns. This will not only give you greater exposure but will also result in increased online sales.
With its powerful analytics, you can see who got engaged with your email, unsubscribed, reported a message to spam, or bounced.
You can track more elaborated metrics with its paid version that starts from as low as $10/month.
14. Litmus
Litmus is a sophisticated email marketing tool that you can use to track and test emails. You can test your emails on popular mobile devices like Apple, Android, and Windows.
It allows you to test more than 40 clients and devices with just a click. Are you looking to streamline your link testing?
Put the email through the landing page test and within a few minutes, you'll be able to get an overlay of that email with complete results for each link.
15. ConvertKit
ConvertKit is a versatile email marketing tool for professional marketers, bloggers, and authors. It's incredibly easy to use and extremely powerful.
The software's unique feature is that it lets you easily offer content upgrades and incentives with signup forms. It also comes with easy-to-manage auto-responders enabling you to send drip emails from their emailing service.
ConverKit has all the extreme features that you'd expect from a professional email marketing service such as
Pleasing email templates
Landing page builder
A\B testing
Smart workflows, etc.
You can use their 14-day free trial and move to the paid plans that start from $29/month. In fact, they also promise a 30-day refund policy.
Conclusion
Utilizing top email marketing tools can help you charge up your marketing strategy towards eCommerce business growth. These email marketing tools help you gain insight into your audiences' behavior so that you can take action in a more planned and efficient manner.
Automation of your email marketing can also help you stay managed and save you a lot of time.
The email marketing software mentioned above is all well-equipped for your email marketing needs. You can choose from the tools that are free or are paid services. I'd highly recommend you also read Best marketing apps for small eCommerce businesses.
And, before I go I would like to ask you if you are an eCommerce business owner. If yes, then it's time you start making your images more engaging and attractive. take your free trial with PixelPhant now and get your bulk photos edited within 24 hours👇
Beautiful product images across your website.
Background Removal, Clipping Path, Color Correction, Cropping & Resize, Retouching, adding Shadows, and more.

Try PixelPhant for free
No Card Details Required