Email Marketing Strategy: 14 Great Ideas To boost Conversions
Updated on January 21, 2023 in
Ecommerce
by
Alifiya Mustafa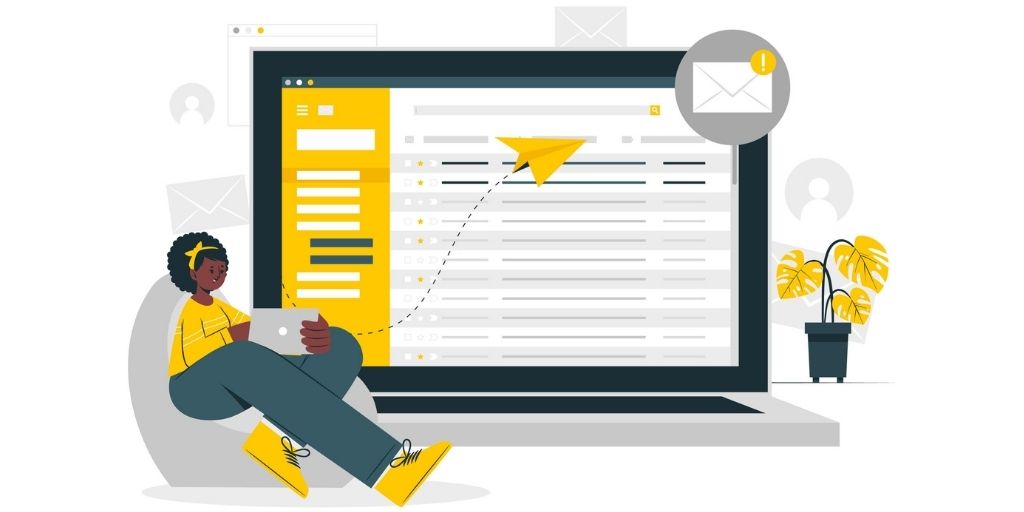 Emails have always been the most professional and sophisticated way of communication, especially when you are dealing with customers. The customers who share their email addresses expect you to send them the updates which are useful to them. This calls for a strong email marketing strategy.
Apart from being just a medium of communication, emails can be highly effective when used for marketing. Marketing is a non-negotiable part of every business if you want to catch the eyes of the customers in order to maximize sales.
There are many ways you can use an eCommerce email marketing strategy to boost your eCommerce sales and growth. In fact, it's pretty fascinating the way you can use email marketing strategy for eCommerce and the way it can maximize your conversions with such a few tricks and techniques.
Before we start with this article, I'd like to tell you that the email marketing strategies mentioned further should be implicated religiously as I know how well they can boost your eCommerce business.
So now that you make a promise, let's get started with it. I'll also be sharing some image examples from a few companies to give you a reference.
14 Amazing Email Marketing Strategies to Increase Online Conversions
1. Kick-off with welcome emails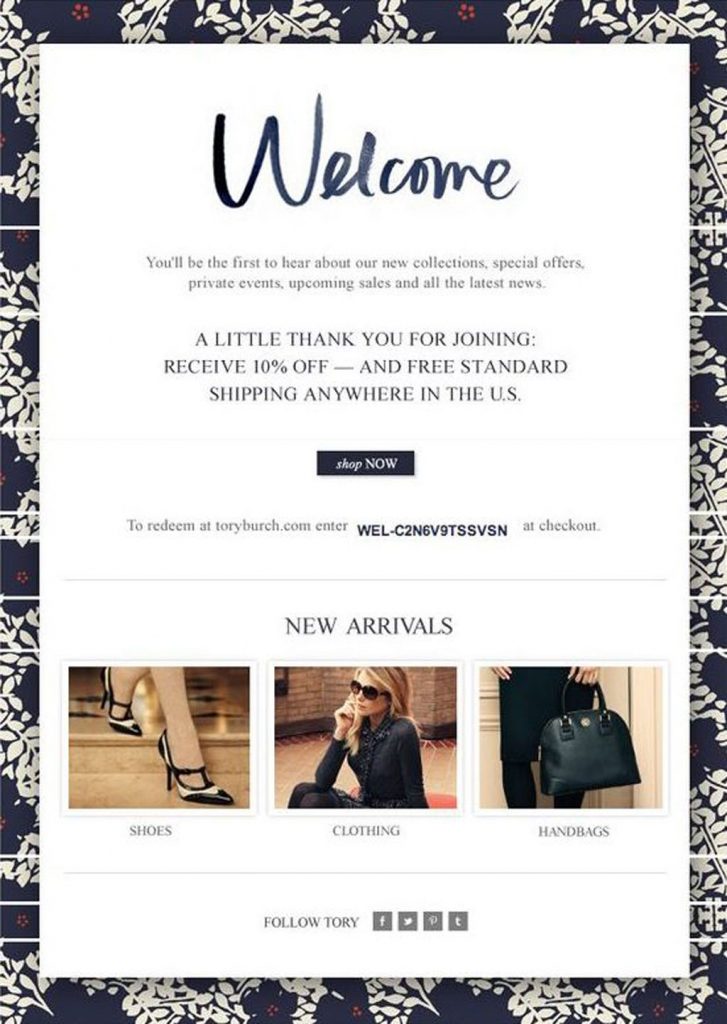 The first thing that you should be doing to begin your email marketing strategy journey is to share a welcome email to all your customers.
If a customer has registered with you, the first thing they're expecting is a welcome email. This not only helps you market your brand but your brand builds trust and gains authenticity at the same time.
As per Vero, 76% of the consumers expect a welcome email immediately after sharing their email with a company.
This email marketing strategy immediately conveys to your customers that they're dealing with someone professional whom they can trust. Sharing welcome emails builds a foundation for a long-term relationship with your customers.
You can share information about what problems your products or service solves, what your customers can expect from you, what are your core values, etc. to give a brief to customers whom they are dealing with.
Did you know that welcome emails are 86% more effective than any newsletter? Also, these welcome emails get 33% more engagement with your brand.
2. Create Specified Email listings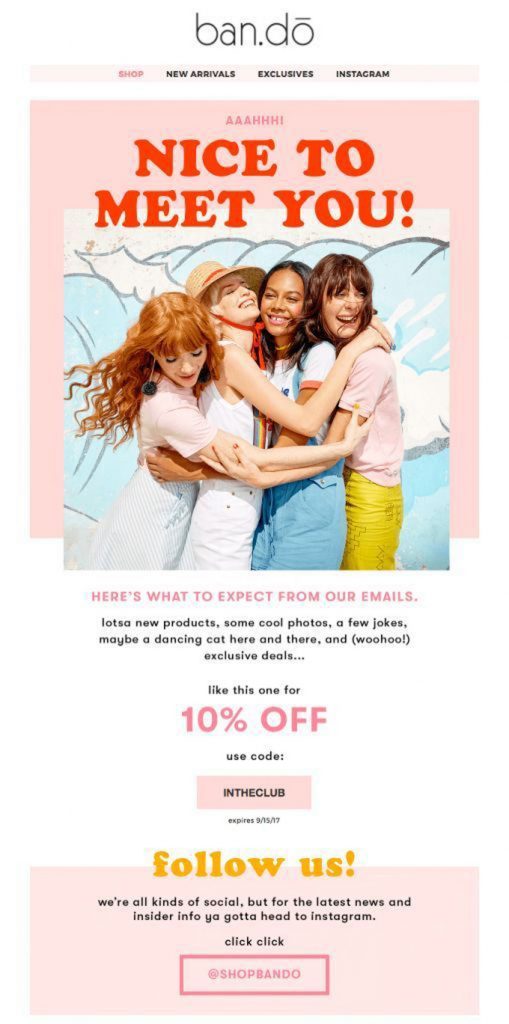 You may have more than one target audience for your products and service for which you want to use an email marketing strategy. It isn't huge to have more than one segment of the population to which your products appeal.
If you're dealing in fashion, then you may have apparels for both men and women. However, if you keep sharing the offers on menswear with your female shoppers, they may get frustrated, especially when they have no one to recommend that to!
Similarly, you can share emails with teenagers that are designed for parents, such as that of baby products. To avoid such a situation, I'd suggest you collect your buyers' demographics and create personalized email listings. Here are a few points of information that you should collect:
Age
Gender
Location
DOB
Income
Education background
Area of interests
If you create special birthday offers then you can create a monthly email listing that contains the buyers who have birthdays in that particular month. You can provide a special discount to only those customers in that month and encourage sales.
Education background and area of interest can help you determine if the customer might be more interested in techie gadgets, cooking equipment, or art. Collect such information to make your email marketing strategy more powerful and targeted.
Creating such email listings helps you classify whom you should consider eligible for any discounts or promotions. It saves you the time and effort that you put in follow-ups and expecting someone to turn up.
With email listings, you can rest assured that you are putting your efforts on the most potential audience for that particular category of email marketing strategy.
3. Add a touch of Personalization in your Emails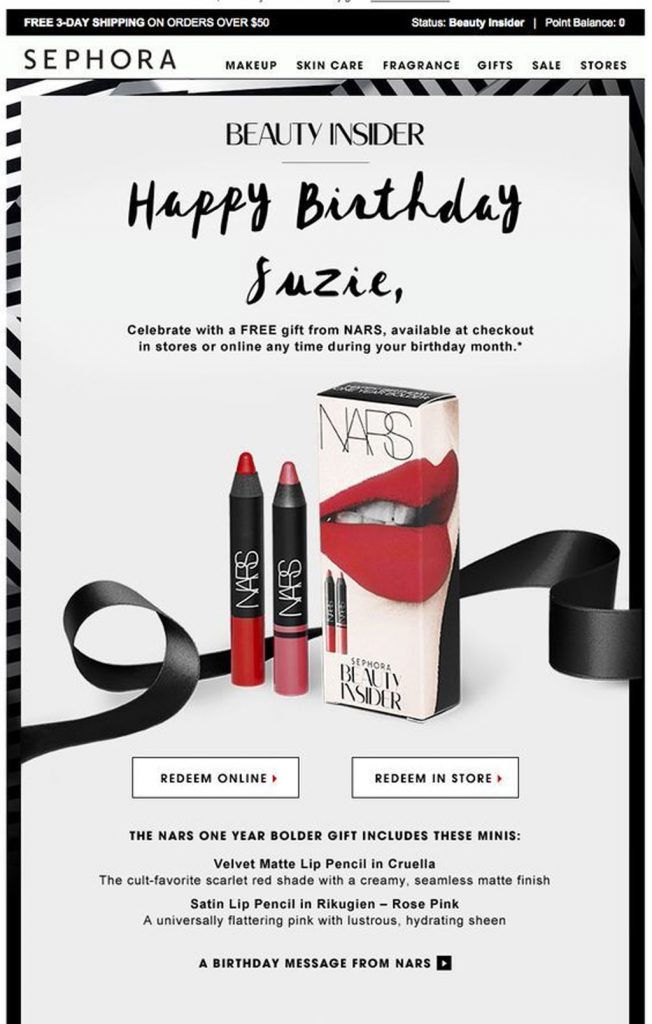 You may consider addressing each of your customers with their names, but that's where your competitors can settle. You need to take a step further in your email marketing strategy to satisfy your customers.
In the data collected by Instapage, 52% of shoppers say they'll find somewhere else to go when an email is not personalized.
It's even better if you can add a little conversation in your tone by talking about what they last purchased, what they've recently been looking for, and what they might be interested in.
Personalized emails bring in six times higher transaction rates.
Go like – "Hey Darlene, We can see that you recently bought a pair of ripped jeans -cool choice! How about a black leather jacket to pair with it? Here's a discount coupon that you can use on your next purchase of jackets and get an additional 30% off – exclusive for you. See you at our online store then. Thank You, regards, ABC"
This is a great email marketing strategy to excite your customers by telling them how much you know about them. This makes the customers feel values, they know that you care about them.
However, giving a discount is just a suggestion for you to take. It's entirely up to you whether you provide it or not. You can use the same email marketing strategy when you are sharing retargeting emails or emails that are sent with an intention of upselling or cross-selling.
For such categories, providing a discount always works better as you had to retarget maybe because the customers didn't finalize the purchase. Similarly, you need to give something attractive to entice your customers in buying more for your cross-selling or upselling mail.
4. Promotional Sales Emails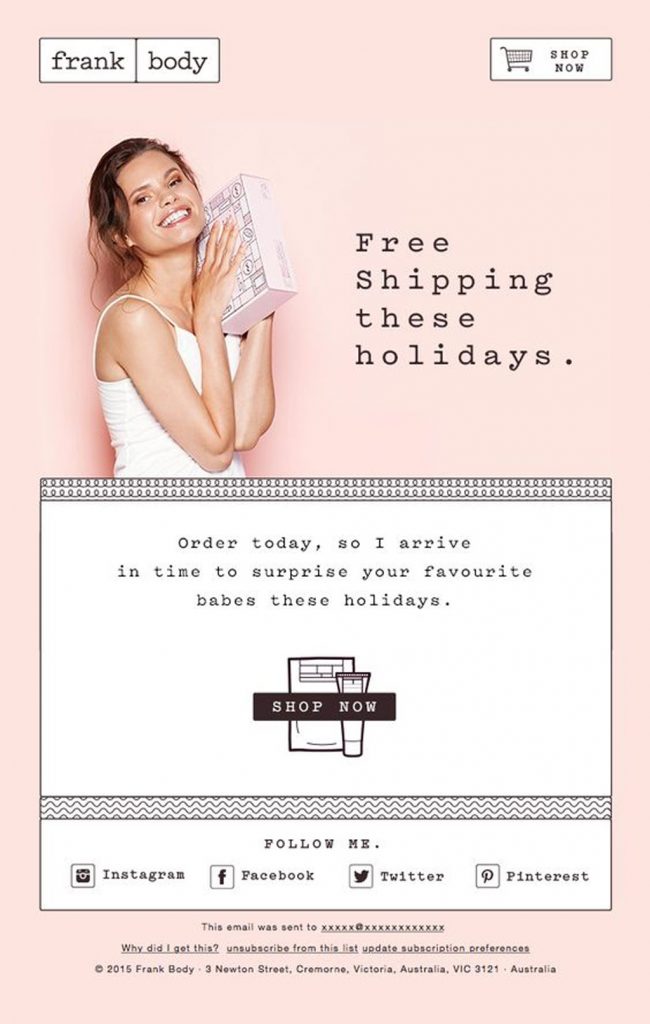 Promotional emails are shared when there are some new offers running in your online store or you've recently launched a new product or planning to launch one. But still, you need to take a step further in your email marketing strategy.
If you are about to launch something trendy, then you can share the promotional emails so that the interested customers can put reminders. For those who set the reminders, you can share a quick mail at the time of launch.
How do you expect your new products to sell well? If you've added something new, then let the customers know about it with your promotional email marketing strategies. The more the customers know about your new launch, the more you get the traffic which ultimately leads to an increase in sales.
More than 55% of shoppers say that marketing emails highly influence their buying decisions.
You can make use of this email marketing strategy during the holiday seasons, Cyber Monday, and Black Friday sales. These are the peak times when customers are most interested to grab a good deal.
Your customers will be more than happy if you contact them during these months as that's when they are likely to shop the most.
5. Add call to actions to your emails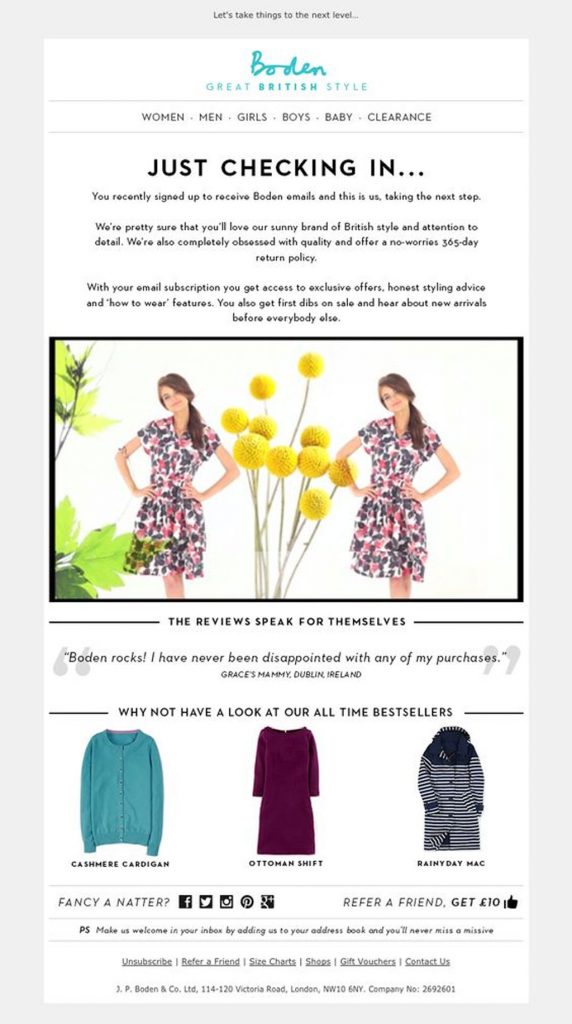 Having an intimidating, powerful call to action is very essential, whether it is for your life or your business.
There's nothing more satisfying than getting people to do what you want and if that skill would aid you in getting more sales – then why not?
This is a crucial email marketing strategy that can steer your customers directly to your site with just a click instantly.
Make sure that you are not simply sharing the mails that ought to be read and closed. With this, you reduce your chances of directing your customers to your website.
Make sure that your email marketing strategy follows exceptional ideas. Either share the link of the products you're talking about or share a direct link to your home page.
As per WordStorm, Emails with a single CTA increased clicks 371% and sales 1617%.
Remember, you need to write your call to action that looks convincing rather than the same "Buy Now". Such CTAs simply display that you only care about sales and not your customers.
If you're providing a link for summer dresses, then instead of providing "Buy Now" write "Yes, I Love This Dress" or "Take Me There".
Personalized CTAs convert 42% more visitors into potential leads than untargeted Call to Actions.
When you add CTAs in your emails, it encourages customers to click and land on your website at least once. This email marketing strategy instantly increases your chances of being seen and getting prospective sales.
6. Create Well-designed, enticing emails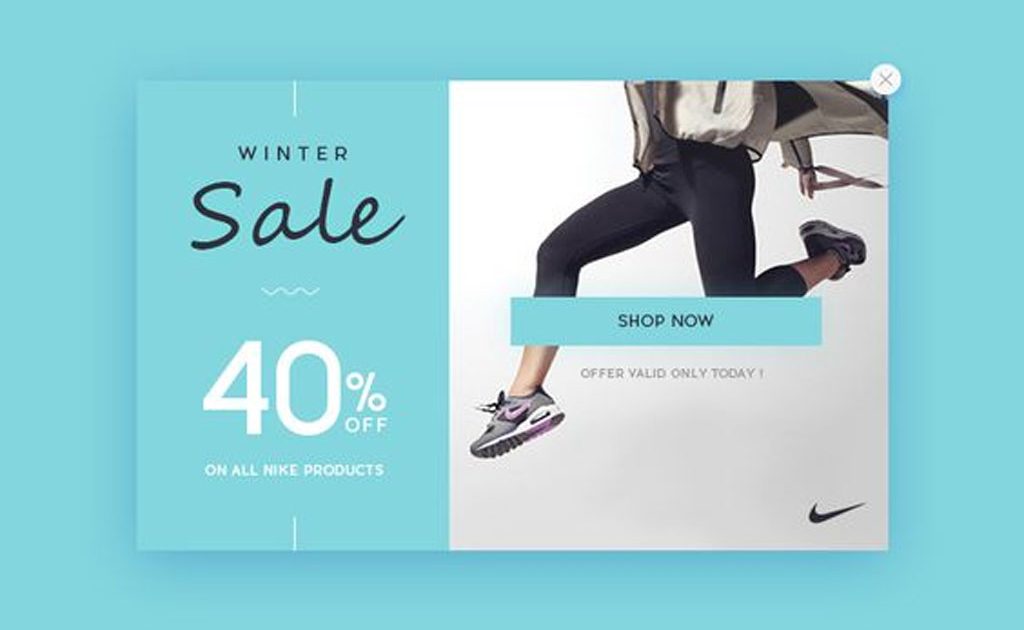 All your emails in your email marketing strategy are responsive and well-designed. Whether it's welcome, promotional, or even transactional. This doesn't mean that you need to decorate each mail with images, GIFs, and videos.
In fact, simple text emails can be equally appealing. But make sure that if you are a B2C, then your language is fun and friendly. You can be more precise and 'corporate' kind if you deal with B2B.
Here are a few things you need to be mindful of while using this email marketing strategy:
Visually appealing
Mobile optimized
Easy to understand
Engaging and interesting
Many eCommerce companies use a full banner in their newsletter that's attractive and is embedded with CTA for their home page for their email marketing strategy. Many use small videos too.
It completely depends on the type of email you're sharing and who your target audience is. At last, it needs to cover all the bullet points mentioned above.
7. Revisit Abandoned Cart Customers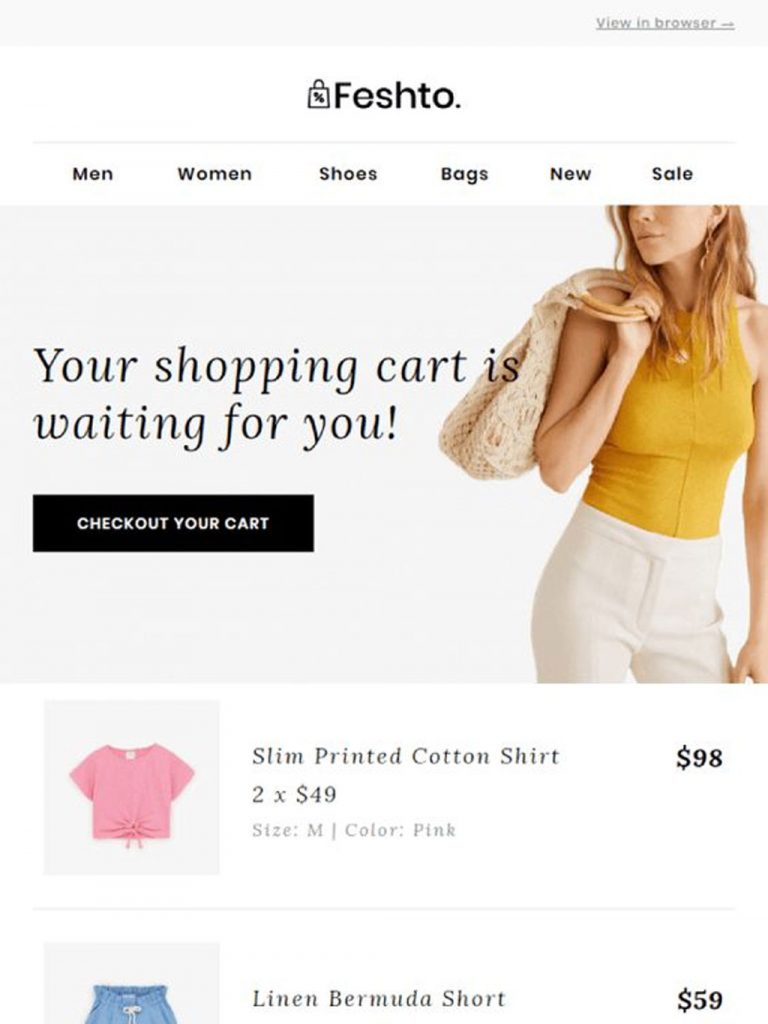 Your abandoned cart customers are your most potential customers to consider for your email marketing strategy. Why? These folks are not alien to your website. They're already familiar with your online store and have also like a few products that are now left abandoned in their carts.
All they need is a little push to bring them back and finalize the purchase. There could be several reasons for which they left their carts. They might have run out of time then or still exploring other options.
Do you know, 45% of abandoned cart emails are opened; 21% of them are clicked on, while 50% of the users who clicked buy?
You can simply contact them with a reminder email to let them know what they're missing out on. Give an additional discount if the cart has been abandoned for a long time to make sure that they take a positive decision.
8. Create an Urgency within your Emails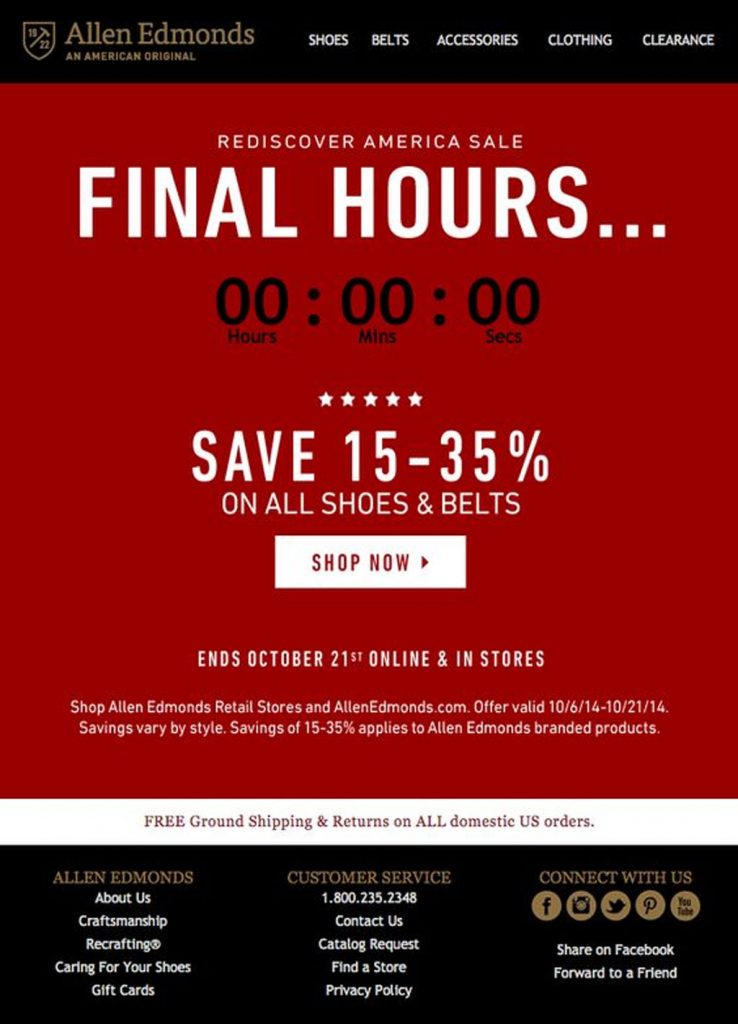 FOMO or the fear of missing out is the biggest tool you can take advantage of in your email marketing strategy. You can create urgency in your emails by providing limited-period offers. You can also share the emails with a timer that counts down the time for which your offer is valid.
The presence of the timer alone can create an 8.6% lift in conversions.
FOMO can also be created for customers who have already been looking for a product for quite some time. Just tell them how much stock you have for that particular product.
Use the words like "Hurry! Only 3 left" or "Limited offer". This email marketing strategy instantly strikes the buyer to make quick decisions. Mostly, a lot of buyers end up buying things they never intended to just for the sake of not missing out on something that's scarce.
9. Collect more Emails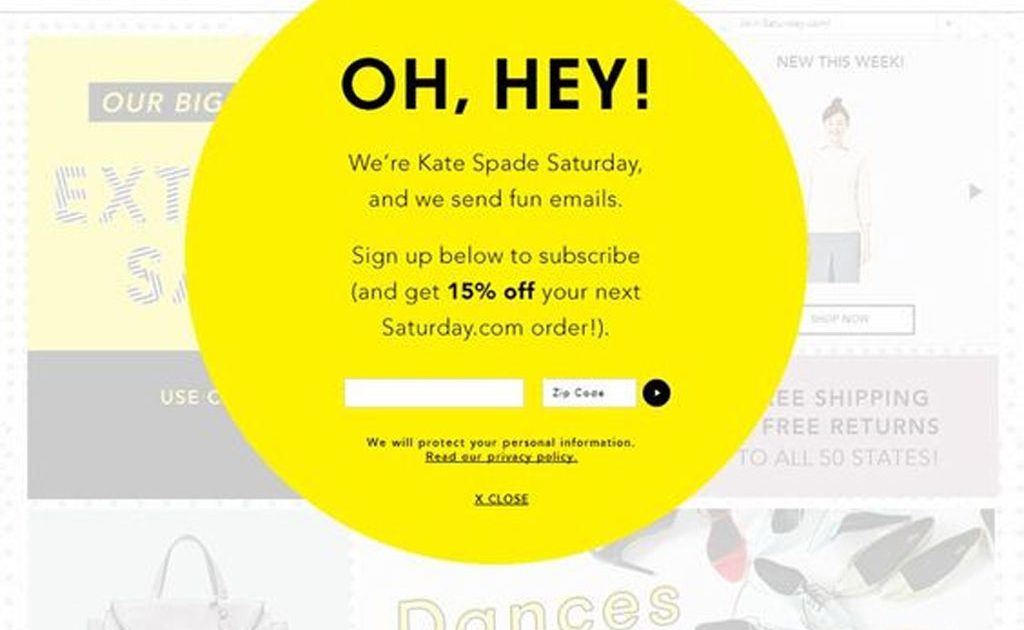 We're talking about growing your email list for your email marketing strategy to cover the most market. This means that you need to keep getting new subscribers. The more subscribers you have in your list simply means that you are reaching out to more people, more opportunities.
Here are a few things you can do to catch more subscribers:
Run ads on social media that allows your newsletter to pop-up, asking to subscribe.
Attach your newsletter at the end or sides of your blogs
Exchange something against the email address. For example, if you are dealing in bakery products, ask your visitor to subscribe to your mail and get a PDF of 10 bakery recipes in their inbox. This way, customer can get the PDF and you may get their email
Get hold of them during the checkout
10. Take Feedbacks and ask for reviews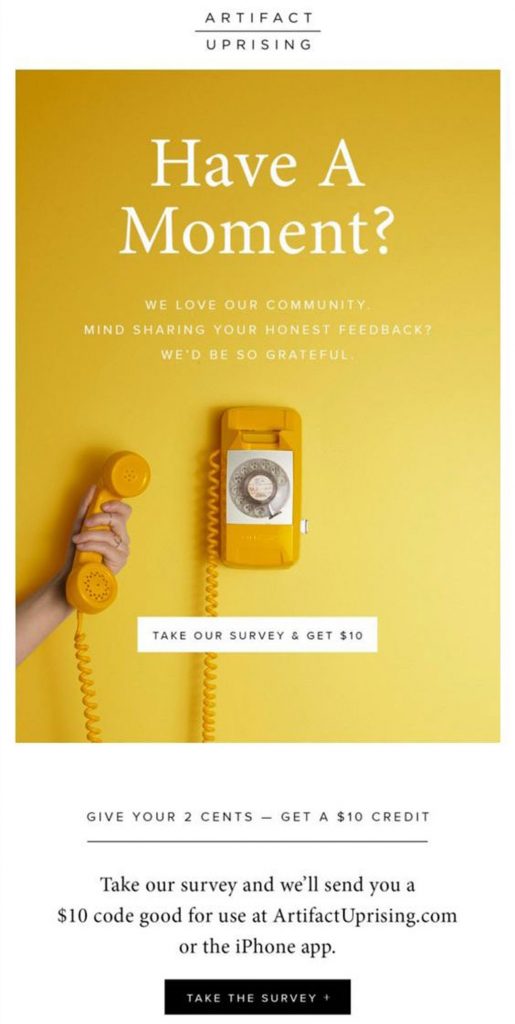 Do include taking feedback in your email marketing strategy.If you're not taking any feedback yet, then trust me, you're taking a huge risk and a loss at the same time.
Customer Feedbacks are extremely important for an online business to grow. Feedbacks show your customers that their opinions matter, they are being valued, and you are responsible for your customers.
As per SurveyMonkey, 98% of shoppers read online reviews before making a purchase decision. In fact, 82% of shoppers trust the voice of Consumers more than messages that come from the brand.
There are a lot of benefits you might be missing out on if you're not using this email marketing strategy as:
Feedbacks reveal the areas of improvement
Builds a healthy relationship
Improves the conversion rate
Improves business status
Higher purchase rate through the real-time solution
Helps in locating influencers
Just think about a website that has zero reviews. Now compare it with a one that has a mixed 100 reviews. Which one would you trust more? Obviously, the one that has reviews on it. Even if the reviews are both negative as well as positive.
Therefore, don't be afraid to take feedback, it's only going to help you grow as long as you are delivering your promises.
Sell more with professionally edited product images.
11. Start a Referral Program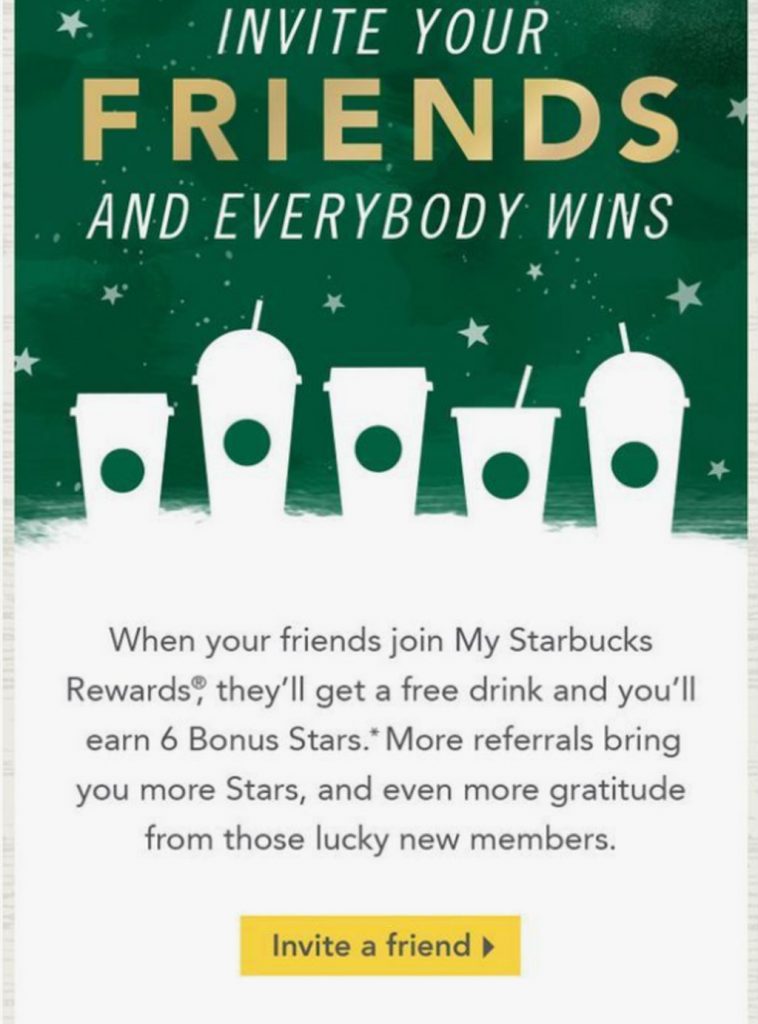 Mouth publicity has been the most powerful tool to date and you can use this tool to ameliorate your email marketing strategy pretty easily.
Whenever a customer or your loyal customers make a purchase, you can simply share a referral code in their inbox that they can share with their loved ones. The one who uses the code can be your new customers and an addition to your newsletter list.
According to the data gathered by Extole, when referred by a close one, consumers are 4x more likely to make a purchase.
Also, shoppers acquired via referrals have a 37% higher retention rate and 81% of customers are more likely to engage with brands that have reward programs.
You can provide a discount to the recipient and some cashback or loyalty points to the giver. With a referral program in your email marketing strategy, prospects coming to your eCommerce store get their social proof from someone they already trust.
12. Send Back in Stock alerts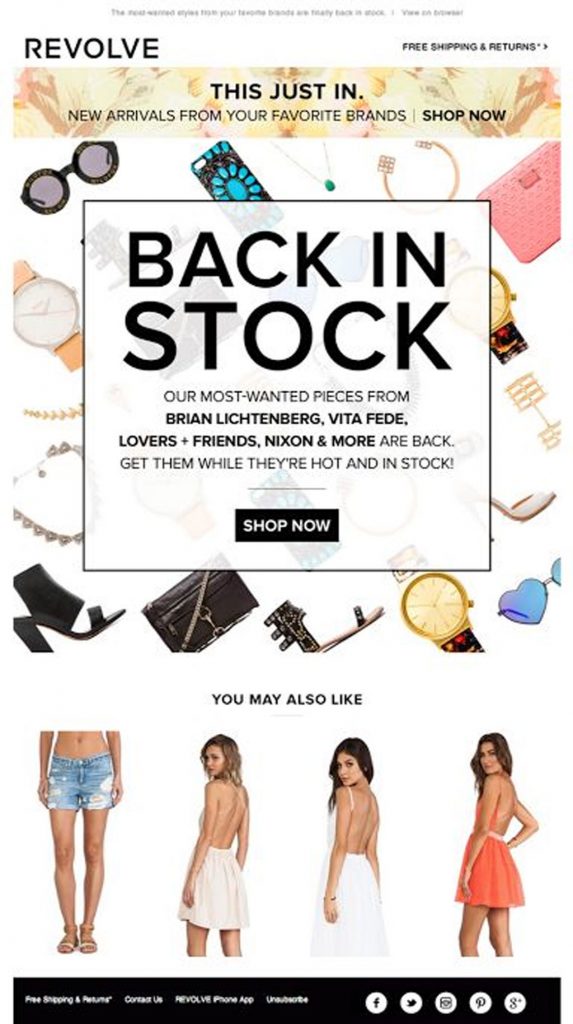 The out-stocked products on your website force your customers to turn to other online stores that can fulfill their need for the product immediately. It doesn't just end there, these out-stocked products give a negative experience in your shoppers' online shopping journey along with making your competitors an apparent hero.
So, what do you do to resolve this? Just allow them to 'subscribe' to those products! You can do this by switching on the 'Back in Stock' alerts so that your customers can get notified as soon as your products are back in stock.
Back in stock alerts are very effective for email marketing strategy. There are some really good benefits to sharing 'Back in Stock' alerts like:
You can better understand shoppers' intent and product demand based on who turned on the notification
Anticipate product popularity before its launch
Create urgency and FOMO
This keeps your customers stuck with you and engaged
You never know which customer of yours has been holding their desire for too long and waiting for your product to be available in the needed size, shape, or color. You can instantly cheer up many as well as generate a lot of sales. Your Back in Stock products may not sell as well as they may sell after implementing this email marketing strategy.
13. Automate your Email Marketing Campaign
Automating your email marketing strategy is one of the best things you can do to keep it scalable and consistent without compromising relationships or missing out on some of the emails.
You can create email listings and automate emails either at the beginning of each year in Constant Contact, or you can choose your email service provider who can do the job for you.
Here's a list of a few software and websites with whom you can integrate to automate your email marketing strategy:
Send welcome emails every time there's a new subscriber
Send abandoned cart emails to customers who didn't complete the purchase
Check-in with the customers who haven't visited your website in a while
Send out birthday or anniversary emails to become a part of their celebrations
Promote events
Share content
Notify the shoppers when an item they looked for or abandoned in their cart goes on sale
Here's a list of a few software and websites with whom you can integrate to automate your email marketing strategy:
MailChimp
GetResponse
OptinMonster
HubSpot
Drip
14. Keep a track of your data
To get the best results out of your email marketing strategy, you need to monitor and keep a track of the data of your campaign performance. Keep working and improving as you get this data.
You can use tools like Google Analytics that can tell you how many users have come to your site via email. Similarly, you can use this tool to find out what your customers are most interested in and where they spend most of the time to plan your email marketing strategy further.
Usually, you get complete data and stats of your email marketing performance from your email service provider.
For example, when you use OptinMonster, it stores all your leads right in your OptinMonster dashboard. You can see how your customers are responding to your emails, how many opened your mail, and what action they took.
Bonus Read
It's pretty amazing to keep track to find out what changes you can make. An email marketing strategy can help you a lot in increasing your online sales. Whatever be the situation, make sure that you are consistent with your email marketing strategy.
I ain't asking you to share an email daily to each of your customers. In fact, such email marketing strategies can do harm more than good. If you take up all the space of your shoppers' inbox and irritate them with daily notifications, they might get frustrated and unsubscribe.
Hence, it's important that you are consistent with the days you choose to contact your customers. Get in touch with them only when you have something very beneficial for them rather than what's good for your sales.
If you wish to learn more about email marketing, digital marketing, product image editing, and more, then subscribe to our newsletter. Also, if you're an eCommerce business owner, start making your product images more professional and engaging. take your free trial with PixelPhant now👇
Beautiful product images across your website.
Background Removal, Clipping Path, Color Correction, Cropping & Resize, Retouching, adding Shadows, and more.

Try PixelPhant for free
No Card Details Required