Giglio – How It Became Italians' One Of The Most Beloved Fashion Brand?
Updated on November 11, 2022 in
Brand Story
by
Alifiya Mustafa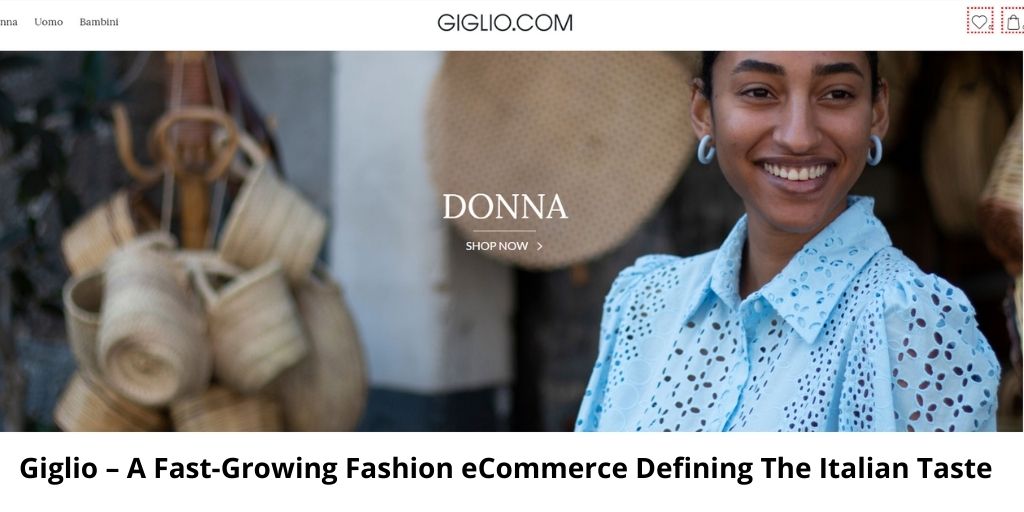 We've all heard the phrase, 'Speak English, drive German, kiss French, and dress Italian.' 
Italy has been the hub of fashion. From Milan's Fashion Week to the birth of well-known fashion mammoths like Versace, Gucci, Dolce & Gabbana, and more.
Italy has showered the world with the best fashion wizards who have taught and still teaching the unmannered world about what Fashion is.
But today, we're not here to talk about these giants. We're here to talk about one such Italian Fashion Star that's making sure that these Italian fashion masterpieces reach the crowd – We're here to talk about GIGLIO.
We at PixelPhant have come up with #eComStories to take you through the journey of the biggest eCommerce companies to give you insight on how they flew or fell. We pledge you learn from them and keep growing.
A Few Lines About Us:
PixelPhant is a leading professional product image editing and retouching service provider that helps photographers, eCommerce business owners, and online marketplaces to achieve the quality that is best in the market.
Beginning with Giglio
Origin
The story starts in Palermo, Italy where an ambitious and skilled Italian, Michele Giglio was still learning about fabrics and designs in his family-owned textile and haberdashery shop.
However, for him, knowing fashion was just not enough. Michele knew that what he knows needs to be taken to the world. The shop was doing good and Michele decided to make it better.
His aim was simple – spread what he knew and give the world the taste of Italian fashion served in his manner.
On the path of growth
With four generations of history in fashion and fabrics, it wasn't hard for Michele to understand fashion or to figure out how to place it on a trampoline for a long and steady jump.
What did he do? Let's find out.
Giglio had a decent and humble beginning. Originating as a small fabric shop in the early century, before the Second World War and after the First World War, in the 1960s, Michele finally founded Giglio.
During this time, Michele acquired all the vital knowledge on the fashion industry, along with his years of experience with the family fabric shop.
Michele has a great eye for details and he was passionate about this fashion vision. He wasn't going to let that go in vain. He was ready to build his fashion business and develop good client relationships.
By the next decade, in the 1970s, Giglio took a huge and necessary step that made Giglio what it is today.
He turned his business into a fashion store and didn't limit himself to dealing only in textiles and small articles. After registering his business as an Ltd., Giglio explored exhibition spaces, gained inspiration, and began to turn his dream into reality.
He developed an astounding store that became an ultimate destination for those who love to spend on style and tasteful fashion.
Collaborations and Investments
It won't be incorrect to emphasize Giglio as your best Italian fashion stop, be it offline or online, given the fact that the marvelous designers we know today actually gave their consent through collaborations with the store.
And here, we aren't talking about one but many.
The great Versace has Giglio as one of the first stores he worked for. Since the beginning, Giglio recognized the passion and potential in Ginanni Versace that he thought could accomplish great things, and god was he right!
Versace is featured in the store collection since the 1970s till today. To top it off, the store has also been embraced by the likes of the legendary Christian Dior and Pierre Cardin.
Since the 1970s, these have worked with Giglio, selling luxurious Dior clothing and accessories.
If one ever gets the chance, Giglio is proud to showcase some of the premium Dior goodness in its boutique, Giglio Boutique Donna, which has stuff unseen anywhere else in the world.
In the 1970s and 1980s, the store hosted the Italian label, Fiorucci. It became among the first to showcase Kenzo, Mary Quant, and Biba.
The number has now stretched into more Italian and European luxury brands, with well-known names like Gucci, Saint Laurent, Giorgio Armani, Fendi, Valentino, Bottega Veneta, and Salvatore Ferragamo displayed at Giglio stores.
In 2019, Equilybra invested in Giglio, taking a minority stake in the company. In the same year, the company started operating as a joint-stock company.
Sell more with professionally edited product images.
Achievements
Not much information is available about the rise and falls of Giglio between the 1970s and till now. Still, we gathered quite a few necessary pieces to provide you with a reliable overview.
In 2020, Giglio was ranked in the FT1000 as one of Europe's fastest-growing companies.
Let me tell you if you don't know what FT1000 is.
FT stands for financial times that is a Japanese-owned, British daily newspaper that focuses on business and economic current affairs. FT publishes a report called FT1000 that recognizes Europe's 1000 fastest-growing companies. And undoubtedly, Giglio had the chance to be a part of the list.
Stores and Expansion
From a small fabric shop to a number of stores present across the globe and an internationally available website, Giglio has grown substantially.
It currently has 100 stores in Italy and offers over 300 established fashion and luxury brands across menswear, womenswear, and kidswear to customers in over 150 countries.
Giglio is truly an independent global fashion destination devoted to style and the utmost attention to detail. The store has a remarkable collection of luxury clothing, accessories, footwear, and sportswear.
Support and Service
Giglio's bloodline has fashion in them, but that isn't the only thing helping the brand grow. It has respect for its customers' tastes. The concern Giglios has for its fashion designers is not only limited to them; it has also been extended to its customers.
Passing from generation to generation, along with a sense of passion, Giglio has also inherited one learning – the customer is always right.
The company offers an easy return and refund policy, so their customers are never bound to end up with something they don't like.
They have a humble customer support team that politely and skillfully handles all customer queries and problems.
So the next time you decide to shop premium, feel no restrictions because a company like Giglio has taken care of all of it.
Our final views
Tourists fly to Italy for many reasons, but one has to be in style and fashion. 
Where you can be drawn towards a myriad of distractions like beautiful surroundings, the aesthetical architectural marvels that can be seen just by walking around, the smell of Italian coffee, and the delicious taste of hearty meals such as pizza, gelato, and pasta, but it's purely impossible to resist the irresistible fashion of Italy.
Giglio.com, with its four generations of history in style and fashion, is a 'must stop by' fashion stop when you're in Sicily.
Giuseppe Giglio (president of the board of directors) and Federico Giglio (current CEO) are constantly bringing innovation and trends to ensure that customers get the best fashion article in the market.
No company exists without a story, and Giglio has its one-of-a-kind. Though not much is revealed about the company, we know for sure that passion, struggle, and hard work are undeniably the key ingredients of the success of this excellent fashion store.
More Brand Stories
Beautiful product images across your website.
Background Removal, Clipping Path, Color Correction, Cropping & Resize, Retouching, adding Shadows, and more.

Try PixelPhant for free
No Card Details Required