Ecommerce Wholesale Business: 6 In-depth Ways To Succeed
Updated on November 28, 2022 in
Ecommerce
by
Guest User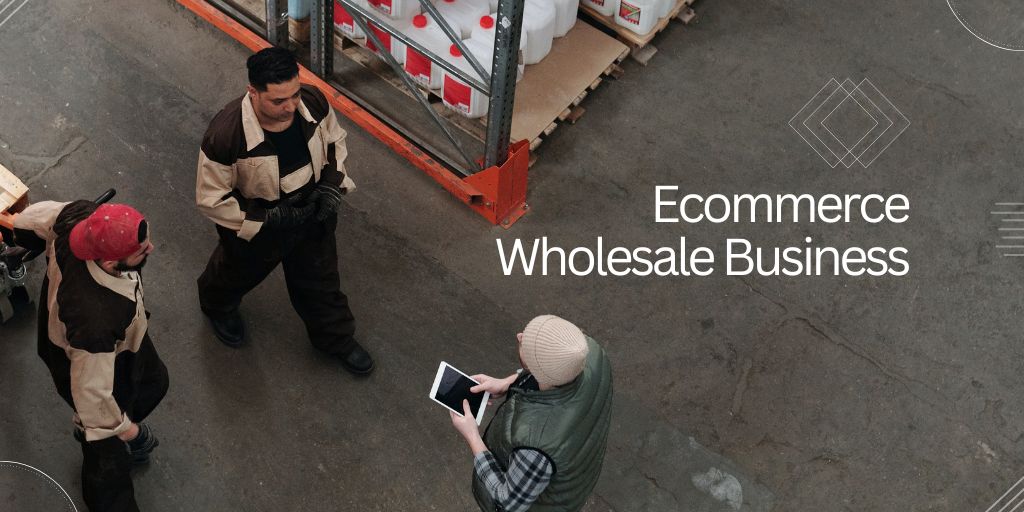 A wholesale business model is very lucrative. You sell items in bulk at a lower price per unit but are compensated by a higher quantity which generates good profits.
That being said, let's not overlook the way you can make succeed in wholesale business with an eCommerce website.
Sounds like something that you would like to try?
Great! in this article, you are going to learn about ways following ways to succeed in the wholesale business with eCommerce.
6 Ways to Succeed eCommerce Wholesale Business In Depth
Hiring Talented Staff
To succeed in this marketplace, you must first win in your workplace. Your employees are the backbone of your organization. Their combined teamwork leads to business success and growth.
Ensure that you're hiring the right—and most importantly—talented people. Your staff should be well aware of various aspects of the wholesale business.
These "aspects" include stages and processes of your supply chain, target audience, and ways your wholesale business operates. They should be able to maintain cash flow, they should be adaptable, savvy, and quick learners.
You should also look for workers who can simultaneously complete and resolve multiple tasks.
Recruiting is one of the most crucial parts of ensuring longevity.
Here are a few roles you must look for when you are ready to scale wholesale business with eCommerce.
– Warehouse Managers
Warehouse managers look after maintaining all the operational procedures of the warehouse. These include processing orders, organizing warehouse racks, managing inventory, and supervising laborers.
– Account Managers
Account managers are responsible for maintaining a balance in the cash flow of your eCommerce wholesale business. They have to ensure that the number of stocks is adequate. And your business has enough cash to fulfill its expenses and invest in buying more stock.
They are also responsible for strengthening your business relationships with peers and clients. They work closely with the investors and explore new opportunities for growing revenue for your business.
– Finance Managers
Finance managers design a budget for the company's expenses. They create effective financial strategies to control the costs of the your eCommerce wholesale business and increase your profit margins.
– Human Resource
The human resource team is necessary for all major firms today. The HR team is responsible for recruiting the right employees for your business. They resolve several concerns of employees regarding wages and leaves.
You can leave the recruitment and hiring process to your HR department. Let them post recruitment advertisements in newspapers and magazines. Let them post vacancies on online job portals such as Glassdoor, indeed, and LinkedIn.
They also conduct interviews and assess candidates for employment in your eCommerce wholesale business.
Automate Inventory Management
Inventory management is a diverse process that begins with purchasing inventory and ends with completing customers' orders.
Let's discuss these steps in detail.
The first step is to buy stock from the manufacturer or distributor for your warehouse.
Next, you have to organize the stock in the warehouse and keep track of them.
The third step is tracking the order's progress in the supply chain.
The final step is the order fulfillment process. When you receive bulk orders, you pack these products into a product bundle and ship them to your customers.
Traditionally, people manually counted inventory and jot it down on a ledger or spreadsheet.
However, it's was a manual process, and as we know, humans are prone to errors.
Considering the importance of this stage, it would be wise to invest in an inventory management system for your wholesale business with eCommerce.
This way you can regularly audit your inventory with this system, as it will accurately count your available stock and reduce the possibility of errors.
A few other benefits of an inventory management system (IMS) are:
IMS notifies you beforehand if you are running out of stock, so you can add up more inventory. With this, you can facilitate customer orders and satisfy your loyal customers. This prevents issues like stockouts and overstocking.
IMS forecasts the need to add up more inventory based on two factors. The first is the sale of your products. It notifies which products are selling fast and can accurately update how much stock you need to add. The other factor is the current state and ongoing trends of the wholesale industry which IMS analyzes.
IMS is also helpful in managing your warehouse. For example, you've created racks in your warehouse and kept your inventory on these racks. IMS has a built-in barcode scanner that scans barcodes on these racks and bundles.
Lastly, this system also creates and manages invoices, purchase, and sale orders.
Prepare your sales teams
Customers will ask several questions when your sales team approaches your customers to sell your products or services.
And since your buyers are businesses, they will conduct more in-depth research before deciding. B2B buyers can ask your sales representative more complex questions.
Prepare your sales team completely to engage with them.
Your sales representative should have complete information regarding every query, and they should satisfy the potential customer by accurately answering their concerns.
So, equip your sales reps with complete information regarding your eCommerce wholesale business and the products they're selling.
To improve their performance, you need to motivate them.
Conduct motivational sessions to encourage them. Develop a culture where sales representatives work together as a unit. Teamwork will produce much better results.
Supervise them by evaluating their performance daily, weekly, or monthly. If they're performing well, incentivize them to perform even better.
And if their productivity is unsatisfactory, provide actionable feedback and guide them on improving their weak areas.
– B2B Sales Tools
Keeping current industry standards in mind, digitalization is a must. So, provide your sales team with essential B2B sales tools to advance their approach.
Depending on your business, these tools can include customer relationship management (CRM) tools to store customer information and manage them. CRM tools help you to automate your marketing and sales campaigns.
These tools provide valuable insights into your relationships with your clients and help you keep track of the advancement of your deal.
Salesforce is undoubtedly the world's number one CRM software. But if it's too costly for your business, you can also try other CRM software to organize your business.
Another sales tool for eCommerce wholesale businesses is a video conferencing tool. The pandemic forced people to communicate remotely, so connecting with clients became increasingly common.
This also allows you to show your products and services online, which saves both parties the time and amount of traveling.
Whether you're using Zoom or Skype, make full use of it to convert your potential customers. Be it with a presentation, an introductory video, live products, or something specific to your products.
Trust in your brand and your product is essential to succeed in eCommerce's wholesale business.
Software such as Hubspot Marketing assists you in scheduling your marketing campaigns and relevant tasks.
With these tools, you can automate critical tasks, such as sending emails to target potential clients.
Improve customer support
The quality of customer support defines a company. Maintaining your service quality in pre and post-sales is crucial to customer retention. Hubspot study reveals that 93% of customers probably buy from a company if they provide excellent customer service.
Wholesale buyers are different from the end consumers. Your customer is usually a retail business. So, carefully deal with your buyers.
To improve your wholesale customer experience, you should respond to them quickly. It's possible only if your customer support team has complete knowledge of your eCommerce wholesale business.
In the perfect situation, your customer should have access to your support 24/7.
You can assign agents on different shifts with eight-hour or nine-hour duty. It's important to improve customer satisfaction. Customers are going to be happier if they're able to get replies anytime they contact you.
The ethics of customer service are to behave politely and show respect to customers. If customers are facing a problem, you should show empathy and provide a solution to their issues.
These days, customer support technologies are much more effective in resolving customer queries. It also saves you money.
You can add automated AI chatbots to your website. Invespcro believes that chatbots save 30% costs of hiring customer support agents. The same study reveals that chatbots solve about 80% of queries.
Maintain a Balance in Finances
Make sure that you have stability in your finances. Note down the list of your expenses.
Your expenses should not exceed your budget. Either raise your capital investment or minimize your costs.
We'll discuss both these aspects in detail.
– Raising Investment
First of all, you need to create a good business plan. Pitch it to your investors to convince them to invest in your business.
The first step through which you can raise funds is by investing your own savings.
If you don't have enough capital to meet the wholesale business expenses, get business loans from banks. Present an effective plan to the bank, and you can raise capital for running your eCommerce wholesale business.
– Minimizing Costs
If you're unable to raise investment, control your expenses. It's possible by using technology to automate most of your eCommerce wholesale business processes.
You can use different software such as CRM tools, inventory management tools, and shipping.
You must also change your marketing strategy. Print marketing and outdoor marketing techniques are costly and outdated in the modern era.
Switch to digital marketing. It's cost-effective and can reach more people easily. There are many ways to do so. These generate good conversion rates and provide a decent return on investment (ROI).
For example, email marketing can generate more leads. Categorize your leads into different segments. And then create marketing campaigns targeted at these segments.
Social media is also very effective in conveying your message to a maximum number of people. B2B wholesale business is flourishing with platforms like Facebook and LinkedIn. With minimum investment and flexible options, boost your marketing campaign to more customers.
If you run a website for your eCommerce wholesale business, you can optimize it on search engines.
Managing stock in the warehouse also comes with its own expenses. Free space in your warehouse to add up stock by removing irrelevant materials.
Move Your Business Online
Running an online wholesale business is much easier than running a brick-and-mortar store. Set up your online wholesale store by either building an eCommerce website or beginning selling on B2B marketplaces.
– Start an eCommerce website
An online wholesale eCommerce website has many benefits. You can increase your sales as you can reach a much wider audience.
You can also add multiple payment gateways and shipping options to facilitate your customers. You've complete control over running and promoting your website.
You have the control to list your products. You create a catalog with different categories, and you add products of that specific niche in that category.
It helps you to reach the maximum number of people.
Seems to be a good option, right?
Two of the most tools to build eCommerce without coding are Shopify and Woocommerce. With just a few clicks, your can set up a basic wholesale eCommerce store with all the functionality at your disposal.
The next step you've to follow is to upload products with images and descriptions. Create a catalog and categorize these products according to their niche.
Use customer information such as the customer's profile, search history, and shopping cart. It gives you an idea of what that specific customer is looking for.
You can implement personalization with pop-ups and show relevant product catalogs based on customer interests.
The final step is to add multiple payment methods to facilitate different customers. You should also work with different shipping companies such as ShipBob and UPS. These companies provide outstanding order fulfillment services.
– Sell on B2B Marketplaces
Selling on online wholesale marketplaces is a time effective way. Simply create a seller account on B2B marketplaces, which provide you with many benefits.
First of all, marketplaces automate various tasks such as promoting your eCommerce wholesale business. These platforms showcase your business and products on their homepage. These also showcase you on search engines and social media platforms.
Marketplaces have many templates which allow sellers to create their storefronts with built-in features. It reduces your time and costs of building up an eCommerce website.
They have a huge number of wholesale suppliers and buyers due to their beneficial features. This network of buyers help you gain access to the vast B2B community with the help of marketplaces.
Consequently, you can expand your wholesale business network as you get the opportunity to work with multiple clients.
Some of the notable wholesale marketplaces are:
1. Amazon Business
The Amazon Business is the B2B platform of the world-famous marketplace Amazon. It provides various benefits to sellers.
For example, only business customers can see your product prices. You can offer customized discounts on product prices to your customers.
2. SeeBiz
SeeBiz is a trendsetter in the wholesale eCommerce industry. It is the first business networking platform for the B2B community. It provides a timeline that is similar to any social media newsfeed. 
This timeline allows vendors to showcase their products and view what others have to offer. They can also share the latest business updates and promotions here.
Another unique feature of SeeBiz is the group pricing feature. This allows sellers to form different groups of buyers. You can assign different prices to these different groups.
SeeBiz offers other benefits to sellers as well, such as
Establishment of your brand identity
Feature of your brand by showcasing it via

Introductory videos
Homepage
Social media accounts

Feature of your best products
Launch of a well-designed professional storefront for your business
Promotion of your business on search engines with a marketing campaign worth $200
3. Tundra
Tundra is an online marketplace that aims at facilitating small businesses. Notable publications such as CNet and TechCrunch recognize Tundra. Noted brands such as Mattel sell their products on Tundra.
Tundra provides many benefits to sellers. It does not charge you any commission fees for selling your products.
You get complete control over promoting your brand by upgrading your Tundra seller account to a premium account. The platform enables your business via email marketing to leads. It also features your new arrivals.
Conclusion
Adapt your wholesale business to the evolving trends and technologies. Automate your tasks and promote your eCommerce wholesale business, as it'll become a critical factor in its growth. As we shared, there is various software that makes your daily tasks a breeze.
Now, all you need to do is take important decisions, understand your customers, and ensure that you are providing the best experience on the internet.
Beautiful product images across your website.
Background Removal, Clipping Path, Color Correction, Cropping & Resize, Retouching, adding Shadows, and more.

Try PixelPhant for free
No Card Details Required