There is a clear difference between being a customer and being a user.
And while the first step is to focus on bringing new customers, we can't overlook the tips to increase eCommerce user signup for fashion eCommerce.
A customer might just buy one time. But when a user signups, they commit to the brand and its experience. In this article, I am sharing 15 tips that you can use to increase eCommerce user signups for your fashion eCommerce.
So without taking any more time, let's get started.
Why Ecommerce User Signups Are Important?
Before we jump-start with 15 amazing tips to increase eCommerce user signups for fashion eCommerce, let us take a look at the Why. Why eCommerce user signups are important? Here are a few benefits:
Customer Retention
For a fashion eCommerce, real profits come from the second purchase. Returning customers have lower acquisition costs and higher average order value.
While no one can always guarantee that a customer will make another purchase, eCommerce user signups make it easy to reach and convince them.
You can share a new offer, new fashion collection, or what other customers are wearing to build engagement with users. This increases the trust which reflects in sales.
Quicker Checkout
Cart abandonment is one of the most common issues fashion e-commerce faces. There is on average 69.82% of cart abandonment. Out of which 17% of customers reported it due to long and complicated checkout.
This friction can be due to long and complicated issues that certainly be eliminated with eCommerce user signup. All the required information that is required during the checkout can be fetched through their account.
Once the customer has added the information, they can simply place an order in just a few clicks without a need to fill in the information again and again.
Better Tracking
From the customer's interest to previous orders. Understanding everything becomes much easier with eCommerce users signup for fashion eCommerce.
This data can be further used to identify the hurdles that a customer is facing.
For example, through the previous history of the customer, we know her average order value is around $50. Now when there is a sale on the eCommerce and a product she liked is around $55 or $50 we can notify her.
Not only will this personalize the whole user experience, but will also build brand loyalty. A customer will add more of their favorite products to the watch list that you can use to increase your conversion in the future.
More Acquisitions
Ecommerce user signups for fashion eCommerce mean more information about the customers. That's a fact. We start learning more about their likes, their preferences, the best price, and many more helpful insights.
While we can surely use this data to persuade the same customers, we can also use it to acquire new ones. Through social media, paid advertising, and other mediums.
Once we have an understanding of the trends, and the reaction of the users, it is much easier to attract similar customers and acquire them.
Improving The Ecommerce
Lastly, when the user signs up various segment of data is collected. This data can be used to learn more about the customers, and improve the product (here, eCommerce).
Hence it helps us improve different matrics, test new changes, and compare and deliver better service. Overall attracting more customers by delivering what customers are looking for.
How To Increase Ecommerce User Signups For Fashion Ecommerce?
Increasing eCommerce user signups for fashion eCommerce is rewarding. That we have learned in the previous section.
So, let's get started with the actual steps you can take to increase eCommerce user signups for fashion eCommerce.
Offer Incentives
No one wants to take any action without getting back something in return. In a world where every ad, pop up and email is trying to sell or sign up, customers have become reluctant.
But if you place an incentive on the other side, it's easy for customers to know Why to sign up.
As a good practice, do not deceive users in signing up here. Rather share the benefits users get. When they consciously signup (even for the benefits), they are more likely to trust the brand and stay loyal.
Some examples of incentives to increase eCommerce user signups for fashion eCommerce are personalized product recommendations, offer and discount alerts, 20% of on your first order as a user, free shipping for all new users, etc.
Simplify Signups
Can you imagine your customers spending time to find the signup button, or going through the tiring process of filling out long forms?
In most cases, it is a big no. It is very important that you have a simpler, quicker, and more user-friendly user experience.
A few ways to improve eCommerce user experience to increase eCommerce user signups for fashion eCommerce are:
Make It Quick: People won't like to stick around to sign up. The quicker it is the better.
Be Clear: While writing sign-up copy, be clear with what you want your customer to do. It'll be best not to use puns, sarcasm, or something that distracts the customers.
Guide users: Show them what they need to do, where to click, what to fill in and the progress of the sign-up process.
Differentiate Elements: There is a lot on the eCommerce user signup page. Firstly, cut down the areas that you can. Now ensure that all the elements are easy to differentiate from one another.
Remove Frictions: Some people may drop off at some step. Identify the friction and aim to improve user flow. Friction could even be the color of the button or the transparency of the fields. Test what works for your fashion eCommerce.
Be Mobile Friendly
Let me spill some stats here. 79% of users use their mobile devices to make a purchase. Considering we are seeing mobile devices in everyone's hands, the percentage is surely growing fast.
It is an important observation to increase eCommerce user signup for fashion eCommerce. One cannot simply create a responsive web design for desktop and aim to get the same results through mobile devices.
Optimize your eCommerce user signup for mobile. Understand that smaller screens mean less information at a glance. Customers are less likely to scroll the page to signup, so you have to make sure what the flow of signing up will look like.
Showcase Credibility
We can't overlook that customers are very conscious about who they share their information with. And while we can give them good offers, it is also important to build credibility to gain their trust.
Some ways to build trust as an eCommerce are:
Showcase customer reviews
Be easy to reach out to and solve problems that customers are facing
Don't push your customers to take action, rather showcase the benefits others are getting.
Use social media to build engagement and stay connected with the customers.
Use secure systems and gateways to let people know their data is safe.
Have and follow a good privacy policy for your eCommerce.
Use High-Quality Content
High-quality content is an extension of showcasing credibility and building trust. In the case of fashion eCommerce, the most relevant and important content is their product images.
Hence, use high-quality product images for your eCommerce.
Having consistent backgrounds, margins, crops, removing dust particles, fingerprints, stray hairs, spots, and more. All of these funnels down to better product presentations that can be archived with a professional product photo editing service.
Provide Social Signups
Above we were learning about simplifying the eCommerce user signup for fashion eCommerce. One method that you can integrate is Social Signups.
Rather than manually filling in the details, social signup allows users to share all the necessary information in one click.
Some of the most popular social signups for your users can be Google, Facebook, and Twitter.
Sign Up Using Mobile Number
Another option that you can go ahead with is the mobile number signup. Considering that we know the majority of customers are using mobile devices, this method can really impact the eCommerce user signup for fashion eCommerce.
Moreover, it is seen that asking for a mobile number and email address of the user has resulted in the highest percentage of signups
Considering that these are also the channels that can be personalized, it is a win-win for users as well as the marketing team.
Build Membership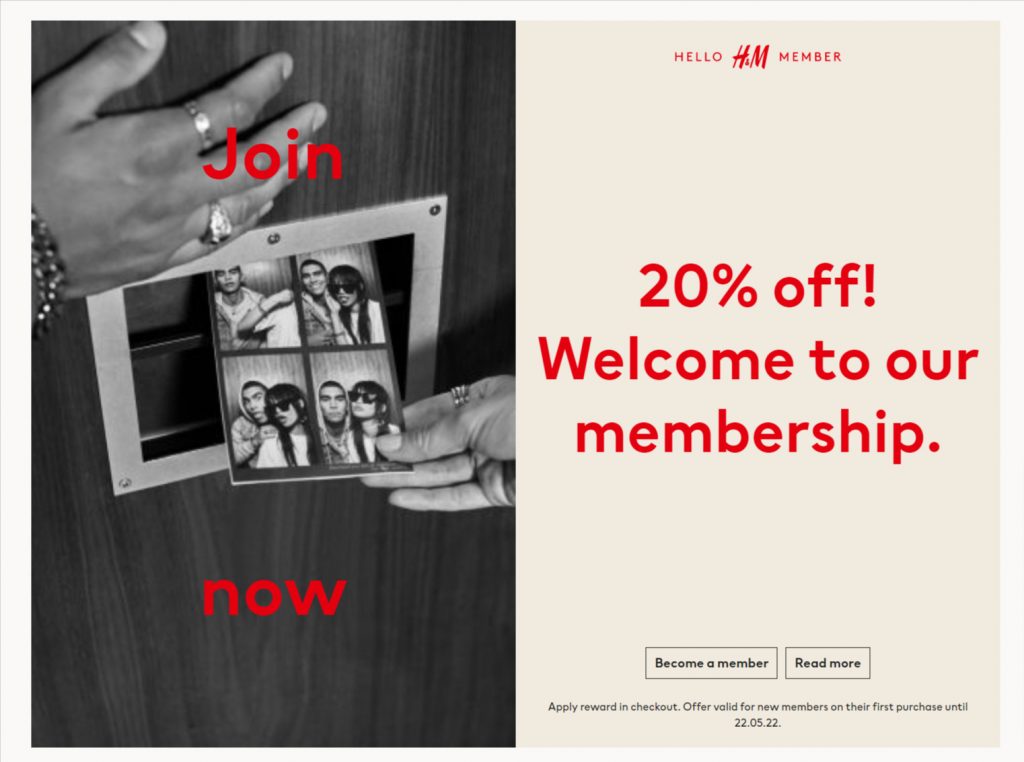 Being a part is way more personal and warm than being just another user. Let me show you how.
"You are a PixelPhant user"
"You are a member of PixelPhant"
What sounds like a community here? Surely the second one. So rather than asking customers to become your "user", how about welcoming them to your "tribe", "member group", "society", "club" or "estate".
Choose the one that aligns with your brand and gives customers a reason why be a member. Something that we discussed in the first point.
Fintan from ReConvert shared how H&M incentives visitors to become a member.
They offer 20% off to their member here. But if you look closely, the offer is valid only till 22.05.22. Exactly 5 days post-sign-up.
You can use something similar even for your eCommerce to drive your visitors down your eCommerce conversion funnel and increase eCommerce user signup for your fashion eCommerce.
Ask Less
Who wants to keep answering one thing after another? The customer wants everything to be quick and effortless.
So keep asking limited. Reduce the field to only what's necessary at the moment. To create an account email address and the name is all you need. Other details can be asked when necessary.
For example their shipping address. Save it for the time when customers are checking out rather than asking it upfront. Once they become your user, you can request other details much easier rather than putting a whole list of fields to fill in front of them.
This is also among the reasons why adding the Social signup button helps in increasing the eCommerce user signup for fashion eCommerce.
Use Contests
Contests are fun and engaging. Along with that, a great way to increase eCommerce user signup for fashion eCommerce.
One way that you can go ahead with is, to run a contest, and direct your customers to signup to participate. Again, be clear that they are signing up for your fashion eCommerce.
Moreover, it is worth understanding that during contests, eCommerce sees more engagement. Outgrow shares that, contests have almost 3.7% higher conversion rates compared to other CTA's.
At the same time, contests have an average of 10 fields in the participation form. Knowing that people usually for one-click signups, customers fill in 10 fields of information exceptionally well.
Start Referral Program
Who is your customer more likely to trust, an eCommerce or their friend? The answer is pretty simple here.
You can start a referral program to motivate current users to refer your eCommerce/product to their friends. A good and engaging way to increase eCommerce user signups for fashion eCommerce.
Sure, you'll need to incentivize it with an offer, but considering the fact that customer acquisition cost has increased 60% in the last 6 years, it's worth it.
You can use the following tip, and mix it to create a contest out of it as well.
It is seen that out of all the participants, 63.13% of customers already share the promotion with their friends and motivate them as well to participate.
Choose Right Time
No customer is going to signup the moment he lands on your home page for the first time.
They would like to explore your site, and look at your products, before even being ready to make a purchase or signup.
But this is just one instance. Hence, you'll have to test your eCommerce when your customers are ready to share details.
This could be a time when they are checking out. You can give them a checkbox to check to use the same details to signup for your fashion eCommerce.
Here, make sure that you also allow customers to checkout with the guest account. Once the order is placed and they land on thank you page, you can incentivize them to create an account to get an offer on their next purchase.
Use Popups
Using popups is like walking on thin ice. Be very conscious of when your popup appears in the customer journey and also how many times.
That being said, popups are the most enabled signup forms (66%). At the same time, it has the lowest conversion.
On the other hand, a landing page has the highest conversion (almost 23%) but are the least enabled signup forms.
Now, this is our take on this situation. Enable both the options on your eCommerce. You can use exit-intent or event-specific popups for customers who are in hurry.
This will help you increase signup for fashion eCommerce with the 3% audience that converts through popups.
The 23% that we discussed can be converted during the checkout process by directing them towards creating an account.
Offer Customer Support
Customers can face issues and that is something that happens more likely than one might think. That is why eCommerce offers customer support.
While the first priority of the support team will be to resolve the issue, one can also use it to build trust among the customers.
Finally, once the customer's problem is resolved and the customers are satisfied with the service, we can use this opportunity to motivate them to become a member.
Considering that the customer recently had an interaction they'll trust you. Hence you can use this moment to increase eCommerce user signup for your fashion eCommerce.
Test Your Signup Page
The final tip to increase eCommerce user signup for fashion eCommerce is that one that can also be the reason why you are already not seeing signups.
Because each group of audience is different, every eCommerce is different, following the same page layout and copy might not work for you.
That is why you must keep experimenting with the page to find what works for your eCommerce.
Bonus Read
These are one of the most in-depth and actionable tips to increase eCommerce user signup for fashion eCommerce. And while creating the list, one thing that stood out was how important building trust, and improving presentation is for eCommerce.
All the tips, actions, and tests are successful when an eCommerce is able to showcase the product professionally and present itself as a brand.
If you are running an eCommerce your product images are the window through which your customers judge your brand. And when that's the case, you have to put your best foot forward.
PixelPhant is a leading eCommerce product photo editing service, working with some of the fastest-growing brands across the globe. And when it comes to presenting your products in an eye-catching and professional manner, we become your post-production partners.
Experience the best product photo editing service and test the quality now. Take a free trial 👇.
Beautiful product images across your website.
Background Removal, Clipping Path, Color Correction, Cropping & Resize, Retouching, adding Shadows, and more.

Try PixelPhant for free
No Card Details Required