Ecommerce Target Market & Target Audience: How To Determine Them For Better Sales?
Updated on November 1, 2022 in
Ecommerce
by
Alifiya Mustafa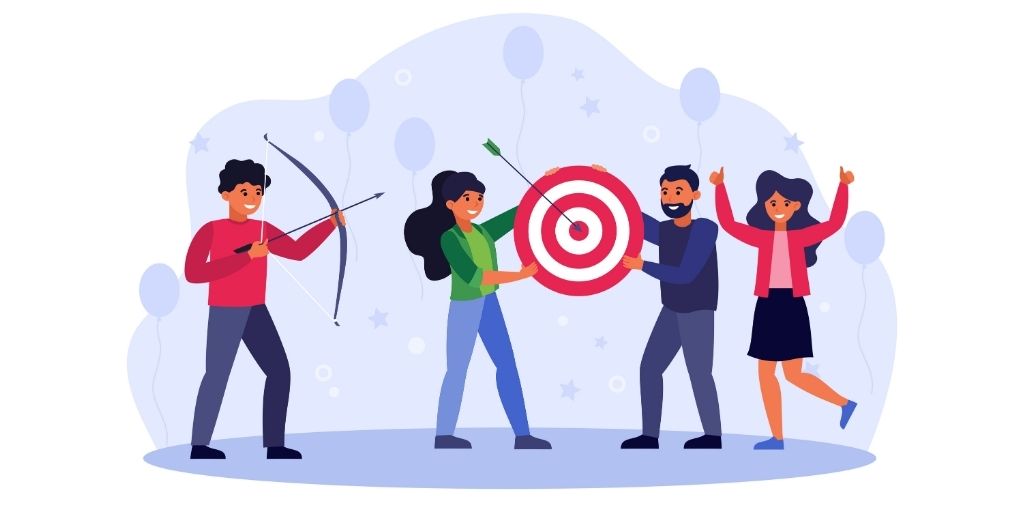 The success of an eCommerce store highly depends on the traffic you're generating on your website. More important to that, the traffic that you're getting has to be potential enough that brings sales and conversions.
eCommerce target market varies from niche to niche. An eCommerce store dealing with women's cosmetics can't have the same eCommerce target audience as an online store dealing with men's beard products.
Therefore, knowing your potential eCommerce target market and the audience is essential to selling products online profitably.
So, if selecting the best eCommerce target audience and market is so important, what are the ways to identify that?
In this article, I'll be explaining to you how you can select a target market and audience to ensure a consistent boost in eCommerce growth.
What is the eCommerce Target Market?
An eCommerce target market is a group of people or institutions that are most likely to share the same shopping interests and might be willing to buy a company's products and services.
As these folks are the most potential prospects for an eCommerce store that's dealing in its respective niche, it makes more sense for that eCommerce store to focus on these groups in terms of marketing and keeping them hooked with their online store.
For Example
If you sell women's clothing, then the target market for your eCommerce store would be women above the age of 20.
There'd be no point running after men or teenage girls as these won't come under the eCommerce target market you need to get the traffic from. Even if you succeed in bringing men and girls to your website for the sake of traffic, there are very low chances that these groups are going to contribute to sales.
Now, let's take a step further. Consider you provide shipping only within the USA. here, you narrow down your eCommerce target market to one location. Hence, you won't be putting any marketing efforts towards any other region.
With time, if you decide to expand and boost online growth, your eCommerce target market may differ.
What is eCommerce Target Audience?
Most people use the term 'eCommerce target audience' and 'eCommerce target market' interchangeably. However, there's a thin line between the two.
Where all your eCommerce target audience can be your target market, not all your eCommerce target market needs to include your target audience.
Seems complicated? It isn't. Let me give you another example.
For Example
If you deal with baby products, then your eCommerce target market consists of babies and kids who'll be the end-users of your products.
However, babies aren't the ones who'll be paying for your products, watching your ads, or responding to your efforts.
Hence, your ultimate target audience is the parents who have babies. For all your marketing efforts, you'll need to target these folks to sell your products.
In a nutshell, where you're targeting the market that consists of babies, your target audience will be their parents and sometimes even grandparents.
What are the Benefits of Determining a Target Audience and Market in eCommerce?
1. Specific goal
When you narrow down your eCommerce target market and audience, you set an aim and plan for what your actions would be and who you'd be targeting.
Targeting proves to be beneficial as you no more throw arrows in the dark and wait for a hunt. Instead, you now have a specific target to hunt down and each arrow you shoot is worth it and not wasted.
2. Efficient marketing
Now that you have a clear goal, you can run your marketing campaigns more efficiently.
For example:
If you neglect to target a specific market and audience in eCommerce, you'd probably be investing in FB Ads, Instagram Ads, email marketing, and a few more platforms.
However, if you realize that most of your target audience and eCommerce target market consists of millennials and teenagers, you'd probably want to cut the cost of email marketing and invest more in Instagram Ads.
You may find most of the young generation hooked with Instagram, even more than FB or any other platform. Therefore, in order to target these folks, Instagram would be the best place to do so.
With the help of targeting, you can manage your marketing campaigns in a more planned and efficient manner.
3. Time and cost-saving
When you set goals, plan your investments, and work strategically, you end up saving a lot of time and money at your end.
It's highly important that you select a target audience for your eCommerce so that your business can function more profitably in terms of both money and time.
4. Easy tracking
Customer segmentation for targeting your eCommerce audience gives you a complete overview of which of your customers fall under what category. This enables you to analyze and keep track of the data easily.
Tracking all the customers in general and not targeting a specific segment can't give you pure data. You can't analyze if the bounce rate or the engagement you get is whether from random customers who are not likely to be potential in the future or from your eCommerce target audience.
Once you have your market targeted, you can easily track your potential audience activities. With this, you get a clear idea of how your eCommerce business is performing and take actions accordingly.
5. Better conversions
If you're seeing only 10% conversion after putting in all your efforts, that data may consist of the traffic that isn't your target market.
Once you start targeting, the ratio of your conversions may improve. 'But how does this improve my sales?' I hear you shout. Let me explain.
When you target specific audiences, it brings personalization and flexibility to your marketing efforts. With more prospective audiences visiting your site, it ultimately boosts eCommerce sales and growth.
Simply put, targeted efforts → Improved potential traffic → Better conversions, and sales.
6. Improved brand value
If you combine all the points mentioned above, you can see how your strategies are improving along with your sales. With all this, a well-planned, organized business tends to get better recognition and goodwill.
Your targeted efforts make your customers understand how professional and determined you are towards your business and customer satisfaction. Your planning leads to better customer engagement which in turn leads to improve brand value and visibility.
7. Enhanced customer experience
Targeting your customer segments based on their age, location, interests, gender, and income makes you work towards a more personalized and specific service.
As per Statista, customer experience is going to overpower the priority level of product pricing and quality for customers.
This shows that the customers are likely to prefer a brand with a better customer experience than any other factor.
The personalized targeting of customers improves the customer experience. The ads you run on Instagram and the tone of voice you use in your content – keeping your eCommerce target market in mind – help you provide a better customer experience overall.
Sell more with professionally edited product images.
How to Determine a Target Market & Audience in eCommerce?
To effectively select your target audience and market, you'll need to follow a few steps to get it right.
1. Define your purpose
Defining what your brand stands for and how your products can benefit your customers can be very helpful.
Let's take an example again. If your online store sells dietary supplements for athletes who either want to gain or lose weight. Thus, your product solves the problems of athletes who use supplements.
Given this, you'll want to target James who loves heavy workout, chugs on protein shakes, and want more effective and filling supplements to fulfill his needs.
Defining what problems your product solves can easily help you select a targeted audience. Define what your products do and you'll automatically be able to determine who your target audience can be.
2. Filter your audience
Now that you know that your eCommerce target market must include athletes and bodybuilders, it's time that you refine your eCommerce target audience.
What I mean here is that there must be a James who'd only like to maintain his diet organically with home-cooked food. There must also be a James who lives in the UK where you don't ship, and a James whose body weight and type doesn't qualify to take supplements.
Thus, filtering your target audience from those who are likely to be potential and not is also essential.
You can filter your target audience based on things like:
Age
Gender
Location
Interests
Income
Education
Job profile
You may add or remove a few demographics as per what your eCommerce target audience fits into.
Creating a buyer persona might be difficult. I'd suggest you read Buyer Personas for eCommerce in our Blog section to get a complete insight.
3. Keep a track
Most eCommerce business owners commit the mistake of overlooking the power of analyzing. We all believe that once we put in the effort, the positive result is an obvious outcome.
However, it may not be as true. Analyzing how your targeting efforts are working on a daily basis is a must.
Closely monitor if the target audience you've segmented is responding in an anticipated manner. Collect the valuable data, comparing it with your previous year's reports, recent reports, and any data obtained from competitors.
4. Evaluate
Evaluation is the key to the success of the whole process. Don't get confused with tracking and evaluation.
Where tracking is just about monitoring and collecting the data, evaluation deals with coming up with the solutions and acting accordingly.
Once you have your data collected, what measures are you going to take for the improvement? Where will you be focusing more on?
Evaluation of your tracked data helps you bring effective changes that lead to better eCommerce growth.
Conclusion
Knowing how to select the eCommerce target audience and eCommerce target market is essential for planned and better online growth.
For eCommerce business owners looking to sell products online directly to the customers who are very well interested, this article is a one-stop place.
To understand the concept of the eCommerce target audience and eCommerce target market, I'd highly recommend you read How Customer Segmentation can Boost Your eCommerce Growth?
If you're an eCommerce business owner, you must start making your product images more professional and engaging to boost conversions. Take your free trial now with PixelPhant👇
Also, if you wish to learn more about eCommerce, product photography, Product photo editing, Clipping path, and how to grow online, subscribe to the PixelPhant email newsletter below.
Beautiful product images across your website.
Background Removal, Clipping Path, Color Correction, Cropping & Resize, Retouching, adding Shadows, and more.

Try PixelPhant for free
No Card Details Required