What is Supply Chain Management? A Simple Guide to Explain It
Updated on November 1, 2022 in
Ecommerce
by
Alifiya Mustafa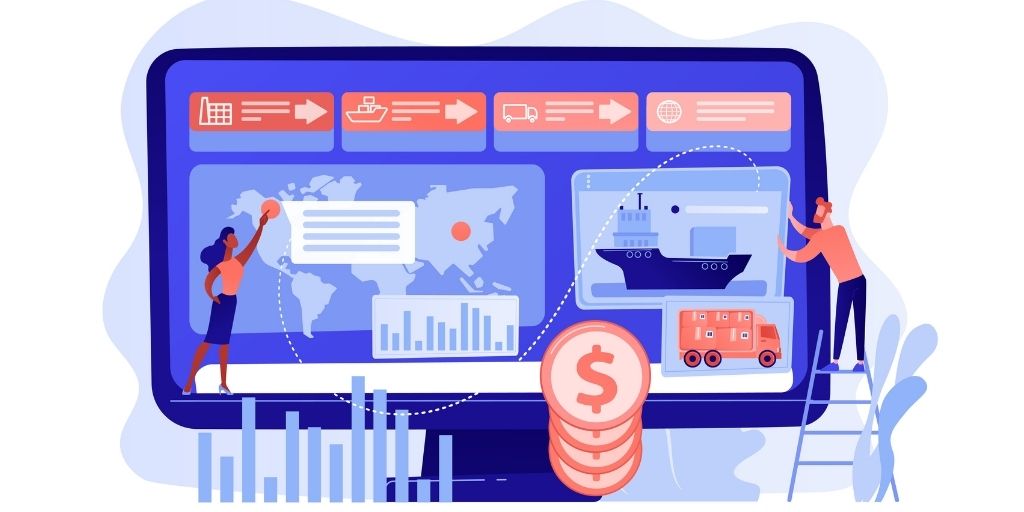 The consumers' perspective has changed a lot in the last decade of online shopping. ECommerce is not just limited to providing a variety of options at the comfort of home – it has unintentionally added the factor of Supply Chain Management affecting customers' purchasing decisions.
The shoppers' decisions are highly influenced by how a company handles its logistics.
The delivery speed, the cost that they will be paying for the delivery, and how the returns would look like when the time comes are all changing the eCommerce Supply Chain management.
Since the COVID-19 has hit the world, the factor has become an important affair to bring changes in the eCommerce Supply Chain to survive and stay ahead of the eCommerce competition.
According to the statistics collected by investors – Supply Chains are feeling the pressure to expand and improve by 73%, and 30% of the Supply Chain leaders agree that logistics is becoming the top priority of the eCommerce businesses.
What are the Supply Chain and Supply Chain Management?
The Supply Chain is a global network that is used to deliver products. From raw materials to manufacturers, to distributors to retailers, or directly to customers.
Supply Chain management is the handling of transportation of the goods and their maintenance including the processes that transform raw materials into finished products. It takes care of the total cost that occurred in making and delivering the product, the time it took to reach its destination, and how likely it is efficient in the terms of returns.
What are the major challenges of eCommerce Supply Chain management today?
eCommerce business owners are facing a lot of challenges related to eCommerce Supply Chain management, such as:
Biggest Supply Chain management Challenges
1. Delivery costs
Managing delivery costs is a critical aspect and more than 24.7% of the eCommerce business owners face this challenge.
eCommerce Supply Chain management is changing the way it is used to deliver. The competition is tough, and as discussed above, the delivery cost highly influences the buyers' decisions. Consumers want the delivery charges to be minimal, or even better – Zero.
To increase the market share and keep a hold of the customers, it has become necessary for your eCommerce business to provide this perk and handle the eCommerce Supply Chain in the most efficient manner so that you do not compromise over profits.
2. Faster delivery fulfillment
The challenge of delivery speed is going to pertain until the world finally finds a way for the instantaneous delivery option.
The consumers' expectations for same-day delivery, on-time delivery, and scheduled delivery are making it harder for the eCommerce businesses to keep up the harmony with logistics to maintain pace in fulfilling every customer's demand.
If your eCommerce business logistic is capable of making a delivery at only 100 homes in a day, you can not accept same-day delivery requests for 150 people.
Your delivery schedule must include the consumers who asked for that specific date for the delivery, the consumers who placed orders a week ago and some of them must be the ones who asked for same-day delivery.
It becomes an issue when there is too much demand and you do not have well-planned strategies and eCommerce Supply Chain management.
3. Warehousing challenges
Warehousing is one of the top elements that's changing in eCommerce Supply Chain management.
The change in consumer behavior has caused inventory accuracy to be questionable on how to organize inventory flow to achieve accurate inventory planning.
Your eCommerce business will either run out of inventory or will carry too much of the stock if modern tools and technology will not be implemented.
Finding out what and in how much quantity is required to be stored, what can be the inventory location, and what could be the warehouse layout has become the trendy topics of the board meetings.
It is important to come to a conclusion where your eCommerce business can utilize warehousing management and cost in a manner that is beneficial to both customers and your business. you can learn more about why customer intelligence is important to grow your eCommerce Business.
4. Easy returns
Easy return policies have taken the center of the eCommerce competition. The businesses are changing their eCommerce Supply Chain management strategies to Up their game and compete hard.
Before the consumers place an order, they think about what the returns would look like. How much time will the business take, and how easy the process would be?
To provide the easiest solutions to the customers, you are required to bend your logistics decision-making.
Invespcro has found out that 30% of all eCommerce purchases are returned. A complete 92% of the consumers say that they will buy from an online store again if the returns are easy.
The issue of returns is more challenging as 79% of the customers prefer free returns to revisit a business.
With considering such intimidating facts, eCommerce Supply Chain management is changing drastically. And, we say that it's high time that you take appropriate measures to beat the heat.
5. Working with logistics partners
eCommerce Supply Chain management is reconsidering the logistics partners they are working with.
The change highly depends on the location, flexibility, time zone, and efficiency of the logistics partner.
To deal with logistics partners who can efficiently fulfill your business demands timely is very mandatory. The availability of delivery trucks and trustworthy commitment is also the factors that affect the changing of eCommerce Supply Chain management.
6. Creating coordination with suppliers
eCommerce Supply Chain management is changing the way it deals with suppliers. To grow the business with consistency and to make sure that there are no loopholes in the Supply Chain, maintaining a healthy relationship with the trained suppliers has become very essential.
The urge is to have zero communication gaps, an act of responsibility at the time of damaged deliveries, and complete transparency.
If there is a space for any loophole to enter, then the growth is not expected to be huge and long-term. This is because there are well-established companies out there who have skillful suppliers, well-maintained relationships, and mutual goals to beat the competition.
How eCommerce Supply Chain management is changing with solutions?
eCommerce Supply Chain management is changing its way of working to win the future. Here are a few actions that you can take to improve your eCommerce Supply Chain management:
1. Make the internal supply chain more powerful
Before you think about what you will be 'sending out', it is better to acknowledge that what you will be 'getting in' is better or not.
Make sure that your supplier is consistent in filling your requests timely. It is necessary that what you get from him is in sellable condition and he is not sending you the damaged goods way too frequently. However, the breakage issues might occur sometimes, but if that's happening often, then it is time to change your supplier.
To make amendments in your eCommerce Supply Chain management, identify which of your suppliers are delaying the most. Figure out the ways where you can cut the cost of security checks, internal inspection, ticketing, etc.
2. Lower shipping cost and delivery time
Your toughest competitors are trying their best to take a win on this factor, and your customers expect you to come up with something that costs them less or nothing.
Find out the ways where you can negotiate the most in order to reduce your shipping cost. We recommend dealing with different third-party logistics to reduce cost and time.
The Supply Chain will include smart ways of delivery such as the use of drones in the upcoming 2 years and other modern technologies for handling logistics and inventory to watch out for.
3. Opt for third-party logistics
Our next tip would be to partner with third-party logistics for real. This way you can deal with your outsourced party which can be available near the location of the majority of your customers.
You can partner with 5-6 third-party logistics depending upon what all locations you deliver to. This helps you in saving the cost of delivering or shipping the product far from your reach along with saving a lot of time.
You can win your customers' satisfaction by providing them with early delivery and low delivery charges.
Rubyhas and  Hollingsworthllc are some of the best third-party logistics partners that you can partner with.
4. Increase the capacity of the existing warehouse
The more the better. Your large warehouse can take care of all the inventory you need, and you can leave the space spare if that's what's required. But, your small warehouse may not account for your ever needing stock.
Increasing the capacity of your warehouse can allow you to keep enough inventory of your best-selling products along with solving the issue of scarcity of space.
5. Outsource warehousing
Outsourcing your warehousing brings you the same benefits as outsourcing logistics does, just in different aspects.
You can store your inventory near the places where your customers reside so that it can be easy for the logistics that you've partnered with there to easily coordinate with the warehouse team.
With changing eCommerce Supply Chain management, outsourcing is an amazing way to cut down the cost of buying and maintaining your own warehouse plus it saves time.
6. Elevate the number of per day pickups of orders
The competition is tough, and now is the time to tighten your way of working as there is no space to be lenient.
The more orders you send out each day, the more you get your orders fulfilled easily that consequently resulting in satisfied customers, lesser delivery rounds, lesser delays, lower cost, and more efficiency.
Your customers want you to be like or be better than Amazon in terms of faster delivery. You can save days on delivery by delivering more orders in a single day.
7. Reduce the paperwork
The paperwork is time-consuming, and even when you put all your time and effort into doing it – there is no guarantee that it would be accurate.
If you are planning to expand your eCommerce business, then old methods can not take you a long way.
There will always be an efficient and easy way of doing things and maintaining your data.
The data seen statistically can help you manage the supply chain management well. Zoho Analytics can help you create your own dashboard consisting of menus, widgets, and charts.
ERPAG is a great software that helps in inventory management and saves data over the cloud.
Conclusion
All the challenges we point to regarding supply chain management costs time and money. With time as well as the growing pace of the 21st century, eCommerce is expanding massively and that has put a lot of change over how eCommerce Supply Chain management should work.
There is no denying that consumers are considering the ways of eCommerce Supply Chain management as one of the bases in making purchasing decisions.
Staying updated with technology and making use of effective tools can upscale your eCommerce business.
By adopting the changes and reconsidering your eCommerce Supply Chain management strategies, you can stay ahead of the eCommerce competition.
If you wish to learn more about eCommerce, marketing, photography, Product Photo Editing, model photo editing, clipping path creation, how to grow online, and more, subscribe to the PixelPhant email newsletter below.
Beautiful product images across your website.
Background Removal, Clipping Path, Color Correction, Cropping & Resize, Retouching, Adding Shadows, and more.

Try PixelPhant for free
No Card Details Required