Ecommerce Rich Snippets: 5 Rich Snippets To Use Now To Rank Higher
Updated on November 1, 2022 in
Ecommerce
by
Alifiya Mustafa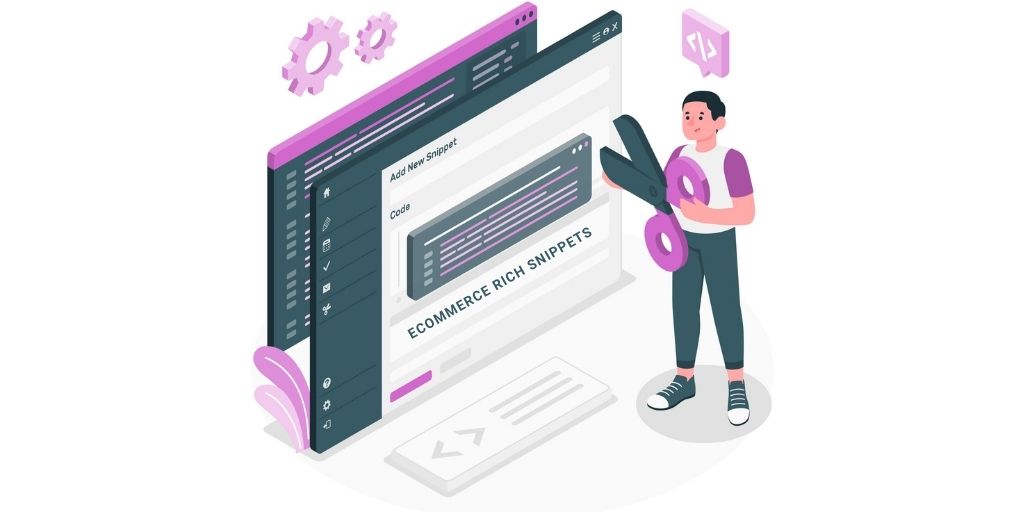 Google is the number one search engine that has a plethora of information available on it. Especially, when it comes to product searches.
Out of all online purchases, 35% of product searches start from Google.
Amazon is another great place that takes up a huge portion of product searches, but it lacks some things that Google excels. Like, Rich Snippets.
eCommerce Rich Snippets enable the buyers not only to see the products they searched for but also get their queries answered, read reviews, and compare prices. It's like an entire product encyclopedia.
For an eCommerce website, it's highly important that they rank at a better place in Google SERPs, preferably at the top. Rich Snippets are simply the gateway to that which is why – if you're an eCommerce business owner – should just get on the Google Rich Snippets bandwagon.
Why Rich Snippets Are Important for eCommerce?
Mainly, there are 4 reasons why Rich Snippets are so important for an eCommerce store, like:
1. Helps SE to understand your website data better
Rich Snippets helps search engines better understand your website data which in turn helps them to organize that information in a customer-friendly way. eCommerce Rich Snippets simply help search engines to crawl deeper into your website and fetch the details.
2. Provides customers with more than just the product results
Rich Snippets for eCommerce do not just display relevant product results to shoppers but also give them all the details like to read reviews, compare prices, etc.
eCommerce Rich Snippets carry a lot of data that usual search results are missing. They make your online store stand out from the rest of your competition.
3. Structured data
eCommerce Rich Snippets are meaningless if we don't mention structured data. Structured data means a collection of organized and formatted information that enables the easy assessment of the data.
Structured data, for search engines, is written as schema markup so that the search engines can recognize the information without any hustle. Rich Snippets are a part of structured data.
4. Affects your SERP ranking and CTR
Rich Snippets, however, do not affect your SERP ranking directly. But, they can do that indirectly. Since Rich Snippets display far more information than normal Snippets, they give more details of products to shoppers and come in with no harsh efforts.
According to MOZ, Rich Snippets can increase CTRs by 677% and drive 20% to 40 percent more traffic than product links without the one.
Humans are visual creatures, hence it's highly important that you create your eCommerce Rich Snippets that are highly catchy and attractive. That's one of the reasons why products with high-quality images sell better than the products with bad quality or no images.
Let's look at this image for example:
Which link would you click on first? Probably, the images given along with the search results must've caught your eyes.
Or you would probably choose the link with available start ratings as you now know where you can find this product in the best condition as others have liked it too.
That's how powerful eCommerce Rich Snippets are. They can instantly grab your customers' attention and put you ahead of the game.
Top 5 eCommerce Rich Snippet to Improve Your Ranking
Google's Rich Snippets can add a bit more to the product search experience, and the best part is there is more than one. I'd recommend that for best results, you use them all at one point or another and choose your own eCommerce Rich Snippets that help you grow.
1. Product schema
Rich Snippets use a code to identify and display the information, that code is called Schema Markup. So, when I say Product Schema, what I mean is a code that displays basic product information.
When you search something on Google, you may see some results like:
Or:
The best thing about involving product schema in eCommerce Rich Snippets is not whether it features a product but there are many different ways you can list information like size, color, and more which might be more useful and helpful for your shoppers.
You can add various sizes and patterns to your product is available in schema markup. Such copious information makes your shopper closer to your products as if experiencing your product in a retail shop.
2. Rating and reviews schema
An average customer read at least 6 reviews before making a purchase, so it's pretty important to add reviews on your products. This immediately instills trust among your customers for your brand along with earning authenticity.
It's not necessary that you show the whole written reviews directly on SERPs but just the star ratings can be good enough to encourage shoppers to lean towards you.
3. Price schema
Pricing is a huge factor when it comes to influencing buyers' purchase decisions. Almost 46% of online customers say that they need more product price comparisons from eCommerce sites.
You can create schema markup for a price that allows your customers to have easy and quick decision-making.
A product that has a high rating may be costlier, while something with a much lower price can have the same rating as well. This makes it easier for shoppers to figure out what's best and reasonable for its price tag as shown in this image.
4. Video schema
You don't need to create a video for each of your products, but you may for some. As I said above, we are visual creatures.
We can remember visuals 65% better than any textual information which makes videos a great marketing tool.
You can create videos explaining your product details or how to use them and involve them in your eCommerce rich Snippets. If you look at the search results, you can always look at some of the videos coming up that are relevant to the product search.
Video schema can be a little trickier to involve in your eCommerce Rich Snippet but can be worth a shot. Along with getting the traffic on your website, you may also get a lot of traffic on your YouTube channel at the same time.
5. Product availability schema
Not all online stores put product availability schema in their eCommerce Rich Snippets, but that's what you can do better than that. However, it ain't that important, it can work as a great incentive for your customers.
Though not so much in trend currently, this markup is going to be very popular to include in eCommerce Rich Snippets as the need for customer satisfaction gains priority.
Just as video schema, this markup can also be trickier to add. Also, it helps a lot in reducing the bounce rate that happens when a customer lands on a product page that is out of stock.
Of all eCommerce Rich Snippets in this article, you'd be most tempted to skip this one. But if you're really wishing to tank higher, then this can help and avoid soft bounces too.
If you're suffering from a high bounce rate on these pages, then you may also ask your customers to subscribe to Back In Stock Alerts.
Bonus Read
Now that you're familiar with all kinds of eCommerce Rich Snippets you may use to rank higher in Google's SERPs, I'd like to share with you one more way to rank better.
Though this isn't an eCommerce Rich Snippet exactly, it's something called Rich Ads that you can have if you start using Google Shopping.
Don't know how to use Google Shopping? Read How To Use Google Shopping To Sell Products Online to get complete insight.
Also, if you're an e-commerce business owner then start making your produ5t images more engaging and converting. take your free trial with Pixelphgant now👇
Beautiful product images across your website.
Background Removal, Clipping Path, Color Correction, Cropping & Resize, Retouching, adding Shadows, and more.

Try PixelPhant for free
No Card Details Required