4 Tips and 5 Steps To Create The Best eCommerce Quizzes That Boosts Sales
Updated on November 1, 2022 in
Ecommerce
by
Alifiya Mustafa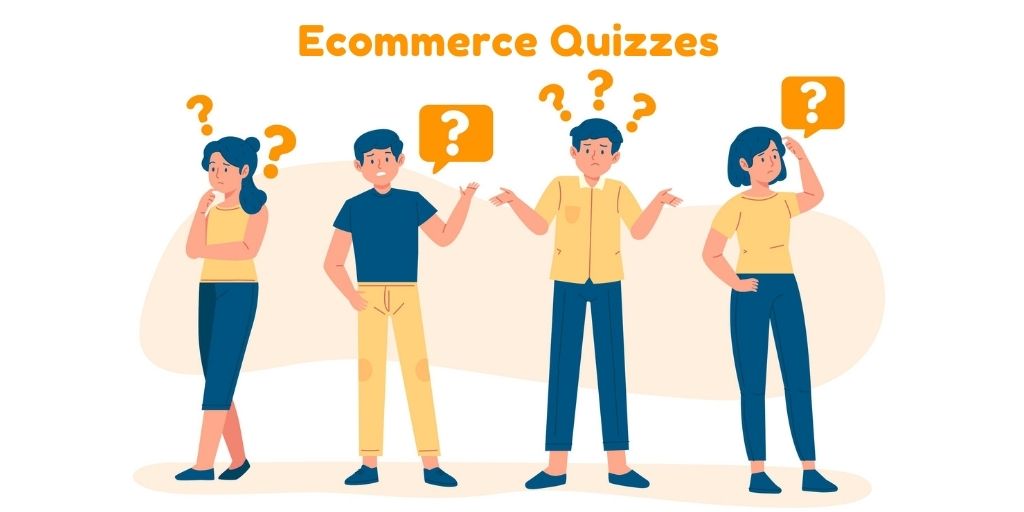 What would you rather be if not a human? A shark, a wolf, or would you choose to be a tree? Well, we all have taken online quizzes at one point or the other.
They are fun and entertaining and push us to think a little differently. But have you given a quiz to a skincare company that asked you about your skin type, skincare product preferences, and has given you the answers and tips in exchange for your email?
If you have, then you've fallen for a businessman's hack to get hold of your details. The reason why businesses do this is to get your email address primarily to share what good they have for you.
Through quizzes, they find your preferences and try to allure you into whatever best solution they have for you.
And, there is nothing wrong with doing this practice as most of the time when a customer shares his/her details, they are pretty much ready for the company to show how their products can be helpful.
If you own an eCommerce company, you can reap some great deal of benefits that'll push your eCommerce product sales with quizzes.
Despite having amazing apps and techs like chatbots, you can't dig deep into your customer details or ask them everything you wish to know to attend them better while sitting far away from them.
Conversing with all of your customers is barely possible. To some extent, it can be achieved if you own a physical store, but an online store cut short the list.
Then how do you communicate with them without boring them or taking too much of their time? The answer is – With eCommerce quizzes!
By now, you might be understanding that quizzes are just like surveys. But, we won't consider that as a fair judgment. Let's see why.
"Quizzes are like Surveys"?
No no no, there is a difference between quizzes and surveys. We understand that the fact that both ask questions and wait for an answer from the respondent must have caught you into thinking that there is a similarity.
However, asking questions is the only similarity between the two. Surveys often push the surveyor to 'beg' people to answer.
Generally, people do not see surveys as a beneficial activity for themselves. Rather, surveys are often taken as a selfish act of the companies to collect information. They do not provide any benefit to the respondent. People often say they don't wish to give away their details, they do not have time, or at front – they're not interested.
On the other hand, quizzes are often taken positively and voluntarily. They are fun and useful as the respondent gets to derive an answer to what they are excited about. This means that people tend to take quizzes way more than surveys. eCommerce quizzes are also more shareable among friends and relatives as compared to surveys.
How quizzes will grow eCommerce Sales?
eCommerce quizzes can be really helpful for your conversion rates due to the underlying advantages it brings along with it:
1. Personalized attention based on quiz results
Once you have derived the results of your eCommerce quizzes from the answers that your customers gave you, you have all the information that can help you give a personalized service to your customers.
Personalization doesn't end with addressing the customers with their names. It could be an end for your competitors, but for you, it should just be the beginning of you.
You can reach your customers on social media or share them the email with the suggestions that they are most fond of.
Share the results via SMS or email along with the links to your products that would best suit them.
Customer satisfaction is the basic aim when you want to grow eCommerce product sales with quizzes.
As per eConsultancy, personalization can improve the sales rate by 30%.
2. Quizzes will Promote your Brand
eCommerce quizzes help in creating brand awareness. Not just the awareness though, it also helps people let know how your products can be useful to them.
Your eCommerce business can gain a lot of popularity and recognition if the quizzes are organized in a manner that helps people to navigate towards your products.
If you deal in skincare, baby products, food items, or edgy fashion, then eCommerce quizzes can really help build trust among the people for which they buy your products.
There are many hair care companies that ask questions about your hair length, if your hairs are dry, oily, or struggle with dandruff. After asking such questions, they come up with one of their best shampoo or hair oil that describes which ingredient would benefit how in solving their hair issues.
This way the consumers feel safe as they know what the product is going to do to them and what ingredients are used in it.
When you successfully make your shoppers aware of you and your products, it automatically boosts your eCommerce product sales with quizzes.
3. Quizzes will Drive More Traffic
When the eCommerce quizzes are shown to your customers, they are usually in the form of thumbnails attached in the different articles, Google News, or social media. It's your choice which platform you choose.
When consumers look at your title and click to explore further, it directly takes them to your website. This however could not be the traffic that will convert for sure, but more than half of them might end up exploring your site after the quiz, looking at the products you suggested or making a new search.
If it wasn't for the quiz, these shoppers would not have landed on your website in the first place.
Such eCommerce quizzes ultimately grow eCommerce sales and conversion rates.
Tips to follow for Creating eCommerce quizzes
#1. The title is the Secret
Create a title that is fun and engaging to captivate your consumers in taking the quiz. If your title is boring and flat, there is likely the chance that people will not click and explore it further.
Make sure that you create a very captivating, catching, and clear title. Use words that grab attention easily like You'll be amazed to find out…., Do you think…, How much do you know about…, let's check based on your zodiac sign…., etc.
A nice, attractive title is an important step while forming your eCommerce quizzes.
#2. Keep it Short and Crisp
Do not involve too many questions in your quiz and most importantly – do not make it too long. No one has the time to sit and give answers to a quiz that doesn't mean anything to them.
If you go on for ages, there is a probability that your customers are going to abandon it in between.
Also, do not ask them the same boring questions that every other quiz of your niche asks. Come up with unique and fresh ideas for your eCommerce quizzes. Be different so that you can beat the eCommerce competition.
#3. Try to Communicate and keep them engaged
Be interactive and try to communicate with your consumers through your eCommerce quizzes.
You can add short notes of your history, or some friendly jokes at the bottom of your quizzes to make your respondents stay engaged and comfortable.
Ask questions that amaze them and keep them hopping onto the next questions.
#4. The end of the quiz should be the beginning of your CTA
Never end the journey with the end of your quiz. Make your customer do something that benefits your brand.
If your respondent is not yet your customer, then you may pop up a box to sign up for your newsletter so that you can keep giving them such fun updates and offers that your business may come up with in the future.
Or else, you can simply ask them to click on the attached link that'll help them to find the product based on the answers they just put in.
You can also share the link to your website, product videos, or videos about your company at the end of your eCommerce quizzes.
It is important that you do not just present CTAs that are boring and unattractive. We highly suggest you learn how to make your CTAs intimidating and about captivating newsletter ideas.
How to Create a quiz?
You can create an eCommerce quiz by following these 5 simple steps
1. Form a goal
eCommerce quizzes can derive various benefits. Hence, it is up to you what is your aim to run quizzes. Is it to spread the word about your brand? Is it to improve sales? Or both?
Create a goal that defines your objective so that you can further prepare to form questions and evaluate results based on what you took the quiz for.
2. Select the quiz type
There are various categories of quiz types. The eCommerce quizzes can be created based on types like:
a. A quiz that seeks knowledge from the respondents
This is the type of eCommerce quiz where the questions are asked in such a way that the respondent provides the knowledge you seek.
These could be the questions like, are you between the age of 15-20 or 20-30? Or do you have oily, dry, or sensitive skin?
Here, the answer is not known by you until and unless the respondent answers to you. This quiz is taken to store the information about the customers.
b. A quiz that demands knowledge from the respondents
This is the type of eCommerce quiz where the respondent must already have the knowledge about the questions or is taking the quiz to check his/her knowledge.
The answers here could be predefined by you or can have multiple expected answers to them.
The questions may include, how well do you know chocolates (give options based on what it is normally known for or which country is the largest producer of chocolate?)
Here in such eCommerce quizzes, the answer is known to you but there is no guarantee if the respondent will be able to provide the correct answer. This quiz is taken just to engage the customer and later try to make a sale if possible.
3. Pick your title
The secret lies in the title as before they can even begin with your eCommerce quiz, they will be seeing the title on your thumbnail. It will be your title that'll decide whether the customer would be interested in taking the quiz or not.
Make use of the tips mentioned above to form titles that attract consumers. It should be something that makes your consumers feel would be helpful for them or at least entertaining.
4. Form questions that are relevant to your business
The questions that you ask must not exploit your consumers or ask something that is neither related to your business nor is going to benefit you or the customer in any way.
For example, in some instances asking about customers' marital or educational status is not relevant to the business. Hence, such should not be asked during eCommerce quizzes until the information is beneficial in regards to your business and the consumer is comfortable with such.
You can give a skip button while asking such queries or avoid asking altogether.
Also, if you deal with chocolates, then there is no point in asking questions that relate to furniture.
5. Write catchy questions in the correct tone of voice
Don't ask too complicated or twisted questions that your consumers find hard to understand. Form simple questions and offer simple choices of the answers.
When forming questions, also remember that your tone of voice is not commanding or rude. Be polite, friendly, yet professional while taking your eCommerce quizzes.
Once you successfully follow these steps, you'll be able to create useful, engaging, and profit-yielding eCommerce quizzes that'll help you grow your online business.
Conclusion
eCommerce quizzes are fun and are in some way a disguised hack to engage more audiences and later turn them into potential buyers.
When running this campaign, you need to be mindful of the reason why you are organizing such eCommerce quizzes and what is the best way you can do that.
If you've read this article carefully, we've provided you with some tips and ways on how you can form captivating and effective quizzes to grow your eCommerce product sales.
We hope that these tips would be helpful to you and will aid you in achieving what you anticipate.
If you wish to learn more about eCommerce, product photography, Product photo editing, and how to grow online, subscribe to the PixelPhant email newsletter below.
Also, if you're an eCommerce business owner, start making your product images more engaging to convert more sales. take your free trial with PixelPhant now👇
Beautiful product images across your website.
Background Removal, Clipping Path, Color Correction, Cropping & Resize, Retouching, adding Shadows, and more.

Try PixelPhant for free
No Card Details Required