7 Terrific Reasons Why eCommerce Product Videos Will Boost Sales
Updated on December 14, 2022 in
Ecommerce
by
Alifiya Mustafa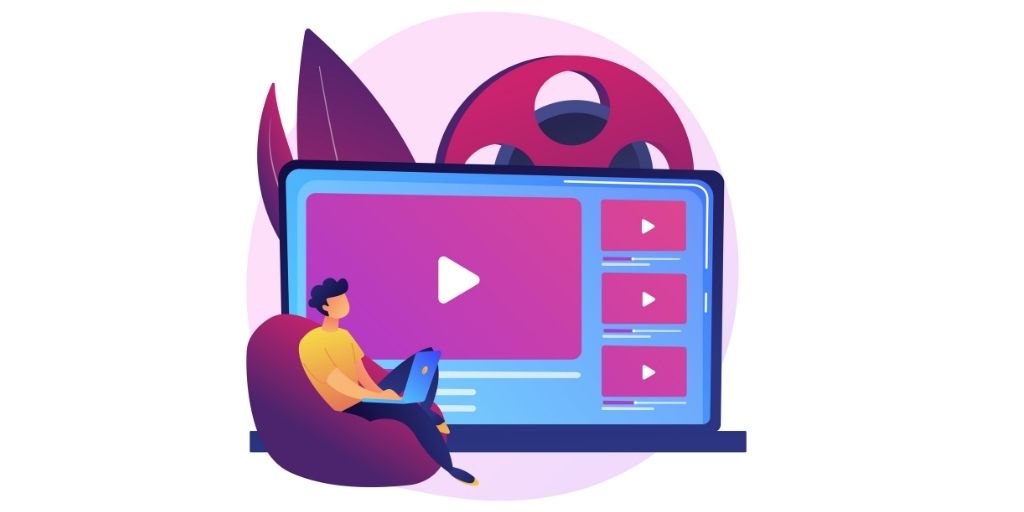 If you are an eCommerce business owner, you must know the struggle of finding ways to increase traffic, improving conversion rate and sales, and of course – The promotion of your brand and products.
Running an eCommerce business isn't about opening up a website, listing a few products, and beginning to sell them. There's a lot more to do to beat the eCommerce competition.
There are currently 12 to 24 million eCommerce websites across the world and many are getting created every single day!
With the growing demand for purchasing products online, it has become necessary for your online business to stand out and beat the heat.
So what can you do about it to experience not just the usual survival but actual growing sales? The obvious answer to this is marketing.
If your customers aren't aware of your existence, how are they going to reach out to you? And, if they do not know what kind of products you sell and how you are helping to solve their issues, then there is no way that you'll be able to see the improvement in your conversion rates.
Suppose you are burning your brains on writing heavy blogs stuffed with keywords and investing time and money into product photo editing. In that case, it's time you outsource these to product photo editing services and marketing professionals.
Because it's time to invest yourself in something that is in demand and very essential for your sales and business to grow.
A full-proof marketing strategy includes creating something that's engaging, entertaining, beneficial, and is educating your customers about your products at the same time.
Seems like too much to ask, isn't it? Well, it's not. You can make all of this possible by making an engaging eCommerce product video that the customers like to watch and drives them into running towards you.
If we look at the statistics for video marketing
51% of the marketers agree that videos are the number one type of content to earn maximum ROI
Using videos can grow revenue 49% faster than not using it
Video drives a 157% hike in organic traffic from SERPs
Gone are the days when creating product videos were only meant for big brands to telecast them on TVs. Thanks to channels like YouTube, video making has become easier than ever.
It costs you no huge investment, no heavy equipment, and high maintenance models to create a useful and engaging eCommerce product video.
Simply pick a camera, your empty conference room, and your most confident and fun employee (It could be you!) to explain why you've created the eCommerce product video.
7 Reason why eCommerce Product Videos will thrive in Sales
If you still doubt the idea of creating eCommerce product videos then take a look at these 7 reasons why eCommerce product videos will thrive in sales.
1. Videos are Tempting
When a customer looks at the product image, they wait for a few seconds to explore its corners and most likely the background, and there are very fewer chances of everyone reading what's written on it.
Now, if we talk about the 'texty' blogs, forget about the likeliness of it being read completely, however, your bullet points do matter.
So the image and text are out of the frame here. Now let's bring in the visuals and the information together in one place. Yes, videos are more engaging, interactive, and tempting and that's what makes people watch them. During the whole time, while the speaker tries to be friendly and fun, all the information about your products is fed into the heads of your customers.
A study shows there where people can only remember 10% of the written information, visuals can improve the recollection by 65%. Now think of the visuals that are interactive and have sounds – I believe that you can do the math from here on.
2. Google and Videos are Best Friends
If you have any idea about how Google SE works, then you must know the importance of using videos and images for the searched keywords.
Your website and your blogs will rank in the organic search based on the relevancy of the searched keyword and your credibility. When you use videos for your products, your chances are increased to rank in a better place.
The snippets that you see that come up with the Google images for Google Shopping or the relevant videos to the topic tend to get more clicks and engagement.
This could be highly beneficial if none of your other competitors are using eCommerce product videos for marketing and if you are creating videos via YouTube. YouTube gives you an upper hand as it is owned by Google.
eCommerce product videos can make you rank higher and get you the priority of being clicked as compared to any other form of content. In fact, 80% of all internet traffic comes from videos.
3. Videos are Sharable more than anything
People are more inclined to share videos as compared to any text files. Even, customers tend to click on the thumbnails of videos more as compared to something that has no visual image.
eCommerce product videos are not only more shareable but are more clickable too. You can't seem to think how many people clicked on the other links you shared, but more than 80% of your shared links will be clicked.
4. Videos Convey More Information
A picture speaks a thousand words…Now, how many words does the video can say!?
Do you ever feel the urge to go to every customer and tell them the perception with which you see your products? You must be wishing if the customers could understand the story behind your products and if you could tell them every little thing your product is capable of doing.
If you are typing long product descriptions, no one's waiting to read that. And, you can't manage to say everything through your product images. Hence, the best way to say everything out loud to your customers, video plays a vital role.
You can reach a huge audience and let the shoppers know about what your product can do and why they should buy it.
eCommerce product videos enable you to share the details, benefits, and story of the product. However, it completely depends on you for how beautiful and well-engaging you create your video content.
5. Videos Clear Confusions
While brainstorming about why your online store is not selling well, think about what your customers might be waiting for. This includes your abandoned cart customers too.
Your product description on your website or on the product itself might be missing a piece of information that your customers need to find before buying.
For example, if you are dealing with skin care products, you might have written all the good ingredients that the product contains. But, your customers might want to know if it is paraben-free, non-comedogenic, or mineral-oil-free.
When you create eCommerce product videos, you are easily able to give out all such information about your products.
This instantly clears the confusion of your customers and consequently increases sales. For your abandoned cart customers, you can send them the link to your eCommerce product video that relates to the item they left in the cart.
This reminder email prompts them once again to return to their carts and the link of the video immediately makes them realize the benefits of the product, its details along with clearing the questions they might be having before.
What we also recommend you do here is that you recheck your Product Information Management (PIM) for eCommerce. If you believe that there might be some of the information missing that is holding your buyers back to make a purchase, then this could be helpful.
6. Highly Influences Decision Making
As explained above, as eCommerce product videos clear the confusion 100%, it apparently influences your consumers' decision-making. As they now have all the information they were looking for, they are freer to make a purchase with confidence.
eCommerce product videos add clarity and transparency that assures the customers to put trust in your brand. This also helps you increase your goodwill and make you more genuine to buy products from.
You can describe the details, benefits, and materials used in your products to influence your customers.
Once the shoppers see the eCommerce product videos, they are more tempted into buying what you just explained. This dramatically boosts your conversion rates and brings you back in the game.
7. Adds a Human Touch
Those well-crafted articles and Photoshopped images can't do what the videos can do. And that is, adding a human touch.
When people look at another person just like them, standing in front of them, and explaining something that can be beneficial for their lives, it adds a sense of originality right away.
eCommerce product videos exude the feeling of connectivity and trust. The visuals, the actions, and the voice, all add more sense to the idea of buying the product.
If you succeed in convincing people through your videos, then nothing can stop your conversion rates to grow.
6 Tips keep in Mind While creating eCommerce Product Videos
Now that you know the reasons, I am pretty sure you've made up your mind to create your own eCommerce product videos. But, there are a few tips I would like to share before you start creating. This will help you to build some very captivating videos that'll win more sales, every time.
1. Quality of your Visuals and Sound
Make sure that you create your videos in high quality. I am not asking you to buy a DSLR of the best digital camera brands (it'd be better if you could arrange that), but use a device that has excellent video quality.
If your videos are dull and your sound is muffled and strange, then it's a no-brainer that people are going to stay not for more than a few seconds.
Keep these points in mind:
The room that you are shooting in is well lit
The angle and focus of your camera is set
The microphone is of good quality
You are loud and clear with your words
Do not use too many metaphors and jargons
Your background is clean and professional
Your background is not distractive
More than 73% of the shoppers that watch product videos are likely to make a purchase.
It is important to keep these points in mind while creating your product videos for eCommerce that anything that is taking away the focus of the viewers from what you are talking about, is bad for your reputation. It is useless to create such videos as they can't be helpful in improving conversion rates.
2. Try to Cover all the Important Details of your Products
You are creating eCommerce product videos with the aim to spread awareness about your products. Therefore, it is necessary that you give away all the important details and information about it.
However, do not make the video school-like that revolves only about teaching your customers. Keep your conversation fun and enjoyable while you give away the details.
It is better that you give the information first that is important and not mentioned on your product or website for which the shoppers have come to see the video.
3. Share your Videos over Various Platforms
Sticking to just one platform is not a smart idea. If you want to spread the word about your brand everywhere, then be everywhere. Be it YouTube, social media, or your website.
Try to post the videos to as many platforms as possible. The more views that you get, the more are the chances of getting more customers.
It is not just about that, If your YouTube channel hits a certain number of likes or subscribers, you can avail of the benefits that YouTube provides too.
As we speak of other channels to create eCommerce product videos, native videos on Facebook have a ten times higher reach than YouTube.
Instagram has recently released Instagram Reels that allow you to make short, entertaining videos that you can make use of.
This means that several channels offer a certain level of engagement and benefits. So it is better to fill your bag with all the good things possible.
4. Keep it Short and Sweet
When you create product videos for eCommerce, be sure that you do not take too long for your customers. The length of the video matters a lot for viewers to decide whether to watch it or not. Put yourself in the shoes of your customers, you'll feel the same.
Keep your videos entertaining, short, and precise. Such videos tend to be watched more and are easy to grasp.
As per the data, videos that are long up to 2 minutes get the most engagement.
To make your eCommerce product videos the best, try to make them short and catchy and look for the clips that are unnecessary. Do not simply make and post, but editing is a crucial part of video making.
5. Be Friendly and Enthusiastic
I don't know why this point came so late in my mind as I write this article because it's the paramount part of creating eCommerce product videos.
I request you to be energetic, friendly, and entertaining in your videos. No one, literally NO ONE likes boring, lengthy videos. No one in fact stays to finish watching such videos.
The key to increasing sales through your eCommerce product video is to bring more traffic. This is not possible if your videos fail to engage in the first place.
Use gestures, talk about how your product affects lifestyle, give examples, and make use of jokes here and there. Though, don't push anything too hard and simply be natural.
The balance will be created once you start making videos on your own, but meanwhile, you can seek help by watching several other videos to inspire you.
6. Add a Powerful Call to Action
Call to Actions are great ways to steer your customers towards your website and make them buy from you. A powerful call to Action must be convincing and has some benefit for why customers should do it.
For your eCommerce product video, add the Call to Actions in between and at the end. It could be simply asking for your viewers to hit like and subscribe to your channel. Or, ask them to click on the link attached to grab a discount after watching the video or just visit your website and buy the product you just talked about.
When shoppers are engaged in watching what you are saying, they are very likely to click and do as you say for your products and website.
If you are confused about How to Make Your eCommerce Call to Action Intimidating, then we highly recommend you read the attached blog.
7. Post Instagram Video ads for More Conversions
The potential of Instagram video ads to bring more conversions is fairly very high which makes it great to create eCommerce product videos. As the trend and love for Instagram are increasing, online business owners are giving the platform priority to market their brand and products.
As per the sources:
5.2 million users saw branded Instagram videos in 2017.
Sponsored Instagram videos to generate 3 times more comments than sponsored Instagram photos.
Renowned publishers are ramping up Instagram video posts by 90-100% every year.
Instagram has more than 1 billion monthly subscribers and the number is growing still.
Instagram reportedly gets more engagement than any other social media platform which gives you the advantage of creating eCommerce product videos over it. Itis highly used by marketers to target large and prospective audiences.
Final Takeaway
Videos are the most powerful way to get engagement and this quality of them has made it the best type of content among marketers and eCommerce business owners.
eCommerce product videos are great for sharing information, creating awareness, and apparently generating more sales.
In this article, I have shared 7 terrific reasons why opt for making eCommerce product videos and 6 must-use tips while you create your own video content. I hope this article will be useful for you and your business.
If you found this article useful, then I believe you might also be interested in learning about 11 Product Photo Editing ways to grow eCommerce sales.
If you want to learn more about that to increase eCommerce Business, product photography, and eCommerce Product Photo Editing please Subscribe to the PixelPhant Email Newsletter Below
Beautiful product images across your website.
Background Removal, Clipping Path, Color Correction, Cropping & Resize, Retouching, adding Shadows, and more.

Try PixelPhant for free
No Card Details Required