Ecommerce Localization – Little About Luxury, More About Global Survival
Updated on November 28, 2022 in
Ecommerce
by
Alifiya Mustafa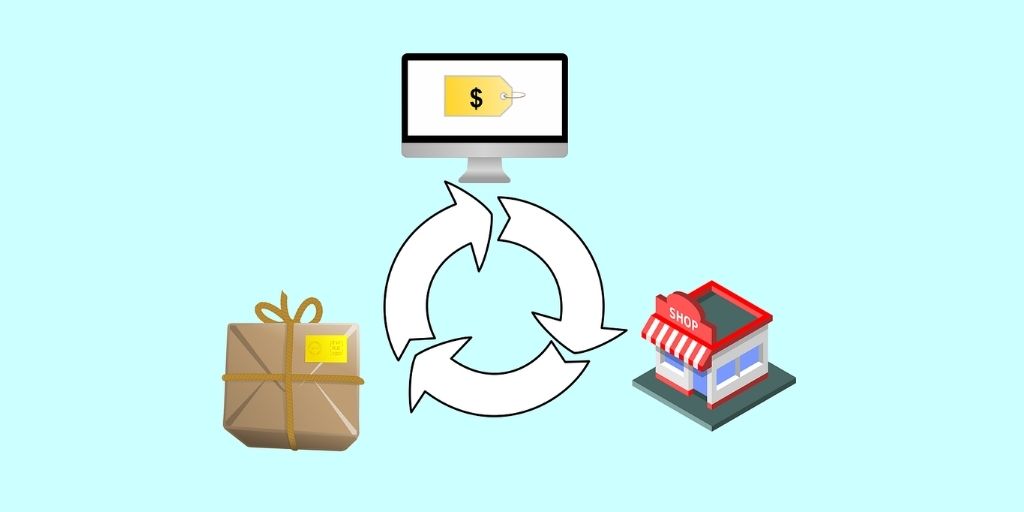 The increased need for eCommerce services has made the eCommerce marketplace one of the most important elements of day-to-day life. From groceries to fashion and electronics to books, people are highly dependent on eCommerce to fulfill all their needs.
Only a few years ago, eCommerce was used as a luxury to most people. However, now the case has entirely changed. eCommerce has now become a necessity for the world.
And this is not going to change any sooner. In fact, eCommerce is the future. As per KommandoTech, 95% of all shopping will be done online by 2040.
Now, due to such popularity and need, the bar of the eCommerce competition has also risen. To survive this tough and worthy competition, it is very essential for your eCommerce business to provide a unique and exclusive experience to your customers.
When we say exclusive, it definitely demands localization. Localization of your website enables you to provide a unique and engaging experience that belongs to a specific geographical and lingual group.
eCommerce localization is not a mere part of the process, but it is a crucial ingredient that needs to be added for eCommerce success. Because trust me, if you don't then others will (and are actually).
If you are a beginner or have been running your online store for quite a few years, then you may wonder when and why you should start localizing your eCommerce business. Now, a few months later, or next year?
Well, to find the best answer to that, let's keep reading.
When to localize your eCommerce business?
eCommerce localization holds a vast capability of increasing customer satisfaction. It helps attracts shoppers of different languages and cultures.
If you are looking for the answer to 'When', most companies start eCommerce localization when:
They see the leads coming from different locations which can become their potential buyers.
When eCommerce businesses open a retail store at a different location
(In case the shipping is already available outside) in case people of different locations are visiting the site but not making any purchase.
When competitors start getting good results from eCommerce localization
If you can relate to any of the situations above, then I believe it's time for you to localize your eCommerce website.
Now, let's look at why to localize your online store, and what is the importance of it?
Benefits of eCommerce localization
When consumers look at the information provided in their own language, they feel more comfortable dealing with a business. It is easier for them to understand what you are selling and how those could be beneficial to them.
Having all your product and website information available in the native language of your customers enhances their trust in you. This information includes currency, product descriptions, reviews & feedback, etc.
This not only benefits your sales but your support team too. Having information available in native speech reduces the need to reach out to customer support.
A few more benefits that pin down the importance of eCommerce localization:
1. Wider Reach
Localization improves your approach towards a wider audience. It becomes obvious to have a wider reach when you expand your business internationally. With eCommerce localization, you'll be able to connect seamlessly to new consumers by personalizing the writings to their particular culture.
You can strategize your localization approach by evaluating some of your buyers' personas–
Look for their shopping behavior
Which tabs of your website entice them the most
What influences their buying decision
2. Increased traffic & Sales
If you have a traffic of 100 customers out of which 70 converts, then imagine if you manage to get 200. Consequently, with the increase in traffic, the sale improves automatically.
If you keep your website available in one language – English, just think about how many of those precious customers you will be losing who prefer other languages.
If you are shipping all across Europe for example, localization of your eCommerce business in languages like French, Italian, German, etc. can reap a lot of benefits.
When consumers have to option to look at the content in their own native language, it catches more engagement. This also helps to build trust as people can see how much you care about your business along with your consumers.
3. The benefit over local competitors
You are already at the top of your game if you are providing services internationally. But, to remain at the top, you can make use of the power of localization. With eCommerce localization, you can have a competitive edge over your competitors who haven't localized yet.
Did you know that about 72.1% of internet users prefer to stay on websites translated into their local language?
It is pretty clear that localizing your eCommerce website can help you get better engagement. If results provided, they are likely to pick a website available in their native language. Hence, eCommerce localization is less about perks and more about global survival.
4. Reduced Pressure on customer support
How many calls, messages, and emails do you get daily enquiring about the information that is already available on your website?
Many eCommerce businesses get a lot of such kinds. The chances are that the phrases or words read by your customers whose native tongue isn't English didn't get what was written. That is the reason, once you start eCommerce localization, the load on your customer support department is reduced.
This brings efficiency into the work along with saving the time to focus and attend other important queries.
5. Strengthens global presence
Once you have your boundaries extended internationally, successfully got the engagement from the customers, and generated the traffic (all thanks to localization), it is natural for your global presence to be strengthened.
When you start a business, hanging a powerful and strong brand that is worth worldwide is the ultimate aim. Localization, in one way or the other accounts for this achievement.
Tips for eCommerce localization
eCommerce localization isn't too hard to implement. But, it isn't too easy either. For required results, there are a few tips that you can try:
1. Keep it relevant
What you have on your website could mean something else when translated into other languages. Make sure that your translated content is still relevant to what it relates to. One must remember thing is the keywords. Make sure that your localized content has enough keywords to appear in the search results in a better place. This applies to your blog content for external SEO as well as for the products in the internal SEO.
According to the studies done by 99Seconds – 92% of the most famous and top-grossing iPhone apps in China are written in Chinese and also have Chinese names.
2. Do not use the shortcut
When it comes to localizing eCommerce website, many business owners prefer automated translators. It could be a quicker and cheaper way to get things done, but not ideal. Automated translators can translate the simpler and general phrases, but it can't the complex phrases that reflects the same meaning with the same king of agenda. I believe that it is much more wiser to hire a professional translator who is familiar with eCommerce localization.
3. Do not leave any page unattended
It isn't about any clever marketing strategy to simply trick the customers. Ecommerce localization is an approach towards customer engagement and satisfaction. Do not just translate your home page and leave everything just as same.
For your eCommerce localization strategy to be fruitful, make sure that all your pages along with the currencies are well translated and converted. Only the whole localization of the website can make you stand out from the rest.
Things to be mindful of in eCommerce localization
Most eCommerce businesses believe that eCommerce localization is a one-time solution to get international. But such mentality becomes the reason for the eCommerce localization strategy to fail.
Therefore, it is necessary to be careful and mindful of a few things. I have created a list of 3 such important things for you to plan your eCommerce localization strategy smartly.
1. Laws & policies applicable
When localizing, every country's rules and regulations vary from one another. While developing your website for localization, make sure that you abide by the laws and policies that are applicable there.
For example, the USA has a "consumption tax" for eCommerce shopping. Consumers pay this sales tax on the taxable items they buy online. Consider to this the fact that some local areas in the states have their own sales tax.
There could be a few things that you are required to mention in your policies related to refund, returns, etc. for customers to know how to deal with you while sitting abroad.
2. Localized marketing campaign
eCommerce localization isn't just about translating your web pages into different languages. Many eCommerce business owners simply translate and sit back to see the results. Well, let your competitors settle with that. You need to take a step ahead to beat the eCommerce competition.
As per oneskyapp, 41% of premium brands maintain at least 1 local country page.
Create localized marketing campaigns. If not daily, you may start it occasionally during the holidays or festive seasons. You can even create a multilingual marketing campaign when promoting special offers internationally.
3. Customer Service Support in different languages
What is the point of expanding overseas when you can't even communicate with your customers and solve their issues? I ain't telling you to hire a person for each language and run a customer service department for every country you deal with.
What you may do for the worst cases is that hire a multilingual representative who can be available on particular hours to attend such customers. You can even inform this over your website or to the customers personally when they contact you personally and ask for someone who can communicate in their native language.
This saves you a lot of customers and even eliminates trust issues between you and your valuable shoppers.
Conclusion
Though English is considered a universal language and a lot of people are familiar with it, not all of the consumers still prefer websites that are not available in their language. A study shows that more than 60% of online shoppers do not prefer websites of such kind.
Most people that belongs to the industrial giants like China, Germany, France, and many more buy from the websites only which are native to them.
eCommerce localization helps websites to come forwards and get a fair chance into the online competition.
If you wish to learn more about eCommerce, product photography, Product photo editing, and how to grow online, subscribe to the PixelPhant email newsletter below.
Try PixelPhant for free
Use PixelPhant to get more conversions for your online store with better product images.

Background Removal | Clipping Path | Color Correction | Cropping & Resize | Retouching | Shadows