How To Start An eCommerce Business? 10 Tips To Create An Ultimate eCommerce Launch Checklist
Updated on December 5, 2020 in
eCommerce
by
[email protected]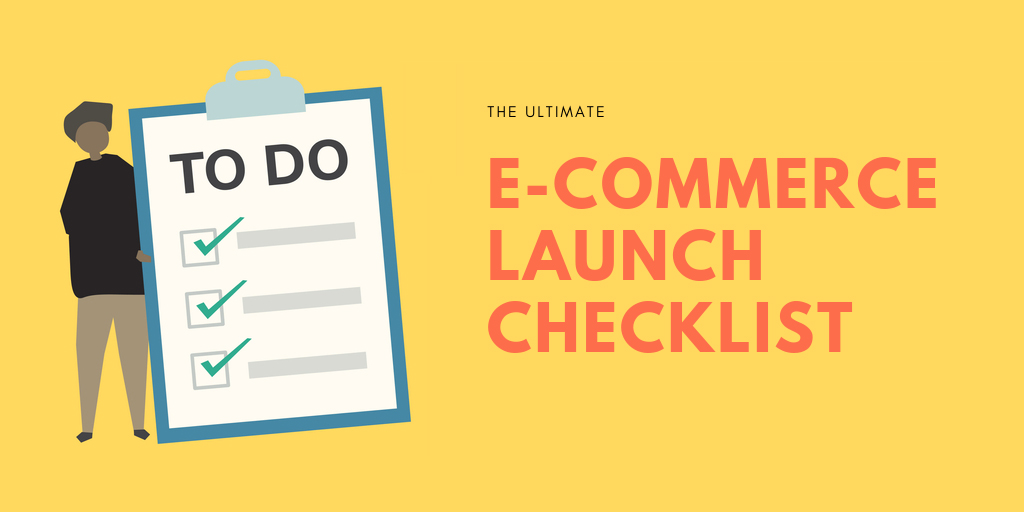 Here is an eCommerce launch checklist especially for you that'll help you start an eCommerce business with a strong layout. Updating a current website, or moving it into a new CMS can be difficult than launching a new website. Here, the majority of efforts need to be invested in getting all the important details that can help you start an eCommerce business. These projects need close and effective communication with people and teams to avoid the customers' difficulties and user experience.
It could be very frustrating when you first start an eCommerce business and develop its website. It has to undergo smooth processing without a pull. Before launch, it is important to ensure that the entire product lists have been uploaded. And the marketing plan for product promotion has been executed.
Take an analytical approach to the eCommerce launch checklist in spite of working without an aim to initiate a business and hiring thoughts.
Importance of having an eCommerce launch Checklist
It is natural to miss a crucial step while you start an eCommerce business, for which, an eCommerce launch checklist can offer a helping hand to decrease the ambiguity in the launch process.
The statistics from the England Medical Journal have declared that effective eCommerce launch checklists initiate decreased complexities and mistakes. Improvised checklists are decisive and efficient, and are easy to use in the most complex situations.
These eCommerce launch checklists offer reminders for the crucial steps missed by qualified professionals and help with a more practical approach before you start an eCommerce business.
So, we are discussing 10 steps here to be included in the checklist before start and eCommerce business.
eCommerce launch checklist:
1. List of resources, roles, and responsibilities
The first in this eCommerce launch checklist is to create a project management launch checklist to start an eCommerce business. The website content must be written and major call-to-action must be created.
Make a master plan of vitals for the launch and the deadlines to finish the launch. Now you can assign actionable resources to the team. There is no need for too many employees to launch the website.
Include the content marketers and graphic designers on the list when you start an eCommerce business to finalize the website look. Also include the technical team possessing all the back-end functionality. Create a checklist for the developer team to follow.
Layout a constructive launch plan for each team to make sure everyone stands at the same pace as you start an eCommerce business.
2. Website content should be eCommerce plus
At the end of creating and effectively building your site, visible content mistakes may lower down the readability score for the user. Readability scores should be high for the common should have an understanding of the content. This is among the most important points to start an eCommerce business. A tool like Grammarly can brush-up your word content, product description, and a great title to ensure that there is no mistake overlooked.
3. Prepare backups for tough times
Have records of everyone involved in site launch to avoid the negative probabilities and be ready with the back-up if things go wrong while you start an eCommerce business. eCommerce launch checklist is itself a backup procedure for not missing out on important vital steps.
4. Add a custom domain for the store
When you start an eCommerce business, you must add a custom domain for your store. With the shift to a good domain name, the user experience of an eCommerce website will surely improve. You can get a low price and high-quality domains from Namecheap, Hover, or Uniregistry to provide a unique, and professional domain.
5. Website store with an accessible email address
You can create the emails with your domain in case you possess a custom domain for your e-commerce website store. If this is the case it will allow specific customers to mail directly to the store, and forwarded to your address.
The process of email hosting is a distinct part to reply to using domain-specific email – Google Apps services or Fastmail. We choose Fastmail because of its unique assistance for premium and privacy-focused options.
6. Customer support help desk
Once you start and online business and create an email, install a help desk to improve the email support system of an eCommerce website store. Again, this is a crucial point in this eCommerce launch checklist. Try to set up a public email link in [email protected] format and forward the same to your helpdesk email. It is recommended to use Help Scout's easy to use tool which is free for one email inbox.
Also Read – How Customer Feedback can boost your eCommerce business
7. Set a date for an e-commerce store launch
Once you implement all the knowledge that you gained about how to start an eCommerce business, set a website launch date in your eCommerce launch checklist. Once done, give a month break for it to rake it's shape and have enough time to to strategize marketing, targeting, and running growth-oriented campaigns.
8. Activate the sales funnel
Determining a sales funnel when you start an eCommerce business is important. With a mindset to sell the products through social media platforms or the blog, make sure to install buttons, on either of the related sales channels as per your preference.
The platforms can be the Pinterest Buyable Pins, Facebook Shop tab, or the WordPress blog buy button. Get them in working order to get ready to start an eCommerce business.
9. Staging up the site
Staging sites is a clone of your website to create content ideas with code changes before they go live. This way you can play well with identical updates to those to be live soon. This isn't the most important point when you start an eCommerce business and create an eCommerce launch checklist, but it is for the security of your site. This works best to ensure that while any change is done, you don't crash your website or get restricted for something.
10. Install business apps
Once you start an eCommerce business, you are likely to need assistance from a few good apps. Try ensuring that all the related apps are installed on your eCommerce store, for the best beginning. This step decides upon the type of service you will be handling. It can be your customer loyalty program, opt for an inventory management tool or any social sharing app.
But you should stick around only to the important ones, don't go app crazy. With new apps installed, it is possible to slow down store speed, so pick only the ready to work ones.
Also Read – Best Marketing apps for small eCommerce business
Conclusion
This eCommerce launch checklist is an important factor to consider when you start an eCommerce business. It guides you, make sure nothing is left-back and also create brand awareness among customers. You may want to bookmark this article and re-read it at the time when you start an eCommerce business. Also, drop-in your suggestions on what should we add to this checklist to help others start their eCommerce business successfully.
If you wish to learn more about eCommerce, product photography, photo editing, and how to grow online, subscribe to the PixelPhant email newsletter below.
Try PixelPhant for free
Use PixelPhant to get more conversions for your online store with better product images.

Background Removal | Clipping Path | Color Correction | Cropping & Resize | Retouching | Shadows