Best Holiday Marketing & New Year Marketing Practices To Increase Conversions
Updated on November 1, 2022 in
Ecommerce
by
Alifiya Mustafa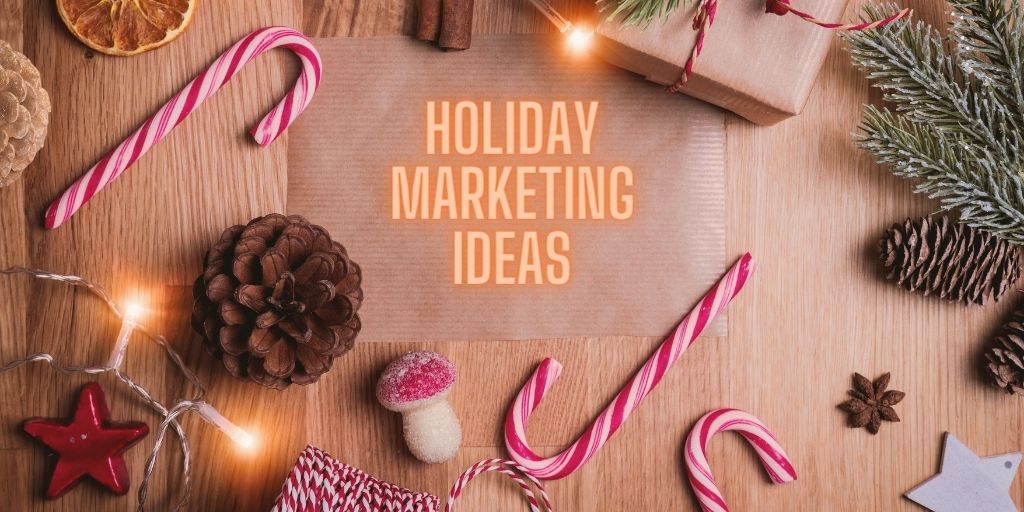 Holidays are just around the corner, waiting to spread the joy! But this year is going to be different. As per the sources, in 2019, Black Friday online sales reached a record high of $7.4 billion becoming the second-largest online shopping day ever after Cyber Monday.
According to the survey done by Google, 33% of the US buyers who usually buy from the stores for Black Friday won't be doing that this year. This means that there is going to be more online shopping in these coming years as compared to retail shopping due to the pandemic effects.
So, it won't be just the holidays that would be spreading the joy but the eCommerce too. This holiday could be the biggest opportunity for new and old eCommerce businesses to come forward and win the hearts of the customers with some great eCommerce new year marketing strategies.
You must be thinking what magic could you bring into your business during this holiday to boost the growth? Which eCommerce holiday marketing/ new year marketing tips can you adapt? Let us tell you that it won't be too hard, but you will be needing a little preparation beforehand rather than waiting for the calendar dates to arrive.
Your this year Holiday Marketing to-do list must include:
There are a few important measures that you must take to plan out a successful Holiday Marketing & New Year Marketing strategy. You may want to include these new year marketing strategy ideas to convert as many customers as possible.
1. Starting earlier than planned
Leave the 'end-moment planning' for shoppers to buy things because this strategy will not work if you own an eCommerce business. If you have thought that you will be promoting your offers, improving your website, and think about the logistics just a month before the holidays then this could work just as regular, even worse, but obviously nothing extraordinary.
How you have planned your eCommerce new year marketing will decide your customers' experience and likeliness to choose you even further.
If you have included the holidays that come before Christmas such as Thanksgiving and Hanukkah then it is better to start off with your eCommerce holiday marketing now. This would alert the buyers that you have something coming up that can bring them some fruitful deals.
The more you probe, the more you have the chance to hover inside your customers' minds and to keep them prepared for you.
2. Welcoming decoration
Retail stores start off by decorating their shops with beautiful holiday decorations. There is no harm if you could decorate your website that exudes holiday feelings to your customers to support your holiday marketing strategy.
Hang some stars at the top of your website, put a garland at the bottom, or let some ice flakes float over your website. This becomes the sign that you are preparing for holidays and will be having something to offer soon.
3. Well-optimized website
Your website is the only possible place for your customers to buy your products and increase your revenue. If your pages, content, images, and pretty much the whole website is not well-optimized then your site may not be able to handle the traffic that it might get this holiday season. You can optimize website images also improves the speed of your website
Hence, it is important that you prioritize website optimization first in your eCommerce new year marketing strategy.
★ Fast loading product pages
Your product pages are the all-time salesperson that works 24/7 for you and your customers. They do not take sick leaves, they don't take holidays but they are there giving 100% all the time.
So, it's your responsibility that you keep them well optimized. If they do not load fast then your customers may get frustrated and apparently leave.
The same applies to your images. Your customers won't add anything to their carts until they see the product images. They don't just look at what you've written about the product or how much is the cost. Product images play an important role in customers' decision-making.
Make sure that your website pages are not taking more than 5 seconds to load, your images are compressed, and are in a web-friendly file format.
You can use the website speed testing tools such as GTmetrix that allows you to check your website loading speed and suggests tips on how you can improve it.
Hostinger.com is another platform that helps you to optimize your website speed. Also, it's important to remember that this is not useful for just your holiday marketing strategy but for your daily business course as well.
★ User-friendly layout
This tip can really aid in engaging your customers for this season's holiday marketing strategy. Be sure to keep your website layout that is understandable and easy to access. See whether the filters, search bar, offer description pages, etc. are at a place where they can easily be accessed.
Check whether your internal search engine is fetching the correct results based on the keyword typed. Check if all your filters are working properly. If you have a fast-loading checkout page – check again! It is the holiday season, and sometimes it may happen that your checkout page doesn't load quickly as there are too many customers trying to check out and make payments at the same time.
Your payment gateway and checkout page speed may lose their harmony and cause disruptions. This could be a nightmare for your conversions as many people might get annoyed and leave.
Hence, optimizing your website once again before you execute your new year marketing strategy so that your website is well prepared for the traffic it might face.
4. Marketing and promotional campaigns
Marketing and promotions are going to be the backbone of your new year marketing strategy. These will work as a bridge between you and your shoppers. Some basic areas of marketing you will have to work on are:
★ Promotional banners
Use promotional banners possibly on every page of your website. Also, add a countdown timer to it that indicates when your offers or sale are going to start. (example: Sale starts in 02:24:15)
This new year marketing idea can benefit you a lot as such banners create a buzz and excitement among the customers that encourages them to come back when the waiting time is over.
You can show a glimpse of what's inside the box with phrases like "Don't forget to upgrade your wardrobe this holiday sale". This indicates that there could be a sale on clothing and fashion that the customers can look forward to.
★ Electronic gift cards
E-gift cards are very popular to boost holiday marketing. Introduce gift cards for your customers that give away an additional discount, a coupon for the next purchase, or free merchandise.
Pamper your customers who purchase items of a limited worth or who shop through a referral code. This new year marketing tip can also boost your conversion rates as adding a minimum order value for customers to get the offer influences the customers into buying more things to claim the gift.
Sell more with professionally edited product images.
★ Add weight to your email marketing with 'limited time offer'
Email marketing is the most professional and genuine approach to customers. Make sure to level up your new year marketing strategy and add urgency to your email marketing.
Share the emails with the offers that are valid for a limited period only to prompt the customers into clicking it as soon as they see them.
You can take the help of some email marketing tools like MailChimp that allows you to automate your email marketing, create listings of the customers and schedule the days and time on which you would like to start your marketing campaign.
★ Take over every social media platform
Social media is the best way to reach the maximum number of customers without even having their information. There are currently more than 3.6 billion social media users across the world. This makes social media a wonderful place to initiate your new year marketing.
Platforms like Facebook, Instagram, and Pinterest bring the most filtered traffic as Google displays the ads to the people who have already been looking for the product of the same category that you deal in on a priority basis.
According to research, over 50% of millennials buy through social media and more than 40% of the online business owners sell through Facebook.
It would be even better if you could run a giveaway on social media to make your holiday marketing strategy more powerful. You can try including some online competition over social media that the customers can win with little effort. It could be a selfie with your products or purchasing your product at a particular time.
During the holidays, customers expect eCommerce businesses to come up with such new year marketing ideas and there could be no chance of making them frustrated.
Even if some customers do not participate, you'd have still managed to spread the word about your business. This means that you stay in a 'win-win' situation with this new year marketing strategy.
5. Inventory, shipping, and fulfillment planning
It is obvious that eCommerce is going to get loads of orders this year, hence it is important to plan your inventory accordingly. Determine how long you will be running your eCommerce holiday marketing offers, how much inventory do you usually need during the usual days, and figure out how many more orders you are likely to expect.
Many eCommerce business owners underestimate the importance of inventory management and end up bearing the losses that remain hidden throughout the year.
As per Stories, $50 billion are lost by businesses every year due to the lack of inventory management.
Once you have your inventory planned out for your eCommerce holiday marketing, the next important thing that requires to be taken care of is timely shipping and fulfillment.
We recommend that you remain transparent with your last order dates and the time of delivery. It is better to inform the customers upfront about how much longer it might take for their products to deliver as compared to the normal days.
Businesses commit the mistake of not revealing the delivery date as they think that the customers may drop the idea of buying. But the truth is that your customers understand your situation during the holidays. This also helps them to plan when to place the order to receive it at the correct time.
Make this a priority in your new year marketing strategy.
You can outsource your logistics during the holidays to cope up with the high volume. Third-party logistics can help you save the cost and time that you might spend in leasing more delivery trucks or hiring more people to fulfill the orders.
The outsourced professionals are experts. They and hired for the very exclusive task of handling logistics. This helps you to deliver your promise on time and stay ahead of the eCommerce competition.
6. Improve overall customer experience
Treat your customers in a way that they feel valued, heard, and pampered. This is applicable not only for the time you run your eCommerce holiday marketing campaign but throughout the year.
★ Online customer service
When you consider customer experience in your eCommerce holiday marketing strategy, the first step would be to avoid committing mistakes altogether. Most people contact a business only when they have complaints.
There should be no delay that persists for more than 48 hours when customers contact you over mail, no more than 5 minutes over the calls, and no more than 2 minutes if you are using the live chat support system.
Online chat support could be a better option over email or call because a single agent can handle multiple customers in real-time.
No one has time to spend on long calls and queues. People get frustrated easily when they have to wait for hours just to get a piece of information. Make sure that your customer service is fast and solution-oriented, especially under your holiday marketing strategy.
★ Take feedbacks
If you haven't thought of taking customers' feedback then it's time that you start now. At least to help your new year marketing strategy. Taking customer feedback can help you grow your business in a way that you would've never imagined.
Taking feedbacks displays that you care about what your customers' opinions are, they feel that they are valued, and they are heard.
Feedback also reveals the areas of improvement that the customers let you know about. It could be the things that your competitors are already doing or something that your customers would prefer so that to choose you over your competitors.
Considering feedback can be a big step in changing the way you work. Customer feedback can help you grow your business in the right direction and also help your holiday marketing strategy become successful.
★ Easy access to offer details
Make sure that your details related to the offers and deals introduced within your eCommerce holiday marketing strategy is spottable. Many times the customers give up on looking for the information if it's too hard to find.
That's where your live chat comes into play to provide the information quickly. But again, if we look at vice-versa, the flow of unnecessary queries will be reduced if the customers can easily spot the information without any help.
★ Fast loading of the product pages
As explained above, your loading speed affects your conversion rate a lot and affects your customer experience at the same time.
Make sure that your product pages, images, as well as descriptions are loading at an optimum speed for a smooth and easy customer experience.
★ Exclusive and beautiful packaging
Holidays are all about fun, and your little changes can aid a lot in spreading joy and love. We recommend that you coke up with a special packaging idea that is designed exclusively for your eCommerce holiday marketing campaign.
This unreasonably excites the customers and gets you some amazing reviews and feedbacks that consequently improves your goodwill and credibility.
As the holidays this year are also experiencing the air of pandemics, you can send out safety goodies like a mask or a small bottle of sanitizer with your brand's logo on it.
It improves your customer satisfaction, displays how responsible you are towards COVID, and gives a boost to your eCommerce holiday marketing campaign as the goodies with your own logos indirectly speak for your brand.
7. Self-analyzation planning
Once you have your eCommerce holiday marketing strategy planned, you are required to determine how well you are going to perform and match your final results after the holidays. You can break your self-analyzation into small steps for ease.
★ Set your goals
Prior to a month or two you execute your eCommerce holiday marketing, be sure to set your goals in terms of revenue, expenses, customer feedback, and the overall impact of the strategy on your eCommerce business growth.
★ Determine the revenue throughout
It doesn't matter what number of figure you see at the end of the day, what matter is the difference between what you spent and what you earned. This includes your daily expenses and new investments that you did to fulfill your holiday demands.
Keep regular track of your finances so that you do not end up with something so little that defies your eCommerce holiday marketing efforts.
★ Compare the planning with actual results
If you succeed to keep the complete data of what profits you earned or losses incurred, then you will be able to differentiate your results from what you estimated before.
This data does not only helps you to compare what you decided but you can also compare the figures you earned last year during the same holiday seasons. Also, you can keep that data as a reference for next year's new year marketing planning.
8. Focus more on the eCommerce product image editing
This tip isn't exclusive to only eCommerce holiday marketing. it should be part of your daily marketing activities. Attractive and alluring product images play an important role in engaging and converting more customers.
Make them stop scrolling further and click on your product images. Techniques like color correction, Photo Retouching, de-wrinkling of clothes, model photo editing are some of the few things that help your product images look more polished and ca[ptivating.
If you aren't ready to take any professional image editing services then you may just get the Clipping Path Service for your product images and edit details, remove background, and save the path for future changes to your images.
Ending the holiday article!
This holiday season is going to be the most important one for most of the consumers as well as the sellers. Therefore, it is essential to form your eCommerce holiday marketing strategy very carefully.
People are looking ward to shower their loved ones with gifts and greetings and businessmen are looking towards the holiday as an opportunity to recover what they lost during the COVID.
Experts predict that even after this year is over, the trends adopted in 2022 are going to hang around for many upcoming years. However, be it this year or any other year, the shopping experience of the consumers needs to be smooth and easy from the beginning until the end to leave your business's impression.
With some planning and proper implementation of the new year marketing/ holiday marketing strategy, your eCommerce business can perform well this holiday season.
We advise that you follow the methods that do not harm the environment and spread as much goodness as possible.
If you wish to learn more about eCommerce, marketing, Product photo editing, Model photo editing, and how to grow online, subscribe to the PixelPhant email newsletter below.
Beautiful product images across your website.
Background Removal, Clipping Path, Color Correction, Cropping & Resize, Retouching, adding Shadows, and more.

Try PixelPhant for free
No Card Details Required