How eCommerce Gift Cards Can Help Your Online Business to Boost Sales
Updated on December 1, 2022 in
Ecommerce
by
Alifiya Mustafa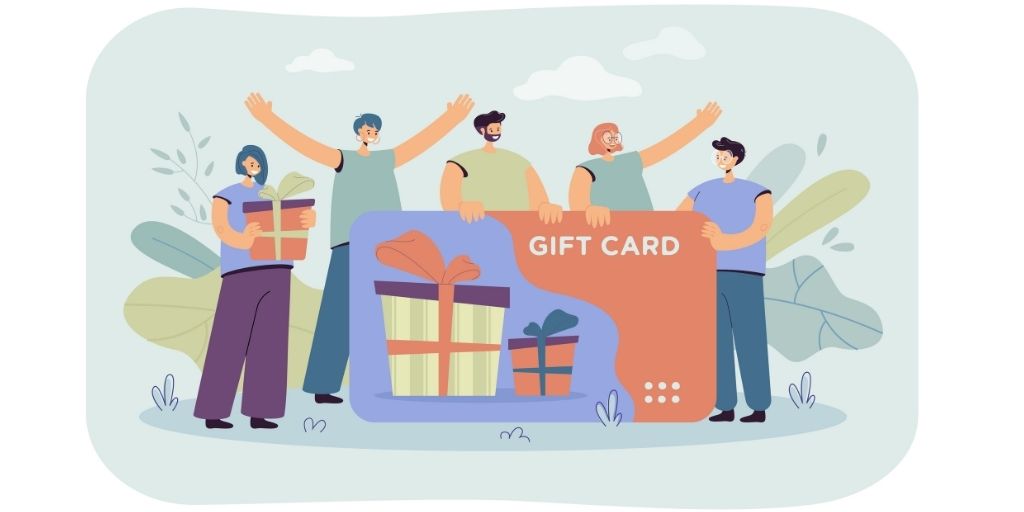 A gift is something that has always been cherished by the receiver. Whether it is at birthday parties, weddings, or even shopping. Sellers have used this strategic technique of giving gifts to attract customers has brought a lot of change in the retail as well as in the online marketplaces.
If you are a vigilant eCommerce business owner or a keen shopper, then you must've seen many websites offering eCommerce gift cards on a certain worth of products or on a certain number of purchases. Gift cards are almost getting used as an effective marketing tool for eCommerce stores that hold a massive potential to generate traffic. Not just the traffic that acts as a pile of numbers, but the traffic that actually converts.
The use of gift cards is rising enormously. Look at what the data collected by Givex shows:
Source: Givex
Significance of The Gift Cards and Why You Should Use It For Your eCommerce Business?
There are two primary needs for your online store:
1. Brand visibility
2. Customer loyalty
Do you know that it takes 4 to 5 times more effort to sustain a loyal customer as compared to attract a new one? Well, gift cards can help you achieve both, customer loyalty as well as brand visibility.
You may succeed in alluring customers to your website, but, it's a lot harder to gain Customer trust and convert your buyers into loyal customers. The customer who receives a gift card is almost 100% likely to visit your online store. Now, this is a golden opportunity for you to create an impression and gain loyalty.
Till your customer has claimed all the benefits of the gift card offered, he/she would be returning to your website to look for your products. This means, you don't just have one, but multiple chances to keep creating a powerful impression that lasts long.
You can enable your customers to avail of extra benefits over the gift cards to win their loyalty. Many people also like sharing their gift card benefits with their loved ones and gifting the gift cards to them. This means that the customers who never had any intention of visiting your website are now there to explore your products.
Hence, you've ultimately gained better brand visibility along with customer loyalty.
What are the benefits of gift cards in the eCommerce business?
1. Makes your business unique
Providing special offers and extra benefits in the form of gift cards makes you stand out from the rest of the sea of online marketplaces. You can create your own offer packages all fitted in your digital gift cards for eCommerce.
It is better to keep a track of what your customers are most interested in to understand which offers would be the most attractive ones. You may find answers to the questions like:
Which tabs of your websites are most explored?
Which pages of your website get the most engagement?
What are your best-selling products?
This way, you'll be able to provide offers that are relevant to your customers' preferences.
2. Customer loyalty
The need that the eCommerce gift cards are fulfilling is primarily gaining customer loyalty. When you first manage to get customers to your website by offering them gift cards, you can later win their trust by providing useful and genuine offers.
Till the time they avail the benefits of the available offers, you can use your other growth strategies for eCommerce to create your impact. These eCommerce gift cards can also be useful for suggesting your shoppers give them to their loved ones to claim the referral bonus, etc. This highly helps in retaining your customers.
3. Generates more Traffic
When you hover the word 'gift' all over your website, social media, and other marketing platforms, it pulls the traffic like a magnet to you. When eCommerce gift cards are marketed well to your customers, it initiates the improvement in the revisit rates, referral visits, repeat sales, and hiked traffic.
4. Improves Conversion Rate
The recipients of the eCommerce gift cards are bound to visit your website – with or without any intention of buying. However, there is a high chance that these visitors will end up buying one thing or the other. In fact, a study shows that 65% of the gift card recipients spend an extra 38% more than the value of the card.
Source: Givex
Hence, the people who never knew that they'd buy from you are now making purchases just to claim their gift! Now that these shoppers are aware of your existence, you've automatically gained a wider base audience.
5. Exudes Customers Belongingness
The sense of winning a gift card exudes the feeling of connection. Here, contacting your customer through email or social media to let your customer know about their gift allows you to make your customers realize how much you value and care for them.
6. Better Goodwill
All the efforts that you put in marketing your eCommerce gift cards improve your brand's credibility and goodwill. This helps your brand appear as someone professional, potential, and worth dealing with.
How to Market Your eCommerce Gift Cards?
Deciding to make use of eCommerce gift cards is a wise decision. But, letting the world know about your campaign isn't as easy as creating it. Hence, various marketing approaches should be taken to promote your eCommerce gift cards. Let's take a look at what can be done:
1. Social Media will bring you great success
In today's world, most people, especially the millennials, get the news from social media platforms rather than from television or newspapers.
Social media is not just used as an entertaining place anymore. It is used for exchanging opinions, triggering debates, gaining information, knowing about the news, and even shopping.
As per Oberlo, more than 50% of shoppers use social media to look for products.
All the big brands take the help of social media platforms to engage their customers. Facebook and Instagram are the most common and popular platforms to promote and sell your products. If you wish your customers to know about your eCommerce gift cards, then there could be nothing better than posting it over social media in an enticing way.
GlobalWebIndex shows that 52% of eCommerce brand discoveries are done in public feeds.
You can either simply use the FB and Instagram ads to pop in front of your shoppers' screens or create small videos and digital flyers and post them across the channels. Such kind of marketing ads mostly gets engagement from social media platforms.
2. Email Marketing is traditional and the best
Email is one of the oldest and most trusted forms of communication between businesses and consumers. People who share their email addresses with you, expect you to send them updates and offers whenever available.
Email marketing is one of the best ways to acknowledge your customers about your brand activities. I would suggest that you make your email marketing enticing and personalized rather than a robot-generated script of information.
Here's how you can make your email marketing campaign more interesting:
Address each of your customers with their name
Talk about their last purchase (start with 'it's been too long, 'we can see that you purchased XYZ on your last visit or 'why not go back to your last purchase and find something that compliments it', etc.)
Add the link of their account that'll take them to your eCommerce gift cards page
Add slogans, facts, and purpose relevant to your brand
This shows how much you care about your customers and how well you know them.
3. Dedicate More Pages of your Website to your gift cards promotion
You would definitely create a dedicated page where you're giving away or selling your gift cards. Now that's what everyone else is doing too! You need to take a step further from your competitors.
I recommend that you create a separate tab and involve your home page, product pages, and your checkout page to promote your eCommerce gift cards. You can create banners on each page or show pop-ups to your visitors that tell them about the eCommerce gift cards that you have to offer.
4. Don't forget your Abandoned Cart Customers
Your abandoned cart customers are your most potential customers. Why? Because they are already familiar with your brand and have added the products only because they liked them. These folks may not be closing the deal, but offering gift cards can easily prompt them to visit back and complete the previous purchase with the pints or offer given along with the eCommerce gift cards.
Even if you are selling your gift cards, you may include the offer where they can avail of discounts on their purchases. This can encourage them to make more purchases too.
5. Provide the Redirect links
Source: SearchSpring
Rather than just showing 'Out of Stock' or 'No results found' phrases, try providing a direct link to your eCommerce gift cards page/tab. Here, you can motivate your customers to turn on the Back in Stock Alert and use their gift cards for their purchase once that product is back in stock.
Conclusion
eCommerce gift cards strategy is one of the most effective and captivating strategies to attract both, old and new customers. There are several ways in which you can design your gift cards such as the ones that offer loyalty points, heavy discounts on bulk purchases, Buy 1 Get 1, etc.
These eCommerce gift cards are very popular among online business owners as well as shoppers. People love acquiring and gifting gift cards as they are useful and fun to use. This article gives you the knowledge about why to use eCommerce gift cards and in what ways you can encourage your customers to claim/buy them.
I hope that this would help you in strategizing your eCommerce gift cards campaign in the best way possible.
If you wish to learn more about eCommerce, product photography, Product photo editing, and how to grow online, subscribe to the PixelPhant email newsletter below.
Try PixelPhant for free
Use PixelPhant to get more conversions for your online store with better product images.

Background Removal | Clipping Path | Color Correction | Cropping & Resize | Retouching | Shadows