Running an eCommerce email marketing campaign means understanding the mind of your customer. From the point they sign up or buy a product from your eCommerce to the point you make them buy again, email marketing plays a huge role.
In this guide, we are starting from scratch and making sure that everything that must know about eCommerce email marketing is right here.
As you might have guessed, this is going to be an in-depth guide. So without taking any more time, let us get started.
What Is Email Marketing?
Email marketing is a type of push marketing where we use emails to aware people of our products, discounts, sales, orders, other products to buy, and more. It is a medium of advertising used to reach your eCommerce email subscribers and share information to persuade them to make a buying decision.
Email marketing is still considered one of the most valuable marketing assets. Around 61% of the Small businesses use email marketing in order to reach out to their customers.
In other marketing channels where you will have to wait for customers to come to you, email marketing is a cost-effective method for you to reach your highest potential customers.
Importance & Benefits Of Email Marketing For Ecommerce
Today every customer is bombarded with generalized ads everywhere. Email marketing is a medium through which your eCommerce can create a personalized experience for them.
But the main question is, does email marketing work effectively?
According to SaleCycle, marketing emails influence about 50.7% of customers' buying decisions. At the same time, Econsultancy shares that companies are getting 23% of their sales through emails.
In short – yes, email marketing is still one of the most effective marketing channels that an eCommerce can use. Here's everything that you must know about eCommerce email marketing in 2022.
People want to hear from you
Almost 61% of people are looking forward receive promotional emails. This could be the offers you send them, coupon codes, or even the new fashion collection your eCommerce just launched.
When you share such exciting offers with your email subscribers, they are more than happy to stay in touch with your brands through your emails.
It reaches your customers
Unlike other marketing channels like social media and search engine optimization, your email reaches almost 90% of the people you sent it to.
Not just that. Where social media and search traffic are giving a conversion of around 2.49% and 0.59% respectively, email marketing is delivering a 4.29% of conversion rate.
It is cost-effective
The cost of entry is low, the cost of creation is low, the cost of tracking is low and the cost of managing your email marketing for eCommerce is low.
The only high here is your return on investment (ROI).
According to Litmus & DMA's 2019 report, for each dollar spent on email marketing, the ROI is $42. That's a whopping 4200% return on investment. To put things in perspective, for paid campaigns, the return on every dollar spent is around $1.5.
But even if you are just starting out and don't want to invest in email marketing tools, getting started with email marketing for eCommerce is essentially free. One can even get started with the help of Gmail and a basic email template.
You can easily measure it
Compared to other marketing channels, email marketing for eCommerce is highly measurable. Among the best practices can test out your emails at multiple stages.
Lower open rate? Change your subject line. Lower CTR? Improve your email copy and call-to-action. Less conversion? Update your landing page.
Simply by running small A/B tests for every stage, you can see what works for your eCommerce.
Stephanie, the CEO and Co-founder of Fatty15 shared with PixelPhant that once they A/B tested adding emoji in the subject line. Now from a business point of view, emojis are not always seen as "professional".
But when the result came, it completely changed how her brand practices email marketing today.
Emails with emojis had a 25% more open rate than plain subject lines. Now the brand uses them liberally as they even saw a direct impact of open rate on their conversion.
It is easy to target customers
Along with being high measurable, eCommerce email marketing is highly customer-centric. I mean you can use your insight to create extremely targeted email marketing campaigns for everyone.
And when I say "targeted" I mean you can create an email targeted to a group of maybe more than 1000 customers and an email just for one particular customer.
With so much flexibility, you can reach out to each of your customers at various stages of the customer journey and build connections with them.
Types Of Ecommerce Email Marketing Campaigns
Excited to get started with eCommerce email marketing campaigns?
Here are a few types of eCommerce email marketing campaigns that are very popular and effective for an eCommerce brand. Have a look:
Welcome email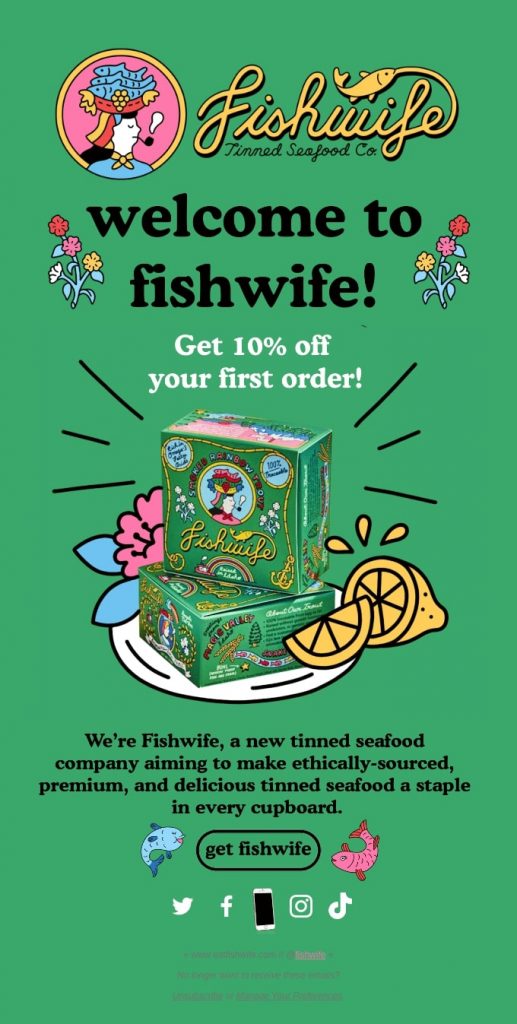 A welcome email is the first email that your customers receive when they subscribe to your email list or create an account on your store. It is an introductory email that you can use to build friendly relationships with customers.
Here are a few key components of a good Welcome Email for an eCommerce email marketing campaign:
Use a short, simple, and to-the-point subject line.
Use familiar words and slang that you are sure your customer will understand.
Tell them what to do next. You can direct them to your store, give them a custom offer, or recommend your top-selling products.
Last but not the least, give them an opt-out option. You have to make sure that your list is created with the people who are willing to hear from you. This ensures a higher open rate and ROIs.
Curation Email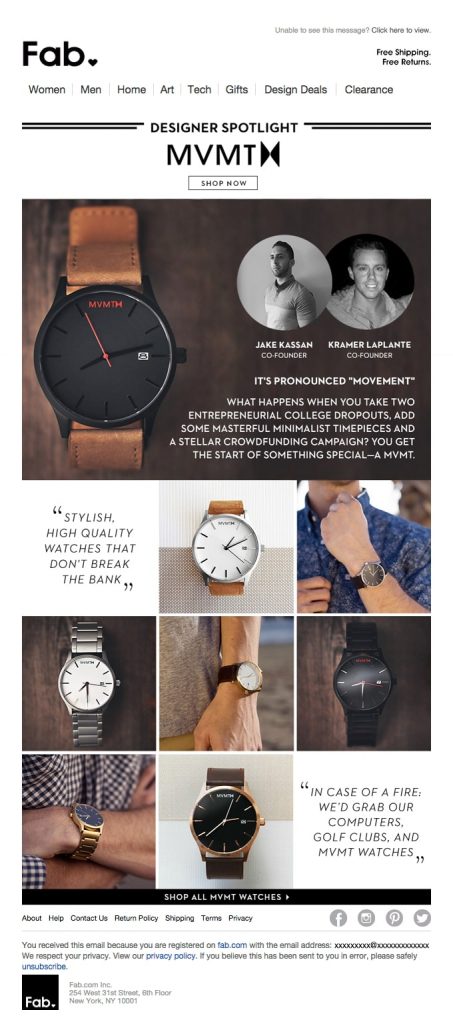 Curation emails are the types of eCommerce email marketing campaigns where multiple products from your store are collected together and recommended to the customers. The theme of the collection is usually around the time when the email is sent (like around Christmas), the type of products (like watched), or both.
Here are a few key components of an effective eCommerce email marketing campaign:
Create a theme and curate the products around it. For example, the theme could be Cyber Monday and you can include a T-shirt that says "I love Technology" if you are an eCommerce selling T-shirts.
Personalize your email if possible. This could be a group of customers who bought a product and now you can sell similar products to them.
Number your curated emails. If you start sending curated emails regularly, you may lose the personalization and start looking spammy.
Engagement Email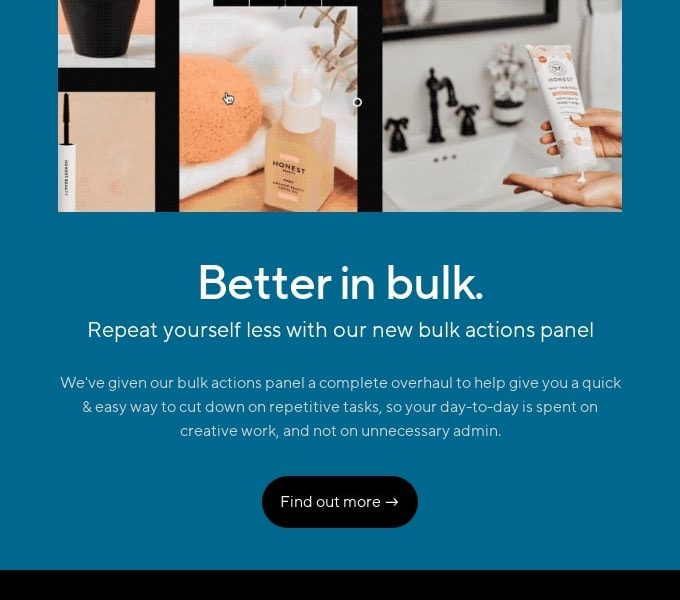 Engagement emails are the types of eCommerce email marketing campaigns that are sent in order to keep our customers engaged with the brand. This is usually done in order to make sure that the customer stays in touch with the brand, and takes some action.
An action here could be claiming a reward, looking at the new collection, reviewing the new look, reading a new blog post, or anything that your customer would be interested in about your brand/product.
Here are a few key elements of a good engagement email for your eCommerce email marketing campaigns:
Focus on one single action rather than giving multiple options to your customer.
Highlight your CTR to make sure your customer knows what they are doing.
Keep the length of your emails short, so people can go through them quickly and take the next step.
Keep the email consistent with the tone and visuals of your brand.
Referral Email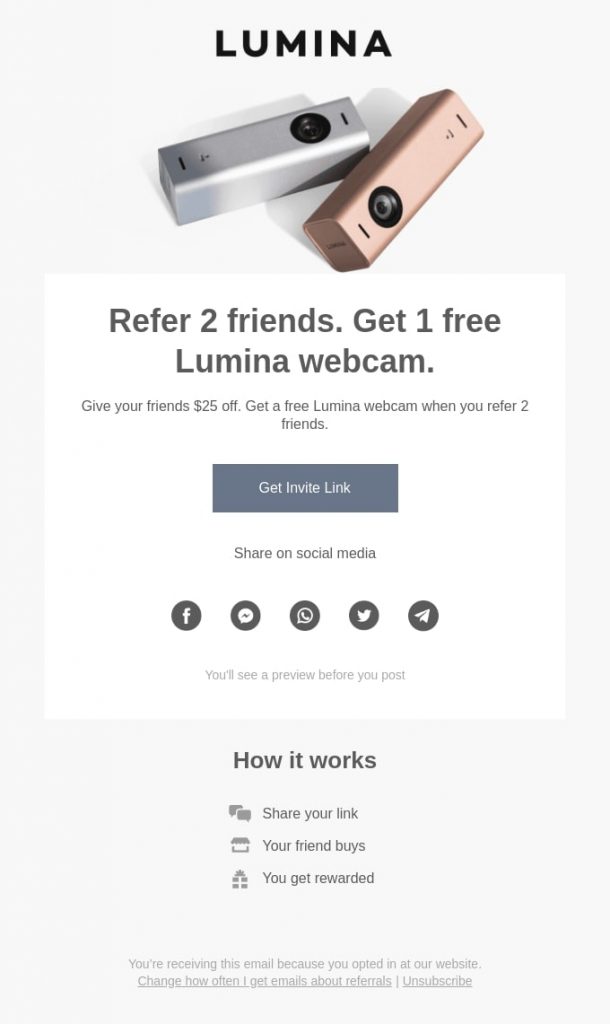 Referral emails are the types of eCommerce email marketing campaigns where we motivate our current customers to refer our products to a friend. In return, they both get an offer that they can use on your eCommerce store.
A referral is among the most trustworthy sources when making a buying decision. 92% of consumers trust referrals from their friends and family.
In simpler words, a referral can essentially be an effective way to increase your brand awareness, grow your sales, and also motivate your current customers to make another purchase from you at the same time.
Here are a few important things that you must remember to make a referral eCommerce email marketing campaign successful:
Keep the offer simple and of minimum steps.
Be clear about what your customer and their friends will be getting.
Share the steps they need to follow and try keeping them low in the count.
Cart Abandonment Email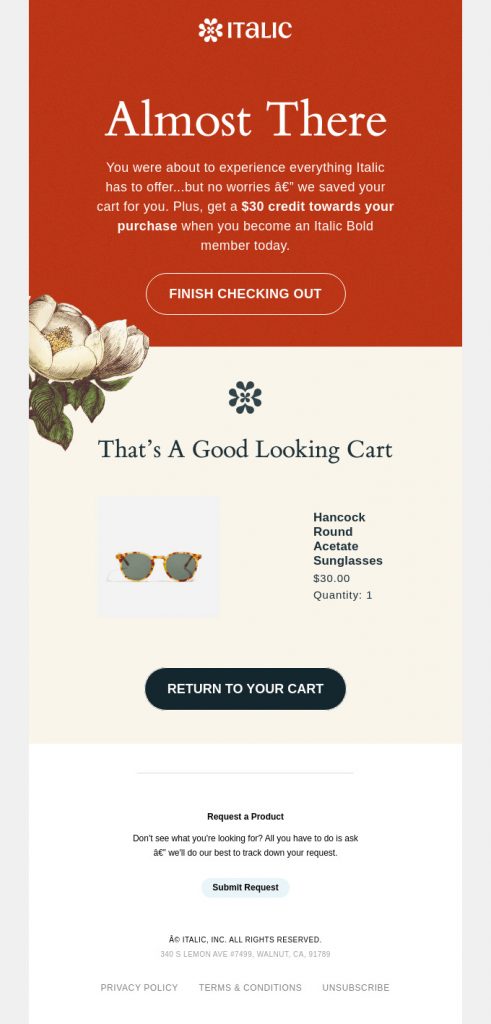 Cart Abandonment emails are the types of emails that are used to recall the customer and remind them of the product that they added to the cart but didn't make a purchase. These are some of the most effective kinds of eCommerce email marketing campaigns as a lot of speculation and eliminated.
Here we know that the customer is interested in the product (because they added it to the cart). So when we remind them about it after a while, they are likely to buy it.
About 69.57% of online carts are abandoned by users. But when we use Cart Abandonment emails, 45% of them get opened, 21% of the emails are clicked on and 50% of those users make a purchase
Luke is the CEO and founder of Pala Lether and he shared with PixelPhant some key elements that they follow for their cart abandonment emails:
Send a couple of cart abandoned emails to re-engage your customers.
Make it easy for your customers to reach the cart with one click.
Try to make it easy for your customers to connect with your team in case they have any questions.
Share other options that they can have a look at and engage the customers.
Order Confirmation Email

Order confirmation emails are the emails that you send to your customers when they place an order. These are the reassuring emails that customers want to get so they can be assured that you have received the order.
Also, if the payment is already made, order confirmation emails ensure your customer that there is payment is sent to the right account and their order has been placed.
Further, you can continue the trail of assurance by sending order tracking emails at various stanges of shipment. That when the product is shipped, the shipping partner, expected date of delivery, and the delivery confirmation email that the order is delivered.
Here are a few things to keep in mind creating an automated Order Confirmation eCommerce email marketing campaign.
Share an Order confirmation and thank you message with your customer.
Mention the date and the value of the order placed.
Mention all the available details regarding shipping and the shipping address.
Send the mail as soon as possible once the order is placed and received by the eCommerce.
Upsell Email

Upsell Emails are the types of eCommerce email marketing campaigns that are used to suggest more products for customers to buy, based on their previous or recent purchases.
These particular types of emails are highly effective with an average conversion rate of 9.16% of the click-through email.
As an eCommerce, you have to make sure that the product that you are suggesting are complementing each other and fits the buyer's persona. The best to ensure success here is to have a look at the products that are initially bought together by other customers.
This will eliminate the guesswork of which products to recommend and shall result in a higher conversion rate. Here are a few elements of Upsell emails that you can use:
Share the product ratings and what other customers have to say about the product you refer to.
Remind your customer of their previous purchase and that is why you are recommending these products.
Motivate them to buy early to avail of some offers that your eCommerce can give.
Special Day Email

Special day emails are the kind of eCommerce email marketing campaigns that are focused on some event. The events can be global, regional, or personal. Some of the most common events for an eCommerce customer could be Christmas, Independence day, or their birthday.
These are the emails that are heavily marketed around the hype of the event. And the more personal you can make the event for your customer the better it is.
Even if we talk about just birthday emails, according to Omnisend eCommerce has seen a 3% conversion rate from the mail. Considering most of that is done through email automation, the conversion rate is pretty high.
Following are some tips that you can use to create effective eCommerce email marketing campaigns.
Create emails that celebrate the theme of the event and also match your brand persona.
Aware them of what the mail is about and how can they celebrate it with your brand.
Highlight your offer and give a clear CTA.
Add some buffer time for the customer to redeem the offer.
Win-back email

Subject – We've missed you.
Win-back emails are the type of eCommerce email marketing campaigns that are used to reach out the customers who have not made any purchase for a long time. These are the customers that may behave lost trust in your store or have found a better alternative.
Both the cases are not good for your eCommerce. Hence, we try to rebuild trust with the email subscription and motivate them to try out new products or new offers on your store.
As per Klaviyo data, 45% of the customers who receive win-back emails are open to future engagement emails from eCommerce.
Here are a few elements that you can add to your email to build trust:
Remind them that it's been a while since they had a look at your products.
Share an exclusive offer to try out new products that they'd like to purchase.
Try sending multiple emails in the following campaign to stand out but don't be spammy.
Feedback Email

Feedback emails are the ones you send after your customers have received their orders. This is done in order to get reviews of the product and the whole experience.
These are emails that are used to figure out how was the customer experience and the areas where your eCommerce can work on.
Here are a few tips that you can follow in your feedback email:
Make it easy for your customers to review.
Keep the emails short and tell them this will help you improve your services.
Give customers an incentive to feedback with an offer they can use on their next purchase.
Thank you email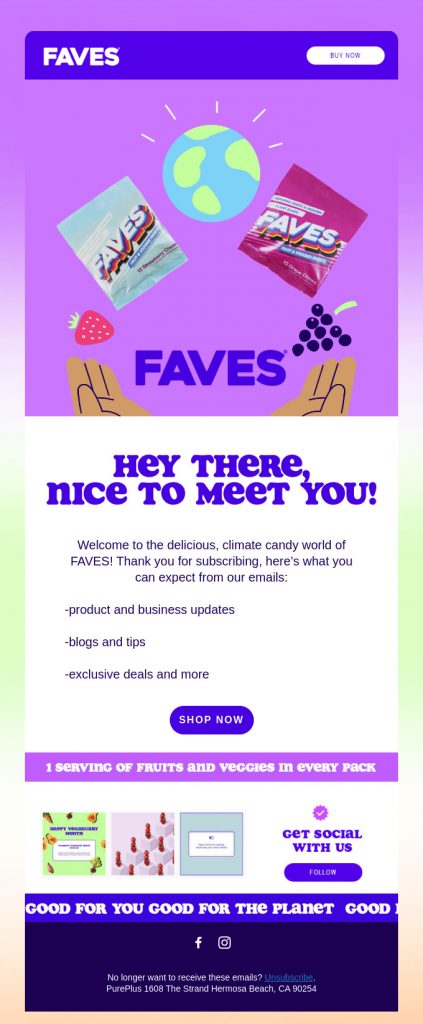 Thank you emails are the emails that your customer receive when they trigger an event. The event is mainly a new order, signup on your store, or maybe even giving you feedback.
These are the emails that start a two-way conversation and make it easy for your customers to reach out to you. This also builds trust and personalization to the whole customer experience.
Lastly, here are a few tips that you can follow to create an impactful eCommerce thank you an email.
Be clear about what the thank you message is for.
Share what they can do next.
Direct them with a clear CTA and options that they can choose from.
Ecommerce Email Marketing Best Practices
Looking at the types of eCommerce email marketing might have already prepared you to create successful marketing campaigns. But before you dive right into the process, here are a few eCommerce email marketing best practices that you shall go through.
Set your goals
Any marketing effort without a goal adversely affects marketing efforts. So, before you get started with the email marketing for eCommerce, you must set goals for your campaigns.
Yes, campaigns. Each type of eCommerce email marketing should have its own goal. For example, the goal of the welcome email should be to motivate customers to buy new products.
The goal of referral emails should be to acquire new customers. And finally, the goal of Win-back customers should be to win back the old customers.
Setting up a clear and trackable goal should be the first step in creating successful eCommerce email marketing.
Test your emails
If you have managed to create a good email list (Congrats!), rather than sending out emails as you create, the best thing would be to test your emails on a small group before sending them to everyone on the list.
Like if you have an email list of about a thousand customers, you can test your email by sending maybe 50 of your customers. Now track the open rate, CTR, and conversion of these 50 emails.
In case you don't see the desired result for the small group update the email (depending on the metrics like open rate, ctr, or conversion) and sent it back to the next 50 users.
You can run A/B testing to track which email is performing better and then forward it to all your email lists.
Segment your email list
Marketers who segment their email list and use it accordingly have seen an increase in revenue by 760%. Why? Because segmenting your email list enhances the personalization for the customer.
Rather than send a generic email to every single member on the list, segmenting allows you to create a group of audiences based on their demographics, buying history, frequency of purchase, average cart value, and more.
This way, you are able to recommend the right products to the right group of customers, hence resulting in better email marketing conversions.
Filter your email list
The goal of eCommerce email marketing campaigns and examples is to stay connected with a loyal group of customers who are interested in your product. That means along with adding new members, you'll also have to remove inactive email ids from your list.
This is to keep your email list healthy and promising.
Also, if you continue sending emails to accounts that are not interacting your emails will start going to spam, or worst, your email IP can be blacklisted.
Be Mobile Friendly
Today about 55% of the website traffic is generated through mobile. The majority of the customers are using their mobiles to interact with the world. And that means you'll have to optimize your eCommerce email marketing campaigns for mobile devices as well.
Note that this doesn't mean mobile-only. Your email should look clean, attractive, and engaging on each device.
Because we are surrounded by the eco-system of Google or iOS, it is highly recommended to preview your emails for devices of each type and optimize them accordingly.
Ecommerce Email Marketing Examples
Now that we have almost gone through this complete eCommerce email marketing guide, it wouldn't be fair if we don't look at some of my favorite eCommerce email marketing examples.
1. Bonobos Cart Abandonment Email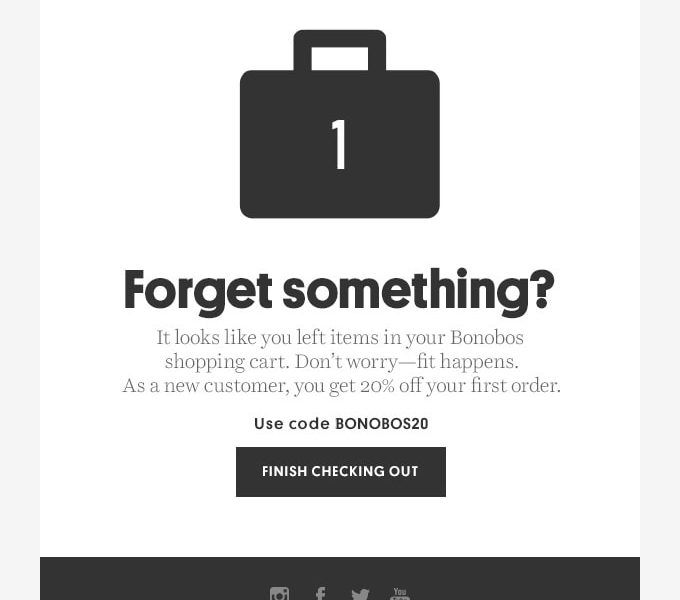 Subject Line: Hey, forget something? Here's 20% off.
Bonobos are men's clothing eCommerce that used the following cart abandonment email. As you can see, email instantly engages the customer with big visuals and questions "Forget Something?"
They use one informative CTA "Finish Checking Out" along with a coupon code for 20% off.
Customers are not overwhelmed with many options but they can easily get hooked to email copy and persuaded to take the next step.
2. Warby Parker Welcome Email

Subject: Welcome!
Warby Parker is an eyewear eCommerce that lets you try your glasses and sunglasses at home for free. And above is their first email, Welcome email.
As you can see the email starts with a clear Call-To-Action to "Find Your Frames". But since this is the first mail, and customers might want to know more, below are links to informative guides and apps that a first-time user will be interested in.
Lastly, they have kept the subject line as simple as possible -" Welcome!". Sweet, simple, and does the work very well.
3. Everlance Curation Email

Subject: What We're Wearing Now
Everlane, as you might know, is a fashion eCommerce that is known for its minimalism and comfortable designs. This curation email is created for recommending products for summers.
They have followed their popular clean and aesthetic product presentation and large images. The email is sharing the product information with CTA's to buy the look. Even the pricing is mentioned but it is intentionally kept subtle to avoid distractions from the CTA's in the mail.
4. MeUndies Referral Email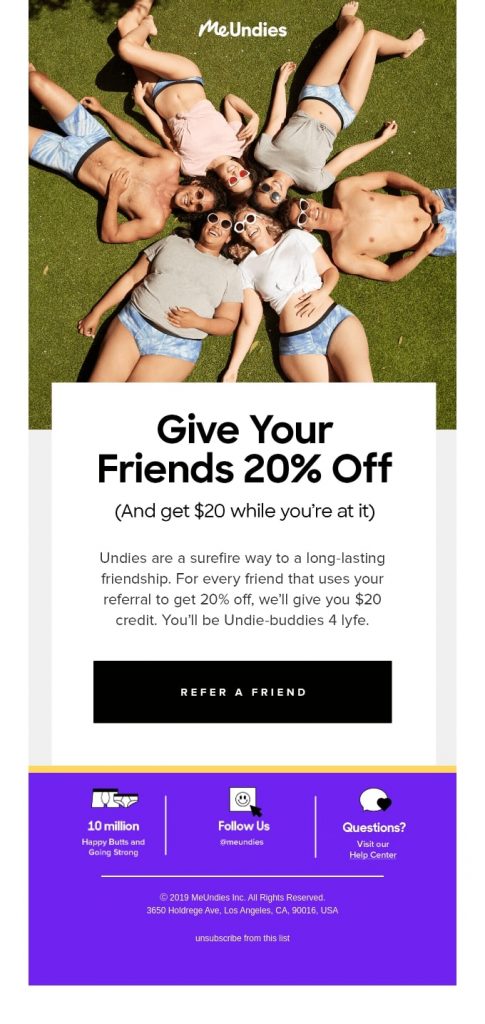 Subject: Spread the Love (And Get PAID💰)
MeUndies is an underwear and loungewear eCommerce and with their following eCommerce email marketing campaign they just caught everyone's attention. Unlike most brands that allow you to refer to just limited friends, they made you an influencer.
You can refer as many friends as you want and "For every friend that uses your referral" get 20% off. And for that, you get $20 credits. They removed the limit of the number of friends and just increased their reach.
Email USP – Simple offer, clean CTA, catchy subject line.
5. FRYE Feedback Email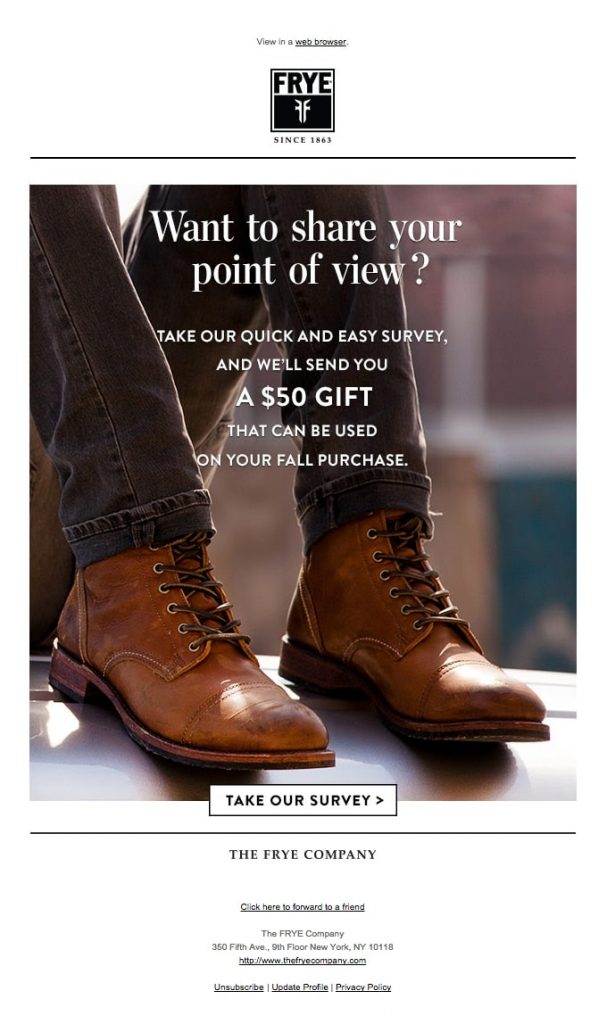 Subject: $50 For Your Thoughts
FRYE is a boot manufacturing company and the following is their feedback request email. But let's be honest, how many of us have ever given feedback when a product is great?
FRYE knows that and they have incentivized the survey with $50. With the subject line, they attract the customers well. Now when we open the email, one CTA and information. Done.
Conclusion
Ecommerce email marketing is fun, to say the least. As a marketer, you have to think about every single situation and create an email according to that. While creating this in-depth eCommerce email marketing guide, I came across some amazing brands.
Brands that have cracked the code to run a successful eCommerce email marketing campaign. But that being said, the same code might not apply to you as well. That is why you must learn about the strengths and create your very own eCommerce email marketing strategy.
Something specific for your customers.
Beautiful product images across your website.
Background Removal, Clipping Path, Color Correction, Cropping & Resize, Retouching, adding Shadows, and more.

Try PixelPhant for free
No Card Details Required