The air of pandemic during 2020 has hit a lot of big eCommerce businesses. With people getting more concerned for their health, social distancing and avoiding any means of contact from outside has made companies offer not just the best but safest services. This has given rise to many new ideas to help you grow your business in Covid.
How the USA and Asian countries are growing their eCommerce in Covid?
The definition of 'Normal' is uncertain and will differ for each country and sector.
Like many countries, the European eCommerce has also taken a downshift due to the growing concern of social distancing, import, and delivery restrictions as well as operational issues.
It is observed that every 4 in 10 consumers in the USA have shopped with Ecommerce websites they haven't used before, scaling up to 58% of jewelry buyers during the coronavirus.
The ASIAN MARKET now has only been fueled during the pandemic. Especially, if we look at the sales of Singapore's eCommerce platforms, its eCommerce business in covid has experienced massive sales growth.
Criterio said that its research shows that more than 50% will opt for online shopping, eliminating offline contact.
Shopee, one of the Singaporean eCommerce platforms has realized the merits of the coronavirus with its gross commodity value spiking 74.3% to reach $6.2 billion for the first 3 months.
The accumulated orders on Shopee touched 429.8 million in the first 3 months against 203.5 million for the same period last year – a jump of 111.2%.
If we look at the studies of the eCommerce guide, the eCommerce business in Covid has still grown at a higher rate with E-Retail sales reckoning at 14.1% of all retail sales globally.
A mania among people to get their hands on the materials without stepping outside their homes and getting door-step safe delivery options has pushed eCommerce to grow at even a faster pace.
If we look at the statistics of 99Firms:
There are expected to be over 2B digital buyers in the world in 2020.
80% of Internet users in the US have made at least one purchase online.
The share of mCommerce in all eCommerce is expected to rise to 72.9% by 2022.
52% of online stores have omnichannel capabilities.
Thus, eCommerce is nowhere getting lost but only getting more and more competitive!
In such a great demand for online shopping options, we have gathered the Top 13 Tips That Will Help You Grow Your Business in Covid:
13 tips and strategies to grow your business in Covid
1. Keep up with the trends
To grow your business in Covid, you need to adapt to the latest trends to survive. Be it before the pandemic or after, the trends are never going to stop changing.
With people more aware of what eCommerce platforms can provide, you need to be more careful with what you have to offer. If you can't keep up with your customers' needs, there's no way you are next in line.
Nutritional product sales online hiked by 49% as compared to the past month.
96% increase in apparel and accessories in contrast to last month.
As per MULTICHANNEL MERCHANT – the online sale of jewelry has increased upto 47%, especially in the USA
Baby product sales have surged online, with 237%
It is better to create separate sections for the products you think are best-selling, trendy, or recently added to classify to your customers what is in demand.
Try to provide something that is not usually available on the Ecommerce platforms but can be found locally. People would be more motivated to get it from you rather than leaving their houses. You may also refer to a list of top trending products on eCommerce by Cloudways to grow your eCommerce business during the coronavirus.
2. Socialize your brand
Catching more and more eyes of customers is your first step after deciding on the products to sell if you are looking to grow your eCommerce business during coronavirus. With numerous options available in the market – it is very important to reach the customers first and stand out.
It is better to click photos of the products you are selling online and post in on different social media platforms. This can help you spread the word about what you are selling and can help you grow your business in covid.
Make sure you are consistent with your campaign as the more the people see you, the more the image of your products will be stuck in their heads. Facebook, Instagram, and Pinterest are among the best mediums where you can show off your products and gain popularity.
Consistent posting of images and making use of marketing; namely giving ads over various online platforms can hike up your daily traffic. Google Ads can be a great tool to start with your ad marketing campaign and grow your business in covid.
3. Give a hindrance-free journey over your website
If you are looking to grow your business in covid, understand one thing. Your customer will only buy if he or she likes your website. Give your customers a smooth and obstacle-free browsing journey with continuous site optimization. Your customers can get really annoyed if it takes years to load the image or product details.
Keeping the checkout as smooth as possible is the most important. Your customers might leave your products in the cart rather than waiting for the payment options to come up.
Your website should be user-friendly, which means that your website should be able to adapt the screen size and adjust accordingly. Keep your site optimized and easy to work with.
There is nothing more pleasurable than a smooth, buffer-free online shopping experience. There are many techniques available that can help your website load faster and still keep loads of important data.
Moreover, when so many of your customers are online, optimizing your website can be a key ingredient if you wish to grow your business in covid.
4. Amend policies during the pandemic and abide by them
Just for the sake to grow your business in covid, developing customer-satisfaction services is the secret weapon to attract customers and buy from you. Not just the making of such policies, but abiding by them is equally important.
Some of such policies that you can use to grow your business in covid are:
1. Easy returns and refund policy
People who have never trusted eCommerce are now getting dependent on eCommerce to ensure safety and avoid any contact from outside stores. So it is your responsibility to keep their confidence intact in your company by assuring easy returns and complete money security.
Once you implement this policy in your business, it will show you wonders in terms of generating traffic and even turning them into potential customers. Not only will it help you grow your business in covid, but will also build a good connection between you and your customer.
Many businesses ignore the importance of this policy and even reject any returns. Such things not only repel customers but also make the customers question the credibility of the business.
The pandemic has forced eCommerce businesses to take longer than usual to deliver the products due to many restrictions. Receiving an unwanted product and having no option to get rid of it is the last thing your customer wants.
2. Contactless delivery option
Many delivery platforms have introduced contactless delivery since the pandemic, if your business has its own delivery executives, do implement a drop and leave action – it is an easy way to put trust and a sense of safety in your customer. Moreover, it's for the safety of your customer, which will surely help you grow your business in Covid.
3. Multiple online payment options
This is the most common policy that almost every eCommerce platform is offering and so should you grow your business in covid.
However, it has become even more essential in 2020 to provide your customers with all types of payment options that are available in your country.
If you ship your products internationally, be sure to provide appropriate payment and card options that the user might want to use. It is better to define any extra charges and other policies in such cases.
5. Keep an eye over your supply chain
To grow your business in Covid is no piece of cake. With ever-changing government policies, restrictions on delivery areas, and other regulations, it is required to have a strong supply chain. Here are a few steps to maintain your supply chain and grow your business in Covid:
1. Maintain communication with your supplier
Your supplier is your backbone to grow your business in Covid. For every order you receive, you will have to make sure that your supplier has more to provide you with once you are sold out. It is neither easy for you nor him to ensure a consistent supply in the market due to the coronavirus.
Your shipment might be delayed because of an outbreak in the area or your supplier may not be able to deliver timely due to the lesser workforce. Keeping a constant touch to know where you stand is mandatory.
2. Increase your suppliers
It will not be a good idea to rely on only a few suppliers if you wish to grow your business in covid. The more you have during the pandemic, the better. It is because there are chances that your supplier area might be announced as a hotspot, he might be behind his target due to lesser employees or might run out of inventory.
Having more options by your hand is a better and safer option this year. Keep back-up suppliers, stock more of your fast-selling products, and plan your due dates in advance.
3. Keep backup delivery partners
What applies to your suppliers, same applies to your logistics to grow your business in Covid. It is even more complicated for your delivery partners to deliver items. In some countries, the delivery trucks can not carry as many items as before and they might also be restricted to enter certain areas.
Having your own delivery team along with third-party delivery partners, you can ensure timely and constant delivery to your customers. It is necessary because despite providing a great product – it is necessary for it to reach the customers to experience.
Ensuring the safety of your customer, having an efficient supply chain, and making sure to stay updated with news could surely put you a step ahead of your competitors and help you grow your business in Covid.
6. Improve your customer service
There is no shop they are buying from. Your customers can not have the benefit to turn back to the store person face to face. But do not let them feel that they are missing out on that advantage.
Providing them with optimum customer service can make you gain a lot of trust and loyal customers which will ensure you grow your business in Covid.
Creating a strong customer base during coronavirus is not that easy. There are many eCommerce platforms ensuring great products, discounted prices, and on-time delivery. Delivering great service is not everyone's cup of tea! And that's where you can stand out.
Your customers need to know that you are there even after the purchase of the product and they can be assured while dealing with you. A great experience only ends with great customer service.
Offer a live chat option to resolve the queries of your customers on the spot. This clears their head and helps them make a purchase quickly and easily.
Take feedback, allow your customers to speak, be polite with your customers, and do not let them beg for your response. this may seem little but it can genuinely help you grow your business in Covid.
7. Pandemic essential products
Another great way to grow your business in covid is to display products that people need the most during the coronavirus outbreak.
Imagine hooking on a website that has everything that relates to your requirement along with allowing you to get your safety products handy. This way, you can encourage your customers to make a purchase all at once!
Adding sanitizers, masks, face shields, or even a guidebook to have a safe living can generate sales along with making people scroll through the products of your niche.
8. Manage your inventory
You will never be sure how many orders you will get and how soon you will be re-filled by your supplier. You might have a perfect inventory management plan but do not fall for it after the pandemic. You can not run as you were running before.
If we look at the statistics by Forbes –
U.S. retailers' online year-over-year (YoY) revenue growth is up 68% as of mid-April, surpassing an earlier peak of 49% in early January.
There's been a 129% year-over-year growth in U.S. & Canadian e-commerce orders as of April 21 and an impressive 146% growth in all online retail orders.
Online conversion rates increased 8.8% in February, reflecting a level of shopping urgency typically seen during Cyber Mondays, according to QuantumMetric.
Do not let this growing demand turn into a nightmare when you run out of inventory. Stock up your warehouse, install a better Inventory Management System, hire an individual to keep a check, and always be ever-ready to deliver whenever an order comes in. Moreover, you can also refer to B2B Order Management System Boost E-Commerce Efficiency and grow your business in Covid.
9. Manage your finances
Your growth is all about the numbers. As they go up -they take your growth higher. That is why it is very essential to handle your finances carefully. You need to know where your money is coming from and more importantly, where it is going.
Keeping a track of all your expenses, revenue, profits and investments can only answer you if your way of working is going to get you any fruit and will you be able to grow your business in Covid.
Many businesses end up in losses due to poor financial management. Ecommerce Conversion Rate Statistics in 2020 states that the Global conversion rate across devices is only 2.58%.
You can hire a reputed CA and accountant for your business to get a fair and clear idea of your earnings. Investing in your financial department can reap amazing benefits and can even improvise your budget and work.
10. Give compelling offers
With the increase in sales, eCommerce has found ways to attract new customers and keep a hold over the existing ones. As people are left with limited income, they seek options that can fulfill their requirements at a lesser cost. With attractive offers and coupons, you can generate more traffic and grow your business in Covid.
It is better to write your offers as '50% Off' rather than writing '200/- Off'. It might mean the same thing, but when giving offs in terms of percentages, it compels the customers more to consider it.
11. Secure your funding or reach out for more
If you wish to grow your business in covid and beyond you must learn one thing. Having funds in your bank account for security is the first thing you would like to keep in your mind during this pandemic.
The future has not been so uncertain in the 21st century ever before. You might have your finances laid out in the most efficient way – but any restrictions, sudden drop in sales, or closure of your top suppliers can drag your budget to the ground.
If you are new to the business, it might be difficult for you to convince investors to invest in your business to grow your business in Covid. Especially at a time when everyone is trying to save their own pockets, it is better to rely on your most trusted sources – YOURSELF.
You can save your money by not investing it in unnecessary products, products that are already available in bulk in your warehouse, or getting your money refunded due to the small mistakes done at the time of delivery. Make sure that you do not send the wrong products which results in a loss of money in logistics, return expenses, and the loss of time and manpower. Small mistakes can cost you more than expected.
Friends and Family: Your close relations could be a good option this time, however, it is better not to rely on relations for so long. But, the more you gather your resources, the more secure you become.
If you have already earned a stable establishment in the market, reaching out to the investors, small business loans from banks, and even your competitors for one-on-one funding.
You can enroll yourself into an association where people pool their money and grant funds to the businesses when required.
It would be better for your business to go through these 7 ways to fund your eCommerce that will help you grow your business in covid.
We would recommend you keep a backup of your funding at least till the end of the existing year for the smooth functioning of your business.
Check tax and other relief plans introduced by the government to avail benefits and keep yourself updated with the policies that get updated in the context of your business. If not said before, securing funds may not directly help grow your business in Covid, but will save you from bankruptcy.
12. Stay flexible in your strategy
A rigid perspective will not take you long. In this time of coronavirus outbreak, you will have to adapt to changes and mould yourself according to the environment to grow your business in Covid.
If you stick to plan A in a situation of B, your ideas may fail to lead to the failure of your business. Keep yourself updated on what came in and what went out in your niche.
Create a weekly or monthly report of your business sales and other functions to get a clear idea of where you stand and what needs to be eliminated or replaced.
13. Panicking will make it worse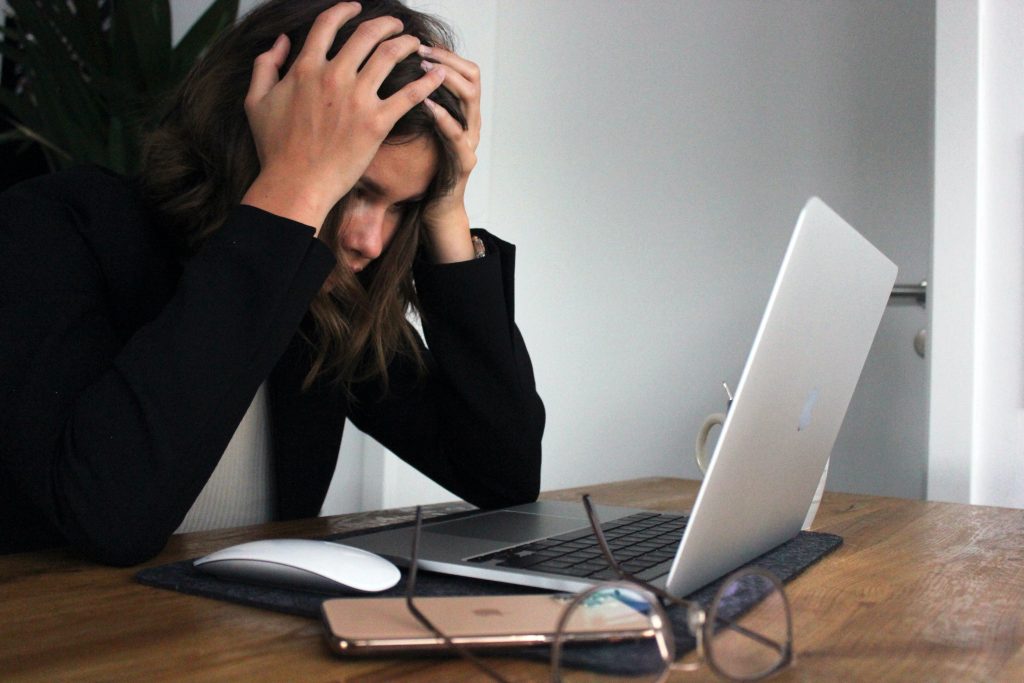 The last thing that would help grow yur business in Covid is by accepting the changes and not panicking.
We all know how critical it can be to manage an online business when everyone is more concerned about saving money. For Ecommerce, their target is to sell products and get the money out of the pockets of the customers.
It might seem harder to stay calm but patience and consistency are what your business will demand along with all the above strategies.
You are the foundation of your business, if you fail to conquer your emotions, your business will fail in conquering the niche.
If you apply these strategies and abide by their work, there would be no reason to panic as it will get you covered from all the corners.
We have tried our best not to leave any stones unturned to give you a full-proof insight with which you can grow your business in Covid.
Conclusion
We can now make out that Ecommerce is one of the platforms which has only gained popularity despite the coronavirus outbreak. If want to grow your business in Covid, nothing can stop you. All you need is a clear vision, planning, and most importantly execution.
With the help of many digital tools, planning, marketing, managing, and executing most of the business functions have become easier. With useful tips and effective strategies, you can actually build your own empire of eCommerce and grow your business in Covid.
If you wish to learn more about eCommerce, photography, product photo editing service, model photo editing, clipping path, and more, subscribe to the Pixelphant newsletter below.