6 Powerful eCommerce AI Tools That'll Boost Your Business Growth
Updated on January 21, 2023 in
Ecommerce
by
Alifiya Mustafa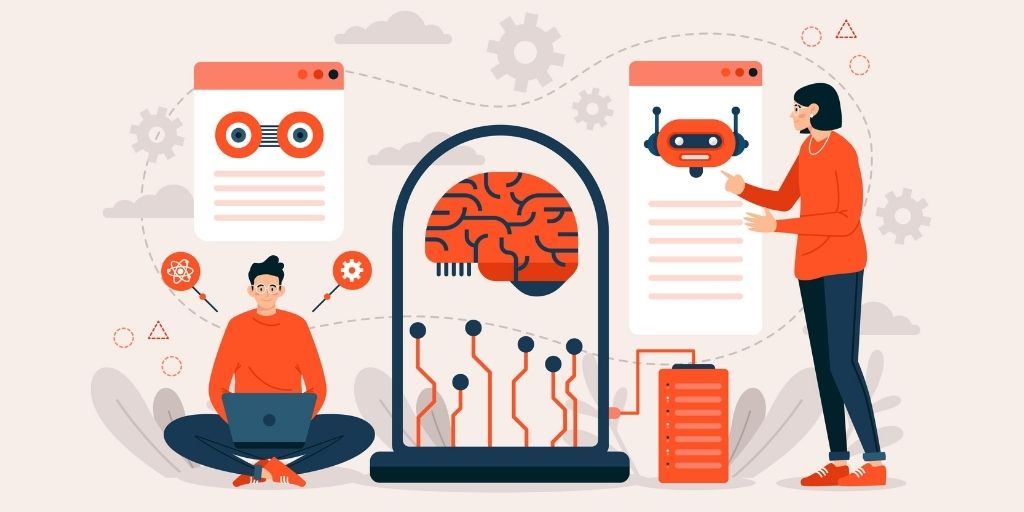 AI is in trend, AI is the future, and definitely, AI is useful for any kind of business. Especially, for businesses that run online, like your eCommerce store, eCommerce AI tools can be highly beneficial for your business.
In this article, I'll be explaining such 6 eCommerce AI tools that you can make use of to boost your eCommerce sales, conversions, and growth.
6 Ridiculously Powerful AI Tools For eCommerce
1. AI Chatbots
Cliengo
Other example Amazon Lex
Chatbots are amazing eCommerce AI tools for cost-cutting and delegating work. With the help of AI chatbots, you can do the following things:
Answer customer queries
Suggest products
Help them finalize a purchase
Provide customer support
Most customers call-in just to ask the usual questions. You can create a list of generally asked questions in the chatbot that can be answered directly to the customer.
This eCommerce AI tool takes away the load from your sales and support team so that they can handful many critical situations.
Similarly, AI chatbots can be programmed enough to provide personalized product suggestions to the customers looking for a specific product, and much more.
More than 54% of Online Consumers Prefer Chatbots Over Human Assistance (ZDNet)
Amazon Lex chatbot and Cliengo chatbot are the two best examples of AI tools for eCommerce.
Amazon Lex can be published on your website, mobile phones, and apps. It's easy to build and customize that you can use for all the above-mentioned purposes.
Cliengo is great for converting your visitors into potential buyers. It provides responses to your customer queries to the maximum extent that satisfies your customer and improves conversion.
2. AI Voice commands
Chloe AI
Other example Easy Ask
Around 77% of the young shoppers reported looking to integrate AI voice assistants into their lives (Walker Sand).
We all are familiar with the popularity of Alexa and Siri, and now, consumers are more than ready to use voice commands to search and finalize their purchase.
As per another study, more than 15% of the shoppers are already using AI voice commands to make purchases.
Voice commands make it easy for customers to interact with your website, find products, and even complete payment.
You can easily integrate AI tools for voice commands like Chloe AI and Easy Ask for easy interaction, especially when using mobile phones.
3. AI Marketing tools
Yext
Other example Hootsuite and Rasa.io
Marketing is a non-negotiable part of every eCommerce business. However, it can be pretty time-consuming and daunting to carry out marketing consistently.eCommerce AI Tools
Creating posts for each channel, optimizing, and then going to every social platform to post it. Handling social media campaigns is no piece of cake.
Thus, eCommerce AI tools can help you perform marketing effortlessly and seamlessly.
AI marketing automation tools like Yext is great for monitoring reviews, Hootsuite is great for managing all the social media platforms like FB, Instagram, Twitter, and more in one place.
You are not required to go to each channel individually and run campaigns when using Hootsuite. Similarly, you can leverage email marketing automation with rasa.io.
This tool helps you run personalized email marketing campaigns and share newsletters.
4. AI Photo editing tools
Luminar4
Other example Remove.bg
AI photo editing tools are a must for your eCommerce business. You can't simply click your product images and share them online.
There are a lot of competitive, professionally-edited product images out there to steal the customers' attention. Hence, it's highly important that your product image editing is captivating, alluring, and engaging.
Product images are the first thing your customers interact with. If they're unattractive and dull, the chances are pretty high that your customer is not going to explore your product any further – buying is a far cry.
eCommerce AI tools like Luminar4, Remove.bg, and many more can be highly useful to make your images eye-catching and traffic-generating.
To get the whole list of AI photo editing tools, I'd recommend you read – 10 Best AI Photo Editing Tools You Need.
If you feel that you can't expertise editing tools, then I'd recommend you outsource product image editing to the professionals to save time and get expertise.
5. AI Smart search plugins
Other example Nextopia
Customer experience must be your biggest priority. Your success depends on how speedy and seamless customer experience you're providing to your customers.
The simplest and most efficient way to improve your customer shopping experience is by utilizing AI tools for eCommerce that enables smart search.
Tools like Loop54 and Nextopia are some of the best eCommerce AI tools that allow you to add smart search features to your eCommerce website from scratch, having no need for professional skills.
6. AI Personalization tools
Choice.ai
Other example Personali
Many eCommerce businesses commit the mistake of offering choices over choices having no personalization. This can easily frustrate and shoo away your customers.
Offering personalized suggestions is highly important to keep your customers engaged. eCommerce AI tools like Choice.ai and Personali can help you take control of the situation.
Such eCommerce AI tools collect and analyze the data, study customer behavior, and offer personalized suggestions to each customer.
Such offerings entice your customers, helps them, and convert them into your potential buyers.
Conclusion
Allowing eCommerce AI tools to take care of a few parts of your business can help you relieve human tension and make your work more efficient.
Integrating Ai tools for eCommerce can also help you look more future-oriented in the eyes of your customers, competitors, and even Google.
When you integrate eCommerce AI tools, you even get the chance to rank higher in Google SERPs when your pages are crawled with better AI technologies that can be useful to the users.
The 6 AI tools for eCommerce mentioned above are a must-have in the age that we are now living in. Do let me know in the comments which AI tool you'd like to integrate into your eCommerce business.
Try PixelPhant for free
Use PixelPhant to get more conversions for your online store with better product images.

Background Removal | Clipping Path | Color Correction | Cropping & Resize | Retouching | Shadows