What are GIF images? Gif is an image file format that allows you to have both animated and static images.
For eCommerce, if you want to showcase different angles of the product, without actually investing in video or 360-degree photography, you can create a Gif from product images.
How?
I am sharing with you, 4 different ways for you to do that. So, without that taking any more time, let's dive into what we are going to learn in this guide.
Different Ways to Create Gif from Product Images
Making a gif from images is pretty simple to work. But for eCommerce, it can be highly rewarding. It essentially allows customers to interact with the product, without manually scrolling through all the images.
Here are 4 ways that you can use to create a gifs from product images.
You'll be learning step-by-step about each way to help you create gifs for eCommerce.
Create Gif from Photoshop
Adobe Photoshop is an industry-standard, professional tool that is used for visual editing, especially related to images. Here are the following steps that you can follow to create a gifs from photoshop using your product images.
1. Upload your images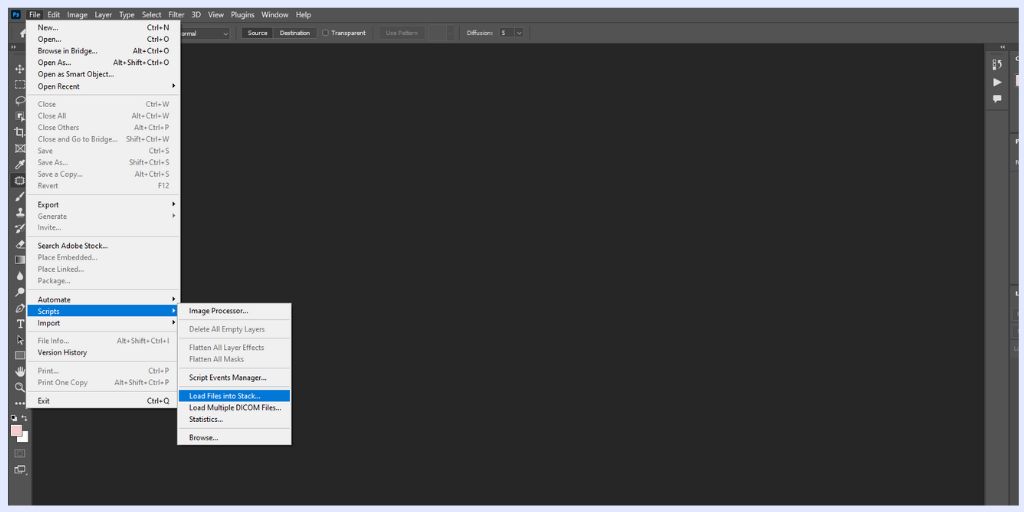 Start your photoshop and start a new tab. Here, we will import the images that we want to merge and create a gif.
To do so, go to Files > Scripts > Load Files Into Stack. Here browse the images that you have already created and import them into Photoshop
In case your files are not already created, you'll have to create each frame as a different Photoshop layer.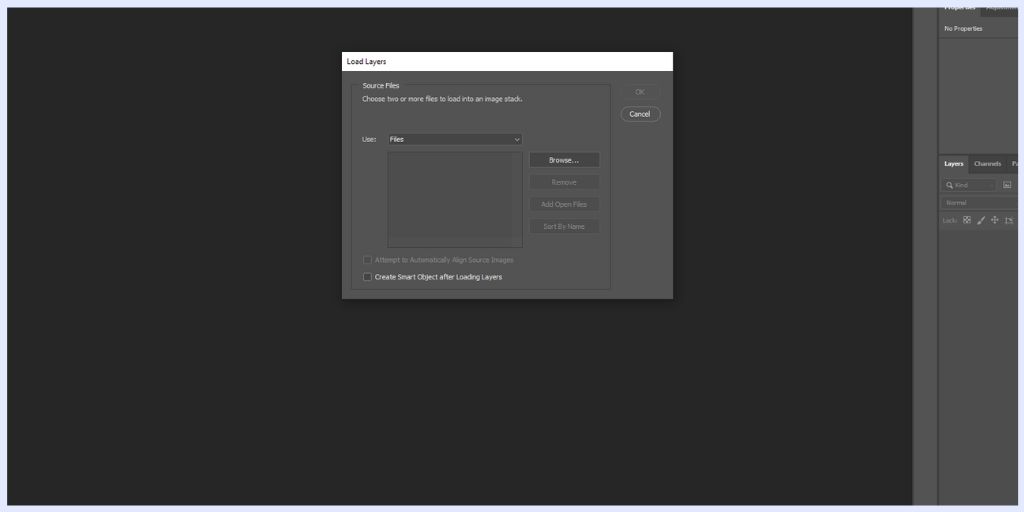 Here's how to do it.
Go to Layer > New > Layer. Now rename all the layers separately to make the frame easy to track.
It might be possible that all images might not be of the same size. This can alter the quality of the gift as the product might shift up-down, or left-right in each frame.
To deal with that select the layer you want to transform, press Ctrl+T and move it according to your main canvas.
2. Open Timeline Window
Once your files are created, it's time to create a timeline. Timeline helps in adjusting time factors, that is, how long will a frame appear, and how many times will the look continue.
To add a timeline, go to Windows > Timeline. It will add a timeline window at the bottom of your screen.
3. Select how long an image will appear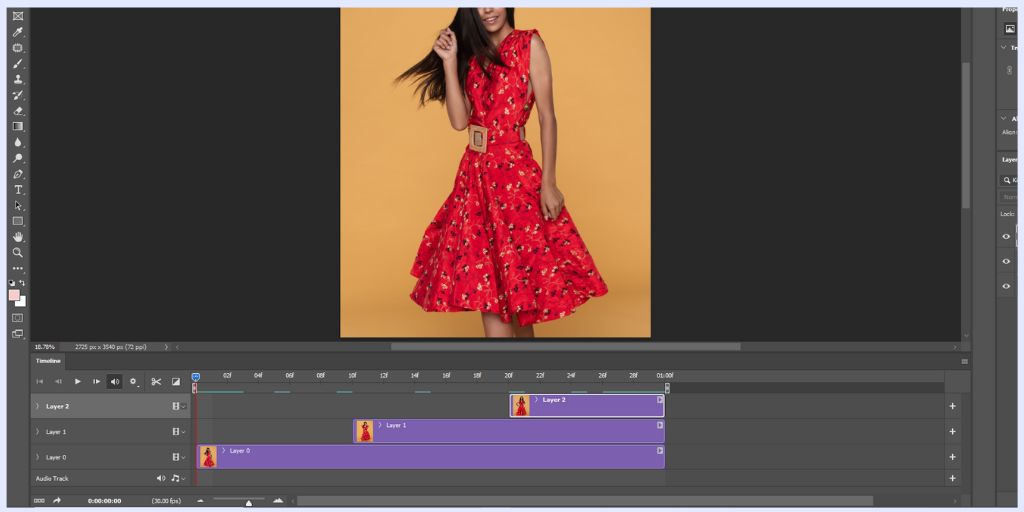 Here you'll find all the layers stacked into one single timeline. Now, in order to turn them into GIFs adjust the timeline as to how long you want a frame to appear.
The top layer will come over another in the gif, hence adjust the timeline accordingly.
One of the best ways to do so is shared in the image above. Once you have set the timeline, preview it. After the last frame, cut the extra length of your frames and delete the remains.
4. Adjust quality and save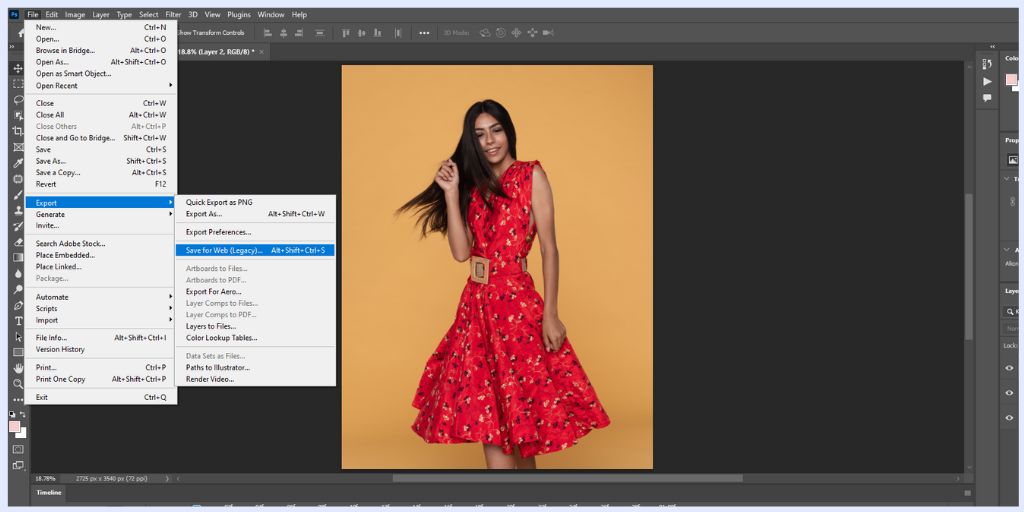 Once the gif is created, it's time to export it and save it as a gif. To do so, go to File > Export > Save for Web.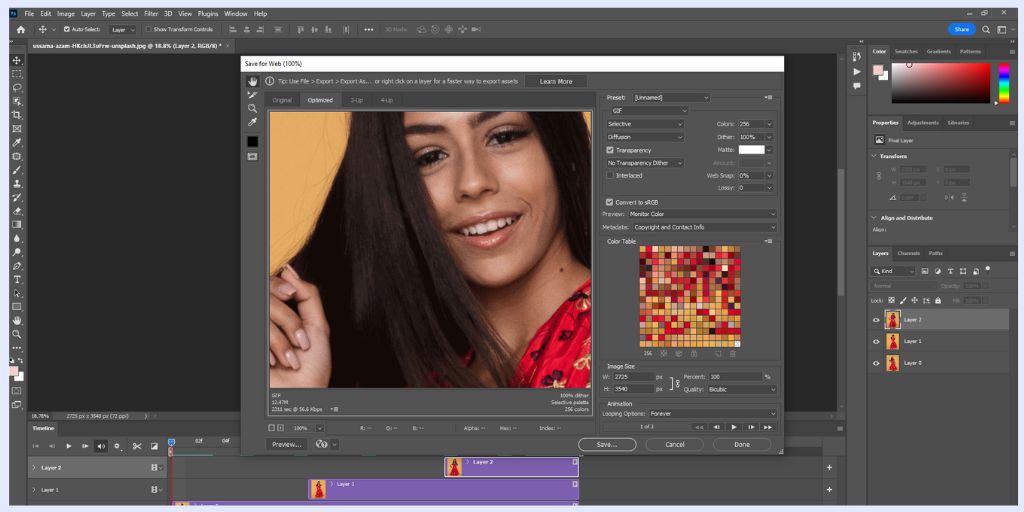 Here, a dialogue box will appear, sharing the details regarding the file. Make sure you have selected GIF format. If the file size is too huge, you can adjust the size, as well as the colors of the file to lower it down.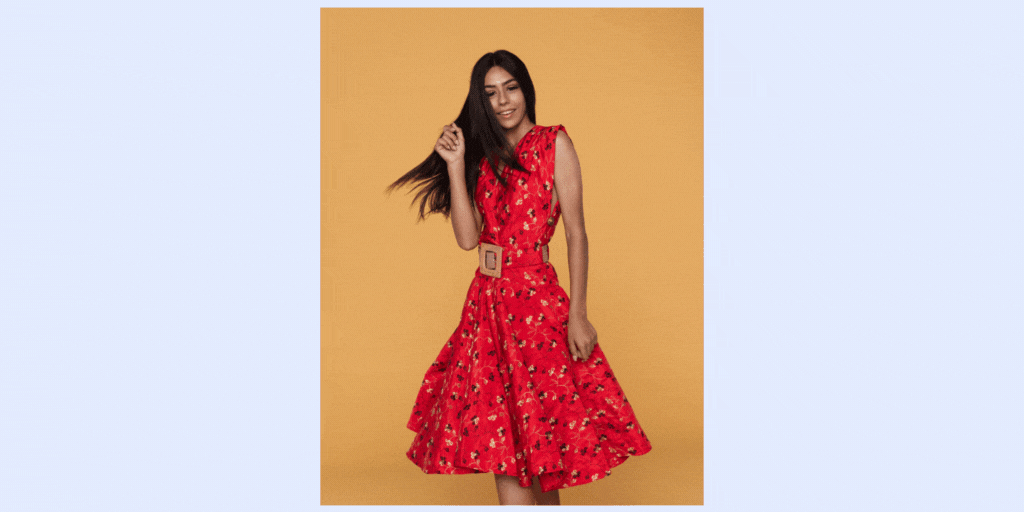 Create Gif from Canva
Canva is a free editing tool that you can use to create gif multiple images. To do so, first create an account at Canva. Now that you have an account, let's get started with the steps.
1. Choose image dimensions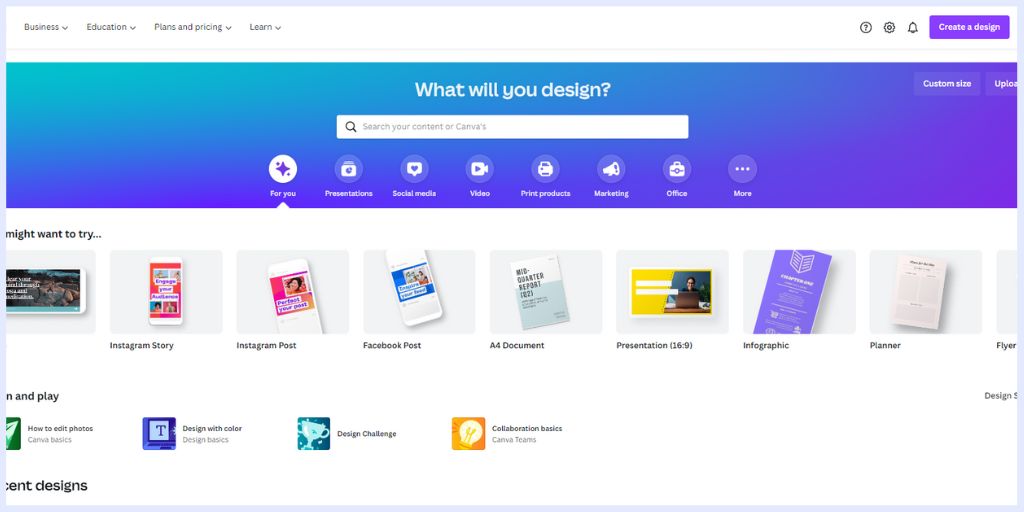 When you'll enter Canva, it will greet you with some presets of dimensions. You can pick one, like an Instagram story, Facebook post, etc – or create a custom size as well.
2. Add your images and set a timeline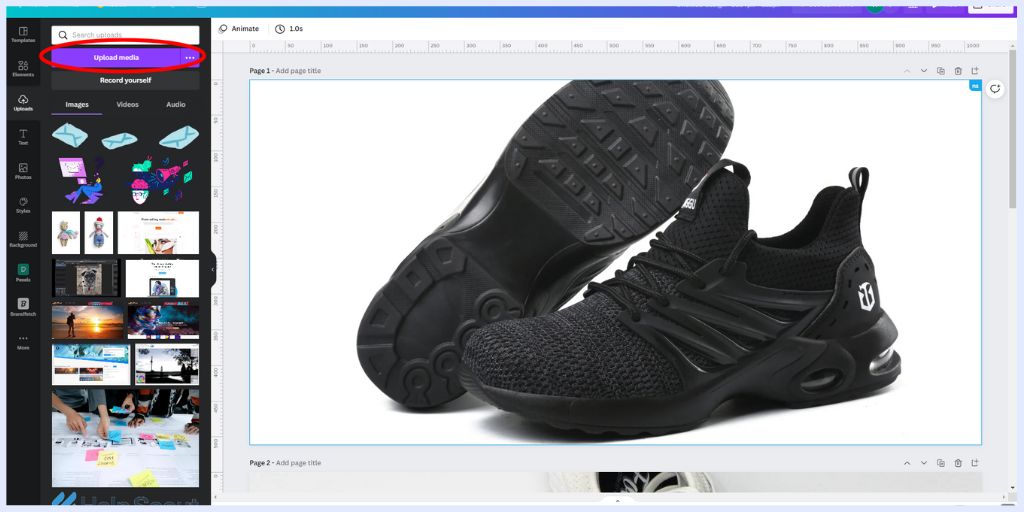 In the next step, you'll have a blank canvas. Using drag and drop action, you can upload your images or browse the file manager and import them.
Now, at the bottom of the window, you'll see an arrowhead pointing upwards.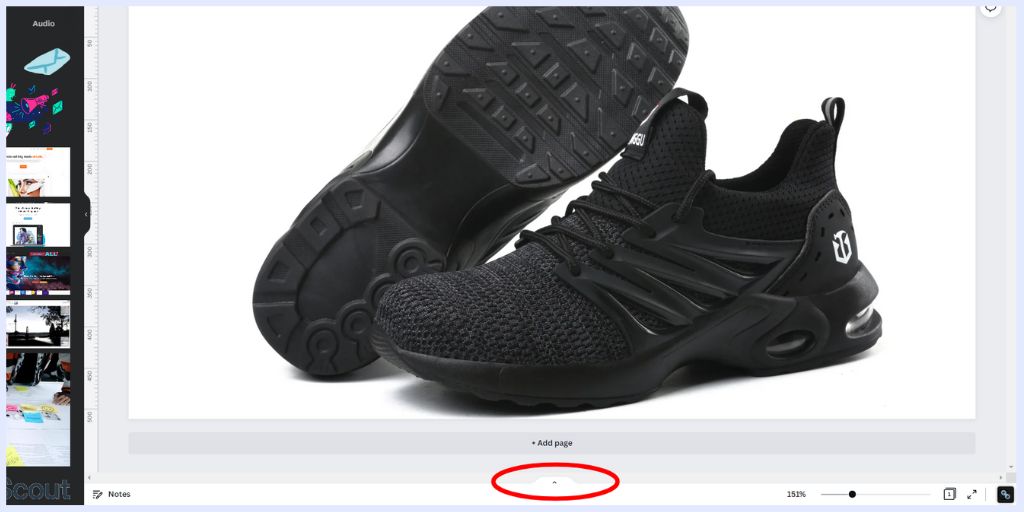 Pick one and let's move to the next step.
Click on it and it will create a timeline. Since we have only added one image their just one frame. Click on "+" to add more frames. In each frame, you can add another product image for the gif.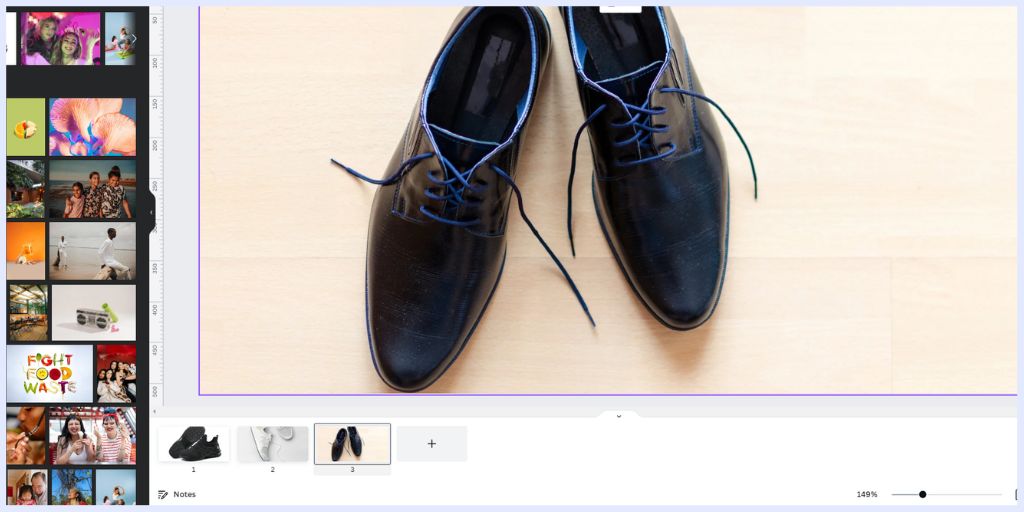 3. Creating GIFs & adding transition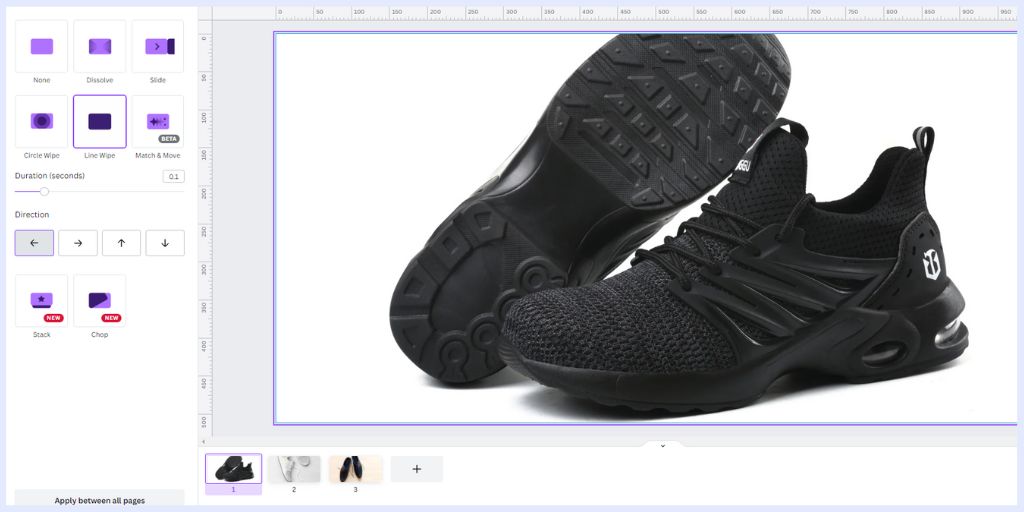 Once you have added all the product images, on the top menu you'll find the duration settings.
Select "Apply to all pages" if you want the same setting for all frames, or you can manually set the duration of each frame.
Optionally, you can even add the transition between frames and set the duration of the transition as well.
Hover over a frame that you want to add exit transition to, click on change transition > select transition > set the duration.
4. Preview & download as Gif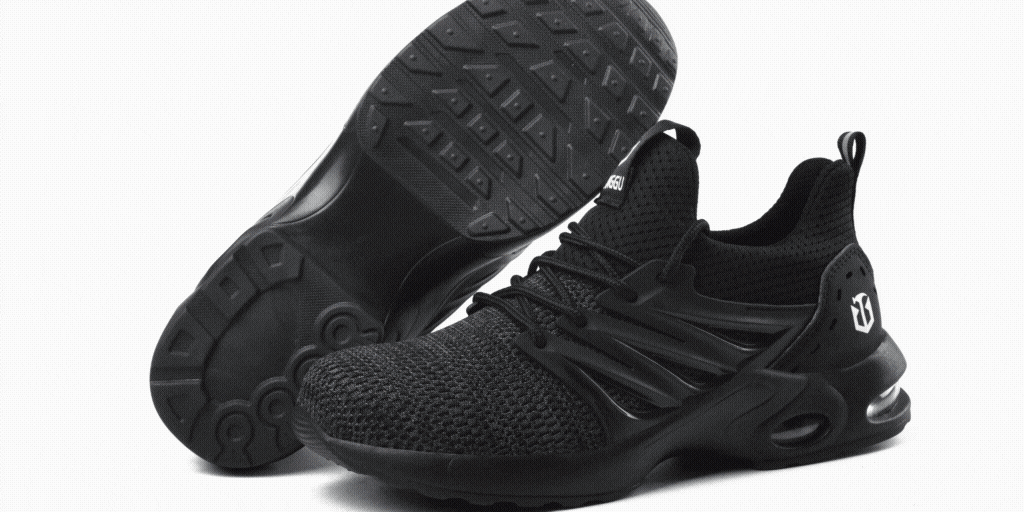 Once you are done, you can preview it, and if everything is fine click on Share > Download > File type and select Gif.
3. Create Gif from Free Online Gif Maker tools
If you are looking for free online Gif maker tools, you'll find many options. One of the easiest ones is Ezgif.com.
1. It's straightforward. Choose the files that you want to merge and create a gif file. When you click on Choose Files, a dialogue box will appear through which to browse and select the files for Gif.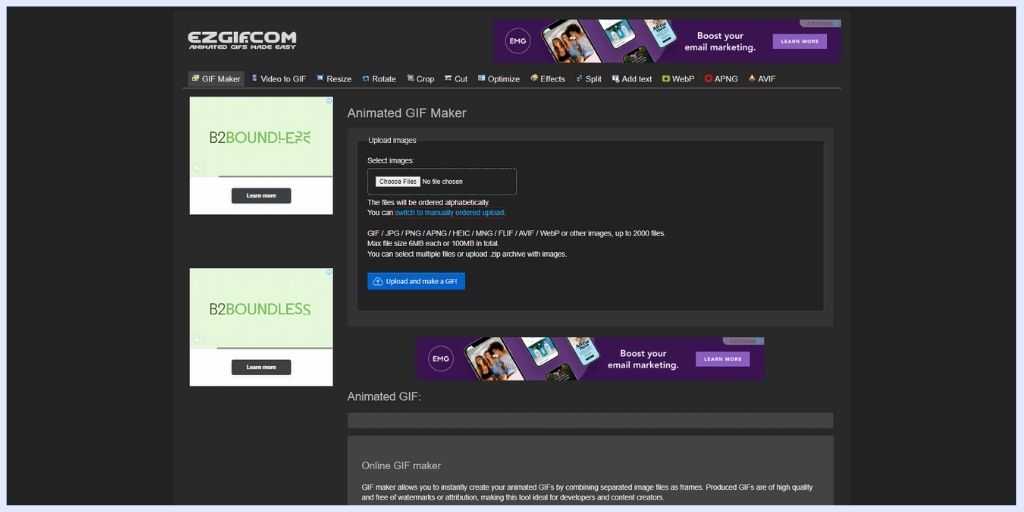 2. Once you have selected all the files, click on the Open button of the dialogue box > Upload and make a Gif!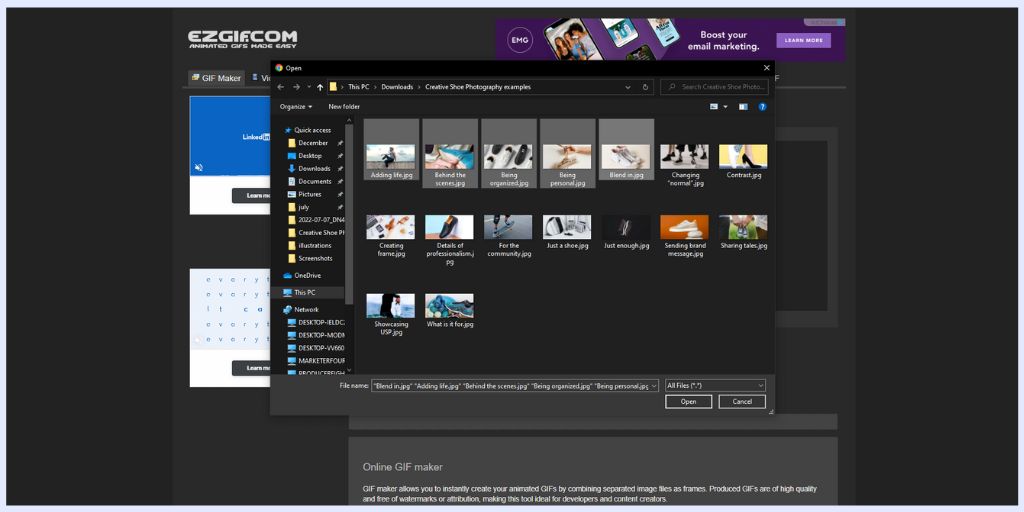 3. Here, you will see all your images arranged as selected. You can rearrange them as you want, set a custom duration, and test various other features to create a Gif from Free Online Gif Maker tools.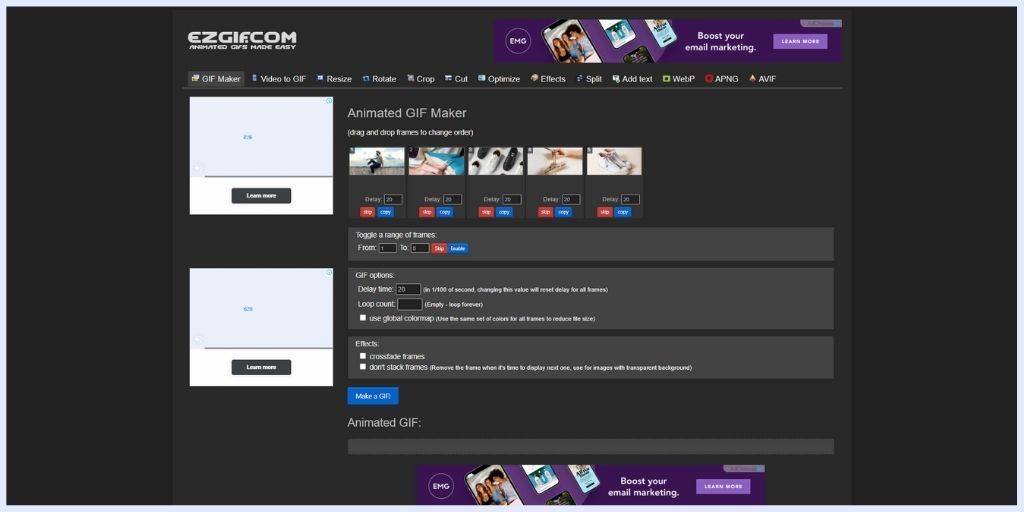 4. Click on the Make a Gif! Button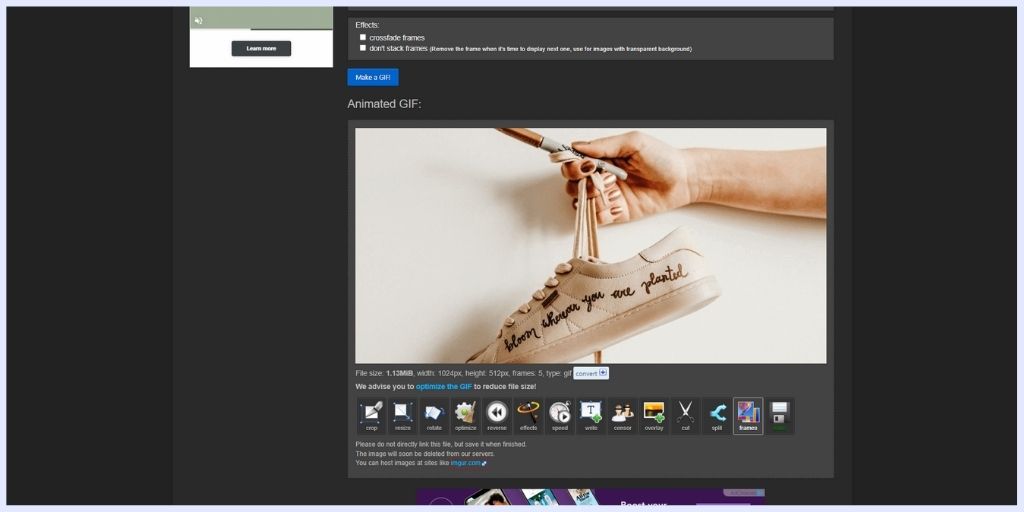 5. Your gif will be ready. Right Click on it and select "Save image as". Rename it and save it.
4. Create a Gif from Mobile Devices
One of the best ways to create creative gifs from mobile devices is by using a free app known as GIF Maker, GIF Editor. Here's how you can do it.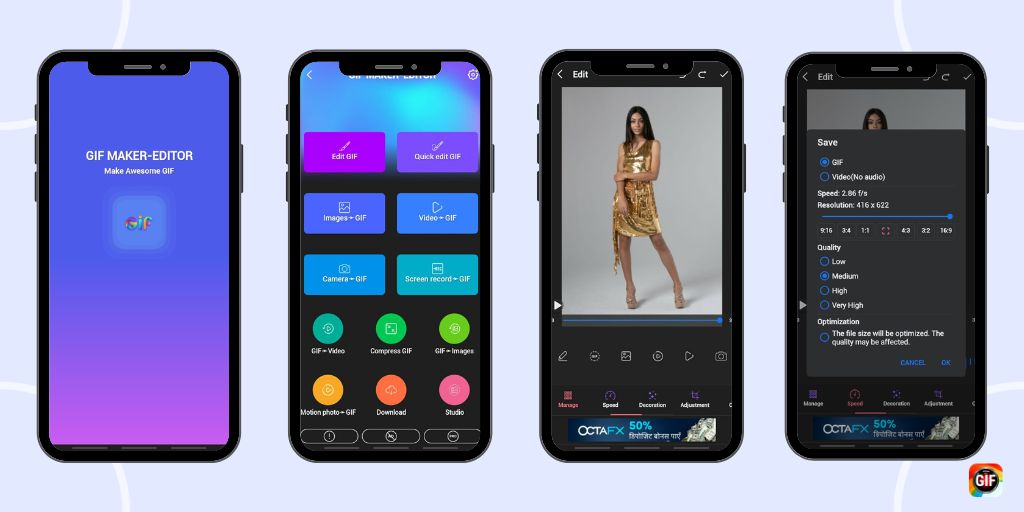 Download GIF Maker, GIF Editor app – open it – and give it access to your storage.
It will give you an introduction to all that you can do.
Now because we already have images, select Images to Gif.
Here, select the images that you want to create a gif file of and click on ✔ in the top right-hand corner.
Once in the editor, you can edit various aspects of the file, like editing every single frame, adjusting the dimensions, adjusting the speed, and decorating your gif.
Once you are done with the editing, click on ✔ on the top right-hand corner > select final file settings and click ok.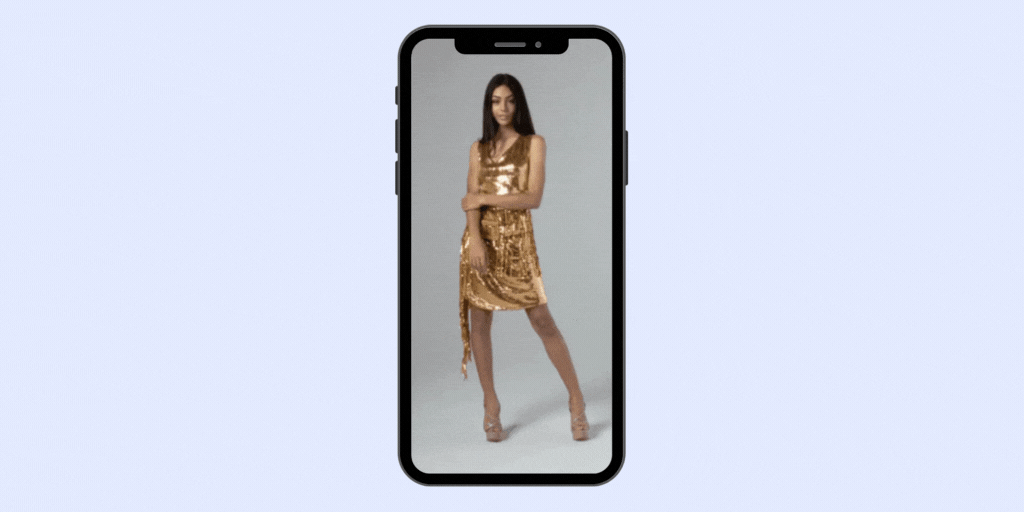 Following these simple steps, you'll be able to easily create a gif from mobile devices.
Final Words
Gifs have become a part of many content marketing strategies. They are fun, informative, and most importantly short and grab attention quickly.
If one was ever looking for the sweet spot between images and video gif fits in perfectly.
With the above suggestion, I am sure you can now easily create a gif file from product images in different easy ways.
Beautiful product images across your website.
Background Removal, Clipping Path, Color Correction, Cropping & Resize, Retouching, adding Shadows, and more.

Try PixelPhant for free
No Card Details Required