How To Build An eCommerce Website From Scratch – 9 Simple Steps
Updated on January 21, 2023 in
Ecommerce
by
Alifiya Mustafa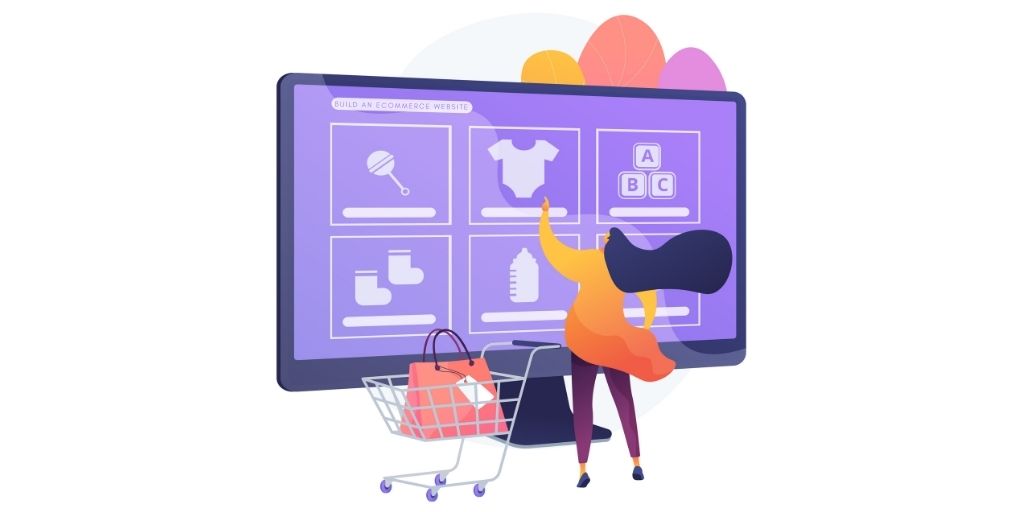 There are currently 12-24 million eCommerce websites present on the web and a lot are getting created every day. Though, the number doesn't surprise me. The eCommerce industry is growing at a very fast speed and to build an eCommerce website has become easier than ever (Thank you WordPress!). People are getting used to shopping from online stores.
Online shopping is convenient, reliable, personalized, has a plethora of options to choose from, and – given the competitive discounts and offers – it's a lot cheaper than the brick and mortar.
As per eMarketer, predictions reveal that eCommerce will generate around $6.452 trillion in sales by 2023.
This is encouraging a lot of entrepreneurs and even retail stores to shift online. However, building an eCommerce store isn't as easy as it seems. Most eCommerce startups fail within a year.
Hence, to survive in this competitive market, you must have a strong and engaging eCommerce website that can win the hearts of your visitors.
No matter what your idea is, how good quality your products are, and how reasonable your prices are – a poorly built eCommerce website can easily shoo away your customers. Therefore, if you're looking to build an eCommerce website, make sure that you're taking care of the points mentioned below.
9 Easy Steps To Build An eCommerce Website
Step 1. Choose your Products and Decide on the Price
Every eCommerce store deals with its own kind of product. Where websites like Amazon are dealing with almost everything, online stores like The Body Shop only deal with skincare and natural beauty products.
Before you build an eCommerce website, it's important that you decide what products you are going to deal in. though, it isn't necessary that you can only choose from physical products. You may also decide to sell your services online such as for digital marketing niche or graphic designing.
Once you decide what products you're going to sell, it's essential that you decide on the prices. Make sure that you're selling your products or services at reasonable and competitive prices.
You may compare your prices with your competitors to get an idea to build an eCommerce website on a budget.
Step 2. Decide your Business Model
As you build an eCommerce website, you may choose the business model that works best for you. You may either choose to sell on your one native channel, that is, your own eCommerce website or you may decide to become a multichannel seller.
This means that you can sell products online over your own site as well as on other eCommerce platforms like Amazon, Flipkart, or eBay and increase online sales.
Step 3. Pick a Business Name and Domain Name
Now that you have your sources for income ready to build an eCommerce website, it's time you choose your business and domain name to build an eCommerce website. Here are a few things that you may consider while picking a name:
◘ It should be relevant to what you are selling
◘ It should be short and catchy for people to remember
◘ It should be easy to understand
◘ It shouldn't sound like an obvious replica of some other brand to maintain the uniqueness
You can get a domain name from any verified, legal websites like GoDaddy or NameCheap.
A domain name is very important to build an eCommerce website. Without a domain, you can't build an eCommerce website and make it go live or rank anywhere in SERP.
Make sure that you don't change your business and domain name frequently as it can harm your identity. It's difficult to connect the goodwill gained during one business name with a new one.
Also, your customers can't keep up with you changing your name. Not everyone can get to know that you're the same identity. Simply put, choose a name wisely as you build an eCommerce website and carry it for generations to collect goodwill under one name.
Step 4. Use an eCommerce Website Builder
You can hire a coder to build an eCommerce website and design every element of it as per your idea. But, it'll cost you lots and lots of dollars and almost a year of time. Thankfully, that's not the case anymore.
As I said, to build an eCommerce website is a lot easier now, merely a day job! You can take the help of eCommerce website builders like WordPress or Shopify. It can not only help you create your website but also host it for you.
Step 5. Customize your eCommerce Store
Whichever website builder you choose, you can customize your eCommerce website as per your needs. You may add widgets, links to your social networks, and choose the layout in which your products will be displayed.
It is necessary that you build an eCommerce website that is:
◘ User-friendly
◘ Easy to access and understand
◘ Features like the search bar, filters, sort, and the home button must be easily available
◘ Images added must be easy to load (not more than 3 seconds)
◘ Your website is loading fast enough (not more than 2 seconds)
These factors are important to keep in mind as you build an eCommerce website as slow-loading web pages can frustrate your customers and make them turn to your competitors.
Hence, when you sell products online, good website speed can really boost eCommerce sales.
Did you know?
◘ 46% of visitors don't revisit a poorly performing website.
◘ 64% of the consumers who encounter a dissatisfactory experience with a site will shop at some other place next time.
◘ In fact, only a one-second delay reduces customer satisfaction by 16%.
To know the 'how-to' you may read Optimize Images for Website and Optimize the Landing Page from our blog page.
#TIP: For the images on your eCommerce website to look attractive and captivating to your customers, it is better to outsource product image editing. Product image editing services have professional experts that can make your product images stand out and beat the eCommerce competition.
Having good quality images is a must to encourage the customers to notice your products and explore your eCommerce website further.
Step 6. Add your Products in the Correct layout
Once you build an eCommerce website for your products, it's time you add them to your site. When you add the products, make sure that you are tagging them with the correct keywords.
For example, if you're adding athletic shoes to your website. You'll want them to come up in the search results when the customer types in shoes, sports shoes, as well as men/women shoes. Hence, tagging them with relevant keywords is important.
Doing so would be pretty self-explanatory in the website builder that you choose. If you're using WordPress, you may install the WooCommerce plugin to easily integrate the process.
Step 7. Set the Payment Gateway
As you create an online store, you must have multiple verified payment options for easy online payment by your customers. Your website builder will probably have the ability to set up such functionalities for your eCommerce website automatically.
Your customers must be able to pay through any of their bank cards and online payment methods like PayPal and Stripe or Shopify gateway for Shopify store.
Step 8. Add Security to your Website
If you are to build an eCommerce website, you will be transferring a lot of data online. With this, you need to make sure that the connection is protected by a Secured Security Layer (SSL). The SSL certificate ensures that your website is secure and builds trust among your consumers.
Having an SSL certificate is also recommended by Google for every website.
Step 9. Select your Shipping Partner
Once you build an eCommerce website and start to sell products online, you'll have to make sure that the orders are getting delivered on time. To ship those products, it's required that you join hands with the courier services.
FedEx, Ruby has and Hollingsworth LLC is among the best third-party logistics services. FedEx provides APIs and plugins that you can easily integrate with your store that helps the users track orders and shipping fee.
I'd recommend that you partner with more than one courier service so that you can always rest assured that all your orders are reaching your customers on time despite the heavy flow or some issues from one of the services. 
Finishing Up…
It takes more than just an idea to build an eCommerce website. You need to make sure that your idea is delivered to your customers in the best way possible. And, the first medium for people to know about who you are and what you're selling is your eCommerce website.
This article consists of 9 small and simple steps that can help you build an eCommerce website to sell products online successfully and generate eCommerce sales and conversions.
If you wish to learn more about eCommerce, marketing photography, product image retouching, eCommerce, and how to grow online, subscribe to the PixelPhant email newsletter below.
Also, if you're an e-commerce business owner, start making your product images more captivating and attractive to generate more sales. Take your free trial now with PixelPhant and make your images look more professional👇
Beautiful product images across your website.
Background Removal, Clipping Path, Color Correction, Cropping & Resize, Retouching, adding Shadows, and more.

Try PixelPhant for free
No Card Details Required