6 Best Wix Alternatives That Promises Better Growth And Performance
Updated on November 18, 2022 in
Ecommerce
by
Alifiya Mustafa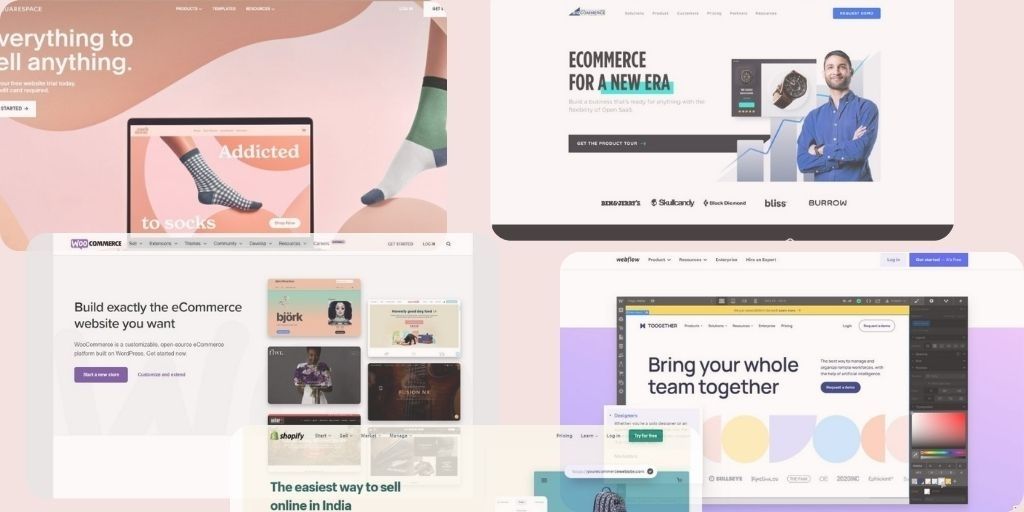 Founded in 2006, Wix has attracted users with its easy-to-use platform and attractive templates for websites. However, it may not be everyone's choice, especially for those who want more features, want to scale their business, or looking for better performance.
There are many Wix alternatives that can fulfill the gaps and allow you to seamlessly switch and scale your business the way you want.
In this article, I'll be telling you about the best of the best Wix alternatives that you should use to grow your business online.
3 Best Wix Alternatives For Normal Websites
Squarespace is one of the best Wix alternatives when it comes to designs. If you're looking to make your website more beautiful, attractive, and fascinating, then Squarespace has a lot of stunning templates to satiate you.
It is best for building beautiful blogging or B2B service website. Starting at just $14 per month, it serves the best you can get as compared to the Wix. Another great thing that'll make you stick with Squarespace is its humble support.
We all know how frustrating it could be to build an online website and maintain it. But the Squarespace support makes the journey a breeze for you.
If you're looking for a cheaper option than Wix, then Webnode is among the best Wix alternatives that you can find. You can use it for free and even its paid plans start at just $3.90 per month.
Founded in 2008, Webnode came later than Wix but it came improved. It offers great templates and designs, supports multiple languages, and helps you a lot with SEO.
If you go for the premium plans – which are still cheaper than most of the website's basic plans – you can get pre-approved email accounts which makes it a deal-breaker. Such features are rare these days and Webnode is doing a great job of being among the best Wix alternatives that are unique and affordable.
Webflow is one of the best Wix alternatives but the only reason it isn't the number one on this list is that it's not for everyone. Webflow is the number one choice of most designers and developers.
It is perfect for you if you know how to code or know someone who can do it for you. If you have coding skills, then Webflow is a paradise for you. It allows you to perform almost unlimited customizations, modify your website the way you want, and build, scale, and run your website.
You can try it for free and create your very own mesmerizing website designed fully by you. And if you're stuck anywhere, there are a number of easy and friendly tutorials that helps you overcome any obstacle while modifying the code.
3 Best Wix Alternatives For Online Stores
1. BigCommerce
BigCommerce is one of the best Wix alternatives, especially for building an eCommerce website. It is among the best Wix alternatives because it's easy to use, requires no coding skills, and its drag and drop feature is the favorite of most online stores built on it.
If you're looking to switch for your online store, then BigCommerce provides an easy transition. It is also one of the best Wix alternatives as Wix can be good for building an online store, but BigCommerce is great at growing and scaling it.
It can easily cater to the needs of all business sizes, big or small. Also, BigCommerce supports 55 payment gateways which are very important for the smooth functioning of an online business.
You'll love choosing BigCommerce for eCommerce as it has top-notch SEO capabilities. It includes features like customizing URLs that can help you rank higher than your competitors, and charges no transaction fees.
WooCommerce is a WordPress plugin that is completely free. It allows you to build your amazing online store and offers advanced features like inventory management, easy product listings, and more.
However, if you choose any premium templates, then they come with additional charges.
Most websites that you see are built with WooCommerce since it offers flexibility with customizations, excellent support, years of reliability and trust, a user-friendly interface, and no transaction fees.
Shopify is a popular eCommerce website builder that helps you build websites of all kinds including eCommerce stores. It is best for small to medium-size eCommerce businesses.
It is among the best Wix alternatives because it's more popular, powerful, and reliable in terms of building an online store. It's easy to use and has wonderful design templates.
Though, the reason you may want to consider other Wix alternatives first could be its pricy plans and average SEO capabilities. The basic plan of Shopify starts at $26 per month and it charges an additional 2% transaction fee on each sale.
Conclusion
Wix is an amazing platform with great template designs and user-friendly features. But if you're looking for better designs, cheaper plans, and more reliability, then these 6 best Wix alternatives are the best.
Build a website of your dreams and enhance your opportunities and growth with these amazing website builders that can cater to all your needs.
Speaking of growth, did you know that your eCommerce growth highly depends on your product photos?
Look professional and attract more customers with PixelPhant's professional product photo editing service.
Our color correction, photo retouching, ghost mannequin, shadow adding, and background removal service experts can professionally edit your bulk images within 24 hours or even less! Try it for free 👇.
Beautiful product images across your website.
Background Removal, Clipping Path, Color Correction, Cropping & Resize, Retouching, adding Shadows, and more.

Try PixelPhant for free
No Card Details Required