10 Best Photography SD Cards You Should Use For better Space Management
Updated on November 7, 2022 in
Photography
by
Alifiya Mustafa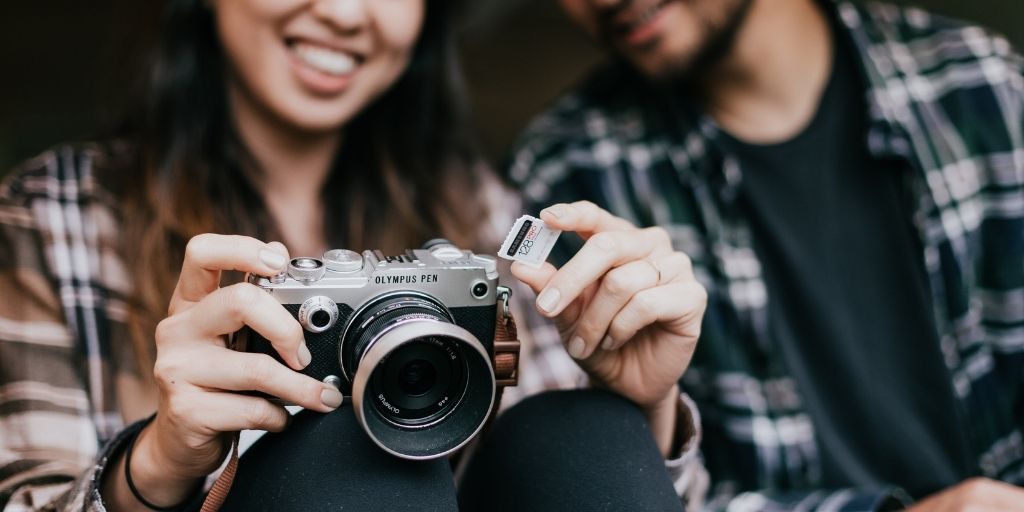 You don't want to limit your shots just because you don't have enough space to store your photos. Carrying an extra hard disk is a good idea, but, keeping a few photography SD cards with you is even better.
If you're a photographer, you must already know the importance of carrying around the storage devices to continue the shoot for a longer period of time and also take the backup. You don't want to limit or lose your creative images.
So, in this article, I'll be telling you about the 10 best photography SD cards and answering a few basic questions that you might have about SD cards. Let's begin.
10 Best Photography SD cards
1. SanDisk 128GB Extreme Pro UHS-I SDXC
Storage: 128 GB | Read speed: 170MB/s* (upto) | Write speed: 90 MB/s* (upto)
SanDisk is especially one of the best companies to buy storage devices. Now be it the pen drives or the photography SD cards.
SanDisk devices are high-quality, durable, and reliable. This photography SD card is excellent for capturing HD-quality images and even supports 4K videography.
It's compatible with microSDXC and microSDHC host devices and with a storage capacity of 128GB, it makes it perfect for long and extended photoshoots. Other factors to interest you are it's waterproof, temperature proof, X-ray proof, and shockproof.
2. Transcend SDXC UHS-II U3
Storage: 64 GB | Read speed: 180MB/s (upto) | Write speed: 285 MB/s (upto)
With incredible storage capacity and great transfer speeds, Transcend SDXC UHS-II U3 is our next pick for the best photography SD cards. With a UHS-II, class 10, V90, and U3 rating, it's fast enough to shoot almost anything that your imagination and digital camera could create.
It standouts from every other SD card for photography by allowing you to capture incredible 8K videos and that too with amazing write and read speeds.
3. SanDisk Extreme PRO SDXC UHS-I – 64 GB
Storage: 64 GB | Read speed: 170MB/s* (upto) | Write speed: 90 MB/s* (upto)
SanDisk Extreme PRO 64 GB is another great variant of the 128 GB SanDisk Extreme PRO. Similar to the photography SD card mentioned above, it's perfect for HD and 4k photography and videography.
It offers a decent capacity storage enough for a long photoshoot. It allows you to capture uninterrupted videos with UHS speed class 3 and has all the other benefits that you may find in its 128 GB variant.
4. Lexar Pro 64GB UHS-II
Storage: 128 GB | Read speed: 300MB/s (upto) | Write speed: 265 MB/s (upto)
Lexar Pro is meant for professionals because of its optimum storage and exciting read and writes speeds. It might concern you from the price perspective but it's value for money.
With most SD cards for photography coming with UHS-I under the same price range, the UHS-II in Lexar pro offers you no time to wait while your images pour in. This SD card for photography is amazing for capturing stunning HD, 3D, and 4K images and videos.
However, you may want to make sure that your camera is compatible to make the most out of this photography SD card. It is easily compatible with any UHS-I device, digital camera, 3D camera, or camcorder.
5. Sony SF-G Tough SDXC
Storage: 64 GB | Read speed: 300MB/s (upto) | Write speed: 299 MB/s (upto)
Sony has shown that SanDisk isn't the only dominator when it comes to storage devices. It has come up with its own SD cards for photography under the "Tough" series.
These are too waterproof, shockproof, and bend-proof. The bending strength of this SD card is a whopping 18 times greater than the standard SD card. This makes it perfect for outdoor photographers and professional photographers who work in extreme conditions or travel often.
The 64 Gb is ideal but it also has 32Gb and 128GB variants. The read and write speeds are perfect for 4K videography and burst mode shooting.
6. PNY Elite Performance SDXC
Storage: 128 GB | Read speed: 100MB/s (upto) | Write speed: 200MB/s (upto)
PNY is a US-based company manufacturing industry-standard SD cards. PNY Elite Performance SDXC is among the best photography SD cards with a read speed of 100MB/s.
These SD cards are shockproof, waterproof, temperature proof, and magnet proof. These are best suitable for photography enthusiasts and professional photographers. However, these are not compatible with taking 4k videos on a DSLR.
7. SanDisk Extreme A2 U3 128GB microSDXC
Storage: 128 GB | Read speed: 160MB/s (upto) | Write speed: 90MB/s (upto)
If you own a GoPro, then this is among the excellent choices for SD cards for photography. It works beautifully with GoPro HEROR Action Cameras.
If you use compatible devices with it, this SD card for photography can offer 160MB/s read speeds for transferring high-resolution images and 4K UHD videos at the fastest speed to save time.
SanDisk Extreme A2 U3 is built and tested for harsh conditions and is rated A for high in-app performance and faster loading speed.
8. ProGrade 64GB UHS-II
Storage: 64GB | Read speed: 250MB/s (upto) | Write speed: 130MB/s (upto)
ProGrade offers amazing write speed at 130M/s. This gives you the great benefit of instantly saving high-resolution images and videos on your devices. It saves your time on loading speed and makes your work smoother and faster.
This SD card might be a bit expensive but it's best for professional use for photographers, filmmakers, influencers, and also vloggers.
9. SanDisk 1TB Extreme microSDXC UHS-I
Storage: 1TB | Read speed: 160MB/s (upto) | Write speed: 90MB/s (upto)
This is an extremely useful SD card for photography when working on a huge project or having heavy needs to store multiple HD images and UHD videos.
SanDisk 1TB Extreme microSDXC UHS-I is often used for keeping backup for large files since its 1TB storage capacity is ideal for such purposes. As being microSDXC, this photography SD card has amazing read and write speed for greater and quicker performance.
10. Samsung EVO Select 512GB
Storage: 512GB | Read speed: 100MB/s (upto) | Write speed: 90MB/s (upto)
Samsung is another most popular and reliable brand. Samsung EVO Select comes with a decent storage capacity of 512GB. This makes it great for long-day shoots that are enough for 24 hours 4K UHD video, 150,300 photos, 78 hours of full HD video, or 77,300 songs.
It is compatible with action cameras, drones, android devices, tablets, and gaming devices.
FAQs
What is the fastest SD card type?
Currently, the fastest SD cards available are UHS-II cards. Their interface is capable of upto 312MB/s speed while actual transfer speed is slightly lower.
Which is better SD or SDHC?
SDHC and SDXC cards have more storage capacity and can easily support faster data transfer rates. On the other hand, usual SD cards feature limited storage.
What SD cards do professional photographers use?
SDXC memory cards are the industry standard for professional photographers whose cameras support the SD card format. SDXC cards can support up to 2TB in storage and provide quicker read/write speeds.
What should I look for in a photography SD card?
There are 5 things that you should look for in a photography SD card, type, performance, speed, capacity, and price. The higher the price, the better the performance will be. So, if you're a professional photographer, determine what are your needs and if it includes videography too.
Final Words
Being a professional photographer, the use of photography SD cards is as important as the use of the camera itself. For multiple projects and thousands of images to capture, the use of a high-performing SD card for photography becomes crucial.
This list of SD cards for photography includes memory cards for all kinds of needs. From photography to videography to general backup, these are the must-use SD cards for photography and you can easily find each one of these on Amazon.
I hope this article will help you choose the best pick for you. Now before you go, it's also important to refine and edit your images for best results.
Look professional with PixelPhant's professional product photo editing service. Try it for free👇