Once a customer is on your checkout page, what problems will they face?
The eCommerce checkout process is the most crucial among the various stages of a buyer's journey. After choosing the product, comparing it with other options, and finally being ready to buy it—customers go ahead and place their order.
But wait. Almost 69.99% of the checkout processes are left abandoned. And the reason is the unoptimized eCommerce checkout process.
I am sharing a complete guide to help you identify why customers leave the checkout page and the 14 best eCommerce checkout process optimization tips for increasing your conversion.
Let's get started.
What is a checkout process?
The checkout process is an end-to-end user flow where a customer adds a product to their cart, fills in the required information to fulfill the order, and makes the payment.
It is important to learn that a new customer is always conscious at every stage. They want to ensure data security and have the best online shopping experience.
As an eCommerce, you acquire trust and return customers to your platform if you can deliver that.
75% of customers have agreed that they would shop again if they had a secure and optimized customer experience with eCommerce.
To optimize this important part of the customer journey, let's look at some common reasons shoppers leave the checkout page.
Why do shoppers leave the checkout page?
During making a purchase, a customer is mainly concerned about three things, which are cost, security, and authenticity.
They want to be sure that they are paying the right price for the product. They want to be sure that their data—be it personal information or payment information—will be safe. And lastly, they want to be sure that you are an authentic seller and not just another fraud.
Here are a few common practices that many eCommerce have which negatively affect customer checkout page experience:
Adding hidden additional charges: During the checkout, if an eCommerce adds additional cost that a customer was not informed of before the payment stage, it concerns users regarding what else the brand is hiding, and hence many opt out of making that purchase.
Forcing customers to create an account: If eCommerce doesn't let a customer simply buy a product and adds a stage of account creation, many people abandon the process. They don't find it worthwhile to share their data, especially while making the first purchase when they don't know what to expect.
Having a long checkout process: Everyone hates to stand in a long queue, and the long checkout process is the same. The quicker a customer can make a purchase, the better their experience. If not, every stage they go through is an opportunity to take a U-turn and leave the checkout incomplete.
Security concerns: Today, customers are more when aware of sharing their personal information for good reasons. They avoid being connected with the business if they have the slightest mistrust.
Lack of payment options: Payment options like COD, PayPal, etc., are ways customers can make easy payments with trust. Many eCommerce stays fixated on one payment method, reducing the customer base that uses and trusts other payment methods.
An unoptimized eCommerce checkout process hurts the business at the most important stage. This is why you must learn how to optimize your eCommerce checkout by following simple tips and methods.
14 best eCommerce checkout process practices
Being hypermobile friendly
E-commerce is acquiring 72.9% of customers through mobile. And it should not come as a surprise that more and more customers will be placing online orders through their mobile devices.
In this case, eCommerce must be prepared to deliver your customers a well-optimized mobile shopping experience.
Now, what does that mean?
That means ensuring that customers can easily place orders, fill in their shipping details and pay through mobile devices.
A few tips that you can follow to optimize your eCommerce mobile checkout are:
Test single page checkout: Single page checkout is a design system where users can add their contact information and make payments through one screen. This shorten's the length of the overall user flow and aids in quicker eCommerce checkout.
Use the social signup & quick fill: Most time-consuming part of checkout is filling in the information. And to make that part easy and quick, eCommerce can use social signup buttons. They can also use quick-fill forms that allow users to add their information saved in the browser. Many users prefer it, which is a great way to reduce the time taken to shorten the process.
Be smart with UI: Keep important information on the first screen and the action button easy to reach. It is important that customers know the intent of the page and what actions they are supposed to take. If a customer lands on your page and doesn't know what to do next, they will leave your checkout process, resulting in a higher cart abandonment rate.
We'll review various other checkout processes along with these three important tips. As with eCommerce, try to curate a customer experience for them all, or at least most of them.
Allow guest checkout
Guest checkout allows customers to place their orders without creating an account. They choose what product they want to buy, add it to their cart, fill in shipping details and make a payment.
An eCommerce must keep in mind that the primary goal of the business is to sell products online. Account creation can be important, but not at a cost where customers are forced to abandon the whole process.
According to the Baymard Institute, 24% of responders chose force account creation as the reason to abandon the cart.
Guest post is the best way your products can reach your customers, gain more sales and get an opportunity to build trust and earn a returning customer.
Once you have successfully gained customer trust, it will be much easier for them to create an account. Show off the benefits your users get, and if they find an offer valuable enough, they will sign up without any friction of, mistrust or concerns.
Be upfront with charges
Do you know what the number one reason for customers leaving the eCommerce checkout process abandoned is?
You guessed it right, extra or hidden costs are added at the end of the checkout.
As an eCommerce, yes, there are a lot of charges involved. But for a customer, all that matters is the amount they are paying.
If you promised a product at $10 and added $5 shipping charges, they might work around it. But while checking out, if you suddenly add another $2 as convenience fees, customers might simply step out of the deal.
Rather you can go ahead with pricing where the product cost is $12 and shipping is $5.
Here, being upfront would be much more acceptable as it is not about the $2 but being aware of the total cost.
Additionally, you can improve their customer experience by providing free shipping (if possible).
Display the checkout outline
Being aware of the process is very important for a customer. How many steps there are, what stage they are at, and what they are supposed to do.
All these questions should be answered in your checkout page design.
This becomes even more important if you have a multi-stage checkout process, as it hooks the customer by telling them exactly what to expect.
For example, suppose someone was expecting to make a payment right after adding the product to the cart. In that case, they might be confused seeing you asking for their contact information, then confirming their order details before finally reaching the payment gateway.
Displaying the checkout outline removes all this confusion and presents a better experience for your customers.
Avoid Unnecessary Distractions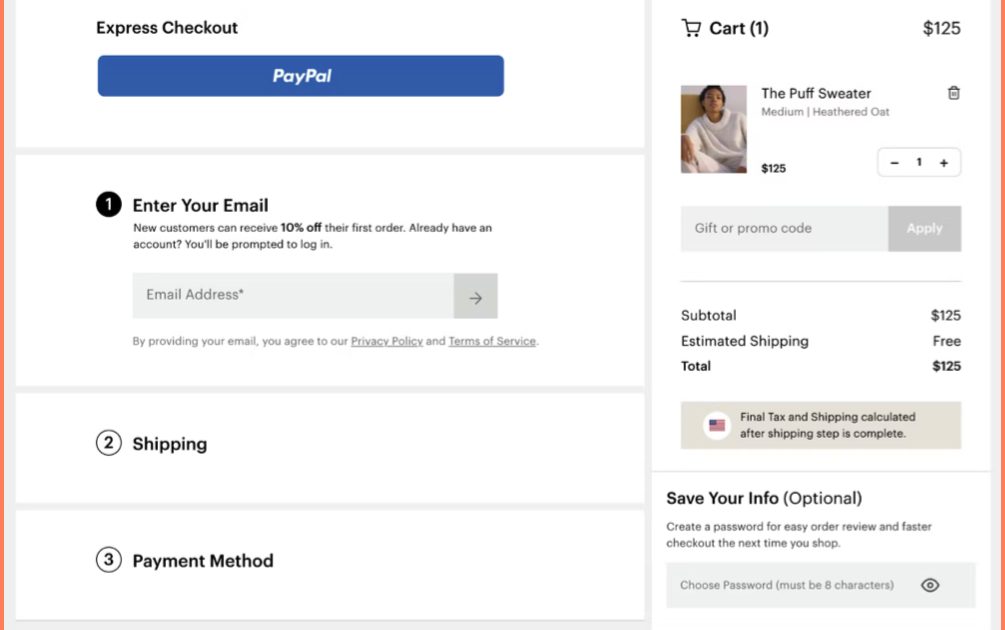 During checkout, a customer is likely ready to place the order. At this crucial stage, overwhelming them with unnecessary information would surely be a bad idea.
Some common distractions that many eCommerce have on their checkout page are promotional banners, pop up, about sections, and navigation bars.
Based on your customers, you must stick with only important elements on your page.
There is a high possibility of customers getting distracted and moving away from the checkout page. To avoid this, eliminate the distractions from the checkout page and focus only on what is necessary.
Quick customer support
Customer support is a part of your business that ensures that every query and bad experience is dealt with correctly.
For many customers, placing an order can be difficult. Maybe the process is too complex for them, or something isn't working.
Whatever the case, connecting with the support builds trust and makes customers feel more assured of the purchase they are about to make.
89% of customers said they would like to re-order even after a bad experience if the support was good.
Knowing this shows how important the support team is. Allowing easy access to help reassure customers that your eCommerce is there for them in case they need any help.
Display product variants and pricing clearly.
If you are an eCommerce selling products with multiple variants, here's something you must note.
Showcase all the product variants and their pricing clearly to your customer when choosing the product.
From a customer's point of view, they can easily choose the type of product they want, compare pricing accordingly, and make the right buying decision.
Additionally, if you are selling variants of the product, use different product images for each product.
That is, rather than telling them through text—red or blue color shoes—show them your customer images of the shoes with a clear difference in pricing.
Avoid hard upsell
Upselling is a sales and marketing strategy that motivates customers to buy additional items based on the products they have purchased or added to their cart.
It is a very powerful method that helps increase the average cart value and helps businesses grow faster.
But here's the thing. Upsell works when customers buy the product added to the cart.
Yes, it is important to showcase other products they can buy, but if they get distracted or irritated by the flood of recommendations, they might leave the checkout page for good.
Include promo and coupon code
Promo and coupon code are other ways through which eCommerce have seen a boost in their sales.
As per a report, 96% of the audience actively search for coupon codes before making a purchase, and 51%, use them every single time.
If an eCommerce is not using coupon marketing, they might be looking for an opportunity to convert a high percentage of users.
For a customer who is simply surfing through your eCommerce, if they see you are offering 30% off on their first order if they make a purchase using code "BUY30," don't you believe they will be more tempted?
On the other hand, if you drop your product price by 30% without telling your customer about the off, the price drop is likely to go unnoticed.
This is because coupons don't only tell customers about the offer; they tell them how they can use the offer and simultaneously engage them by entering the coupon code.
All this builds a connection between a customer and the brand. Hence customers feel much more invested in the deal that they get.
Use local currency
If you are operating across the globe and are seeing the popularity of your brand growing across borders, it is wise to invest in tools that help you sell products in local currency.
Firstly, it is easy to set up, so you won't have to put in a lot of your resources to accomplish the task.
Second, it enhances the customer experience exponentially.
They don't have to manually calculate the price of each product before adding it to the cart.
You can set up local manual pricing to skip frequent changes in the exchange rate.
It puts customers at ease when they can compare products in their local currency
Conversion rate increases when shoppers see products in their local currency.
It is common knowledge that most worldwide trade and payments happen in USD. But for a retail customer, currency exchange can be intimidating.
To avoid this, you can start setting up your product price in local currency and enjoy a global conversion rate.
Show how much they save
The price drop is good, but discounts are better. Isn't that weird? When it comes to pricing, the only thing customers are concerned about is the price they are paying and how much they are saving.
If an eCommerce is not showcasing the difference between the old and the new price—bluntly put—customers don't care much.
On the other hand, if they learn about the difference in the amount they are saving, they are more likely to remember it.
During the eCommerce checkout process, it keeps them hooked to the page. And rather than just looking at the price, they look at the amount they are saving.
Avoid unnecessary questions
During the eCommerce checkout, the goal should be to make the customer stick with the process and complete it. We know that making the process shorter is one way to do so.
At the same time, knowing which questions to ask are important to ask and which can be skipped.
The best practice is to keep the question limited to what's important. Additionally, quick form fields like auto-fill of state and area using the zip code can be a great way to make the experience quicker.
To find more unnecessary friction, look for important questions and cut out every other one.
Be clear with the reason for the error
While checkout, many users can make an error. Be it with the wrong contact information, zip code, or the minimum quantity for some eCommerce.
At this time, you must tell the shoppers about the problem and how they can solve it.
A simple message showing what's wrong will be great if the problem is from their end. And if the error is on your end—like the payment gateway not working—ask them to connect with support.
These supporting pillars make the eCommerce checkout process much more thorough, building trust among the customers they need.
Focus on speed and swiftness
If you can set up a system where customers don't have to move a thumb once the product is selected—go for it. The whole purpose of the article is to make the eCommerce checkout process thorough and complete.
But in doing so, ensure that the customer stays in control of the decision. Being too pushy can make a customer feel scammy, which is why providing a sense of control over the process is important.
Getting Started
The year-on-year eCommerce industry is reaching new heights and audiences. And to get maximum output in this new shopping world, your eCommerce must be prepared and optimized according to your customers.
Above, we have discussed in-depth how you can improve and optimize the eCommerce checkout process and ensure that you see maximum conversion on your store.
We have also shared a guide sharing, 15 Tips To Grow E-commerce User Signup, which will help you increase your eCommerce account creation.
Beautiful product images across your website.
Background Removal, Clipping Path, Color Correction, Cropping & Resize, Retouching, adding Shadows, and more.

Try PixelPhant for free
No Card Details Required