How to use B2B Social Media Video Marketing for your Business
October 26, 2020 in eCommerce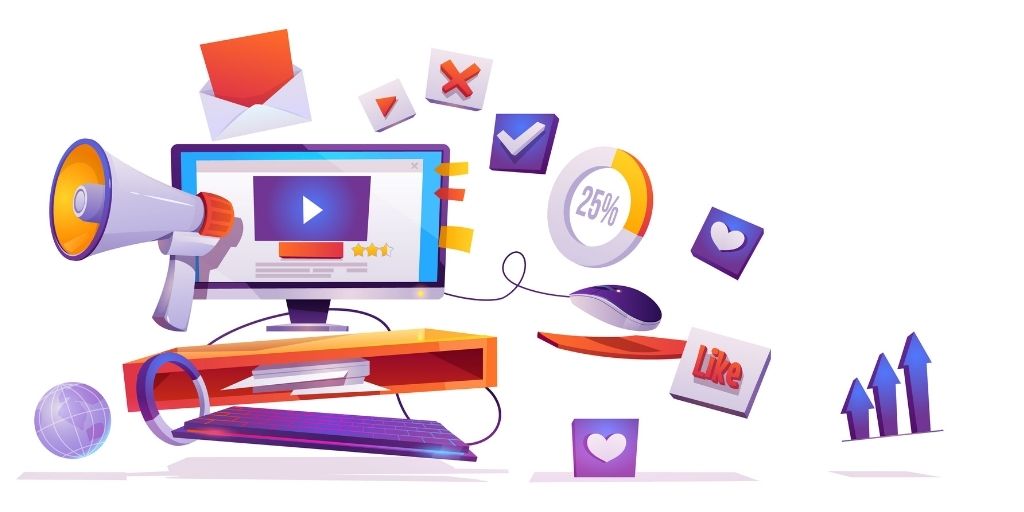 There is one thing very common between B2C and B2B social media video marketing that you must know. "Know Your Customer". Even though they have different audiences, it doesn't mean videos aren't best for the B2B market.
According to Tubular Insight, 73% B2B marketer says, video marketing has positive effects on the overall ROI. And well as we agree with these stats, here's an easy guide that will take you through the B2B social media video marketing from the scratch and help you reach the peak.
But before we jump upon the platform you shall use and the strategies to follow, let us know what are the benefits of B2B Social Media video Marketing
Benefits of B2B Social Media Video Marketing
Increase Engagement
It is out of no secret that videos are more engaging than blog posts. G2 Crowd found that social media video generates 1200% more share than the text and images combined.
There is no way that any other format can even come closer to the engagement ratio where videos have come.
Build Trust among your customer
Maybe it is the words of mouth effect or something different, but even if you take your own example when you bought your last phone, did you read a review or you bought the phone after watching an "Unboxing Video". Our bets are on the second option.
Demonstrates the Product
As we hinted in the previous point showing off your product, the benefits, usage, and working can appeal to your targeted audience to take action. Instead of just reading how the product can help them, people are more likely to invest in it.
Builds your Brand
In B2B Social media video marketing, building your own brand is no issue at all. The reason being the interaction and engagement within your audience tells everything you wish to see.
If you have seen lately, whenever a B2B brand launches a new product, they use video as a medium. Why? Because it reaches a wider audience and brings them sales along with which they get recognition as a brand.
Appeals to everyone
You can see whether your audience is male or female, see the age range and the device they use. But can you see if your audience is lazy? May they be hardworking, but can you tell how much time they have to read about you?
It's nearly impossible to predict exactly how EVERYONE will react to the text. But seeing the probability, choosing video would be your best option. People who won't read can see the video. If not that see, they will at least hear out what you have to say.
Best Social Media Platform for B2B
Benefits are clear, but which is the best B2B social media video marketing platform that you should use?
Seeing common targets, i.e., the business individual we will suggest these three platforms. If you see your target audience on the other platform, you can just use the same video on other platforms also.
LinkedIn
For obvious reasons, using LinkedIn is the best option for B2B social media video marketing as most business professionals are using this platform on the daily basis. There are about 675 million monthly users out of which 40% use LinkedIn on a daily basis.
The statistics are here as amazing as you know, LinkedIn is the most organic platform to reach your audience without spending any. Moreover, if you think to invest in LinkedIn ads you can target any particular company, a set of individuals, and more. You can learn more about LinkedIn lead generation strategies.
Twitter
After Linked, if there is a platform that can give the most exposure, it is twitter. Most say it is a platform that is meant for politics but if you target the right audience, you will find the business owner's really active on this platform.
Even though Twitter is an amazing way to communicate in a few words, having a video would let you reach the converting audience and help you explain to them your product and business.
YouTube
Although Youtube is a video platform, you shall also know that it is the second biggest search engine in the world after Google itself. Along with the branding, trust-building, higher conversion, and all the other stuff you will get SEO benefits to your business.
In addition, if you have a similar or a related blog on your site and you embed your video on your site, it would help you increase your average time your customer spends drastically. Even Google prefers the sites that use multimedia hence this is your added benefit.
B2B Social Media Video Marketing Strategies
Above you have found out the best platform for B2B social media video marketing. But your actual work starts from this point. Here are the top strategies for B2B social media video marketing that you shall follow to grow your business.
Set your Goals
At the start of any of your video campaigns, it is very important that you have your goal set. Ask yourself what you want to achieve out of video marketing. Do you wish for more traffic, do you wish more sales or do you just wish to reach a wider audience? Setting up goals will set you direction and checkpoint that you have to reach.
Keep the video short
The attention span of people on social media is just about 8.2 seconds for the video. If you are thinking of an intro, where you will tease your audience at the start and then reveal the actual information. Chances are you will lose more than half of the audience.
At the start, when you have fewer audiences, try keeping the length till about a minute. Also don't cut down the information, rather stick to the point, convey what's necessary, and explain in the easiest way possible.
Script your Video
Scripting has many benefits. Firstly, you know what you have to say and you can prepare for it, so less time will be wasted. Other than this, you will be able to add keywords in your script as you do in your blog.
If you don't know, keywords are as important in a video as it is on any other blog. Especially on Youtube, it would help you get higher reach if you use keywords in the video. Lastly, when you know what you are going to say and you have your exact words on the paper, you can add a caption to the video.
This would again give you a better performing video as any platform would appreciate that you are using caption for people who can't listen.
Go Live
Other than posting pre-recorded videos, going live is the best practice for your B2B social media video marketing. Every platform is pushing its live features and giving organic reach. Where LinkedIn has the highest reach than any other platform.
You can have an online interview, virtual launch event, one on one interaction with your audience and much more. You can also read b2b order management system.
Be Reactive
Through B2B social media video marketing, the aim is to be there for your customer. Showing them that you care for their needs and requirements is appreciated no matter what niche you are.
Hence be reactive to the comments and feedback you get. Not just to the people, but also the situations. Whenever something happens that can be useful to your customer, don't hold back and address that issue.
Keep interacting
Marketing is a two-way street. If you can't listen to what people want, maybe you got your wrong foot in the front. When your customer starts trusting you, they reach out to you with problems and tips.
And your work is to listen to them. If something useful, share it with everyone. Try being active and interactive when your video goes live. Reply to as many comments as possible when you post a new video to see what's the reaction of your crowd.
Reuse your Content
B2B social media video marketing has a false impression of the extra amount of work you need to do. On the production side, yes it requires a little more attention, but on the research side, not at all.
Rather it works as an advantage for you when you can reuse similar research just in different formats. Script down your own blog and make it interactive. Just through this simple trick, you have targeted the majority of your audience relying on videos rather than blogs.
Align your Style
You have a product on which your website is based. Again, your social media posts are based on the style of your website. Your next step is to align your overall style in your video too.
Use a similar color pallet of animation if you use and use the same tone as your blogs are. You will be representing your own brand so make it consistent.
When to start?
If you are waiting for the time when your brand receives some recognition already, then maybe you still aren't convinced by the fact that B2B social media video marketing is the best mode to communicate.
The sooner it is, the better it is for capturing your audience and building relationships with their brands. Luckily, if your competitor has not yet discovered the potential of B2B social media video marketing then you have your opportunity now.
No need to spend much, as the most important thing is your content. A decent smartphone with a good camera and good light is all you need today. So start scripting ideas and grow your business at a higher rate of success. B2B Social Media Video marketing, B2B Social Media Video marketing. We highly recommended reading this article 9 Best Ways to Generate Leads Using Instagram for eCommerce.
If you wish to learn more about eCommerce, product photography, Product Image Editing, and how to grow online, subscribe to the PixelPhant email newsletter below.
Try PixelPhant for free
---
Use PixelPhant to get more conversions for your online store with better product images.

Background Removal | Clipping Path | Color Correction | Cropping & Resize | Retouching | Shadows