Warren Buffet has said that "You Can't Become Rich With Just One Source Of Income" – and yes, that is absolutely true. If you look at a rich, healthy businessman, he's not rich only because of what he's literally earning from his business, but actually what he's investing in to get ROI.
This is not a typical blog that teaches you how to become rich or something, but we are here to let you know about what little extra you can do to support your current income.
Doesn't matter if you are a college student, an employee at a company, a homemaker, or a businessman/businesswoman. What you are currently earning can easily be extended with a side business that doesn't ask for any investment, any extra time, or any massive effort.
Such a stream of income can be generated by selling your creative ideas to the print on demand companies.
Yes, these print on demand companies lets you create custom products to sell to their customers and even give you the opportunity to start your own clothing line, monetize your audience, and grow your business if you like.
Having one source of income is great, but having one more stream is just amazing. If you haven't planned on running your own business or thinking about more money, then this is your chance to start today with a Print on Demand Company.
This article will feature the 10 best print on demand companies that'll let you design your own products, with your own prints, and will get your stock ready to sell.
So without any further thinking, let's get started!
10 Print On Demand Companies to Build Brand and Grow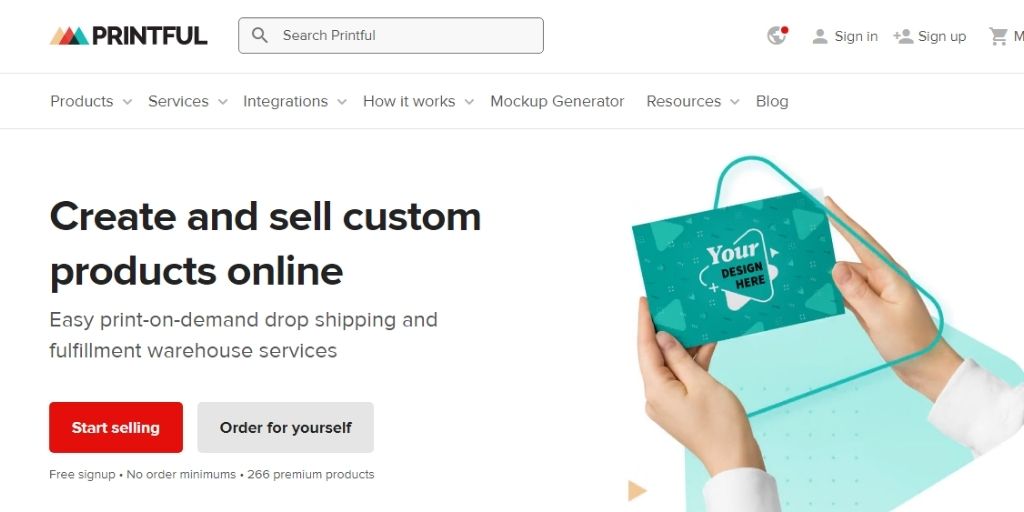 Printful is a number one choice when choosing the best print on demand companies. Setting up your account is easy here and it integrates with the platforms like Shopify to provide you complete credible coverage with a large marketplace.
You can create your design with any of the photo editing software of your choice and upload the same on Printful. On the website, you'll be able to get plenty of options to pick your niche.
It allows you to deal with T-shirts, mugs, mobile covers, bean bags, and pretty much everything that includes apparel, home decor, accessories, etc.
If you can pay an additional cost, this print on demand company will also allow you to design your packaging and logo to market your products and grow.
It offers services from graphic design to marketing, as well as discounts of up to 30%.
Your products can be ready to be shipped from Europe, Mexico, or the USA within 3 to 5 days and costs you around US$3.99 if you are in the U.S.
2. Bonfire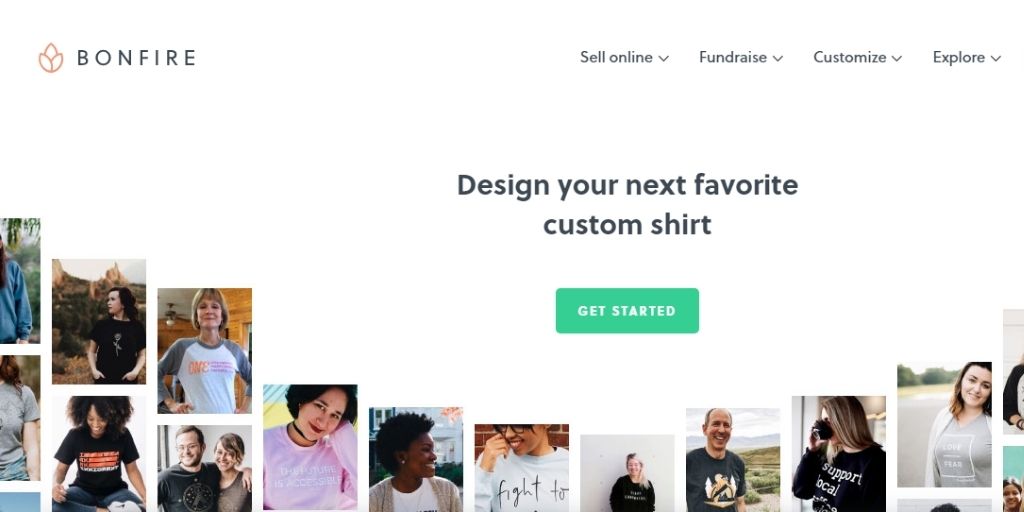 Bonfire is the print on demand company that allows you to print and sell T-shirts and specifically they have a function for people to make a donation, so you can also use the website as a fundraising tool.
The website has several pretty clip arts and designs using which you can build your design or you can upload your own design. The website has a bar set at which the product will be sold and then you can set your profit margin along with that which will be the profit that you'll be earning.
If you are running it for the purpose to raise funds, then Bonfire allows you to pot for a campaign that can run up to one to three weeks. For this, the website also gives you a unique URL that you can share with the world over social media, promote your campaign, and sell as many products as possible in collaboration with this print on demand company.
Once the campaign ends, Bonfire will print all the T-shirts simultaneously as it saves cost. And, for that matter, the higher the number of products you've sold, the higher the profit you get from the website.
If you like, you can restart your campaign. The best part of doing business with this print on demand company is their EXCELLENT customer service.
This print on demand company is easy to use, and the layout is very subtle. It also displays an option to add an additional donation to your buyers which aids you in earning more.
Bonfire charges a 3.5% processing fee and a 4.5% platform fee.
3. Zazzle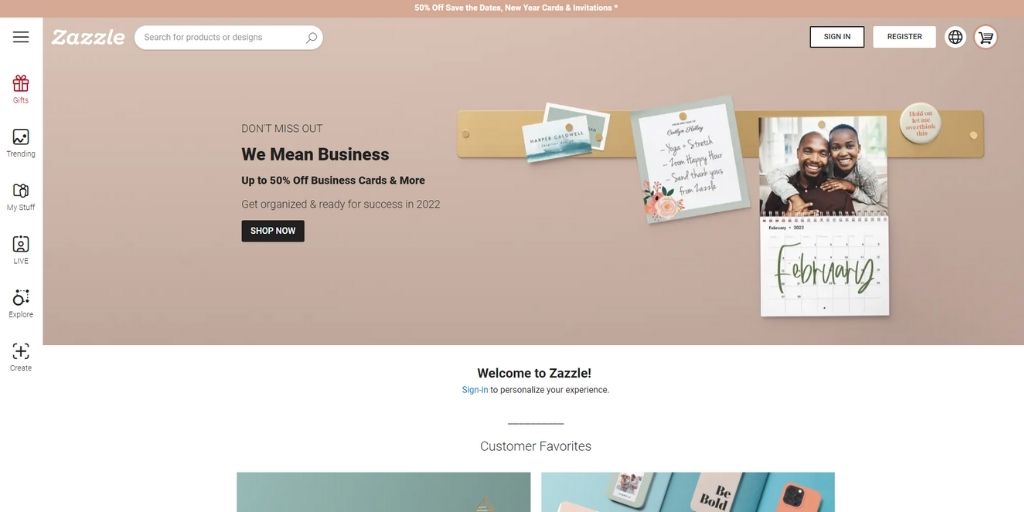 Zazzle stands out because of its exceptional customization capabilities. The website encounters approximately 30 million visitors each month.
The website has also included the items that are the size of children which attracts the parents to get the products rather than just the individuals.
It is one of the prints on demand companies that deal with products related to all age groups.
The number of products it deals in is great and is good for the newcomers in print on demand business as it has well-generated traffic that promises growth.
4. Apliiq Dropship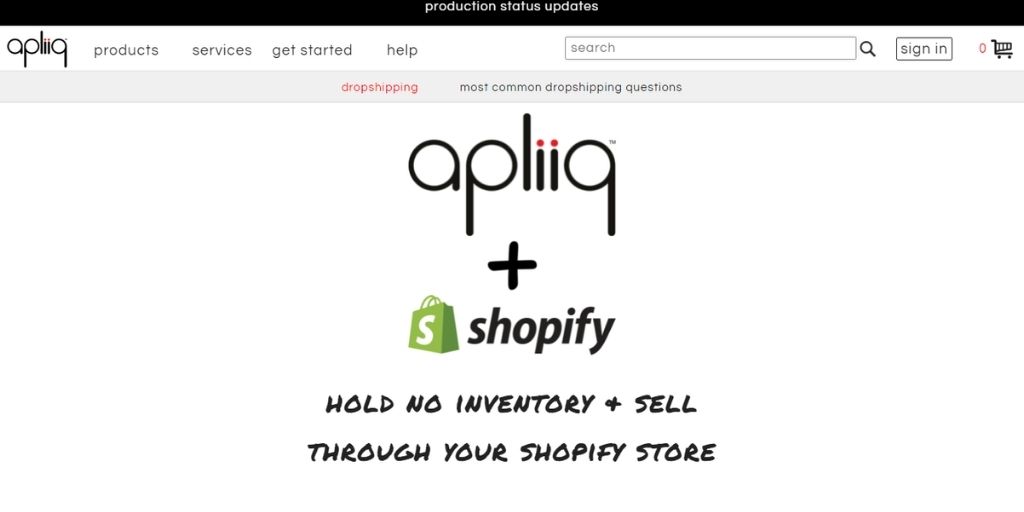 Apliiq is among the print on demand companies that charges shipping based on the weight of the total products that start from $3.99. It ships to over 150 countries across the globe and offers fast shipping if you pay an additional 10% of the fee.
Apliiq offers more robust customization options as compared to others and lets you add your own labels, clothing tags, and patches to brand your products.
If you are serious to build your brand and continue business in this niche, then this print on demand companies website has a higher price point to kickstart your business.
The brand is eco-friendly that fits best for 'no-harm consumerism and you can assure the best quality to your shoppers.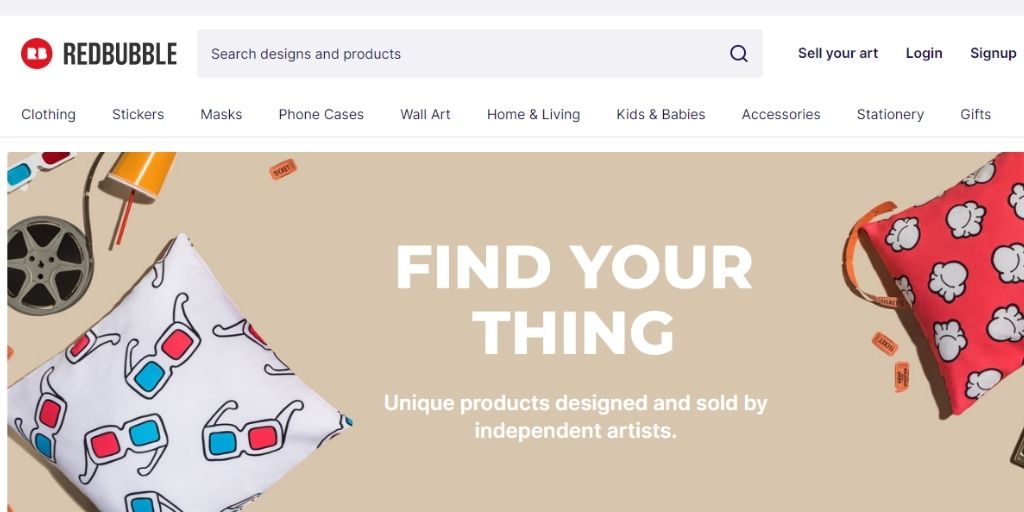 Redbubble is one of the 'Big players' among the print on demand companies and offers to print on various different products.
The website is free to join, easy to use, upload your designs quickly, and allows you to set your own profit margin.
You can choose from products like T-shirts, skirts, postcards, hoodies, stickers, etc to print your customized designs.
6. Printify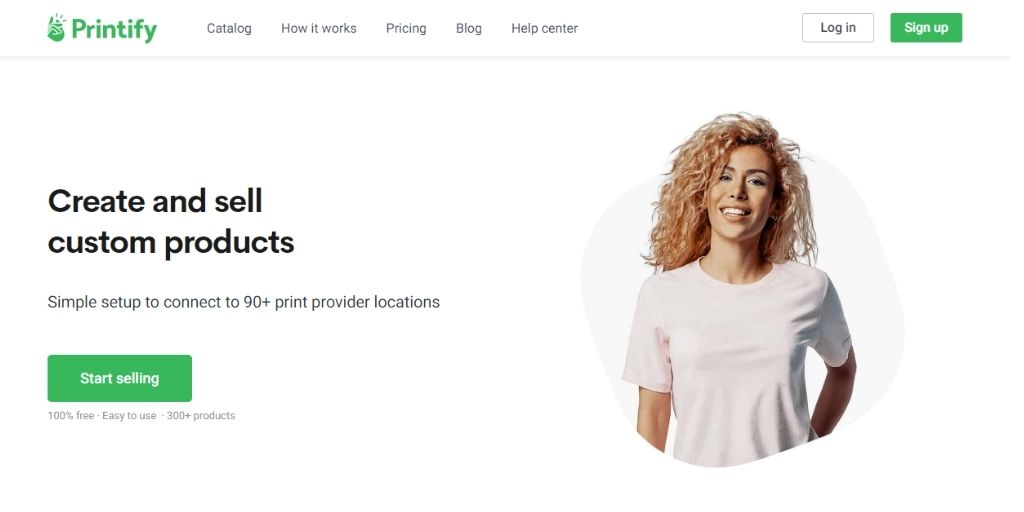 Printify is easy and hassle-free as it takes away the burden of fulfilment, billing, and customer service.
This print on demand company is integrated with Etsy and WooCommerce that gives you the advantage of having a huge pre-setup customer base to sell to.
The chances to earn more profits are increased when such platforms integrate with much larger platforms. The site focuses on growing by building many micro brands owned by people like you.
7. Society 6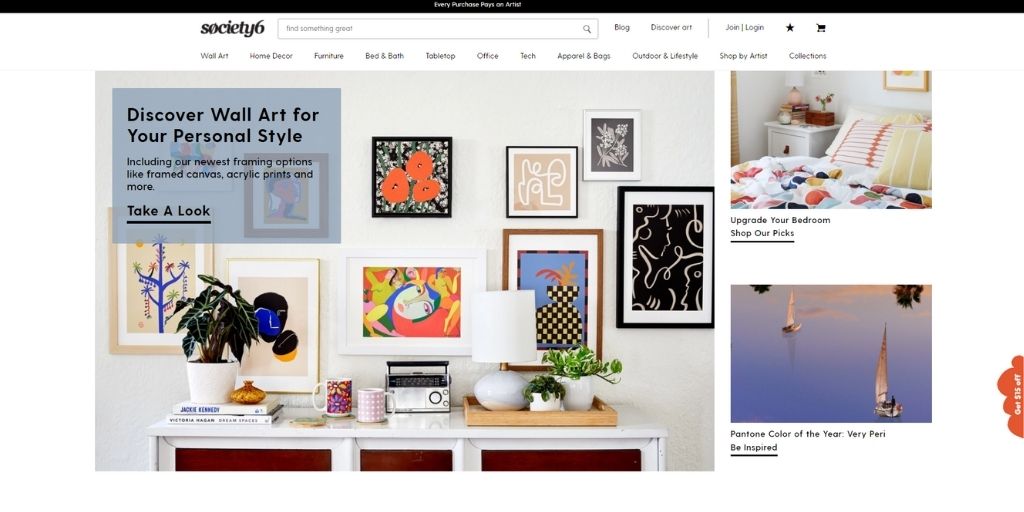 Society 6 sells your printed ideas on multiple products like wall art, bedding, clothing, mugs, accessories, etc that opens you the options where you can sell the products which are in demand at one point or the other.
The best part with this print on demand companies is that there is no limitation to locations which makes it possible for you to sell your artworks worldwide. Your audience is increased which enables you to generate more sales.
8. SPOD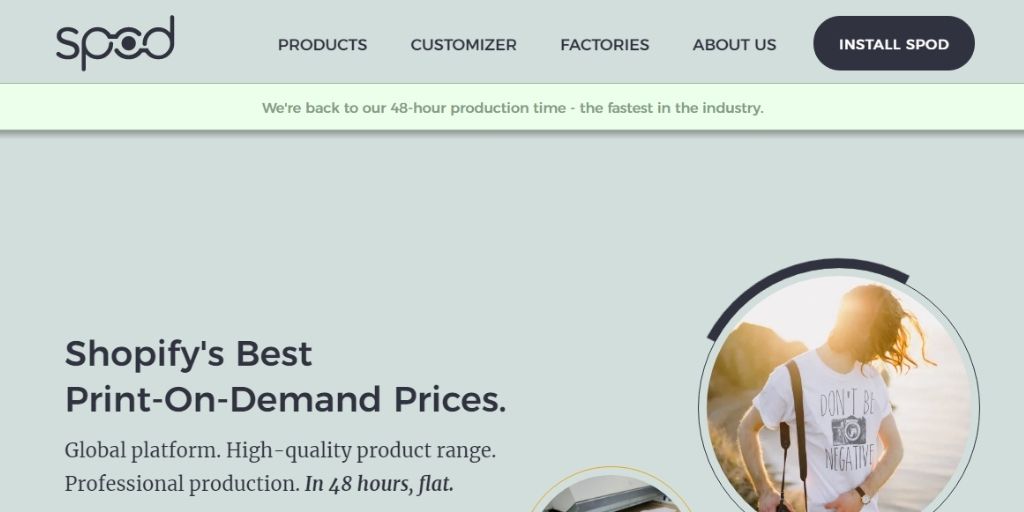 SPOD is one of the fastest shipping print on demand companies where 95% of the time its products are shipped within 48 Hours! This makes it super comfortable to use and trust.
You can choose from the 50K designs the site offers or use your own custom design for prints. SPOD $3.57 for domestic shipping. Otherwise, these charges also depend on the cost of the order value. The math here is not too complicated as their pricing model is very simplified for use to deal with.
This print on demand company is best for people who are new to this niche and want fast fulfilment, simplified shipping, and competitive prices.
9. TeeSpring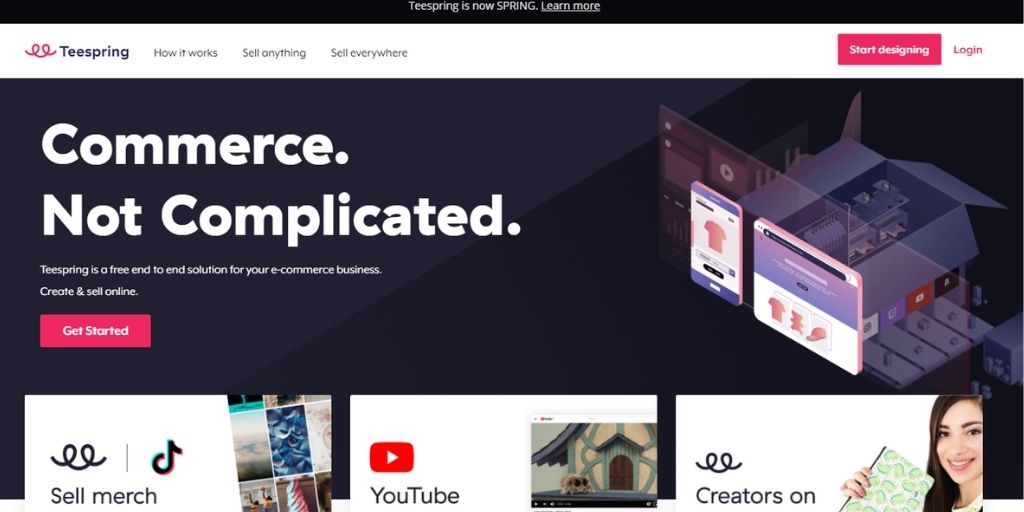 TeeSpring is another great print on demand company that allows you to choose between the products like clothing items, mugs, phone cases, etc on which you can get your customized design printed.
You just need to upload your design, and the buyers can buy it directly from the website. So TeeSpring sells it for you, takes care of the customer support, and after the sale is made, they directly transfer your profit share to your account.
It is great for everyone as it doesn't require any startup cost and can literally build your income while you do your full-time job or relaxing.
10. Fine Art America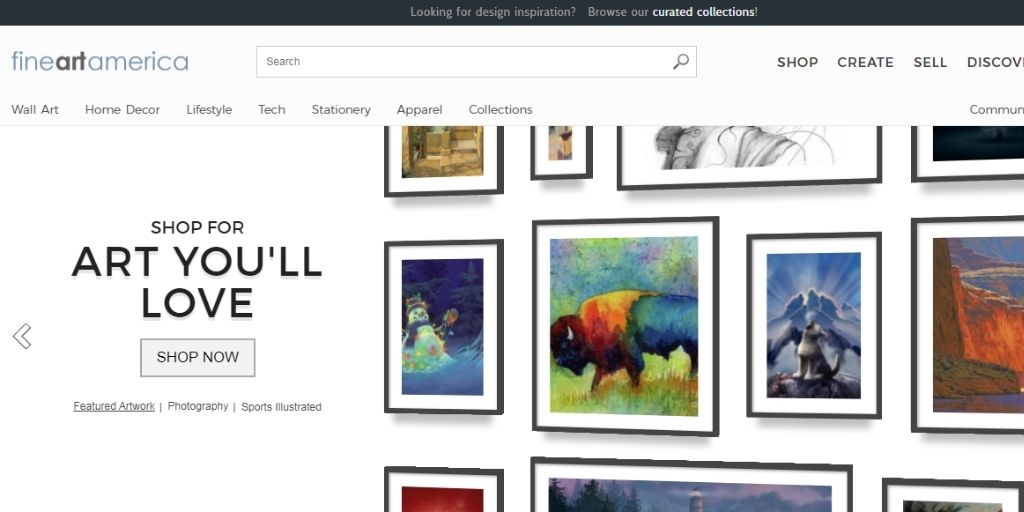 This is one of the best print on demand companies that doesn't print on T-shirts. It is heavily designed for art lovers.
You can print your fine art designs on wall decors, home decor, beach gears, phone cases, chargers, etc.
If you are a big fan of art, this place is for you. You can even sell your products for free here (If you've got the free time and just want to spread happiness!), or set your own price.
If you prefer or sell the rights, the site also gets your artwork licensed.
Final Takeaway
To build a brand, it isn't always necessary to have space and capital to give it a start. With print on demand companies available at your service, all you need is an hour of your day and various ideas.
There are many prints on demand companies available that are working solely and some are also integrated with several eCommerce platforms to introduce your brand to more audiences.
The list of the best print on demand companies mentioned above includes some of the best print on demand sites that offers great customer service, good quality products, reasonable profit margin, and a variety of products to print ideas on.
The major benefit to generating income through a print on demand company is that along with the additional money, it helps you create your own small brand and identity that you can expand with consistency and creativity.
Beautiful product images across your website.
Background Removal, Clipping Path, Color Correction, Cropping & Resize, Retouching, adding Shadows, and more.

Try PixelPhant for free
No Card Details Required